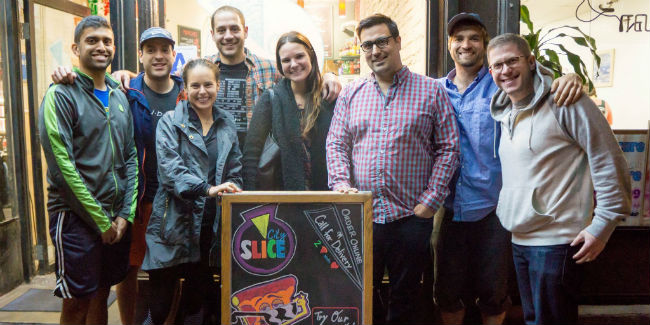 Paving the Way for America's Small Businesses, One Lesson at a Time
In February 2014, we launched Fundera with the goal of making it dead simple for small business owners to secure the capital they need to grow. After helping over 1,200 small business owners access north of $60 million in credit, we believe we're onto something very special.
Today we are excited to announce that Fundera has raised an $11.5 million Series B. This round was led by Susquehanna Growth Equity, with participation from QED Investors, Khosla Ventures, and First Round Capital.
This is a pivotal moment in Fundera's journey. However, we wouldn't even be at this point if it weren't for the important lessons learned over the past year and a half.
Understanding the Needs of Small Business Owners
Simply put, the customer experience we launched back in February wasn't meeting the needs of small business owners. Initially, our product served as a "matchmaking service," showing customers which lenders in the Fundera network they were likely to secure financing with. After selecting a lender, customers would be directed to their respective website to complete an application, similar to services like Kayak, where customers are directed to a third-party site. But, we quickly realized we were doing it all wrong. Small business owners want a partner they can trust and an advocate who will help them throughout the entire funding process. Our customers want to know someone is there for them every step of the way, even after securing their first loan.
Becoming the Trusted Advocate
With this is mind, we relaunched the Fundera platform in May 2014. Now, customers never have to leave our site and they have their own, dedicated Loan Advisor assisting them throughout the entire process. By controlling the funding experience from beginning to end, we provide customers with the support they need and the experience they deserve. The process is unparalleled.
Our superior software solution coupled with a world-class Customer Success Team has helped Fundera become the most trusted marketplace in the country for small business credit. Not only are customers getting the lowest rates possible through Fundera, they come back in droves as we continuously help them improve their creditworthiness and secure better products over time. We have built the definitive one-stop-shop for small business credit and are revolutionizing the way small business owners access capital.
The Fight to Stop Industry Bad Actors
Small business lending is essentially the Wild Wild West. There are a lot of bad actors that cannot be trusted, and they come in the form of lenders and commercial loan brokers alike. There are too many people who care about making a quick buck by taking advantage of small business owners. This needs to change.
At Fundera, we are disrupting the traditional broker model by creating an entirely objective and transparent marketplace. What we care about most is empowering business owners with the tools and information they need to make the best financial decisions for their business, ensuring that at the end of the day, they win.
In fact, this past month, we led an industry-wide coalition establishing The Small Business Borrowers' Bill of Rights, which we've been campaigning for on Fundera for over a year. This set of principles ensures we always put the borrower first. We aren't focused on the short term – we care deeply about transforming the industry as a whole, providing business owners with the buying power they need to gain a competitive edge. We believe that by putting the interests of the small business owner first, we can create much-needed change and build a sustainable business model that stands the test of time.
What this Funding Means for Fundera's Future
With this new round of funding, Scott Feldman from Susquehanna Growth Equity will be joining our Board of Directors. The firm brings years of experience in helping build financial services that empower the underserved. In Scott's words: "As early investors in Credit Karma, we understand the Fundera model and have experience in helping companies transform areas of credit and financial services that empower consumers to win."
This capital will accelerate our growth, allowing us to create new products that enable small business owners to fairly secure credit. We will continue to improve financial literacy and empower entrepreneurs with the information they need to make educated funding decisions. We will be expanding our team of Loan Advisors and growing our product and engineering teams to better serve our customers.
We couldn't be more excited by what we're building at Fundera. Fundera is a technology company, but we are in the people business. We plan to help as many small business owners across the country as possible for years to come.
Note: the photo above is of the Fundera team with New York City-based customer, City Slice. 

Jared is the co-founder and CEO of Fundera, an online marketplace connecting small business owners to the best loans for their business. He writes frequently on small business lending and management.

Latest posts by Jared Hecht (see all)