Why 99% of QuickBooks Pro & Mac Users Can (and Should Be) Using QuickBooks Online
First off, let's start with clarifying that the 99% here – is entirely made up. I have not one statistic, survey, or report to cite. It's just my belief that almost everyone using QuickBooks Pro or QuickBooks for Mac should just convert to QuickBooks Online (QBO).
Second, we'll get the 1% out of the way. There are a few reasons that I will suggest a business reconsider converting to QuickBooks Online at this point in time. I would never 100% discourage the conversion, but there are a few features that are still unavailable in QBO. I never consider the need for these features a reason to eliminate QBO, but make sure that the business is aware that each of them requires some sort of work around or a third party app in order to have that functionality in QBO.
My list is here, with the QBO solution in parentheses:
Progress Invoicing (I have a work around, which I'll show in a future post on the Ledger)
Receiving Partial Purchase Orders (I have a work around, which I'll show in a future post on the Ledger)
Labor Costing (AJE and Cathy Iconis' worksheet. Post coming soon on this)
Online Bill Pay (Bill.com)
Sales Orders (Inventory add on, or Lettuce when it's integrated)
Group Items or Assemblies (Inventory add on, or Lettuce when it's integrated)
IIF import (Transaction Pro Importer)
Price Levels (Sub Products/Services or an Inventory add on, or Lettuce when it's integrated)
Using Letters, i.e.: Collection Letters, Credit Letters, etc. (Possibly Constant Contact, or editing the email when sending out invoices/statements, or using the Contact List report but I don't know of any mail merge app for QBO)
Memorized Transactions. 

If a company has a large number of Memorized Transactions in QBDT (ie: an alarm monitoring company with thousands of customers on automatic sales receipts that charge their credit or debit card), there's no way to quickly import them as Recurring Transactions in QBO. You have to set each transaction as recurring, one at a time, in QBO. At the time of this writing, I have no workaround or app that can do this.
Last, the good stuff. The reasons why I believe every existing QuickBooks Pro, Premier, Mac (and many Enterprise) Users should be using QuickBooks Online. And yes, I do realize that I just jumped from Pro/Mac to pretty much all desktop editions of QuickBooks (QBDT). Why? Because I think with the right add-ons, you can get QuickBooks Enterprise functionality in QBO. (That's another upcoming article in and of itself!)
Before we get into the features, let's chat about one of the most common questions I hear during discussions on converting from QBDT to QBO. The subscription price. "Why would a small business pay $20 (or less) a month for QBO, when they can have QBDT for about $150 and use that version for at least 3 years, maybe more if they're not using any of Intuit's connected services?"
My answer is always this: because that $20 every month ensures 2 things.
That small business will have more up-to-date numbers. They ALWAYS have access to their data, even if they suffer a hard drive or server failure, lost their laptop, are the victim of theft, fire or flood.
It saves so much time. Time it takes to share files with their bookkeeper or CPA. Time involved in installing upgrades.  Time it takes to login remotely. Time it takes to set up backups, and restoring from those backups if needed. Time that is taking away from other things – growing their business, relaxing and reading a book, spending time with friends and family and more.
The other question I hear often is "What if the small business can't afford that $20/month?" My answer to this is pretty harsh, but in over 10 years of using and recommending QBO to clients, I've found it to be 100% true. If a small business cannot afford the monthly subscription to QBO, then they have much bigger problems – and moving to QBO will give them the time (and probably better numbers) to help work on those problems.
Now, let's get to those features!
Below is a bit from The QB Show's "Product Matrix" that my co-host, Woody Adams, has created. It shows all of the features available in QBO Essentials/Plus that can be found in QB Mac/Pro/Premier/Enterprise:
CLICK IMAGE TO ENLARGE
But here are a few things that QBO has that some editions of QBDT does NOT, and I think tip the scales in favor of QBO:
CLICK IMAGE TO ENLARGE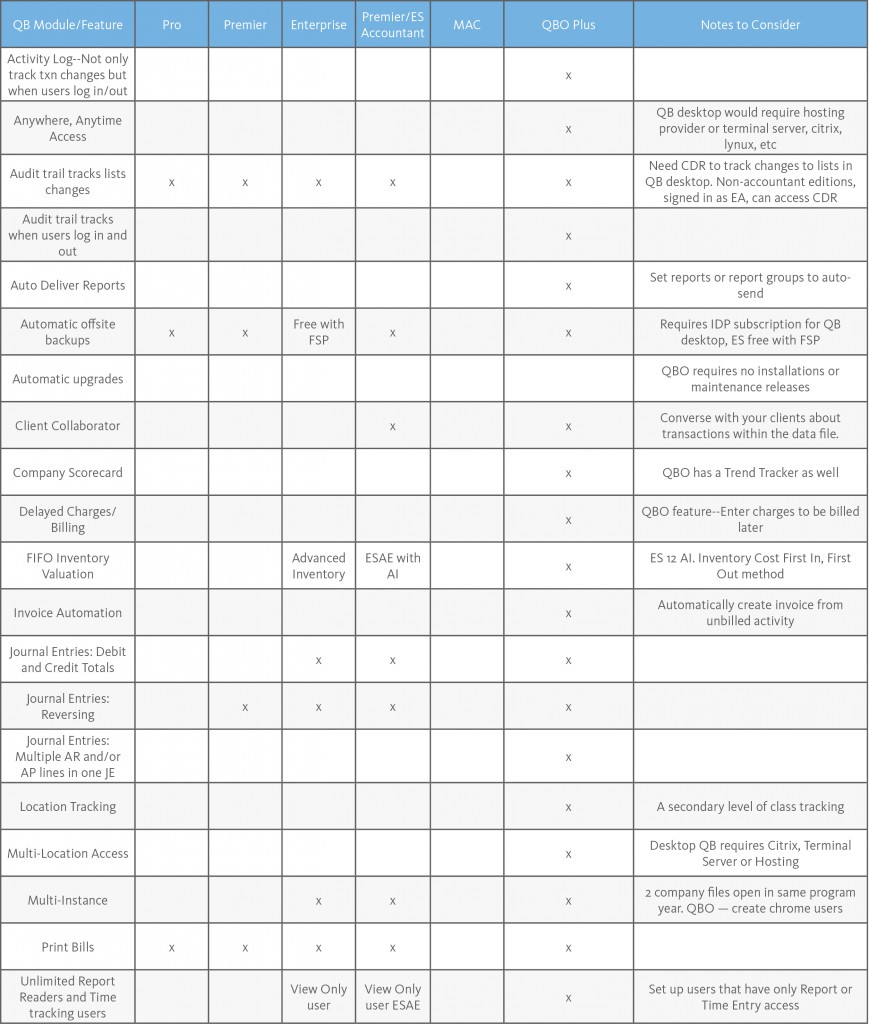 For a much more detailed version of this product comparison, please check it out here.
If your company is using, or if you're an accounting professional with multiple clients using a version of desktop QuickBooks, then right now is the best time to evaluate converting. Most of the reasons here are feature based.
One thing I didn't mention is that for accounting professionals, QBO just makes things so much easier. Not having to wait to login to a client computer, not having to drive from client to client, and having the access to work when and where it best suits my schedule have all allowed me to increase my revenue while lowering my rates for my clients.
So what are you waiting for? Let's make 2015 the Year of QBO Conversion!

Stacy Kildal is owner/operator of Kildal Services LLC—an accounting and technology consulting company that specializes in all things QuickBooks. In 2012 & 2013, Stacy was named one of CPA Practice Advisor's Most Powerful Women In Accounting. Stacy is one of the three hosts for the QB Show and has also been featured frequently on Intuit's Accountant Blog, Community "Ask the Expert" forums, at various Intuit Academy To Go podcasts, as well as hosting a number of Intuit Small Business Online Town Hall sessions. She is a big fan of working mobile and has been recognized by Intuit as being an expert on QuickBooks Online, having written Intuit's original courses for the US, Singapore and Canadian versions.

Latest posts by Stacy Kildal (see all)