As an ecommerce business owner, you dedicate your efforts toward facilitating a positive customer experience on your website. But you likely aren't thinking about the payment process itself, which often entails manually entering credit card and shipping information—a hassle for many shoppers, and an occasional dealbreaker. Luckily, Amazon Pay streamlines that checkout process, which might ultimately boost your bottom line.
What is Amazon Pay, exactly? Put simply, it's a payment gateway that integrates with your ecommerce platform and enables customers to check out using their Amazon credentials. For customers, that means a quicker checkout process. For you, that may mean more conversions and return customers.
Here, we'll go into greater detail about Amazon Pay so you can understand whether this service can work for your ecommerce business. And if you find that Amazon Pay isn't a fit for you, we'll offer you a few alternative payment processing companies to consider, which can still help streamline your site's checkout process.
What Is Amazon Pay?
Amazon Pay is a payment gateway for ecommerce retailers that lets shoppers pay for your goods or services without leaving your website, creating an account, or manually entering billing and shipping information. Charitable organizations can also implement Amazon Pay to their sites to easily enable donations.
Customers do need to have an existing Amazon account to use Amazon Pay on your website, as the service automatically accesses the customer's shipping and billing information that's stored on Amazon. (But as Amazon Prime alone has 100 million members, it's likely that your customers will already be set up with an account with the ecommerce giant.)[1]
As a reminder, a payment gateway is a software application that allows for the secure exchange of your customer's credit card information with your payment processing system. Other popular payment gateway providers for ecommerce businesses include PayPal and Authorize.Net, and other providers, like Stripe and Square, are all-in-one payment processing systems that have payment gateways baked into their services.
How Does Amazon Pay Work?
Amazon Pay offers a customizable API that integrates with several ecommerce platforms. The service isn't compatible with all ecommerce platforms, but they do work with Shopify, Magento, and BigCommerce, which are a few of the biggest names in ecommerce providers. Still, you'll need to keep that limitation in mind when you're considering integrating Amazon Pay with your existing ecommerce website.
To embed Amazon Pay into your site, you'll need to choose an ecommerce platform, set up an Amazon Seller account, and activate the plug-in to embed "Amazon Pay" buttons on your website. According to participants in Amazon Pay case studies, in total the implementation process takes a couple of weeks.[3]
Note that only U.S.-based businesses are eligible for Amazon Pay. To set up your account, you'll need to have a U.S.-based business address, a U.S.-based bank account, a U.S.-based credit card, and a U.S.-based phone number.
Also know that after you first register for an account, Amazon Pay will hold funds for 14 days before disbursement into your bank account. After that, you'll still typically need to wait three to five days after the sales transaction for funds to become available.
Amazon Pay Fees
Amazon Pay fees are straightforward—as is the case with most payment processing fee structures, Amazon Pay charges a flat fee per transaction, composed of a transaction fee and an authorization fee. They'll also collect tax when necessary.
That flat fee differs for domestic and cross-border payments, however:
Domestic: 2.9% transaction fee + $0.30 authorization fee
International: 3.9% transaction fee + $0.30 authorization fee
And fees for charitable organizations are slightly lower:
Domestic: 2.2% transaction fee + $0.30 authorization fee
International: 3.2% transaction fee + $0.30 authorization fee
If you process a refund, Amazon will refund you your transaction fee, but they'll maintain the authorization fee. Amazon also charges $20 if you dispute a chargeback claim. Amazon Pay doesn't charge monthly or annual fees to use their service, which also means that there are no early termination fees if you want to cancel your account.
Amazon Pay Pros and Cons
Knowing the advantages and downsides to Amazon Pay can help you decide if this payment method is the right move for your business. We'll run you through some of the top pros and cons of using Amazon Pay below.
Pros of Using Amazon Pay
Seamless payment options lead to increased sales. As you likely know from your own online shopping experiences, many shoppers end up abandoning their carts if the checkout process simply takes too long. So, the seamless payment process that Amazon Pay facilitates can help increase conversions and bump your total sales.
Consumers have less time to weigh their buying decisions. Cutting out intermediary steps in the checkout process, like entering credit card information or creating an entirely new account, can be especially pivotal in boosting mobile sales—and with over 40% of online transactions made via mobile in 2017, it's crucial to make the mobile payment process as intuitive and simple as possible for your customers.[2]
Amazon's brand is trusted. Since so many consumers are familiar and comfortable with Amazon, reviewers say that being affiliated with Amazon as a method of payment increases their trustworthiness, which also improves conversions. Merchants can also take advantage of Amazon's fraud protection services, as well as their robust Support network.
Cons of Using Amazon Pay
The lengthy signup process for merchants. Amazon has a rather robust signup process that requires a lot of paperwork in order to set merchants up with this payment option.
Integration via e-commerce is not always readily available. While some ecommerce platforms may have out-of-the-box Amazon Pay integration options, older themes or custom platforms may not have an easy way to integrate this payment method. Further development and custom coding will likely be needed to set up Amazon Pay on some ecommerce platforms.
High processing fees can add up for high volume vendors. Amazon charges 2.9% processing fees, plus $0.30 authorization fees per transaction, which can really add up in expenses for high volume vendors, particularly those with relatively low margins per transaction.
Top Alternatives to Amazon Pay
Amazon Pay is certainly not the only payment gateway available for ecommerce businesses. Consider the following two providers as alternatives, which, like Amazon Pay, are among the most popular and reputable payment gateways on the market:
PayPal
One of the most popular online payment methods for both merchants and consumers, PayPal offers merchants two service tiers that can be integrated with their ecommerce sites: Payflow Link and Payflow Pro.
Payflow Link is free to use, easily integrates with more ecommerce platforms than Amazon Pay does, and is compatible with many merchant accounts. Payflow Pro costs $25 per month after an initial $99 setup fee, and provides merchants a fully customizable checkout process. Regardless of which PayPal payment gateway service you choose, the provider will collect a $0.10 gateway fee per credit card transaction.
Authorize.Net
With Authorize.Net as your payment gateway, you'll be able to accept most major payment methods, including credit and debit cards, PayPal, Apple Pay, and echecks. Plans also include additional services like fraud prevention, streamlined customer information management, invoicing, and recurring payment tools.
Authorize.Net offers three service plans:
Payment Gateway Only – If you already have a merchant account, there's no setup fee for this plan, but you'll pay a $25 monthly fee, $0.10 per transaction, and a $0.10 daily batch fee.
All-in-one Payment Processing Plan – You'll pay a $25 monthly account fee and transaction fees are bumped to 2.9% + $0.30 per payment processed with this plan.
Enterprise Solution – This is for businesses that process more than $5,000 per year and includes a tailored payment processing solution that provides users with premium services.
Stripe
Stripe is a fully customizable, all-in-one payment processing system that includes a merchant account, the ability to process most types of payments (both online and in-person) in 25 currencies, and tons of additional features. This platform is designed especially for e-commerce businesses.
In addition to its Customized plan, Stripe offers one service plan with a flat-rate payment structure:
2.9% + $0.30 per credit or debit card transaction
2.7% + $0.05 per in-person credit or debit card transaction
International payments cost an additional 1%
0.8% per ACH debit, with a $5 cap
Add-on services cost additional fees
The Bottom Line
Amazon Pay only works for ecommerce businesses, so if you have a physical location as well as an ecommerce store, you may want to look into all-in-one payment processors that enable both online and in-person transactions. Square, Clover, and QuickBooks POS are among the best, most comprehensive POS systems for small businesses. All of these providers offer a range of physical hardware that can process in-person payments, in addition to digital payment processing.
And if you just need a simple, mobile POS solution, consider PayPal Here, which offers four types of mobile card readers that either plug into your smartphone or tablet's headphone terminal, or connect to your device wirelessly via Bluetooth.
But if you're an ecommerce business that's already set up with an Amazon Seller account, opting for Amazon Pay as your site's checkout method is a no-brainer. At the very least, because Amazon Pay charges neither an initial setup nor monthly account fees, there's no harm in testing out the service and seeing how your customers and sales performance responds.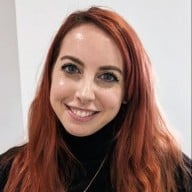 Contributing Writer
at
Fundera
Caroline Goldstein is a contributing writer for Fundera.
Caroline is a freelance writer and editor, specializing in small business and finance. She has covered topics such as lending, credit cards, marketing, and starting a business for Fundera. Her work has appeared in JPMorgan Chase, Prevention, Refinery29, Bustle, Men's Health, and more.
Read Full Author Bio