What Are LLC Articles of Organization?
In order to form a limited liability company (LLC), you must file articles of organization with the state and pay a filing fee. The articles of organization, called a certificate of organization in some states, include basic information about the LLC, such as the company's name, address, and registered agent.
Limited liability companies are a popular business entity choice among small business owners. It's relatively easy to form an LLC, and they offer many advantages, such as tax flexibility and liability protection for the owners.
To create an LLC, you must file articles of organization with the business filing agency in the state where your business is located. But there are also important items to check off your to-do list before and after filing your articles of organization. Articles of organization are just one step in the journey to forming your LLC.
Learn more about LLC articles of organization, how and when to file, and what other steps you need to take to establish your LLC and maintain it in good standing.
What to Do Before Filing Your Articles of Organization
Before you file your articles of organization, there are a few preliminary steps that you'll need to take to prepare for LLC ownership. Specific requirements vary by state, but most states require you to have three things ready to go before you file your articles of organization.
1. Choose Your LLC's Name
First, you'll need to choose a name for your LLC. Most states require you to choose a name that meets the following requirements:
Name must end with a designation of "LLC," "L.L.C.," or "Limited Liability Company"

Can't include words that are reserved for certain regulated industries (e.g. "insurance" or "bank")

Name must be unique from other LLCs operating in the state
Most states, such as California and New York, have databases that allow you to search for available business names. You can also find available names by using online directories such as Yelp, as well as the Yellow Pages, and Better Business Bureau.
Once you have a name that you like, you can confirm its availability with your state's business filing agency. In exchange for a fee, you can even reserve a business name for a period of 30 to 120 days.
2. Appoint a Registered Agent
A registered agent, or resident agent as it's called in some states, is a person or entity that accepts official mail and legal papers on behalf of your company. When filing your articles of organization, you'll be required to identify your registered agent. The reason is to give the public an easy way to contact your business for official matters.
If you have a physical address in the state where your business is operating, you can name yourself or a co-owner of the company as your registered agent. If you have a business attorney, you can opt to appoint them as your registered agent. Online legal services, such as LegalZoom, also provide registered agent services for an annual fee.
Once formed, your LLC is required to maintain a registered agent and notify the state of any change in the agent's identity or address.
3. Comply With Local Licensing Requirements
Filing your articles of organization occurs at the state level, but most counties and cities have their own local zoning and business licensing requirements. Your local business licensing division will be able to give you more information about the specific requirements your business needs to meet. Certain industries, such as food service and child care, are more heavily regulated than others.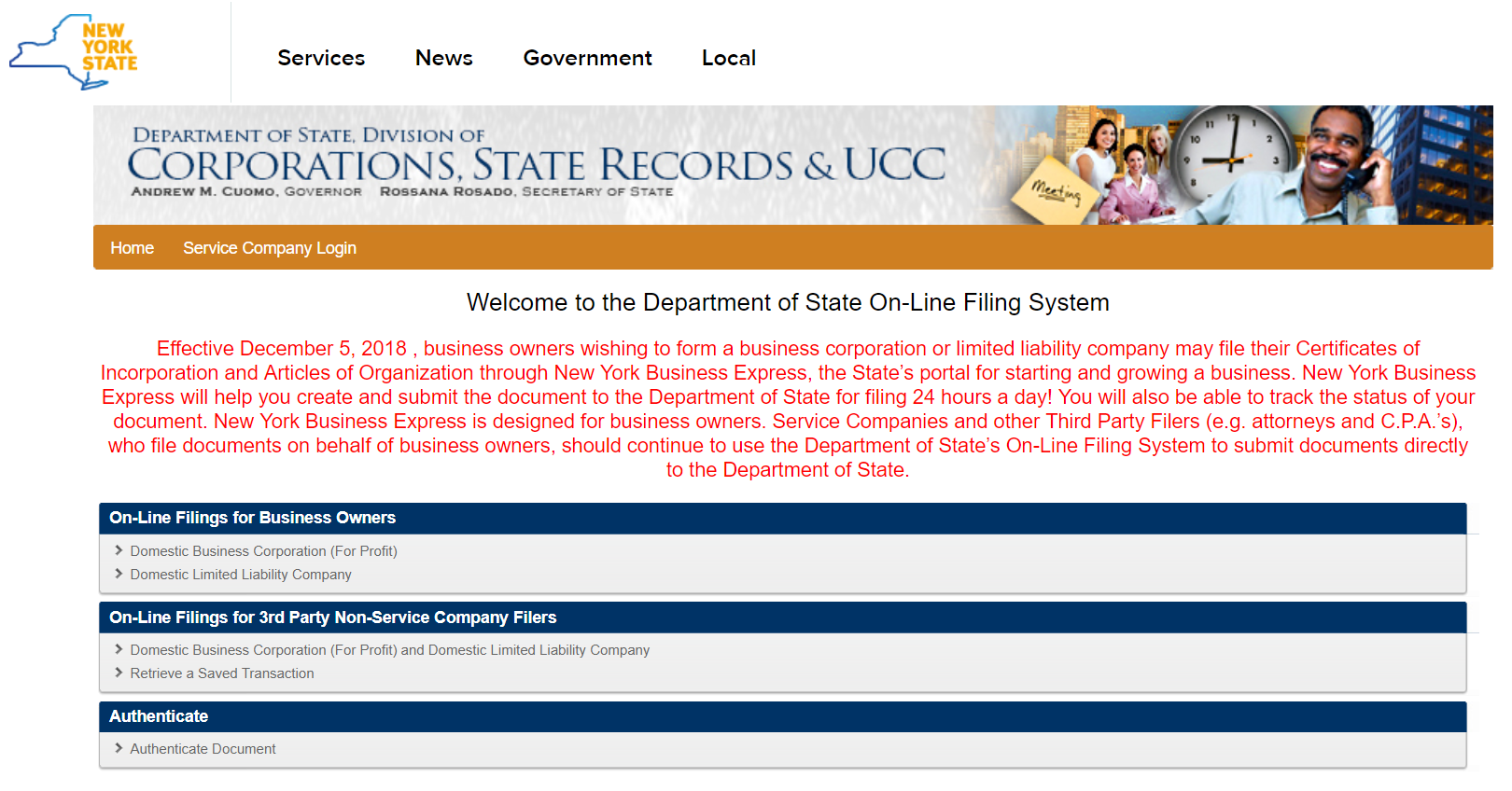 Photo credit: NY.gov
How to File Your LLC Articles of Organization
Once you choose your LLC's name, appoint your registered agent, and comply with local licensing laws, you're all set to file your articles of organization.
To file articles of organization for your LLC, follow these steps:
Contact your state's

secretary of state

or business filing agency to find out state-specific rules.

File your articles of organization online, or mail in a paper copy. Most states offer a fillable PDF form or an e-filing portal, like New York's pictured above.

Pay the LLC formation filing fee, which ranges from $50 to $200 in most states.

Receive a certificate of formation back from the state, along with a copy of your articles of organization. The original will be kept on file with the state.
New York and Arizona have one additional step, requiring you publish notice of your LLC's formation in a local newspaper.
Most states will process your LLC articles of organization within one to two weeks, but offer expedited processing for an additional fee. If any information that you provide in your articles of organization changes, follow your state's procedures for amending your articles.
Photo credit: Northwest Registered Agent
What's Included in the Articles or Organization
Articles of organization are typically a short formation document, no more than a couple pages long. Although the details vary by state, you'll typically need to provide the following information in your articles of organization:
Your LLC's name
Your LLC's address
The purpose of the LLC:

 You might have to provide a brief description of your product or service. Some states allow you to choose a generic "for all legal purposes" description.

Effective date that you will start the LLC: Check with your state's business filing agency if you've already started the business. If you don't provide a start date, the date that the state accepts your filing will be used.
Name and address of the registered agent: 

This person or entity must have a physical in-state address and be available to accept mail during regular business hours.

Name and signature of the organizer: T

his is the person filing the articles of organization. They might, but need not be, an owner in the business.
The sample articles of organization shown above for Maryland provides a good sample of how your state's form might look. Depending on the state, you might also be asked to provide names and addresses of the LLC's members (or the LLC's manager if you have a manager-managed LLC). And if your state doesn't have a separate form for professional LLCs (an LLC owned by licensed professionals, such as doctors and lawyers), you will need to designate whether your company belongs in this category on your articles of organization.
Photo credit: RocketLawyer
What to Do After Filing Your Articles of Organization
After filing your LLC articles of organization, you're probably ready to focus on the work of running your business. But along with your daily responsibilities, there are a few specific things you need take care of to maintain your LLC in good standing.
Here are additional steps for maintaining your LLC:
Create an LLC Operating Agreement
Technically, no state legally requires you to have an LLC operating agreement, but you should think of this as an essential step in your business's formation. Your operating agreement is far more detailed than your articles of organization and provides the organizational and structural blueprint for your new LLC.
Your operating agreement will contain information about the rights and responsibilities of each business owner, the amount of money or assets each owner has contributed, and voting and buy-out procedures.
Your operating agreement is a legal contract that you're obligated to follow, so it's best to have the help of a lawyer in drafting it. If you don't have the budget for a lawyer, you can also use a service like Rocket Lawyer, which will walk you through a series of questions to customize an LLC operating agreement for your company. Distribute a copy of your LLC operating agreement to each owner, and store the original along with your certificate of formation and other official papers.
Apply for an EIN If You Need One
All multi-member LLCs and LLCs with employees need an employer identification number (EIN) for federal tax filing purposes. Only single-member LLCs with no employees that are taxed as disregarded entities are okay without an EIN. Applying for an EIN is free and takes just moments on the IRS's website.
Separate Your Business Finances
One of the main benefits you get from filing articles of organization and establishing an LLC is personal liability protection for all members. If your business is sued or owes a debt, the claimants are limited to recovering out of your company's assets. However, your personal assets are safe only if you take steps to maintain financial separation between your business and personal life. The best way to do that is by opening a separate business bank account and business credit card that you use only for business purposes.
Comply With Annual Filing Requirements
Once you establish your LLC, take some time to learn about your state's rules for LLC reporting and tax filing. Many states require LLCs to file an annual report and pay an annual tax or fee. The report typically contains information about your LLC's income, business activities, and members. For federal tax purposes, most LLCs are pass-through entities, which means that members report their share of the LLC's income and losses on their personal tax return. Despite this, some states levy a tax on LLCs, along with a fee based on the LLC's income.
The Bottom Line
Filing your articles of organization is an essential step to forming your new LLC. While the details vary slightly among states, articles of organization tell the government basic information about your business. Before filing your articles of organization, make sure you choose a unique name for your company, find a registered agent, and learn about local licensing requirements. After filing, make sure you create an LLC operating agreement to guide your new business and otherwise maintain your LLC in good standing.