As you run credit card transactions for your customer's purchases, the peace of mind that comes with a secure card processing system is a non-negotiable. As you sell your business product or service, you shouldn't have to worry about a credit card transaction going wrong. Therefore, you might look to credit card processing companies like the Authorize.Net gateway—or, as it's often called, the AuthNet gateway—to ensure that your customer's card payments go through both quickly and securely.
To help you figure out whether or not Authorize.Net is right for your business's payment gateway needs, we've compiled the ultimate guide to everything that the AuthNet gateway has to offer. From answering basic questions like, "What is Authorize.Net?" to unveiling Authorize.Net fees to digging into customer reviews, this guide has it all.
What Is Authorize.Net?
Most people reading this review will want to solidify the fundamentals to knowing what this payment processor can offer their business. Namely, they'll probably want an answer to the question, "What is Authorize.Net?"
Essentially, Authorize.Net offers the technological infrastructure necessary to connect a website with a payment processing network securely and reliably. Just like a traditional card swipe machine, Authorize.Net routes transactions through all the necessary steps, but the AuthNet gateway relies on the internet rather than phone service. As a result, Authorize.Net is an ideal payment gateway for ecommerce and web-based small businesses that want to ensure that the information at hand—both their business's and their customers'—will be processed securely.
Therefore, if you use the Authorize.Net payment gateway, you'll be able to accept a range of online payment methods including credit cards, debit cards, Apple Pay, PayPal, and more. Although the Authorize.Net gateway only is available to businesses based in the U.S., Canada, United Kingdom, Europe, or Australia, businesses in these countries can accept international transactions from customers worldwide in multiple currencies.
Additionally, although Authorize.Net is most often used as a tool for ecommerce businesses to accept payments online, they also offer ways you can use mobile card readers, mobile payments, and virtual point of sale.
How Does the Authorize.Net Payment Gateway Work?
Although it all involves tons of nitty-gritty technological processes, the steps to how the AuthNet gateway does what it does are pretty straightforward.
The Authorize.Net gateway plays a crucial role in payment processing between customers and vendors. More specifically, the gateway is the link between the point of sale—whether it be online, over the phone, through the mail, or in person—and the credit card processor. And while we can't exactly tell you how they do it, we can tell you that Authorize.Net guarantees the security of all credit card information that passes through the AuthNet gateway.
This being said, however, it's important to note that Authorize.Net is a not a merchant account provider—meaning that although they pass on information to the payment processor, they don't actually provide your business with the merchant account you need to receive funds. Therefore, to utilize the Authorize.Net gateway, you'll need to find a merchant account provider or use one you already have. Many merchant services companies, like Fattmerchant, for example, will provide you with a merchant account as part of their platform and then give you the ability to integrate with various gateway providers, like AuthNet.
If you don't already work with a merchant account provider, you can choose Authorize.Net's all-in-one plan, in which they will set you up with an account from one of their resellers like TSYS or Dharma Merchant Services. Once again though, this is not an Authorize.Net merchant account, but rather a merchant account from a third-party that Authorize.Net acquires on your behalf as part of their service.
Authorize.Net: The Advantages
Now that we've combed through all of the pertinent details you'll need to consider while deciding whether or not AuthNet is the right payment gateway for your business, it's time to take a step back.
Zoomed out, what do all of these details mean for your business?
Let's take a moment to consider the processor's positive, standout features:
No Long-Term Commitment Required
Because you'll be paying for access to the AuthNet gateway on a month-by-month basis, there will be no need to make a long-term commitment to this payment gateway option.
Authorize.Net's payment structure will only require that your business pays for access to the AuthNet gateway on a monthly basis, so you'll simply have to wait out a month at a time should you decide to switch to another payment gateway.
To be sure, switching from gateway to gateway frequently won't be ideal for your business—it will involve data transfers and delays. That said, if you do decide you want to make a change, you won't be locked in with Authorize.Net because of yearly payments.
Pairs Well With Many Third-Party Resellers
Additionally, Authorize.Net pairs well with many third-party merchant services through their reseller program.
Essentially, through their reseller program, Authorize.Net lends their services to merchant service companies so that they can resell them to businesses and bundle them with their own merchant services.
As such, you'll be able to access a whole package—the Authorize.Net payment gateway, plus whatever merchant services the reseller offers—through this program.
Authorize.Net: The Disadvantages
As you might have gathered from the summary of the Authorize.Net reviews from customers, the processor is far from perfect.
Though the AuthNet gateway provides the valuable service of keeping your customers' payment information safe, it doesn't necessarily do so seamlessly.
What are the most notable downsides to choosing the AuthNet gateway as your business's payment gateway?
No Actual Merchant Services
Despite costly Authorize.Net fees, this company won't actually offer any actual merchant services for your business—Authorize.Net will simply integrate well with other merchant service offerings through its reselling program.
As a result, you're going to end up paying even more in order to access Authorize.Net and the merchant services that are necessary to take advantage of the AuthNet gateway.
These merchant services will include the hardware necessary to make physical card transactions as well. So, if you're working in retail, the additional costs for a merchant service provider that you'll need to get in addition to the AuthNet gateway can really add up.
Pricing Can Get Costly
Authorize.Net's per-transaction fees are relatively standard industry-wise, but you'll also have to pay a $25 monthly gateway cost. Not all processors will charge a monthly fee, so that's certainly something to keep in mind if you're looking for the most cost-effective provider out there.
Delayed Processing
Finally, one of the main complaints from Authorize.Net reviews from customers is that it's generally pretty slow-going.
Whether you're waiting on the Authorize.Net gateway to process a payment or you're waiting for the company to transfer your customer's data, it's likely that you'll be doing just that: waiting.
So, although you won't be forced to commit to AuthNet for more than a month at a time, should you decide to transition away from them, the resulting data transfer process would more than likely consume a good amount of time and energy.
The Top Alternatives to the Authorize.Net Gateway
Whether you like what you've learned about the AuthNet gateway or you're not so sure, it's important to take a look at your top alternatives to get a frame of reference for your search.
So, what are your top two alternatives to Authorize.Net?
Though there are very few options that will offer only an online payment gateway without merchant services, there are two top options that can provide all of the above—and for much more reasonable prices.
Let's see what these two Authorize.Net alternatives have to offer:
PayPal
If you're looking for an alternative to Authorize.Net for your business, and you don't need any physical payment processing, we suggest you look to PayPal for business.
PayPal won't charge your business a monthly access fee—they'll simply charge you a transaction-based fee of 2.7% for each mobile or in-store payment, and 3.5% plus $0.15 for every keyed-in payment.
Plus, through PayPal, you can make online payments and invoice any other business you work with, and this will only cost your business 2.9% of the payment value plus $0.30. Additionally, PayPal can work with a variety of different processors, merchant account providers, and shopping carts.
All in, PayPal's transparent fee structure is a breath of fresh air when compared to the complicated Authorize.Net fees you would have to deal with should you opt for the AuthNet gateway.
Square
Alternatively, if you're looking for a payment processing system that can offer you the whole package—hardware and all—then you should consider Square.
Square is one of the most intuitive, transparent, and user-friendly payment processing systems on the market. Plus, if your business already has free reign of a smart device—whether it be a smartphone or tablet—the cost of choosing Square as your business's payment processing system will be minimal.
How is this the case?
Well, with Square, you'll have the option to process payments through both hardware—the magstripe reader—and software—the Square Point of Sale app. If you opt for the free hardware and software, the only cost you'll incur as you run payments through Square will be the payment processing fees of 2.75% of each transaction. Additionally, if you need payment processing on your website or mobile app, you can utilize the Square Payments platform for a flat fee of 2.9% plus $0.30 per transaction.
Certainly, the fees that you'll incur through Square will be much more transparent than Authorize.Net fees. Plus, with no monthly fee involved for the free versions of Square hardware and software, your business will be doing some serious saving as it runs transactions.
Sign Up for Square for Free
The Bottom Line
So, now that we have all of the necessary knowledge under our belts, what's the bottom line for Authorize.Net?
At the end of the day, this will be for you—as the person who's most intimately aware of the intricacies of your business's finances—to decide.
The way we see it? From Authorize.Net's monthly fees to the reviews from customers, this payment gateway isn't the most competitive of offerings on the market. Certainly, there are other payment providers who can provide the same capabilities, if not more, than AuthNet, at a more affordable cost. So, even if at first Authorize.Net might seem like the perfect option for your business, we highly recommend you take some time to explore more fairly priced and well-reviewed alternatives.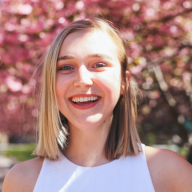 Contributing Writer
at
Fundera
Maddie Shepherd is a former Fundera senior staff writer and current contributing writer for Fundera. 
Maddie has an extensive knowledge of business credit cards, accounting tools, and merchant services, but specializes in small business financing advice. She has reviewed and analyzed dozens of financial tools and providers, helping business owners make better financial decisions. 
Read Full Author Bio