As a small business owner, you likely have your hands in every business operation—but that doesn't mean you need to do everything yourself. If you're like the majority of entrepreneurs that bootstrapped their business from the start, you may still think you need to be part of every aspect of your business. As your business grows and your schedule continues to fill, it may be time to start considering other options—like outsourcing.
Not only can outsourcing free you from tedious tasks, but you'll also open the doors to trained experts that can get the job done faster and more efficiently. With these tasks off your plate, you'll be able to refocus your attention on the most important business operations.
You may be wondering if outsourcing is the right move to free up your schedule, or if you really want to hand off a task you've managed since day one to a freelancer. Whatever it may be, jump to our infographic to figure out which route best suits you. We also outlined the eight main benefits to outsourcing your business tasks.
8 Benefits of Outsourcing
Outsourcing may sound like something only large businesses do, but that isn't always the case. Starting your own business is time-consuming. As your business grows and your time becomes increasingly valuable, it may be more cost-efficient to outsource freelancers to take some tasks off your plate, rather than you doing it all yourself. Relieving management stress and outperforming your competitors are just a couple of upsides to outsourcing your business.
1.Unlock Access to Skilled Professionals
No matter what skill you're looking for, you can find a selection in a matter of minutes using freelancing websites like Upwork and Feverr. You can hire for various positions including human resource management, accountants, and finance specialists. When vetting through outsourcing applicants, keep in mind your business core values to ensure the best fit possible. Picking the right outsourced team member could save up to 65% of your team's time and salary investments for high-level positions compared to on-boarding a full-time in-house team member.
2. Increase Project Turnaround Time
Not only do you have access to those that have mastered these particular industries, but outsourcing can also increase your business' output. Outsourcing frees up time so you can focus on your core deliverables while a team of freelancers wraps up your tasks more efficiently than your internal team may be able to.
3. Streamline Customer Experience
If your business has the ability to increase turnaround time for clients, they'll leave satisfied and willing to come back. Plus, they're more likely to refer you and your services. For instance, most businesses outsource their customer service teams to provide 24/7 communication. As 33% of consumers say they would switch companies based on one bad experience, this is an easy way to keep your clients happy around the clock.[1]
4. Focus on Your Core Activities
Freeing your schedule of tasks that aren't your area of expertise means you're able to put energy towards more important aspects of your business. Whether your team's goals are to take on more client meetings or invest more time and energy into company research and development, recentering your core activities can set your team up for success year after year.
5. Cut Costs in Unexpected Places
Not only does freelancing save you a tremendous amount of money in wages compared to a full-time team, but it also cuts costs spent on training and equipment. Skip investing in a new top-of-the-line technology suite for your business and outsource teams that already have the best technology, resources, and expertise. Doing so can increase your project turnaround times, which, in turn, increases customer satisfaction.
6. Reduce Administrative Inconsistency
Whether you're a one-man show, you work alongside a small group, or you manage a large team, most businesses have tasks that aren't being routinely taken care of. Outsourcing these responsibilities provides a level of certainty and consistency for you, your team, and your clients. Say a manager on your team takes an extended vacation—hiring temporary administrative assistants can alleviate your team's stress from taking on more responsibilities.
7. Offer More Flexible Working Hours
If your business is able to outsource customer service practices, you can offer your team more flexible working hours, work from home days, and potentially more paid time off. Along with that, once your team's workloads are lightened, you can take on more projects and clients, while still sticking to deadlines and keeping team stress light.
8. Improve Your Competitive Strategy
Higher turnaround times, excellent customer support, and upscaling your product quality will have your business outperforming your competitors in no time. While this brings in more clients, your team will be fully ramped up and ready to take on the challenge without having to expand right away. Your small business will have the opportunity to achieve superior margins to invest in other aspects of your practice.
What Can You Outsource?
Surprisingly enough, small businesses outsource routinely to cut costs on the majority of their business practices. For most startups, a small team works hard to ensure client expectations are exceeded, while also investing time into business development. Even though the majority of us would love to do it all, outsourcing comes in handy for some of the most valued operational tasks.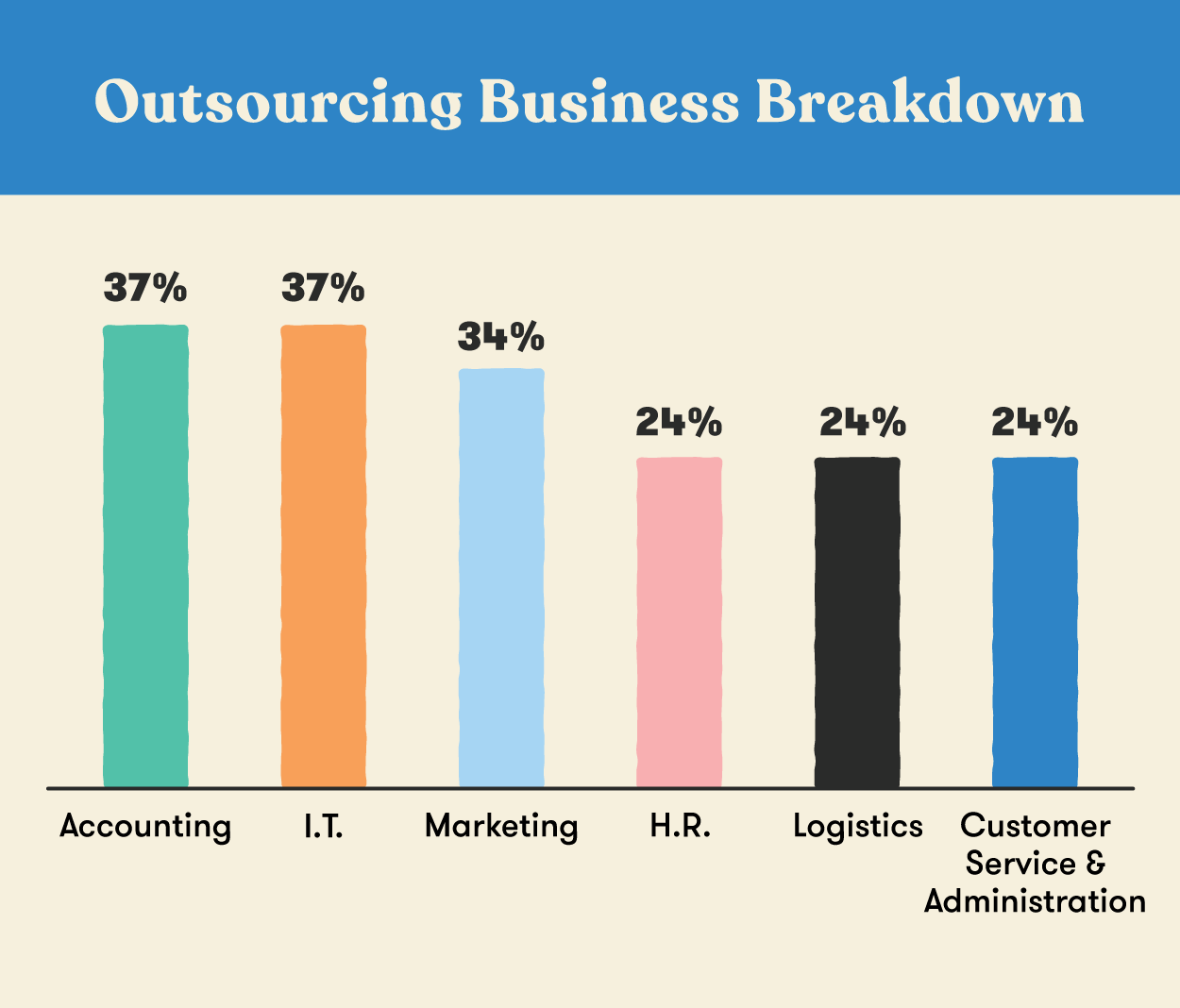 Financial firms or freelancers are able to handle all accounting tasks such as bookkeeping, invoicing, and accounts payable and receivable. If you or your team aren't fans of numbers, this is a great resource for company budgeting, especially once tax season comes around. This outsourcing method could save you a tremendous amount of time and even money.
Information Technology (I.T.) Expertise
On average, companies spend 52 days and over $4,000 in order to fill a position, and hiring for I.T. openings are even steeper. Unless you already have an I.T.  team, this is a great task to outsource for the ongoing need for I.T. maintenance and repair functions.
A strong brand presence is what 73% of business owners are investing in to set them apart from their competitors online.[2] Outsourced marketing teams can help with website design, brand-specific logos and graphics, and content creation. Getting your brand out there is key to your company's reputation, and, in turn, a key factor in sales growth.
Human Resource (HR) Assistance
Human resources controls all hiring, firing, screenings, and employee benefits while keeping up on each state's business operational laws and standards. These tasks are extremely time-consuming and difficult to keep updated. Save your team the sweat and outsource your HR tasks if you're in need of strong employee management for teams over 100 people.
If your small business requires a team of employees to transport valuable goods from one destination to the next, it may be in your best interest to outsource the management of these tasks. Free your team of the daily stress and logistical tasks to focus on your business development.
Customer Support/Administrative Tasks
Whether you need flights booked or daily customer service tasks managed, virtual assistants or full outsourced teams are able to take over so you don't have to worry about the little things. These tasks are crucial for most business operations, yet they suck up a lot of time. As businesses expand, these tasks start to take up even more of your team's time that could be put to better use.


Infographic Sources:
Outsources2India | Fortunly | MicroSourcing | Business2Community| Time Doctor | Credit Donkey | Medium 1, 2 | Clutch | Growth Force | Statistia | Corporate Finance Institute | American Express | Help Scout
Article Sources:
BlueCorona.com. "75+ Small BusinessStatistics to Help Your Digital Marketing Strategy"
HelpScout.com. "75 Customer Service Stats, Quotes, & Statistics"