When you're a small business owner, there are a lot of little things you need to buy that you might not have considered initially. You might have to stock your office or your staff room, or you might be throwing an event that requires food and paper plates. Whether it's a regular occurrence or a more spontaneous event, shopping at a wholesale retailer like BJ's—and using the BJ's business credit card—could save you some money in the long run.
If you think you're going to be spending a lot of time and money in BJ's for your business purchases, the BJ's World for Business card might be a good option for you, especially because you'll earn cash rewards for practically all BJ's purchases you make on the card.
But like every other small business financing tool, the BJ's credit card isn't necessarily the best option for every company out there. So, we've reviewed the BJ's business credit card, and the BJ's reward programs, to help you decide if this card is right for you.
BJ's Business Credit Card Rewards Rates
The BJ's Perks World for Business credit card actually has two reward programs: BJ's Perks Plus and BJ's Perks Elite. Both require a BJ's membership to apply, and the rewards work pretty much the same way for both, but there are slight differences in the amount of cash back you can earn. Since BJ's credit cards are Mastercards, though, you'll have access to the network's benefits, regardless of which program you choose to enroll in.
How much you shop at BJ's will be helpful in deciding which program is better for you; if you anticipate spending a significant amount of money here, the BJ's Perks Elite card might be better. Here's the breakdown:
BJ's Perks Plus Credit Card Rewards
The Perks Plus card offers the following rewards:
3% cash back on eligible purchases made at BJ's and at BJs.com
2% cash back on eligible dining and gas purchases outside of BJ's Gas locations
1% cash back on all other purchases from vendors that accept Mastercard
BJ's Perks Elite Credit Card Rewards
The BJ's Perks Elite card offers a slightly higher rewards rate—hence the elite status. If you're an Elite cardholder, your rewards will be:
5% cash back on eligible purchases made at BJ's
2% cash back on eligible dining and gas purchases outside of BJ's Gas locations
1% cash back on all other purchases from vendors that accept Mastercard
As we said before, if your regularly shop in-store or online at BJ's, this Elite tier might be better for you. That 5% cash back will add up quickly if you're spending a large amount of money in the store. But, if you're just making the occasional BJ's run, the Perks Plus card might make more sense.
Additionally, both cards offer you an instant discount of 10 cents off each gallon of fuel that you buy at BJ's Gas, when you use your BJ's card to buy it.
How BJ's Business Credit Card Rewards Work
Earning rewards is one of the biggest perks of using a business credit card in the first place—but sometimes, figuring out how those rewards work can be a bit of a headache. We've got you covered.
Here's how rewards work on your BJ's business credit card: Your cash back earnings are added to your program balance. Once you accumulate $20 worth of earnings, you can redeem them for a voucher. Note that this voucher is only good in a BJ's store—you can't redeem them anywhere else. (Alternately, though, you can request to redeem your cash back in the form of a check.)
And there's also no limit to the amount of awards you can earn each billing year—no matter how many times you hit that $20 mark, you'll be able to redeem your points and get a voucher.
However, if you go three years without hitting the $20 mark, anything you've accrued up until that point will expire. This won't be a problem if you're regularly shopping in BJ's, but if you aren't sure how much money you'll really be spending there, this might actually be a concern for you.
Let's say you earn your $20, get your voucher, and then… forget about it. Don't do this! Vouchers expire if they're not used within six months. But you can avoid this issue pretty easily with a little planning: Don't redeem your vouchers until you know you're ready to spend them, so you don't risk missing out on 20 free bucks.
Also worth noting is that if you close your account for any reason, you don't get compensated for any accrued rewards that you're leaving behind. If you're concerned about the amount of money you're potentially forfeiting, don't close your account until you've used up all you can.
Your account also must be in good standing to take advantage of rewards, which means your account:
Is open to new charges
Is not more than 60 day past due
Does not have a balance over your assigned credit limit
Is not flagged as lost, stolen, or fraudulent
If you monitor your account and stay on top of your payments (which you should be doing anyway!), there's no reason your account wouldn't be in good standing, so you can redeem all the awards your heart desires.
BJ's Business Credit Card Fees
To qualify for a BJ's credit card, you have to be a member of BJ's Wholesale Club. For the Perks Rewards membership, the annual fee is $110. The BJ's Inner Circle membership is a little less: $55 per year. And a BJ's business membership will cost you $50 (plus applicable state taxes).[1] Your first employee card will be free, then you can add up to eight additional employee memberships, but they'll cost you $30 each.
Some other important fees to note include:
Up to $35 late fee
Variable cash advance APR
Foreign transaction fee based on currency
Most credit cards have some kind of fees attached, but if you're willing to dig around a little you might be able to find one with lower fees, or that has better perks that make the fees more worth it for you.
How Does the BJ's Business Credit Card Stack Up?
As we've said before (and will say again), doing your research before picking a credit card is crucial to make sure it's what you're actually looking for. We've done a little of that legwork for you.
Costco and Sam's Club are comparable shopping experiences to BJ's: They're wholesale retailers where you can get some basic necessities in bulk. And if that's the kind of shopping you do for your business, it makes sense to look at both of their cards in addition to BJ's. Alternatively, you might want to look into a cash back card that's not tied to a specific store, so you have even more freedom in how you earn rewards.
Costco Business Credit Card
Let's start with the good stuff here: the rewards.
The Costco Business Credit Card rewards shake out like this:
4% cash back on gas for the first $7,000 you spend annually, then 1% thereafter
3% cash back on restaurant and travel worldwide
2% cash back on all other purchases from Costco and Costco.com
1% cash back on all other purchases
Even though your 4% gas rewards cap out at $7,000 here, they're still more flexible than BJ's gas rewards, if only because they afford you a little more optionality in terms of where you buy your gas. Plus, Costco rewards travel (and has no foreign transaction fee), which BJ's doesn't, so this card is worth considering if you travel often for business.
Like the BJ's business credit card, Costco's card technically has no annual fee. But you do need a Costco membership to have this card, and memberships range from $60 for their basic program, to $120 for their top-tier program.
Sam's Club Mastercard
Like the BJ's Perks Plus credit card, the Sam's Club Business Credit Card features a 5/3/1 rewards program. But there are some minor differences:
5% cash back on gas on the first $6,000 per year, then 1%
3% cash back on dining and travel
1% cash back on other purchases
The kicker? You'll only be able to earn $5,000 in cash back per year. But Sam's Club also has no annual fee, aside from your $45-$100 annual membership fee, and no foreign transaction fee. Better yet, rewards apply to online purchases, and you can use your Sam's Club card at Walmarts nationwide.
In terms of benefit to you, the cash back on gas could be really great… but only for the first $6,000. If you anticipate spending more than that on gas in a year, your rewards for gas money will drop drastically. Conversely, if there's no way you would ever hit $6,000, you'll get to keep that 5% cash back rate.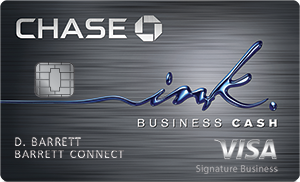 Credit Card
Ink Business Cash® Credit Card
Great For: Typical business expenses
Read Full Review
$750 signup bonus if you spend $7,500 in first 3 months
0% intro APR for 12 months on purchases
5%, 2% or 1% cash back depending on where you spend
Welcome offer

after you spend $7,500 on purchases in first 3 months

Rewards rate

depending on where you spend

Annual fee
Minimum credit
$750 cash back
5%, 2% or 1% cash back on purchases
0
660
If the BJ business credit card's cash back feature excites you, you won't find greater earning potential—and even more flexibility in where you can earn rewards—than in a non-store cash back card.
The Chase Ink Business Cash Credit Card is worth looking into, especially if you're not wed to a specific supply store. With this card, you'll earn 5% cash back on the first $25,000 spent annually at any office supply store you choose, as well as cellular phone, landline, and cable services. You'll also earn 2% cash back on the first $25,000 spent annually on gas and restaurants, and 1% cash back on every other purchase.
Even better? This card has no annual fee (and, of course, no membership fee required), as well as a 12-month 0% intro APR period. But after these 12 months, your APR will set in at a rate that will vary with the market Prime Rate, so be sure to see the issuer's terms and conditions for the latest APR information.
Is the BJ's Business Credit Card Right for You?
Ultimately, the answer to this question is simple—it just comes down to where you shop the most.
If you're at BJ's so much that the clerks know your name, then the BJ's business credit card would definitely save you money in the long run. But if you're indifferent to where you shop and are purely in it for the rewards, then a different card would probably be better for you.
In particular, the Costco, Sam's Club, and Chase Ink Business Cash cards offer more rewards, and, maybe more importantly, let you redeem those rewards more flexibly. When you're running a business, you have to be able to roll with the punches, and if you need to use that reward money in a different place than where you earned it, flexibility will be your best friend.
Director of Content Marketing
at
Fundera
Georgia McIntyre is the director of content marketing at Fundera.
Georgia has written extensively about small business finance, specializing in business lending, credit cards, and accounting solutions. 
Read Full Author Bio