One of the most important decisions you'll make as a small business owner is deciding how to accept and process credit card payments at your point of sale—and that means choosing the right payment processing company to partner up with. BluePay is just one of your options, and they can do a lot more for your business than only processing your customers' credit card payments.
BluePay is a full-service merchant services provider for American and Canadian business owners, whose robust payment solutions enable business owners to accept and process credit cards at several points of sale—whether that's via countertop POS terminal, mobile device, or ecommerce site. All of their services boast topline security features, are PCI compliant, and customer accounts are monitored by an in-house risk team.
But while BluePay certainly doesn't skimp on features, BluePay reviews are rife with customer complaints—including claims of hidden BluePay fees, and that BluePay continued to charge customers after they'd terminated their accounts.
In our BluePay review, we'll tell you what you need to know about this major credit card processing solution, and we'll also suggest a few alternative payment processors to consider if you decide that BluePay isn't the right service for you.
What Is BluePay?
BluePay provides both U.S.- and Canada-based businesses with a comprehensive range of merchant services, including in-person and ecommerce payment processing solutions, payment gateways, POS systems, and merchant accounts. All of their services are PCI-compliant and can integrate with hundreds of software platforms (460, to be exact).[1]
BluePay has three service packages with varying features and security levels, which are meant to suit businesses of all sizes and types, including nonprofits and ecommerce businesses. They also provide tailored credit card processing solutions for specific industries, such as hotel and car rental businesses. Some of those features include batch upload, recurring billing, and an array of fraud management tools.
BluePay Fees
BluePay doesn't provide any pricing information on their website, so you'll need to do some digging to figure out BluePay's base costs, like the cost of each service plan, as well as any additional fees they might charge, like installation fees, early termination fees, monthly service fees, or equipment costs (if you're using BluePay's POS terminals, rather than your own). If you're using BluePay as your payment processor, you'll need to find out about their payment processing fees, as well.
To find this information, you'll either need to contact an agent directly, or read the fine print in the BluePay Program Guide. With enough digging, you'll be able to spot important information about BluePay's contract and associated fees—like, for instance, that BluePay's standard contract is a three-year agreement, and you'll be charged a $295 early termination fee if you cancel your service before those three years are up (check out page 26).
Although we always recommend reading the fine print before signing up for anything—whether it's a merchant account or a business loan—in reality, we understand that most business owners simply don't have the time to do so thoroughly, or even to get on the phone with a sales representative to understand the costs of their potential service plan. Unfortunately, we think that BluePay's oblique pricing information knocks them down a few pegs in this review.
BluePay Features
What BluePay lacks in transparent pricing just might be made up for in their robust suite of payment processing solutions, as they offer pretty much any merchant service your business may need or want.
We'll give you an overview of BluePay's major features, but keep in mind that each of BluePay's three plans come with additional services, like increasing levels of data security, payment plugins, payment reconciliation and reporting, and recurring billing capabilities.
Merchant Account
BluePay offers merchant accounts for small businesses, midsize and enterprises, and nonprofit businesses. Within those size categories, BluePay can also provide tailored credit card processing solutions for certain types of businesses, like retail, ecommerce, B2B, and religious or government organizations.
As a reminder, a merchant account is a type of bank account that allows your business to accept credit card payments. With a BluePay merchant account, you'll be able to process all types of credit card payments in-person, online, and via mobile. BluePay can also facilitate ACH deposits for B2B enterprises.
Payment Gateway
Another of BluePay's major offerings is a payment gateway and virtual terminal, which enables business owners to accept payments online. If you don't want to use BluePay's own payment gateway, however, BluePay can integrate with other platforms.
Mobile Credit Card Processing
BluePay's EMV Processing Solution allows business owners to accept chip and swipe cards on the go. This service includes an app, compatible with both Apple and Android devices, as well as external card readers; and as both companies are owned by First Data, BluePay can offer Clover credit card readers, which we consider among the best POS machines available right now. Alternately, you can choose to stick with your own external hardware if you want to skip out on an additional equipment cost.
POS Systems
BluePay can offer customizable, all-in-one POS systems to allow business owners to accept and process payments at the point of sale. Customers can choose among BluePay's software and hardware options, which are available through their partners (which include major POS terminal producers such as Verifone, Equinox, and First Data). As we mentioned, though, you can also choose to use your existing hardware, as long as it's compatible with BluePay's technology.
API Payment Integration
BluePay offers three ways for users to integrate their payment-processing technology onto their platforms: install a plugin, embed a payment form (either BluePay's, or you can design your own), or a full integration. BluePay claims that they've designed their code to be as simple and intuitive as possible, no formal coding background required. You can also request a sandbox account, which basically lets you test out your chosen API payment processing integration before taking it live.
BluePay Pros
Frankly, there are very few positive BluePay reviews on the internet. For some context, of BluePay's 10 user reviews on Better Business Bureau, nine are one-starred and one is five-starred.[2]
That said, BluePay can truly be your one-stop shop for all things merchant services. Through BluePay, you can get everything you need to be able to accept and process payments at your business's point of sale, wherever that may be (in-store, on-the-go, online, or all of the above). And because BluePay's technology can integrate with hundreds of software, any number of their services can be compatible with your existing processes. So you can really pick and choose the tools you want from BluePay to create a fully customized solution.
It's also worth noting that BluePay has won several awards for both their products and their customer service. Some of their most recent awards have included Gold Stevie Awards for Best Product or Service of the Year for both their payment gateway and their ecommerce solution (both of which have won awards in previous years, too). Their customer service team have earned Stevie Awards, as well.
BluePay Cons
As we mentioned, negative reviews of BluePay vastly outnumber their positive reviews. Many of these negative reviews cite hidden fees, holding funds without notice, difficulty closing or modifying accounts, and that BluePay continued to charge customers even after they closed their account.
The overall message of these negative reviews is that BluePay is difficult to work with, not the least because they're not upfront about their processes and charges either in their available literature or when they onboard customers. It also seems that in November 2018, BBB revoked BluePay's accreditation due to their failure to resolve customer complaints and disputes properly.
The Best BluePay Alternatives
If you decide BluePay isn't what you're looking for—or if you're just curious about what other payment processing solutions are out there—consider these three alternatives, all of which have overwhelmingly positive customer reviews:
Square
Square is one of the most popular and well-loved payment processing systems on the market right now. Their Square POS app is a free software option that you can load onto your Apple or Android device. They also offer a comprehensive array of hardware—including mobile card readers and a fully functional countertop register—so your business can physically accept all kinds of credit payments at your point of sale.
As an all-in-one payment processor, Square comes loaded with its own merchant account, so you don't need to worry about shopping and paying for an account from a third party provider. In addition to processing payments, Square's software options are loaded with additional business management features, like inventory tracking, employee management, customer engagement data, payroll processing, and appointment scheduling (though you may have to pay an additional monthly fee for some of these capabilities).
Their pricing is transparent, too—you can check out all of Square's transaction fees on their website, as well as the prices of their equipment and software, so you can truly understand how much this service would cost you overall.
Sign Up for Square POS for Free
Stripe
Stripe is the payment platform of choice for some of the biggest tech companies, like Lyft, Shopify, Slack, and OpenTable. So if you run an online-only business and you're comfortable implementing a tech-forward payment processing solution (or if you have a developer on your team), then you can't get much better than Stripe.
With Stripe's impressive suite of developer tools, you can create and integrate a fully customized payment experience into your business website, and accept pretty much any payment type in over 100 currencies. Beyond that, Stripe integrates with hundreds of apps that business owners can use to manage their enterprises, including tax calculation, CRM, email marketing, and even fundraising platforms. Stripe also offers specialized tools and features, such as advanced financial management and data analytics.
Unless you opt for a customized Stripe package, Stripe charges 2.9% + $0.30 per successful transaction. You can take a look at Stripe's additional pricing and fee details on their website.
PayPal
Consider PayPal if you're looking for an even simpler payment processing solution. Like Square, you can download PayPal's app onto your smart device, then hook your device up to one of PayPal's external hardware options so you can physically accept all major payments.
Their pricing structure is simple and straightforward, too (and transparently outlined on their website). Plus, PayPal automatically transfers funds from your PayPal account to your business bank account, which may make PayPal's payment processing service a draw for the platform's existing customers. Do know, however, that PayPal doesn't currently have a merchant account service, so you'll need to open one with a third-party provider.
Is BluePay Right for Your Business?
BluePay's array of merchant service solutions can certainly work for most businesses, both big and small, especially because those features are so customizable (and there are so many of them).
But if you do choose to work with BluePay, be sure to do your due diligence. Customers who've written negative reviews of the service suggest reading the fine print and speaking with sales representatives before signing on for the service—that way, you can prevent unwelcome surprises (like held funds and certain fees) as much as possible.
And your options certainly don't begin and end with BluePay. Look into Square, Stripe, PayPal, or any number of payment processing solutions out there, whose services are intuitive, fairly priced, and designed especially for the needs of small business owners.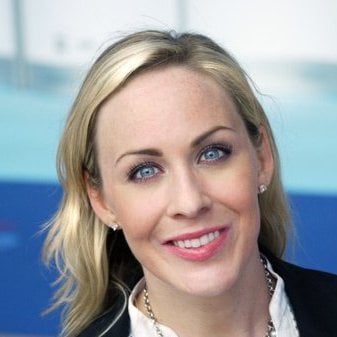 Founding Editor and VP
at
Fundera
Meredith Wood is the founding editor of the Fundera Ledger and a vice president at Fundera. 
Meredith launched the Fundera Ledger in 2014. She has specialized in financial advice for small business owners for almost a decade. Meredith is frequently sought out for her expertise in small business lending and financial management.
Read Full Author Bio