Best Business Loans for Accounting Firms and Accountants
Best Overall Accountant Loan: SBA Loan
Best SBA Loan Alternative: Term Loan
Best Accountant Loan for Seasonality: Business Line of Credit
Best Financing for Solo Accountants: 0% Intro APR Business Credit Card
As an accountant, you're used to worrying about other people's money—but there might come a time in your business during which you have to worry about yourself. In the case where you need a little extra capital, business loans for accounts and accounting firms can help you with new opportunities, emergencies, seasonal transitions, and more.
While running your own accounting firm requires a different set of skills than accounting itself, the good news for you is that you likely know your own financial profile and business situation very well, and can use that information to your advantage when you're applying for a business loan for accounting firms.[1] A few key elements, such as your credit score and revenue, make a big difference when applying for a business loan for an accounting firm. We'll go through how your knowledge will come in handy, plus other preparations you'll need to make in order to apply for a business loan.
Regardless of whether you're preparing for the seasonal crunch of tax time, you're looking to expand, or something else, a business loan for accountants can be a crucial business financing tool to help your accounting firm succeed. 
The Best Types of Business Loans for Accounting Firms and Accountants
We'll get right into it with the types of business loans for accountants out there. Here, we'll review several different types of financing that might be a fit for your business based on your own qualifications and capital needs. 
Best Overall Accountant Loan: SBA Loan
We'll begin with SBA loans, which are generally considered the best business loans out there. Why's that? Because SBA loans have the best repayment terms (up to 25 years), capital amounts (up to $5.5 million), and interest rates. That means they'll be a great business loan for your accounting firm.
SBA loans are loans that are backed by the U.S. Small Business Administration, a government agency. That means that although the SBA doesn't do the actual lending—they leave that to, say, a bank—they provide a kind of safety net to the lender in case you default on the loan. This takes a significant amount of the risk burden off the lender, who can offer the borrower favorable terms as a result.
There are a few different types of SBA loans, but the ones that will likely be most relevant to your accounting firm are the SBA 7(a) loan and SBA 504/CDC loan. The SBA 7(a) loan, the most popular in the program, is a general working capital loan that's either dispensed as a lump-sum term loan or a business line of credit (more on that in a bit). The SBA 504/CDC loan is the second most popular, and is generally for financing large, fixed assets such as real estate. 
This all sounds great—so what's the catch? No catch, per se, but SBA loans only go to the most qualified candidates. Although there is technically no credit score requirement from the federal government, borrowers who qualify generally have a minimum personal credit score of 620 to 640, sometimes up to 680. You'll also need to prove strong revenue numbers (profitability not necessary), and have some history in business. That means no brand-new accounting firms here.
If you think you still may qualify, that's great—get an SBA loan application started. There's just one more thing to note: There are a lot of documents involved in applying for this loan—far more than we'll mention below in our review of documentation—which means these are not quick-to-financing loans. You'll have to have a little bit of patience for this one, but the end result is worth it if you're hoping to score one of the best business loans for accountants.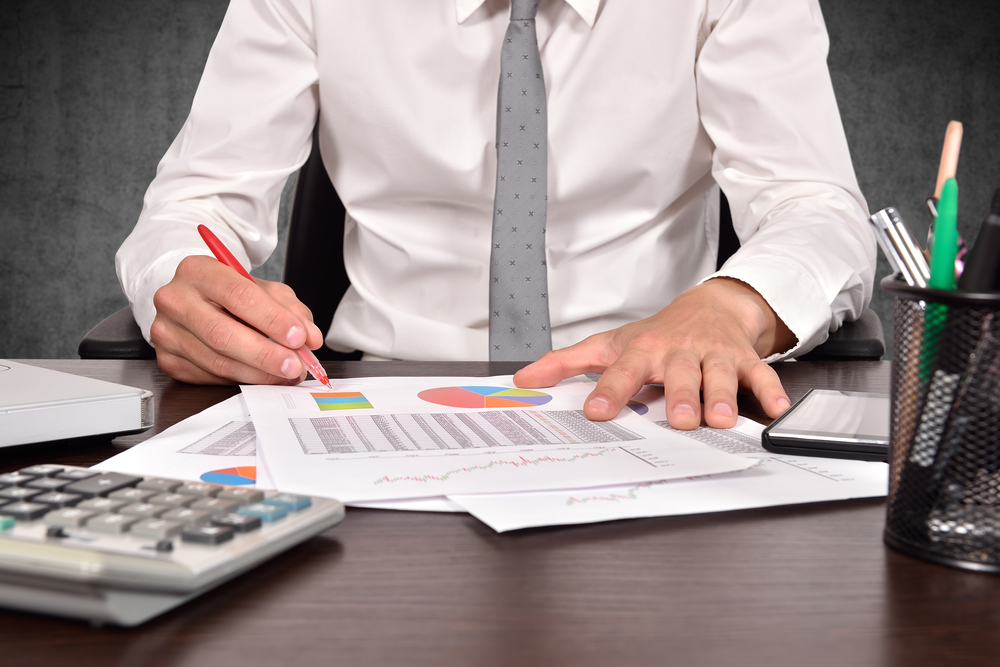 Best SBA Loan Alternative: Term Loan
If you don't have either the financials to qualify for an SBA loan, or the time to do all of the required documentation and processing, you may want to consider an alternative. We suggest a business term loan, which is a general working capital loan like an SBA 7(a) loan, and structured similarly to many 7(a) loans disbursed. 
With this kind of business loan for accountants, you'll work with a lender to secure approval and get financing. A term loan is what many people think of as a "traditional" business loan in the sense that you apply, get approved, and a lump sum of capital is deposited into your business bank account soon thereafter. That access to capital can be huge for many accounting firms who need to access a sum of money but can't finance whatever they need to purchase through their existing liquidity. Maybe you need to purchase new computers and software, finance a marketing campaign, and pay a contractor to help with it all.[2] Your accounting firm could finance that through a term loan.
These medium-term loans generally have terms of around five years. As you expect, you'll pay interest on the entire amount that you've borrowed, regardless of the amount. These payments usually happen weekly or monthly, depending on the term and structure of the loan. And lenders generally don't have the same stringent borrower requirements, so even if you're unable to qualify for an SBA loan, you may still qualify for a term loan. Borrowers can also get their hands on capital significantly faster—sometimes in a matter of days, making this an ideal business loan for an accounting firm that needs funding.
Best Accountant Loan for Seasonality: Business Line of Credit
You know better than anyone that accounting firms have very seasonal periods: tax time, anyone? For many businesses, seasonality means that they have different capital needs during different times of the year. For the most part, they're able to make it through the high season with the money they make, but have a hard time with the off or low season.
If this sounds like you, you may want to look into a business line of credit. With this kind of business loan for accounting firms, you can access capital as you need it, and only pay interest on the capital you use—not the whole loan amount. You'll work with a lender to gain approval for a certain credit line, and then be able to "draw" against that line as you find you need to take care of expenses. As you might imagine, this is immensely helpful for cash flow issues, especially when you need the extra capital to pay for expenses such as additional staffers in the months leading up to April, or higher utilities during those months, too.
Business lines of credit are great business loans for accounting firms that want access to cash quickly. The requirements and paperwork involved for applying to these loans aren't very intensive, and entrepreneurs with a good credit history often are approved. It's also worth noting that business lines of credit aren't only for seasonality challenges; they can help you all year round, too.
Best Financing for Solo Accountants: 0% Intro APR Business Credit Card
Not all business loans for accounting firms fit the needs of solo accountants. Many accountants work diligently on their own, generating lots of business and helping many individuals and business owners. In that case, there are business loans for accountants who work for themselves.
The above business loan options for accountants may still apply, but if you're finding that the larger loans mentioned aren't a fit for you since you're not looking to buy real estate or renovate an office, for instance, you may want to look into a business credit card. It may sound simplistic, but you can think of business credit cards as valuable business loans for accountants. A business credit card, combined with any discounts you might receive from professional organizations, can be enough to see you through bumpy financial waters.[3]
Particularly, if you look into 0% introductory APR business credit cards, you'll find that you're able to spend on your card without interest for a predetermined period of time (often longer than a year). As you spend, you're also able to collect perks and benefits like you would with other rewards cards, and help build your business credit it should you want to expand in the future. Just remember that after your introductory period, an APR will set in at prime Market Rate, so be sure to review the terms of your agreement.
How to Get Business Loans for Accounting Firms and Accountants
Now that we've reviewed the best types of business loans for accounting firms, let's talk about how you can get that money in your hands.
Pick Your Business Loan Type
The first part of the process is picking your business loan type. No two businesses—whether they're both accounting firms, or in completely different industries—has identical needs. But you probably know that from your work digging into the finances of businesses and individuals. As such, the loan type you pick will be contingent on the needs that that capital has to fulfill. 
To pick your loan type, figure out what's most important to you. Is it having capital quickly? Having it as cheap as possible? Being able to spend it flexibility? Ease of approval? Questions including these will help guide you to the ideal business loan for your accounting firm listed from the above.
Review Your Financials
Some business owners don't have a handle on their financial situation as they're going in to apply for loans. This can be tricky, since not knowing their own numbers can set them back in applying for the right loan products. Luckily, you have much more financial knowledge as a starting point, so you have a head start in understanding how your financial profile will enable you to access certain types of business loans for accountants—or prevent you from getting additional financing.
As you go into this process, revisit your own accounting firm's numbers, such as your revenue, time in business, and credit score. The stronger these numbers are, the more options you'll have for different types of loans, and, most likely, the less expensive your loan will be. You also want to evaluate your financials to precisely determine how much capital you need, since you don't want to take on a loan that you ultimately can't afford to repay or become too dependent on a lender for financing.[4]
Gather Your Documentation
The last important part of preparing your accounting firm for a business loan application is gathering the important paperwork you'll need.
As we noted above, any SBA loan you apply for will have a significant number of forms that are specific to that loan as well as other supplementary documentation that the government or lender requires. Here's a list of the SBA loan requirements and forms you'll need so you can get a sense of what this application process is like.
For most other business loans for accountants, you'll need minimal paperwork. Your lender will give you a specific sense of what you need to pull based on their own requirements and the loan type you're pursuing. But, if you want to get a jump on the process, prepare the following:
Personal identification

Two years of personal and business tax returns

Three months of business bank statements

 A profit and loss or balance sheet
Lucky for you, you likely won't have to dig too hard to find those tax returns!
Finding the Best Business Loan for Your Accounting Firm
When it's your profession to dig into the finances of others, perhaps it seems strange to do the same for yourself to apply for a business loan. And maybe it is! But your line of work can give you a massive advantage as you look for the right financing option for your accounting firm since you have such a deep understanding of how financials work, and, subsequently, how your business will be affected by taking out a business loan for your accounting firm.
Don't forget that your professional network is strong and full of vast financial knowledge. If any part of the process of applying for or identifying the right business loan for accountants is intimidating to you, lean on colleagues and industry connections for their expertise, too. Even as an accountant, applying for a business loan can seem like a lot—but there's a great solution on the other side for you, no matter what.
Article Sources: