When you're running a business, you always have to be prepared for unexpected events or costs—and that's why you have small business insurance. But what happens if you rent a property for your business, like an office space, warehouse, or storefront? Will your insurance cover damages or losses within this space or, do you need business renters insurance?
Overall, if you rent property for your business operations, you'll want to get insurance that specifically covers this space and anything that is stored or happens within it. This being said, however, business renters insurance is a little different from many other types of traditional policies. 
In this guide, therefore, we'll explain exactly how business renters insurance works, who needs it, and how much it costs for small business owners. We'll also explore some top insurance providers—so that you have all the information you need to adequately protect your business from the unexpected.
Cost of Business Renters Insurance
Now that we have a better sense of what commercial renters insurance is and how it works, let's discuss an important aspect involved with this type (or any type) of policy—cost.
Ultimately, just like any type of business insurance policy, the cost of your business renters insurance coverage will depend on a variety of factors. First and foremost, your costs will vary based on your business's size, years in operation, industry, number of employees, location, and more. Next, your costs will also depend on the type of coverage and amount of coverage you need with your policy.
If, for example, you want to ensure that any and all risks are covered by your business renters insurance policy, your costs will very likely be higher than if you simply bundle a liability insurance and commercial property policy. Additionally, if your business rents property in a high-risk area, you'll likely find that your costs will be correspondingly high. This being said, however, if you bundle your coverage as a BOP, you'll likely see lower costs than you would if you purchased three different policies separately.
Therefore, assuming that, at the very least, you'll want your business renters insurance policy to include everything covered under a BOP, you can use the average cost of a BOP to get an idea of what your costs might look like.
According to insurance marketplace Insureon, on average, a BOP costs around $1,200 annually.[1] Therefore, although your costs will depend on many of the factors we've discussed—as well as the insurance provider you work with—it's reasonable to say the average cost of business renters insurance will fall in line with the average cost of a BOP.
Replacement Cost vs. Actual Cash Value
With all of this in mind, another important consideration when it comes to the cost of business renters insurance is replacement cost vs. actual cash value. This principle relates specifically to commercial property coverage and how your policy will evaluate the cost of your property—and therefore, how much you're paid for any claims you make.
To explain:
If your policy uses the replacement cost method, your policy will cover the cost of restoring or repairing your property to the original state—including labor, materials, or actual property replacement. With the actual cash value method, on the other hand, your policy will pay to repair or restore damaged or lost property but will deduct some of the cost to account for depreciation—in other words, you'll receive compensation for the actual cash value, or what the property is worth at this point in time, as opposed to when it was originally purchased.
As you might imagine then, replacement cost commercial property insurance affords more coverage—however, this coverage is also likely to be more expensive than actual cash value coverage. Nevertheless, if you have expensive equipment or inventory that you want to protect, paying more for replacement cost property insurance may be worthwhile.
This being said, when you're looking for the right business renters insurance, you'll want to keep this distinction in mind and how it may affect your costs and coverage related to protecting your property.
How to Get Business Renters Insurance
Luckily, if you need business renters insurance, most companies that offer commercial insurance should be able to work with you to get you the coverage you need. With this in mind, there are typically three different approaches you can take to find the right insurance policy for your business:
Work with a broker: Navigating different insurance policies and providers can be complicated, especially if you're unfamiliar with the industry. By using an insurance broker, you can take advantage of that individual's experience and connections to find the coverage you need. It's important to keep in mind, however, that working with a broker can be costly.
Use an online marketplace: If you want to quickly and easily compare multiple providers and what they have to offer at once, you can take advantage of an online marketplace like Insureon. With Insureon, you can put in your business's information and compare free quotes from their partners, like Travelers, Hiscox, Chubb, and more.
Go straight to an insurance company: Finally, you always have the option to research different insurance companies and work with them directly to build a policy that fits your needs. If you decide to use this method, you'll want to get a quote from several providers to ensure that you find the best and most affordable option for your business.
Ultimately, it will be up to you to decide which method is right for your business. This being said, however, if you want to explore different providers and what they have to offer, you might start with some of the top companies that provide business owner policies.
As we've discussed, getting a BOP as your business renters insurance coverage is perhaps the easiest and most affordable way to protect your business and rental property. Therefore, you might consider these business insurance companies as you search for commercial rental insurance:
Best Business Rental Insurance Providers
The Hartford
The Hartford is a worthwhile provider for all different types of small business insurance including the coverage you would need for business renters insurance. With The Hartford, you can get a quote online or contact a local agent to discuss your insurance needs.
The Hartford is particularly well-known for their BOP, which not only includes general liability insurance and commercial property insurance, but also business income (or business interruption) insurance. This policy is designed to protect your business from fire, theft, lawsuits, and more—for spaces that you own or rent.
Plus, the BOP from The Hartford is completely customizable and you can easily add data breach insurance or professional liability insurance to expand your coverage.
You can get an initial small business insurance quote from The Hartford online. Image source: The Hartford.
Top-Rated Commercial Insurance Provider
The Hartford
Help protect your business from the unexpected. Get a free online quote and customize insurance coverage to meet your needs.
Hiscox
If you're a marketer, architect, IT professional, or any type of contractor, you might look for business renters insurance through Hiscox. Although Hiscox insurance is typically considered a go-to provider for these types of business owners, they can provide insurance for a variety of small businesses—including a highly customizable BOP.
Generally, a BOP from Hiscox combines general liability and property liability coverage—which, in particular, will protect your furniture and equipment at up to five different office locations (including accidental damage). Additionally, Hiscox gives you the option to customize your policy by adding office insurance for fire and business interruption, electronic data loss insurance, hired or non-owned vehicle liability insurance, commercial crime insurance, and terrorism coverage.
You can quickly and easily submit your information, receive a quote from Hiscox, and purchase a policy—all online. You also have the option to reach out to a Hiscox agent by phone to discuss your options in greater detail.
Chubb
Finally, you might also consider Chubb insurance as a top choice for getting a BOP to cover your business renters insurance needs. Although Chubb is generally considered more expensive than some other providers, they're also well-known for their coverage for businesses with international interests. With this in mind, like The Hartford and Hiscox, Chubb offers a highly customizable business owners policy, which first and foremost combines general liability and commercial property insurance.
As you can see in the photo below, however, Chubb also offers a significant number of enhancements that you can add to broaden your coverage to exactly what your business needs. In particular, Chubb offers property enhancements, earthquake coverage (in certain states), equipment breakdown, and even crime coverage.
This being said, unlike The Hartford and Hiscox, you'll have to reach out to a Chubb agent to learn more about their BOP and what it might look like for your business.
This list shows the different options Chubb offers to enhance your coverage under their BOP. Image source: Chubb.
The Bottom Line
At the end of the day, it's important to remember that business renters insurance can refer to any policy or combination of policies that protects your business in relation to the property you rent. In this way, it's different from many other types of commercial insurance—and can certainly be confusing at first glance. 
When it comes down to it, however, a business renters insurance policy (at the very least) should include general liability and commercial property insurance to protect your business from claims of bodily injury or damages that result from operations, theft, or disasters within your rental space. Therefore, if you're looking for business renters insurance, you'll likely want to start with a BOP, as these policies can be easily customized to your needs and can save you money on your business insurance.
This being said, if you're unsure of what kind of coverage you need, especially as it relates to a lease agreement, the best thing you can do is consult an insurance agent or business attorney. These professionals will be able to answer questions you may have and help you find the right business renters insurance coverage for your needs.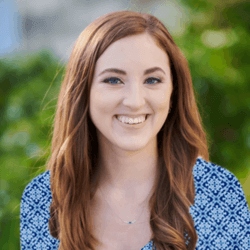 Senior Staff Writer
at
Fundera
Randa Kriss is a senior staff writer at Fundera.
At Fundera, Randa specializes in reviewing small business products, software, and services. Randa has written hundreds of reviews across a wide swath of business topics including ecommerce, merchant services, accounting, credit cards, bank accounts, loan products, and payroll and human resources solutions. 
Read Full Author Bio