When you're opening or upgrading your business, choosing between a POS system vs. cash register will be one of your most important decisions. Historically cash registers were the only option for accepting and processing payments, but now streamlined POS systems are a serious contender for their ease of use, advanced technology, and robust cash-management capabilities.
As you know, a glitchy or slow checkout process can be enough to undermine all the hard work you've done to get your customer up to that point—not to mention that it's incredibly frustrating for the person actually operating the register, whether that's you or your employee.
The best way to choose whether to opt for a traditional cash register for small business or a digital POS cash register is to fully inform yourself of both options. That way, you can make an intelligent decision about your payment processing system, and go with the option will make your checkout process as easy, efficient, and quick as possible. Let's get to it.
What Is a Cash Register?
Cash registers hardly need explaining (but we'll do it anyway): They're the traditional, electronic payment processing system at a countertop point of sale, with a cash drawer for storing cash, as well as hardware to process credit card payments. Merchants can accept checks at their cash registers, too.
Every cash register has different capabilities, but on many you can calculate tax, tip, and discounts, process returns and exchanges, review inventory lists, print daily sales totals, hook up an external barcode scanner (purchased separately), and track employee use.      
Why You Should Use a Cash Register
Cash registers work for brick-and-mortar businesses that only need to process payments, and don't want the additional business-management capabilities that come with modern POS systems. They're easy to track down and purchase inexpensively, too—you can purchase a basic cash register at Staples or a similar office supply store for less than $100. You might need to separately purchase a barcode scanner and a credit card processor, however.
Some business owners might simply feel more comfortable using a traditional cash register, too, rather than opting for an all-digital solution.
Why Not to Use a Cash Register
Traditional cash registers are limited to processing payments and basic sales reporting—and even then, you're tied to your countertop. If you sell beyond a brick-and-mortar location, or if you want the choice to, you'll need a POS system with a portable option. Also, ecommerce businesses, or even physical businesses with a digital store, will be better off with a POS system loaded with the software to accept online payments.  
And in most cases, to process credit card payments with a cash register, you'll need to open a separate merchant account through a third party. As a reminder, merchant accounts are essentially an additional bank account into which payments rendered through credit and debit transactions are deposited. That's opposed to using an all-in-one POS system, in which case a merchant account is baked into the product itself.
What Is a POS System?
As the name implies, a POS system first involves a POS terminal—or, the machine that processes all types of payments—but the "system" in question refers to its embedded software that can help business owners manage several aspects of the sales process (and beyond).  
Depending on the POS system you use, those capabilities can include:
Automatic inventory updates and easily navigable inventory management  

Customer behavior insight

Automatic sales reports and detailed sales analytics

Employee tracking

Integration with other apps you're using for your business, like MailChimp,

QuickBooks

,

Xero

, and Yelp
Many POS systems also come with hardware options that allow business owners to accept and process payments beyond the countertop. For instance, Clover Flex is a handheld device that can accept and process credit card payments, which your restaurant's waitstaff can take tableside, or which you can take with you on house calls, farmer's markets, crafts fairs, or anywhere else you may want to sell your goods or services.[1]
Beyond that, most modern POS systems give business owners the option of converting their own smartphone or iPad into a POS terminal. You'll just need to download the software onto your personal device and purchase external credit card acceptance hardware that you can plug into your device as you would a headphone jack.  
Whether you choose this option or a full POS register, your POS system will be able to accept all types of credit, including magstripe, chip, and NFC cards, along with other tender like cash, checks, and gift cards. The payment process itself is simple for both you and your customer, too. Modern POS systems offer your customer the choice of including a pre-calculated tip, and whether to receive a print or digital receipt, all on an intuitive interface.   
Why You Should Use a POS System
As you can tell, there are so many reasons to consider using a POS system. Not only can you easily accept and process all types of payments, but with an all-in-one payment processing system you're also taking advantage of software that can help you manage all aspects of your business more efficiently.
If your POS system integrates with your accounting software, for instance, sales data from your POS system will automatically transfer over to your books. Most POS systems automatically capture valuable customer data, so you'll be better able to market to your audience. Some systems even enable automatic, next-day deposits into your bank account, and with many you can automatically track employee clock-in/clock-out times and their sales performances.
All of these above are just a few of the processes your POS system is capable of. Ultimately, a POS system is simply a more modern, efficient, and flexible method of processing payments at the point of sale, wherever that may be—and of running your business overall. Plus, you likely won't need to contend with the same technical difficulties you may encounter with your analog cash register, as POS system software updates automatically. But if you do have a problem with your hardware or software, you can always contact your POS company's customer support at no extra cost.
Why Not to Use a POS System
For all of its positives, there are a few reasons why you may not want to use a POS system.
For one, all-in-one POS systems can become pricey. As we mentioned, you can purchase a basic cash register for around $100. But because they're loaded with features, a POS register, like the Square Register, can cost you upward of $1,000. (And if you don't need a full register, POS systems offer simpler and less expensive hardware options, too.)
Remember, though, that depending on the cash register in question, you might need to purchase additional hardware, like a credit card reader, a barcode scanner, and a cash drawer. And with both tools, you'll need to pay a processing fee for every transaction—whether it's the POS system company or your merchant account company you're paying.
Finally, you might not want to opt for a POS system if you're not interested in, or comfortable with, investing in a tech-forward option with all the bells and whistles. Again, if your business only needs the ability to accept and process payments, the additional capabilities that a POS offers might end up being burdensome.
POS Systems vs. Cash Registers for Small Business
As you can tell, whether to choose a POS system or cash register for your small business is mostly a matter of what you need, or want, your point of sale to do for you. (Although as with pretty much any business decision, there's an element of personal preference involved, too, as well as cost considerations.)
If you do decide to go with a POS system, though, there are tons of great options on the market for you to consider. Here are some of our favorites:
Square
Square is one of the few POS systems out there with a totally free software option, as well as a free magstripe reader that you can plug into your smartphone or iPad. You can also choose from a range of hardware, including a Square POS register. If you're in retail, you can opt for the Square for Retail software that's designed especially for your needs, but regardless of industry, Square makes it easy to accept online payments.   
Clover
Clover is one of the most customizable POS options available, with three software plans and four hardware options to choose from. Depending on the software you choose, you'll be able to integrate other apps you use for your business, as well as access the Clover app store to access other tools that can help you run your business more efficiently.
Shopify
As you can tell by the name, Shopify is one of the best POS options for retail businesses, both online or brick-and-mortar, especially because of its advanced store management and sales analytics. Shopify also integrates with MailChimp, so you can update your customers with emails targeted specifically toward their shopping habits and preferences.     
POS System vs. Cash Register: Which Is Right for Your Business?
Ultimately, when you're considering how to process payments at your point of sale, think about both your current and your future needs. All told, both POS systems and cash registers are an investment, so choose the method that will grow along with your business for years to come.
Article Sources:
Clover.com. "Clover Flex Point of Sale"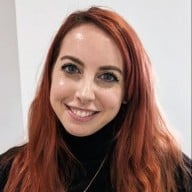 Caroline Goldstein is a contributing writer for Fundera.
Caroline is a freelance writer and editor, specializing in small business and finance. She has covered topics such as lending, credit cards, marketing, and starting a business for Fundera. Her work has appeared in JPMorgan Chase, Prevention, Refinery29, Bustle, Men's Health, and more.
Read Full Author Bio