What's not to love about the Chase Sapphire cards?
With stellar rewards programs and optimal returns on dining and travel, it's easy to wonder, "Can I get a Chase Sapphire business card?"
Technically speaking, there is no Chase Sapphire business card. The Chase Sapphire cards are both consumer cards, although you can use them for business spending, they'll always be under your name as an individual. Plus, you'll likely gain access to a lower credit line than you would with a business credit card.
That said, there are business credit cards that offer similar, perhaps even better, rewards to the Chase Sapphire Cards. And even if a chase sapphire business card did exist, you'd probably want to consider a few other cards anyway. Namely, the Chase Ink Business Preferred.
But, for starters, let's dive into the details of what the Chase Sapphire Preferred and the Chase Sapphire Reserve can offer to its cardholders:
The Chase Sapphire Preferred
The first of the two Sapphire cards is the Chase Sapphire Preferred. Let's run through the key features:
50,000 bonus rewards points when you spend $4,000 during your first three months
This could mean $625 worth of free travel if redeemed through Chase Ultimate Rewards
2x every dollar you spend on travel and dining
$95 annual fee (Chase will waive your first annual fee)
Bottom line: If you're looking for a consumer card with a mid-range annual fee and high-level rewards, the Chase Sapphire Preferred could be your best bet.
The Chase Sapphire Reserve
On the other hand, if you're looking for astronomical rewards rates, and you're not afraid of a substantial annual fee, then the Chase Sapphire Reserve might be a better fit for you. Let's run through the highlights:
50,000 bonus rewards points when you spend $4,000 during your first three months with the card
3x rewards on all of your travel and dining purchases
Get 50% more value when you redeem for airfare, hotels, car rentals, and cruises through Chase Ultimate Rewards. that means, 50,000 points are worth $750 toward travel
No blackout dates or travel restrictions—as long as there's a seat on the flight, you can book it through Chase Ultimate Rewards
There's a $400 annual fee, but that's waived for the first year and offset by a $300 yearly travel credit
As we said, the Chase Sapphire Reserve is a great option for those looking for high rewards but aren't afraid of a high expense.
Is There a Chase Sapphire Business Card?
As a reminder, there is no chase sapphire business card. That said, Chase offers one business credit card in particular that does a great job of emulating the Sapphire cards' incredible rewards rates and signing bonuses— the Chase Ink Preferred.
The Rundown on the Chase Ink Preferred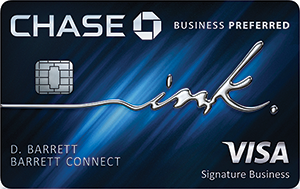 Credit Card
Ink Business Preferred® Credit Card
Great For: Point redemption rewards
Read Full Review
100,000 point signup bonus if you spend $15K in first 3 months
3x or 1x points depending on how you spend
Welcome offer

after you spend $15,000 in first 3 months

Rewards rate

for the first $150,000, then 1x points

Annual fee
Minimum credit
100,000 points
1 or 3 points
$95
700
As the Sapphire credit cards indicate, Chase knows how to package a sweet credit card deal. And its business credit cards are no exception.
The Chase Ink Preferred offers a hefty welcome bonus and incredible rewards rates. Not to mention, it also gives the cardholder access to the same Chase Ultimate Rewards that the Sapphire cards do.
But it's time we take a look at the details:
A generous welcome offer if you spend enough to unlock it
3x rewards for the first $150,000 you spend within certain categories
After that cap and outside of those spending categories, you'll earn 1x rewards for each dollar you spend.
Despite the top-of-the-line rewards it offers, the Ink Preferred's annual fee is only $95
Where the Ink Preferred Excels
So, you started out this article asking if there was a Chase Sapphire business credit card. Though, as you quickly found out, there isn't a Sapphire business card, all things considered, the Chase Ink Preferred is likely a better bet for your business spending anyway.
For starters, the Ink Business Preferred comes with a bigger signing bonus—you'll get 30,000 more bonus points in than you would with the Sapphire Preferred of the Sapphire Reserve.
Additionally, the Ink Preferred comes with more business-friendly top earning categories than the Sapphire cards. Instead of just dining and travel, the Ink Preferred lets you earn more for travel, advertisement, shipping, and communication services, which are all purchases that small businesses often shell out a lot of cash on.
Not to mention, because the Ink Preferred is a business credit card and not a personal one, additional employee cards will come free and you'll likely be able to access a higher credit limit.
All in all, there are more than a few reasons why the Ink Preferred would be a better fit for your business spending than a Chase Sapphire card.
What the Ink Preferred Lacks
Still, there are a few things you would miss out on if you opted for the Chase Ink Preferred over the Chase Sapphire Cards.
One in particular is the elevated reward points worth that you can access through the Chase Sapphire Reserve card. When you redeem your points through Chase Ultimate Rewards, the points you earn with a Sapphire Reserve are worth 50% more, whereas they're only worth 25% more with the Chase Ink Preferred.
Plus, you won't be able to have your first annual fee waived with the Chase Ink Preferred as you would with the Sapphire Preferred. A first year without an annual fee is the perfect way to try a credit card out without committing any money to it, but you won't be able to have that option with the Chase Ink Preferred.
As no credit card is perfect, the Chase Ink Preferred admittedly leaves some things to be desired, most of which, the Sapphire cards step up to the plate to fulfill.
Is the Ink Preferred the Perfect Business Counterpart to the Sapphire?
Both the Chase Ink Preferred and the Chase Sapphire cards are pretty stellar in their own ways.
Where one card lacks, another will fill in. Luckily, these cards are far from mutually exclusive. In fact, they work wonderfully in tandem, because Chase allows you to transfer your business rewards points to your personal account and vice versa.
Though the Sapphire cards are some of the best consumer credit cards on the market, the Ink Preferred outpaces them, especially when it comes to business spending.
The way we see it, business owners should be asking themselves if there's a Chase Ink Preferred consumer card, and not the other way around.
Apply for The Chase Ink Business Preferred
Contributing Writer
at
Fundera
Brayden is a credit card expert and the former vice president, new markets at Fundera. He's passionate about helping businesses take advantage of the best credit card offers on the market, from the longest 0% intro APR periods to the richest cash back and travel rewards bonuses.
Read Full Author Bio