Editorial Note: Fundera exists to help you make better business decisions. That's why we make sure our editorial integrity isn't influenced by our own business. The opinions, analyses, reviews, or recommendations in this article are those of our editorial team alone.
For ecommerce businesses, collecting email addresses from potential customers is an essential step in the process of generating, qualifying, and nurturing leads.
When an individual provides your company with their email address, they've stated that they truly want to engage further with your brand. While the vast majority of your site's visitors will come and go, those who volunteer their contact information have taken action in order to differentiate themselves.
And, on the whole, collecting a potential customer's email address provides you with an opportunity to learn more about them—and, in turn, tailor your email marketing strategy.
After all, email marketing isn't just potentially beneficial—it's actually proven. Case in point, eMarketer found that 81% of marketers believe email marketing to be a major driver of customer acquisition. In fact, email marketing can be as much as 40 times more effective than marketing via Facebook and Twitter combined. 
Simply put: A growing email list can lead to incredible growth for your ecommerce company.
While there are a number of email list-building strategies out there to choose from, this article will focus specifically on the use of pop-ups and overlays to collect email addresses. Let's get started.
How Effective Are Pop-Ups for Email Capture?
Done incorrectly, pop-ups certainly can backfire. However, when implemented correctly, pop-ups and overlays grab your visitors' attention, enhance their level of engagement with your brand, and increase their probability of converting (and/or increase their order value, in the case of current customers).
Need proof? Here are some examples of successful pop-ups and overlays:
While pop-ups generally get a bad rep (due to those that are poorly designed or annoying), the fact is that they can be incredibly effective in terms of generating new leads, as well as improving conversion rate and average order value (AOV). 
That said, let's dig into all that goes into creating effective pop-ups on your ecommerce website.
Ecommerce Pop-Ups: The Overarching Principles
Before we can get into specifics, let's first discuss the fundamentals of creating a pop-up that actually engages your potential or current customers, rather than driving them away. Your pop-ups should:
Provide Value
Your pop-ups need to provide value of some kind to your website's visitors; otherwise, your potential customers have no reason to engage with them. 
Take this pop-up from the Weather Channel, for example:
The problem with this pop-up is that it doesn't add value to the user's experience. What do we stand to get from abiding by the pop-up's prompt? More ads? No thanks!
Not only that, but it's also a pretty shameless attempt at guilt-tripping visitors into abiding by the prompt. (Note: This pop-up isn't meant to be an email capture or to make a sale—but it's still a prime example of what not to do when creating a pop-up.)
In contrast, check out this pop-up from GraphicStock:
This pop-up is much more likely to be well-received, since it's providing a clear value to potential customers. People who have found themselves on the GraphicStock website are likely interested in their product offerings, and this pop-up gives them an easy, free way to get started. Providing contact information in exchange for access to over 250,000 images and graphics could be a great value for some potential customers.
No matter what the purpose of your pop-up is, keep in mind that it should provide a value of some kind; otherwise, it could create a negative brand experience.
Be Personalized
As much as possible, your pop-ups should be tailored to specific individuals—or, at the very least, specific groups of individuals.
In cases in which you know the customer's name (i.e., they've already engaged with your site and are currently logged into their account), you definitely want to include their name within the pop-up, like this pop-up from OptinMonster:
Beyond personal details, you'll also want to provide offers that are relevant to the actions an individual has taken during their current browsing session on your site. 
For example, if someone is checking out a specific product, you might create a pop-up that promotes related items they may be interested in. Or, if they're visiting your site for the first time (i.e., haven't logged in and have just recently accepted cookies from your site), you might provide a one-time discount in exchange for their contact info.
The takeaway here is that your pop-ups should never come across as generic or impersonal. On the contrary, your goal is to determine the exact offer that will engage your visitors at a specific point in time, in the hope of further engaging them with your brand.
Match Your Branding
I'm sure the following will look familiar to anyone who's spent more than 10 minutes on the internet in their lifetime:
As with the Weather Channel pop-up from earlier, there's a few things that most likely prevent this pop-up from optimal conversion rates. 
First of all, there's no personality to this pop-up. It's a generic message, showcased in a generic format, with a generic color scheme. Even worse, the offer is generic, as well: Pretty much every company has a newsletter nowadays—what makes this one special?
On the other hand, take a look at this example:
In addition to providing a value, this pop-up also clearly matches the style, voice, font, and color scheme of the rest of this site. 
Appeal to Emotions
In one way or another, your pop-ups should appeal to a wide range of your visitors' emotions.
Perhaps you might decide to go the urgency/scarcity route:
Or, perhaps you might go for the soft sell:
You might even decide to inject some humor (again, as long as it matches your overall branding):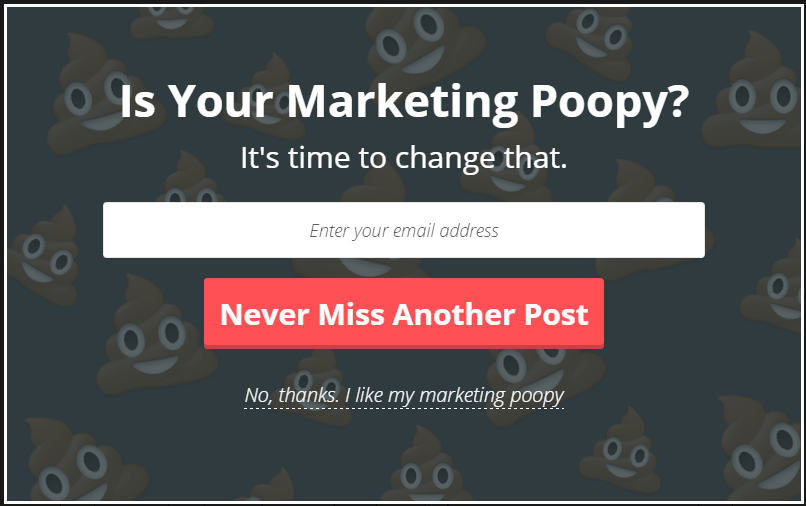 Of course, you typically don't want to invoke negative emotions in your customers when they encounter your pop-ups, as this likely won't help boost engagement with your brand. 
Regardless of what you're offering within your pop-up, err on the side of lightheartedness. In doing so, your visitors will see your pop-ups as a pleasant surprise—instead of an unpleasant distraction.
Now that we've hammered out the fundamental principles to follow when creating pop-ups for any purpose, let's discuss some of the most common ways in which pop-ups can be used for your ecommerce store.
Types of Ecommerce Pop-Ups: When, Why, and How to Implement Them
As we mentioned earlier, ecommerce companies use pop-ups for one of two main reasons:
While some of the following tactics are more focused on one of the two, others can actually be used for either goal, depending on the situation. And, some can potentially be used to accomplish both goals simultaneously.
As we discuss each tactic, we'll explain when you should use them, why doing so is so effective, how to design the pop-up to maximize its effectiveness, and we'll provide some examples, as well. 
New Visitor Promotions
To prevent visitors from landing on you site, (maybe) clicking around a bit, and then leaving, you want to do whatever you can to keep your new visitors engaged with your brand for as long as possible—both in terms of their initial browsing session, and on a more long-term basis.
There may be no better way to make this happen than to hit them with a valuable offer almost immediately upon their clicking over to your site.
In the example above, men's subscription service Manpacks offers new visitors $5 off their initial purchase in exchange for their email address. 
GlassesUSA makes an even more valuable offer:
In both cases, new visitors are given a monetary incentive to provide their contact information. Of course, this monetary incentive is directly tied to the company's products (as in, the companies aren't giving money away, but rather are providing discounts to customers making their first purchase). That said, both of these companies can be pretty sure that individuals who provide their email addresses via these pop-ups are interested in making a purchase.
A few things to notice within these examples:
The value provided within each pop-up is clear. The offers are presented using large fonts, and each example includes very little fine print (and even this fine print is easy to understand). Additionally, the directions are clear, as well: Submit your email address, receive a discount.
It's easy for visitors to complete their end of the bargain. They simply need to type in their email address and click the appropriate button, then check their email for further instructions.
The copy within the CTA button is customer-facing. Rather than the buttons reading "Submit" or "Enter My Email Address," the

CTA

is specifically focused on what the

visitor

gets out of the offer. 
As for when to present these pop-ups for first-time visitors: The quicker the better. While you do want to take into consideration metrics such as your visitors' average time on page, these times are likely to be much lower for your first-time visitors. It's best to present your offer immediately, rather than run the risk of never being able to make an offer to your first-timers at all.
Upselling and Cross-Selling
Upselling and cross-selling are two effective methods for increasing the amount of money your customers spend in a single transaction.
Let's quickly explain the difference between the two:
The process of showcasing products that are similar to the one a customer is thinking of purchasing—but that are more valuable is known as

upselling

. For example, if a customer is thinking of purchasing a 64GB iPhone X, the salesman might try to convince them that the 256GB version would better suit their needs.

The process of showcasing products that

complement

the experience the customer hopes to get out of a given product is known as

cross-selling

. For example, the salesman might also present a selection of phone cases for the new iPhone owner to choose from.
There are a number of moments in which to present an upsell or cross-sell offer via pop-up. The most common strategy is to set pop-ups to appear when a customer visits a specific product page, or when they add a product to their cart:

In the above example, the clothing retailer not only provides a selection of more valuable products to choose from, but also provides the customer with a 20% discount as an incentive to make the additional purchase.
You can also set upsell or cross-sell pop-ups to appear when a visitor attempts to navigate away from your site, as ZooShoo does here:
You can even use pop-ups to try and get your customers to make additional purchases after they've confirmed their initial purchase:
Again, the most important thing to consider when attempting to upsell or cross-sell a customer is how the additional items provide extra value to that specific customer. While figuring this out is much easier in a brick-and-mortar, face-to-face situation, you can create specific pop-up offers to be presented based on:
A customer's purchase history

The purchase history of other customers that fit their overall persona

The customer's on-site actions during a specific browsing session
With regard to that last point, the case may be that an attempt to upsell at a specific moment may be more effective than a cross-sell (or vice-versa). 
For example, if a customer navigates to your site and checks out five similar items of differing value, they'd likely respond well to a pop-up showcasing the most valuable of these products you have to offer. On the other hand, if they browse one main product and a number of supplemental items, you might want to suggest other smaller items that relate to their main purchase.
Out-of-Stock Notifications
There will be times in which you won't be able to fulfill a customer's potential order. 
Rather than allowing your disappointed visitor to navigate away from your page empty-handed, you can use a well-placed pop-up to keep them engaged and looking forward to the moment you do have their desired item in stock.
In the example above, Zappos makes it immediately clear that the shoe the customer is checking out isn't currently available (at least, not in the color they originally specified). Rather than simply saying, in so many words, "too bad, so sad," Zappos provides the visitor with two options:
Choose a different color, and purchase the shoe during this shopping session.

Input their email address to be notified of when their original choice is available.
Digital art retailer Fiftythree provides the following pop-up to their customers browsing the product page of an out-of-stock item:
Like Zappos, Fiftythree offers to reach out to their customers when the product becomes available in the future. Additionally, Fiftythree also takes this opportunity to see if the customer would like to sign up for their mailing list, as well.
These pop-up notifications are simple and to the point, with less focus on branding. As the message is more transactional in nature (rather than promotional), there's no need for the message to be heavily designed. 
These pop-ups are also easy to fill out and serve a specific purpose. For a good customer experience, you don't want to use your "out of stock" pop-ups as a backhanded way of gathering data on potential customers.
There are, however, two details to point out from these examples:
The message from Zappos reads "if" the item becomes available. Assuming the product will be available at

some

point in the future, it's best to use the word "

when

" in order to alleviate a sense of doubt in your potential customers.

The copy within Fiftythree's pop-up is perhaps a bit too impersonal. Looking back to Zappos' example, a quick apology can go a long way—especially when dealing with your disappointed customers.
Now, you'll want to present this pop-up either immediately once an individual clicks over to a specific product's page, or—in a case such as Zappos, in which a specific version of the product is unavailable—once they attempt to add it to their cart. You don't want your visitors to waste time checking out a product's specifications, photos, etc., only to find out they can't actually purchase it at the moment.
Exit-Intent Pop-Ups
No matter how common it is, potential customers navigating away from your site without making a purchase is disheartening—especially after they've added items to their cart but before they've purchased them.
With that in mind, the last pop-up tactic we'll discuss is the exit-intent pop-up, designed to prevent cart abandonment.
While the overall goal of such pop-ups is to keep your visitors engaged and moving forward with their purchase, you have a few different options in terms of how you reach this goal via your pop-up:
As shown in the example above, you can provide an incentive for potential customers to stay on-site and make an immediate purchase. However, if you choose to implement this tactic, you'll want to be sure that the offer only appears once per customer—or your more perceptive customers will likely end up taking advantage.
It's also worth noting that cart abandonment can also occur due to logistical complications on your site, such as a technical glitch, a problem with shipping information, etc. You might also use a pop-up to dig deeper into the specific issue a visitor had while browsing your site:
Now, there's always the possibility that a given visitor isn't ready to make a purchase at the current moment—and simply won't go through with it, no matter what you do. However, you can use a pop-up to "play the long game" by offering to save their cart for later:
In cases in which you already have an individual's email on file, this allows them to simply keep their cart on file in order to continue their shopping session at a later time. For brand-new visitors to your site, there's an added bonus in providing such a pop-up, in that you'll be able to collect their email address and provide further value to them in the future.
How do you know when to present these exit-intent pop-ups? It depends. While exit-intent actions come in many forms, the most typical are:
Visitors moving their mouse to a specific point of the screen (such as the address bar, or the top right of the screen)

Visitors remaining inactive (or moving their mouse but not clicking on your page) for a certain amount of time

Visitors hitting the "back" button in their browser, or navigating to multiple pages on your site without taking action toward converting
While some of these exit-intent actions are more universal, others may be more site-specific. To determine which of these actions apply to your site, you'll need to consider the actions your visitors have taken in the past that led to an exit—and use this data to pinpoint the best time to present an exit-intent pop-up.
Ecommerce Pop-Ups: The Bottom Line
Pop-ups are not annoying or distracting by nature. The reason pop-ups get a bad rap is simply because the vast majority of them are designed and implemented poorly. 
That said, as long as you create and present your pop-ups as a means to enhance your visitor's experience (rather than distract them from it), you stand to gain significant business—whether immediately or in the near future—in the process.
Anthony is the marketing manager at Sales & Orders. Sales & Orders' award-winning platform and team have helped thousands of retail brands capitalize on some of today's most valuable digital marketing channels.