15 Free Ecommerce WordPress Themes
Zigcy Lite by Access Press
Sporta by Modern Themes
eStore by ThemeGrill
Vogue by Kaira Themes
Tyche by ColorLib
OceanWP
Hestia by ThemeIsle
Leto by aThemes
8Store Lite by 8Degree Themes
Neve by ThemeIsle
Izabel by Catch Themes
Fashion Diva by Blossom Themes
OnePress by FameThemes
Spacious Store by ThemeGrill
Bellini by Anathema
Need to launch an online store with little-to-no upfront cost? Free ecommerce WordPress themes are your answer. With seamless shopping cart integration, various layouts, and blogging features, free themes provide the essential tools to run any type of online store. You simply need to pick the look and feature set that's right for you.
We scoured the market and uncovered 15 free WordPress ecommerce themes that pair sound basics with impressive design and customization options. Plus, each fully integrates with popular WordPress ecommerce plugins, like WooCommerce and WP EasyCart, which are also free. Going this route, your only out-of-pocket cost is website hosting—and even that is negligible if you use BlueHost's $2.95 monthly plan.
So what are you waiting for? Read through our 15 top theme picks below, choose your favorite, and turn those startup and side-gig dreams into reality.
Zigcy Lite by Access Press
User-friendly Zigcy Lite packs impressive display features into its free WordPress ecommerce theme. Image source: Access Press.
Zigcy Lite delivers many of the bells and whistles that define a modern website. Full-width design, built-in sliders, custom color schemes, site search, and great SEO tools are all built into this free theme. Plus, it fully integrates with the most popular WordPress ecommerce plugin, WooCommerce, as well as WP EasyCart and others.
Using three prebuilt designs, you can set up an online store using Zigcy Lite in no time. Adding your logo and social buttons, setting a color scheme, and inserting slider images takes just a few clicks in Zigcy's theme customizer. After that, it's just a matter of installing WooCommerce and tying your products and categories to various homepage elements.
Sporta by Modern Themes
Sporta's responsive coding and cutting-edge design flow perfectly across all devices. Image source: Modern Themes.
Sporta is a modern theme designed to highlight sleek, edgy brands. It integrates beautifully with the free WooCommerce ecommerce and WP EasyCart plugins, so product pages fit seamlessly within your overall site design. Sporta delivers a gorgeous homepage with animated sliders and customizable sections and it offers drop-down menu options. Color schemes and typefaces are fully customizable in Sporta, and its responsive design ensures your site looks great across all devices.
Left, right, and full-width layouts are available for both pages and posts in Sporta. Plus, you can use shortcodes to insert image galleries, buttons, and other elements into site content. You can extend Sporta's features with a paid plan, but the free version is a great entry point for any startup.
eStore by ThemeGrill
The free eStore WordPress ecommerce theme showcases large product collections beautifully. Image credit: ThemeGrill.
eStore is a free ecommerce WordPress theme specifically designed for large product collections. If you sell fewer than 50 items, eStore might be overkill for your startup or side-gig. However, if you offer a wide assortment of products—or plan to soon—you should seriously consider eStore. 
eStore is another free WordPress theme that boasts very high ratings, which is impressive considering its more than 10,000 users. But that's no surprise since eStore's feature list is extensive. WooCommerce-ready eStore lets you highlight and showcase products on your homepage many ways using various grids and widgets. You can also customize your site headers and color scheme, choose a left or right sidebar, and use multiple menus to organize your product categories.
Vogue by Kaira Themes
Like its magazine namesake, the free Vogue ecommerce theme appeals to sophisticated, style-minded shoppers. Image source: Kaira Themes.
Vogue is a free WordPress ecommerce theme that delivers sophisticated simplicity. Clean header design highlights your logo and main navigation without distracting from the imagery featured in the slider or pages below. Vogue is a social-focused theme, so your social media icons are prominently featured to engage shoppers and promote your social channels. 
Vogue is highly rated and boasts more than 10,000 downloads, so you can be sure of its stability and user-friendly features. With Vogue, you get four header options, five blog post layouts, and an ultra-modern blog masonry grid page. It also integrates with the free WooCommerce ecommerce plugin for seamless online store functionality and sitewide consistency.
Tyche by ColorLib
The free Tyche WordPress theme is feature-packed with sliders, sitewide banners, and more. Image source: ColorLib.
If you're looking for sleek styling out of the box, try the Tyche free ecommerce WordPress theme on for size. Tyche delivers many built-in perks including homepage slider, customizable homepage sections, left or right sidebar options, multiple menus, and sitewide header banners and social icons. Paired with the free WooCommerce ecommerce plugin, Tyche is an ideal free ecommerce theme for any style-focused shop.
User-friendly Tyche is made by top theme developer ColorLib, and it's no wonder that both theme and developer have great user reviews. ColorLib provides detailed documentation for its themes, including setup videos that walk you through every step and feature. If a no-fuss setup is your goal, Tyche delivers.
OceanWP
The free OceanWP WordPress ecommerce theme gives you total control over every design detail. Image source: OceanWP.  
OceanWP is an ecommerce-ready WordPress theme that delivers cutting-edge design and many customization options. If you don't mind digging into WordPress and playing with custom options and page builder tools, OceanWP is a great choice. It's a fast, responsive theme with plenty of SEO punch, plus it works with top ecommerce plugins and page builders like Elementor and Beaver Builder. 
OceanWP comes with several free pre-built site designs that you can use to quickly launch your online store. You can extend OceanWP's features and design options by adding the core extension bundle for $39 per year. However, the free version delivers plenty of functionality for a shoestring startup. 
Hestia by ThemeIsle
The free Hestia WordPress theme delivers one-page simplicity for ecommerce-enabled landing pages and mini-sites. Image source: ThemeIsle.
Hestia is a free WordPress ecommerce theme that works great for one-page websites. If you're selling a single item, small assortment of products, or online services, Hestia is one to consider. It's also a great choice for building landing page websites for marketing and lead generation.
With Hestia, you don't have to build out multiple pages and menus to launch a complete website. You can simply install free WordPress ecommerce plugin, insert a few items or services to sell, complete a few home page sections with marketing content—and boom! Your website is complete. Hestia gives you four prebuilt page designs in the free version. Plus, it supports multiple product and blog pages under a simple menu structure, if needed.
Leto by aThemes
Leto is a free WordPress ecommerce theme with a sticky header and crisp, no-fuss styling. Image source: aThemes.
Don't let Leto's simple styling fool you. You'll find some serious sales conversion features packed into this free ecommerce WordPress theme. Leto's package includes a homepage hero image, customizable homepage and header elements, and control over colors and fonts. Leto also features a sticky header which keeps your logo and navigation menus onscreen as shoppers scroll down the page. This feature is missing from most of the free WordPress themes on this list.
Leto integrates beautifully with the free WooCommerce and WP EasyCart ecommerce plugins. After a quick setup using Leto's pre-built page templates, you can quickly connect featured items and product categories to Leto's home page. Plus, you can add conversion triggers such as free shipping or sale messages to various homepage sections.
8Store Lite by 8Degree Themes
8Store Lite delivers an engaging visual experience via interactive sliders and video-enabled banners. Image source: 8Store.
The free 8Store Lite WordPress ecommerce theme lets you build a visually stunning ecommerce store in no time. It features a homepage video banner, which sets it apart from most other free WordPress themes. Video is a proven conversion tool, and if it's part of your marketing strategy, you can easily showcase video front-and-center using 8Store Lite.
8Store Lite fully integrates with the free WP EasyCart and WooCommerce ecommerce plugins for sitewide design consistency. Plus, you can customize all homepage elements, the site header, colors and fonts, and choose from four sidebar configurations for pages and posts. 8Store Lite also delivers key conversion tools like call-to-action inserts within blog posts, a promotion countdown banner, and featured product sliders.  
Neve by ThemeIsle
Neve lets you take full advantage of the new WordPress Gutenberg editor's many design features. Image source: ThemeIsle.
If you want a free ecommerce WordPress theme designed for WordPress's new Gutenberg editor, check out Neve. This ultra-modern theme lets you explore the power of Gutenberg design blocks throughout your pages and posts. Plus, it seamlessly integrates with plugins like WP EasyCart and WooCommerce for online store functionality. 
If you're just starting out in WordPress, it's a good idea to choose a Gutenberg-ready theme since that's where WordPress is heading. Neve's free version delivers virtually unlimited customizability, largely due to its Gutenberg features. However, paid plans cost just $59 per year and extend customization into WooCommerce product pages. This is a unique feature that most free and many paid WordPress themes can't match.
Izabel by Catch Themes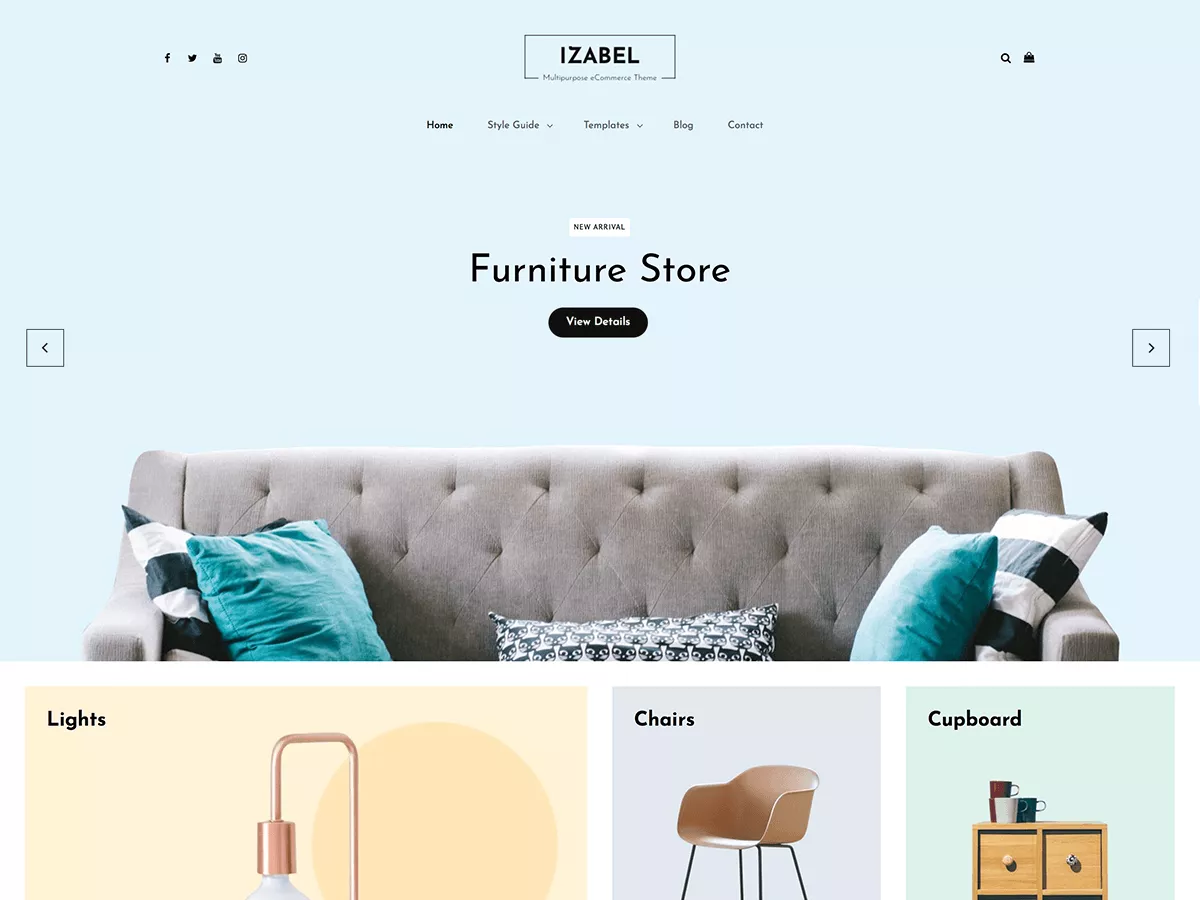 The free Izabel ecommerce WordPress theme mimics the visual appeal of Instagram and Pinterest. Image source: Catch Themes.
Izabel is an ideal free WordPress ecommerce theme for stores that want to showcase great visuals. This theme features a combination slider and masonry grid home page that highlights products and categories in an eye-catching fashion. Izabel is completely responsive, too, so sites look equally stunning across desktop, tablet, and mobile phone devices.
Izabel works with free ecommerce plugins, including WooCommerce and WP EasyCart for shopping cart functionality. You can easily tie featured products and categories to specific homepage sections, and insert blog posts, testimonials, and stylebook galleries to further engage shoppers.
Fashion Diva by Blossom Themes
Fashion Diva is a blogger-inspired free WordPress theme that drives social engagement sitewide. Image source: Blossom Themes.
Fashion Diva is a free WordPress ecommerce theme made specifically for influencers-turned-sellers and online stores with strong social media marketing. Perhaps the best feature of Fashion Diva is its Instagram integration. Social media butterflies can place an Instagram profile feed on the home page to engage shoppers and further social branding. Fashion Diva also places prominent social icons in its top bar to drive social engagement. 
Fashion Diva integrates with the free WooCommerce ecommerce plugin for shopping cart functionality. It provides two customizable homepage layouts with featured product categories and blog post sliders. Fashion Diva is clearly designed with the fashionista in mind, but it's still quite customizable. By simply changing the color scheme and logo, you can make this social-forward theme your own.
OnePress by FameThemes
The free OnePress theme lets you quickly craft ecommerce-enabled landing page websites. Image source: FameThemes.
OnePress is a free one-page ecommerce WordPress theme that gets high marks from its more than 130,000 users. OnePress delivers modern styling with full-width imagery, parallax effects, customizable content blocks, and fully responsive design. Add ecommerce features with a free plugin like WooCommerce or WP EasyCart to easily market and sell products, services, and memberships online.
Use OnePress's ready templates to quickly build out the bones of your WordPress ecommerce website. From there, you can customize page blocks to display call-to-action messaging and featured products, and even insert an image gallery or video to tell your brand's story.
Spacious Store by ThemeGrill
Spacious Store creates plenty of visual impact with its crisp grid styling and interactive slider. Image source: ThemeGrill
The free Spacious Store WordPress ecommerce theme delivers an image-driven homepage designed to appeal to the Instagram crowd. Its clean grid tells your story visually without clutter or distractions, and each section is completely customizable. Thirteen built-in homepage widget areas let you arrange various elements including a four-image slider, featured blog posts and products, item categories, testimonials, and more.
Spacious Store is optimized for the free WooCommerce ecommerce plugin, so product and category pages match your sitewide design. Spacious Store also supports boxed and widescreen site layouts. Whichever you choose, this theme's responsive design ensures it displays perfectly across all devices.
Bellini by Anathema
Bellini is a free ecommerce theme delivering plenty of custom control over site typography and imagery. Image source: Anathema.
Bellini is an attention-getting free WordPress ecommerce theme that emphasizes imagery and typography. With so much white space, its overall feel can be simplistic, but its performance is anything but. Bellini is a fast-loading, responsive theme with plenty of customization options. It's designed with SEO in mind, too, and includes built-in features that boost your search engine rankings.
Bellini fully integrates with free ecommerce plugins including WooCommerce and WP EasyCart for sitewide design consistency. You can also select left, right, or no sidebar options for pages and posts, and populate sidebar and footer sections with customizable content widgets. 
How to Choose the Best Free Ecommerce WordPress Theme
Choosing the perfect free WordPress theme among the thousands on the market can be overwhelming—especially if you're new to WordPress. Even the 15 themes above offer many overlapping features and design similarities. Here are three tips to help you navigate this task.
1. Match Themes Features to Your Website Needs
Narrow the field by making a list of your unique business needs and website design goals. 
For example:
Do you want a home page slider, hero, or parallax image? 

Do you prefer a "sticky header" so your logo and navigation to remain onscreen when users scroll down the page?

Do you want complete control over website colors and fonts?

Do you need strong social features, like Instagram integration and prominent social icons?

Do marketing perks like built-in calls-to-action and video banners matter to your business? 
Many free themes don't offer a sticky header, built-in sliders, custom color schemes, or video banners. By listing your design and functionality must-haves, you can eliminate many themes up front to speed up your search.
2. Avoid Unsupported and Outdated WordPress Themes
Unlike the 15 free ecommerce themes above, some free themes aren't well supported by their developers. When searching on your own, you'll run across plenty of poorly designed and outdated themes. It's best to avoid these since they're guaranteed to cause website performance issues down the line. 
WordPress.org is a good place to research free themes since it clearly displays user reviews, update status, and WordPress version compatibility. Reliable themes have good user reviews and recent updates, as shown on Zigcy Lite's data page, below. If a theme hasn't been updated within three to six months or shows mixed reviews, it's best to move on.
The WordPress.org theme directory displays user reviews and update details for most free WordPress themes. Image source: WordPress.org.
3. Plan on Adding Features to Free Ecommerce WordPress Themes
Last, consider the free and paid features of each theme on your shortlist. Most developer websites provide free vs. paid comparison charts like the one below, so you know exactly what you're getting with each option.
Most WordPress theme developers provide a detailed list of features for both free and paid themes. Image source: Access Press.
Paid versions can be worthwhile if you need specific functionality. Or, you might start with a free version, but grow to need its paid features over time. If so, it's nice to know they're just a click away.
The final word is that all of these themes are free. It costs nothing to download two or twenty and test them out. You'll learn a lot about WordPress in the process, too—and that's always time well spent.