Best Grocery Store POS Systems
Revel POS systems: A fully integrated, customizable POS system— but it comes at a significant cost.
Clover POS systems: A happy medium between capability and reasonable, transparent pricing.
Square POS systems: A great option if you're willing to search for an external scale but want to access high-power inventory tracking.
Polar POS: If you're looking for a POS system made specifically for grocers, this might be it.
POS Nation: POS Nation also caters directly to grocers and offers a ton of features.
Remember the days when all a grocery store needed to ring up customers was a scale and a register? Neither do we. Though your average grocery store POS system has evolved dramatically in the past couple of years, they've been a necessity for much longer than that. Consumers in the U.S. alone spend 12% to 18% more when they spend with credit cards means grocery stores and markets were eager, early adopters of POS systems.
We've compiled all the details on the five best grocery store point of sale systems into one resource, along with what kinds of features you should look for in a grocery store POS.
Top 5 Grocery Store Point of Sale Systems
While you could use almost any POS system as your grocery POS system, there are some that are better suited to the thousands of items and the possibly varying prices that are common with grocery stores.
Here are the top five options you should consider to upgrade your grocery store's checkout processes:
Revel POS Systems
If you're looking for a grocery store POS system that offers a full package, then we suggest you look into Revel POS system. Revel offers iPad-based POS systems along with pretty much any hardware you could need for your grocery store. Based on what you want from your grocery store POS system, Revel will bundle their preconfigured POS hardware. And if you want to access features like stands and self-service kiosks, Revel can set up a POS package for your grocery store. Their hardware options offer the most integrated and the most comprehensive options for your grocery store.
That said, Revel will likely cost your business a pretty penny: Their POS software starts at $99 a month and requires a three-year contract. Plus, installing a Revel POS system will cost your business at least $649, and that number doesn't even include the cost of the physical hardware itself or the payment processing fees Revel will charge.[1] If you think that Revel offers the right POS system bundle for your grocery store, be sure that it's worth the investment and the long-term commitment.
Clover POS Systems
On the other hand, if you're not convinced that a grocery store POS system from Revel would be worth the cost, then check out Clover POS systems. With the Clover Register POS software, you'll be able to perform all of the actions necessary for a top-of-the-line grocery store POS system. And Clover Register software will only cost you $29 a month, which is pennies next to the cost of Revel POS software.
Plus, Clover offers four POS hardware options ranging from a smart device card reader all the way up to a fully autonomous countertop POS. Because none of the Clover POS terminals comes with a scale by default, Clover accessories include POS scales that can be easily integrated into a Clover POS terminal to make for a solid grocery store POS system.
On top of all of those perks, Clover is also remarkably transparent with their payment processing fees. With the Clover Register POS software, each payment will be priced one of two ways:
2.3% of the transaction value, plus $0.10 per magstripe, chip, and contactless payments
3.5% of the transaction value, plus $0.10 per keyed-in transactions
All in, if you're looking for a grocery store POS system that's less of an investment than a Revel POS, then Clover offers another well-equipped option.
Open a Clover Account
Square POS Systems
Finally, if neither Clover or Revel seems like the right POS system for your grocery store, then consider Square POS systems. Square is a vanguard company that leads the charge in offering accessible, smart device-enabled POS systems. And ever since they've enter the industry, Square has continually upped their game. This continual innovation is best evidenced by their Square Register.
This Square POS system is ideal for grocery stores for a few main reasons. For one, its two screens—one customer-facing and one for the employee behind the counter—make check-out a breeze. More practically, the Square Register offers thorough, multi-location inventory tracking and insights.
The Square Register will cost you, though: You can either pay $49 a month for 24 months or $999 outright for this POS terminal. That said, for payments you process through the Register, you'll get to pay a more ideal payment processing fee than with other Square POS terminals. For any magstripe, chip, and contactless payment you process through the Square Register, you'll pay 2.5% of the transaction value, plus $0.10 per transaction.
One thing to note about this grocery store POS system option: It won't come with an automatically integratable POS scale. As a result, you'll need to find a retail scale from a third-party source like POS Nation or even eBay—just be sure that your chosen scale will be compatible with a Square system before you purchase the scale.
Sign Up for Square for Free
Polar POS 
The company Polar, based out of Mundelein, IL, makes an industry-specific grocery store POS. If you like the idea of having a POS system made specifically for your industry, Polar POS is a great option for you.
Their system comes with support for integrating scales and scanners at the register and even for specific departments like the meat department, standalone payment terminals, and EBT transaction processing. All of this is available at a fairly low price when comparing it to other options.
The lowest plan with Polar POS will cost you $24.99 a month and that plan comes with one register, allows for two users, 50 products and comes with basic reporting and basic features. This least expensive option probably won't be the right fit for any grocer out there. The second tier plan comes in at a price os $54.99 a month and still comes with two registers, allows for four users, 200 products, and advanced reporting and time and attendance and a shelf labeler. The most expensive pre-set plan will cost you $99.99 a month, it comes with three registers for eight users and allows for unlimited products. It comes with all the features Polar has to offer and access to remote and phone support. You can also contact Polar for a custom plan if you need more than the options available.
POS Nation
If you're looking for a ton of feature, like coupon acceptance, customer loyalty, mix and match pricing and more, POS Nation is one for you to check out. They are known for their numerous features and they have a POS system specifically for grocers. Their POS systems come with a touchscreen terminal, a cash drawer, and a receipt printer, but you can, of course, add whatever else you need on to your package from them.
Their prices vary depending on whether you want a local database or a cloud-based one. If you pay monthly for a local database it will cost you $99 a month for the basic package before add-ons, purchasing upfront costs $1,399. The cloud database also costs $99 if you plan to pay monthly, or $1,249 and then an additional $69 a month.
Any options you pay for monthly comes with 24/7 support, and the monthly payments also come with a lifetime warranty. Paying upfront will get you a 2-year warranty on the equipment. Another positive of paying monthly is that you can cancel at any time and return the hardware.
There's a handy tool on their website that allows you to build your own grocery POS system and see how much it would cost by entering your information along with your industry, in this case grocery, and how many terminals you would need.
What Your Grocery POS System Should Have
Now that we've explained the different grocery store POS system options to you, we're going to go over some of the key features you should be looking for when shopping for your grocery store point of sale software.
Many of the features you want your grocery store POS to have are features you'd want in a POS for any industry. Some of the features listed below are grocer specific, but you also might decide that you don't need some of the more out of the ordinary features we list. The exact features you need will come down to your personal preferences. We compiled a list to make your search a little bit easier, here's what features you should consider looking for in a grocery store POS system:
Comprehensive Inventory Tracking
Because grocery stores, by nature, deal with huge amounts of inventory—and rapid turnover of said inventory—you're going to want to make sure you've got the right tools for tracking all of this movement. Make sure your grocery store POS system will help you automate how much of each unit you sell—and how much of each unit you have shelved. You might also want this to sync across several locations if you have more than one store.
Thorough Sales Reporting
All of the best grocery store POS systems will also allow you to access zoomed out analytics of your grocery store's sales. Be sure the sales reporting features for whatever POS system software you choose offers the right reporting for your needs.
Employee Permissions
Additionally, you'll likely want your grocery store POS system to have customizable employee permissions. That way, varying members of your team will have varying access to POS capabilities based on their level of responsibilities. Consider whether employee theft notifications are also something you'd want to be included.
Receipt Options
More to the point of giving your customers a choice between digital or physical receipts—you won't be able to print, text, or email receipts if your grocery store POS system software doesn't give you the option. Make sure you're investing in a POS system for your grocery store that will allow you to choose receipt options based on your customers' preferences.
Easy-to-Learn Systems
You want the system to be intuitive and easy to use. Your employees will be working quickly, especially during peak hours, and an easy to use and adjust system can be a lifesaver. you'll also have employees with a variety of technical skills and backgrounds so you want to make sure anyone can be trained on your grocery store POS system quickly and easily.
Integrations
There are other things you might want the ability to add to your grocery store POS system, like a customer-facing screen so they can see their purchase total, and you'll definitely want the option to add a scale if the POS doesn't already come with one. Other integrations you might want if your POS doesn't come with it is a customer loyalty program or a coupon system.
Grocery Store POS System Hardware You'll Need
Not sure any of our favorite grocery store POS systems are the right fit for your business? We won't be offended—after all, you know your business best. If you want to set out on your own hunt for the perfect grocery store POS system, be sure you go into it knowing exactly what you need from potential options.
To help you get started, we've compiled a list, broken up by the grocery store POS system hardware you'll need.
Here is some hardware you'll likely want for your grocery store checkout terminal:
Scale
One of the pieces of hardware that most grocery stores will need in a POS system is a scale. If you sell anything that is priced by weight, then a POS scale is a must for your business—bonus points if you're able to find a POS scale that also has a barcode scanner for produce labels.
Barcode Scanner
Having a barcode is another one of the main advantages of a POS systems for grocery stores. Being able to easily, efficiently ring up customers will make everyone happier. Plus, scanning barcodes will make managing your inventory that much more automated.
Card Reader
This might seem like a no-brainer, but it's worth emphasizing that whatever card reader you have on your grocery store POS system could make or break your checkout process. Be sure that your card reader offers all of the payment options your customers want—and that it works efficiently.
PIN Keypad
Whether on a physical keypad or on the screen of a smart device, a PIN verification should be an option that your grocery store POS system offers customers.
Cash Register
Even though cash-paying customers are getting rarer, you'll definitely need a cash register to store whatever cash you and your employees handle when operating your grocery store POS system.
Receipt Printer
Finally, you also want your grocery store POS system to provide your customers with receipt options. If you think your customers will prefer physical receipts over digital receipts, then you'll need a receipt printer.
Choosing the Right POS System for Your Grocery Store
Having made it through our guide to choosing the best grocery store POS system possible, what's your next move? Well, if you decided that one of our favorite POS systems for grocery stores is the one for you, you'll simply have to contact the company's team to either get a quote or purchase the POS system! On the other hand, if you've decided to head out on your own search for other grocery store POS systems, then keep these 10 key factors top-of-mind as you do so. With this knowledge at your disposal, you're sure to find the best POS system possible for your grocery store.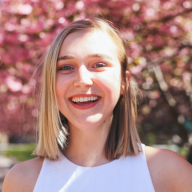 Contributing Writer
at
Fundera
Maddie Shepherd is a former Fundera senior staff writer and current contributing writer for Fundera. 
Maddie has an extensive knowledge of business credit cards, accounting tools, and merchant services, but specializes in small business financing advice. She has reviewed and analyzed dozens of financial tools and providers, helping business owners make better financial decisions. 
Read Full Author Bio