How to Sell Your Art Online
Build a website with an ecommerce store feature, either on a popular ecommerce platform, art-focused website platform, or Shopify.
Sell on social media, like Facebook, Instagram, or Pinterest.
Set up a store or an online marketplace, like Etsy, eBay, or Amazon.
Sell on an online gallery or art-focused marketplace, like Society6, Artfinder, Saatchi Art, or Ugallery.
It's safe to say that no artist ever picked up their craft in order to make money from it (and if they did, they're in the wrong line of work). But there often comes a time in an artist's career when they feel it's right to begin selling their work and treating their operation more like starting a business—if not to make lots of money, necessarily, then to share their labors of love with a wider audience. And for artists working within a global, digitally focused economy, "selling your work" really means understanding how to sell art online.
For emerging artists, selling work online is often a more accessible option than seeking representation with a brick-and-mortar gallery. Beyond that, it can act as a form of business marketing: By placing your work for sale online, especially on a major ecommerce platform, you're exposed to a much bigger audience than even a premier gallery might be able to reach. Online marketplaces also make the selling process simple for individuals, and selling fees and commission rates tend to be relatively low. 
We'll show you where to sell art online to ensure you're listing your work legitimately, whether that's through an intermediary, like a marketplace, which connects you with international collectors; or on a dedicated online store that you build and manage yourself.                 
A Guide on How to Sell Your Art Online
The best venue through which to sell your art you depends largely upon the type of art you make, the commission rate and other fees you're willing to sacrifice, and where your target market shops. If your audience skews younger, for instance, then you'll likely want to dedicate more of your efforts to selling your art through your social channels. We know, there are a lot of factors at play when it comes to figuring out how to sell art online.
But with that in mind, all of these selling methods supplement each other nicely. After researching these options, you may decide to choose one as your primary method and another as your secondary method (and yet another as your tertiary method, if you really want to hustle). 
Build a Website With an Ecommerce Store Feature
It's crucial for artists to have their own websites for online marketing and SEO strategy purposes. But most website platforms are also designed with ecommerce functionality, which for your customers creates an easy and integrated buying process (and which may make them more willing to make a purchase). Selling your art directly to customers through your own website also ensures that you'll keep 100% of your profits, rather than sacrificing a commission as you would by selling through a third-party platform or gallery.   
Popular Ecommerce Platforms 
Squarespace and Wix are two of the most popular website building platforms for their professionally designed templates, useful app integrations, personalization, and simple user interfaces. Both feature several website templates designed especially for showcasing art, and offer plans with ecommerce solutions. Each of their ecommerce-equipped plans is reasonably priced, too: Wix's most popular ecommerce plan costs $27 per month, and Squarespace's basic ecommerce plan is $26 per month.  
Art-Focused Website Platforms
Alternatively, you can opt to build your website on a platform designed specifically for artists to display and sell their work—FASO and OtherPeoplesPixels are two popular options. These platforms offer website templates, art marketing tools, and simple, built-in ecommerce solutions. 
Do keep in mind, however, that their marketing and selling tools may not be as robust as those you'd find with Squarespace or Wix. That said, you may not actually need such comprehensive marketing tools to sell your art online, and you may feel like you're in better hands using a website builder whose features are designed particularly with artists' needs in mind. 
Shopify    
Artist-entrepreneurs can use Shopify to build, manage, and market a standalone online store from top to bottom. This solution makes the most sense for artists who sell their art in bigger quantities, rather than occasional one-offs, and who are seeking a scalable solution. 
Shopify is one of the most powerful ecommerce solutions on the market. In additional to its virtually limitless personalization tools, Shopify offers its merchants marketing tools, payment processing solutions, integrations with your social media accounts, CRM tools, performance analytics, and a native shipping solution. You can also access its robust app ecosystem and find tools that further automate and streamline your processes, like apps that handle printing, packaging, and shipping your work.   
Sell on Social Media
Creating dedicated accounts for your artwork on all popular social media platforms is also critical for your marketing efforts; Instagram, Facebook, and Pinterest are three of the more highly trafficked platforms, especially for customers seeking art. That makes them ideal for social media marketing. 
But social media is also a powerful commerce tool, and by integrating your accounts with your online store, customers can buy your work directly from your social media profiles. If you have a business Facebook page, Shopify allows you to create a fully integrated Facebook shop, and shoppers can buy directly from Shopify merchants' Instagram posts and Stories. Squarespace also offers a shoppable post integration with Instagram.   
If you have business accounts to advertise on Instagram and Pinterest (which we recommend!), then you can enable Instagram Shopping and Shop the Look Pins on each platform, respectively, so customers can make purchases through your posts directly. Just keep in mind that accounts have to be approved for Instagram Shopping before you can take advantage of this platform's feature.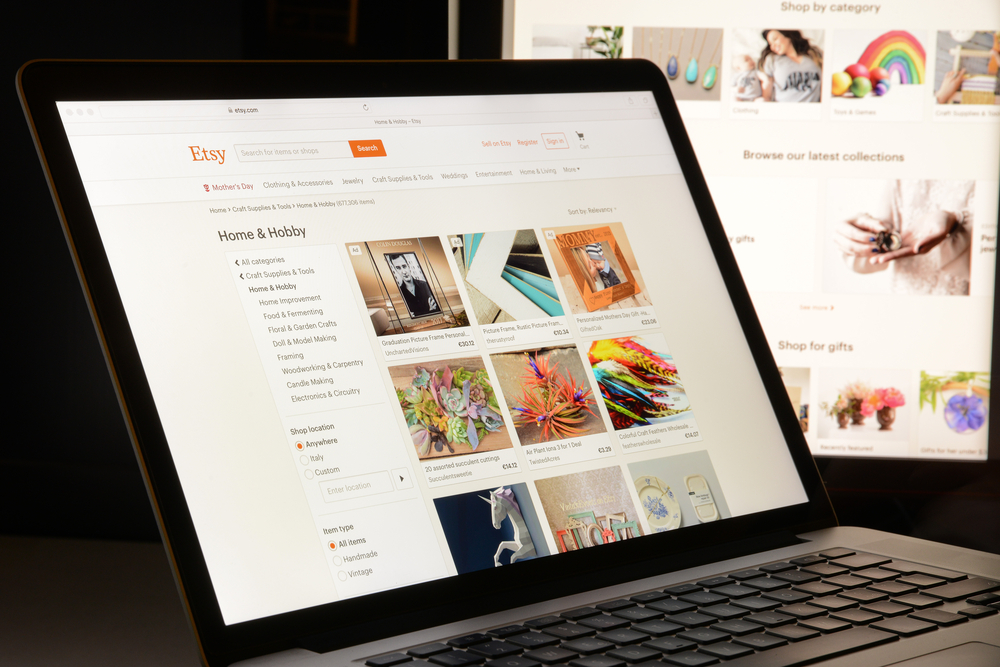 Set up a Store on an Online Marketplace
Selling your artwork on a major online marketplace like Etsy, eBay, or Amazon provides you with built-in traffic, so you'll likely garner more leads on these platforms—which boast audiences millions of shoppers strong—than you would through your own marketing efforts. You'll need to pay listing and transaction fees, but online marketplaces usually don't take as much of the per-sale commission as galleries or art-only marketplaces do.  
That said, setting up shop on one or several of these marketplaces works best in tandem with selling through your own website or ecommerce store: You can leverage an online marketplace's huge audience to gauge demand, develop your art, and garner a customer base, but you should ultimately redirect those new clients back to your own website or store to establish customer loyalty (and improve customer retention by selling more work, more consistently in the future). 
Consider the following three major, artist-friendly ecommerce platforms for listing and selling your work:       
Etsy
Etsy began as a marketplace on which independent artisans and creators could market and sell unique, handcrafted work. So this platform is a natural choice for artists wondering how to sell art online. Etsy has an audience of nearly 33 million international buyers in the market for one-of-a-kind items, which sounds like a good bet to us. Setting up an Etsy storefront also gives you access to Etsy's built-in marketing tools, robust customer support, and third-party apps that can further enhance and automate your selling process. 
Etsy's Standard plan is free, and their Plus plan costs $10 per month. You'll also be responsible for a $0.20 listing fee, plus a 5% transaction fee and a 3% + $0.25 payment processing fee per transaction. If this sounds like a viable option for your work, take a look at our comprehensive guide to opening an Etsy shop.   
eBay
To consumers, eBay is commonly known as a platform on which to put used or secondhand items up for auction; but for sellers, it's an equally viable channel to list original artwork. 
Depending on your preferences, eBay might not be the right marketplace for every artist, however. To sell on an auction platform, you have to accept that your work likely won't sell at the price you've initially set; you'll also need to keep careful track of eBay's several selling fees. It may be worth consulting our guide to selling on eBay to determine whether selling on this platform makes sense for you.  
Amazon
By selling on Amazon, you'll benefit from the company's massive brand recognition, huge international audience, and seller-friendly logistical tools like Fulfillment by Amazon (FBA), which stores, packages, and ships your products on your behalf for an additional price. 
In particular, Amazon's Art pages list work by independent fine artists, printmakers, photographers, illustrators, and mixed media artists. Regardless of the type of art they're selling (or any other type of product, for that matter), Amazon sellers are responsible for a $0.99 per item fee, plus a referral fee and variable closing fees. Amazon's basic subscription plan is free, but sellers planning to sell more than 40 items per month should choose the Professional plan, which costs $39.99 per month. 
Before setting up shop here, we'd recommend taking a close look at Amazon's fees to understand exactly how much selling your art here would cost you.       
Sell on an Online Gallery or Art-Focused Marketplace
Selling on a major ecommerce platform like Etsy, eBay, and/or Amazon is a valuable and accessible way for independent artists to reach a massive store of international buyers. Still, you'll have to compete with thousands (if not millions) of other sellers to convert those leads into customers. 
For that reason, you may find it more efficient to sell your work on an online marketplace that solely sells art—your competition on these art-focused platforms is smaller, and your audience more discerning. Do be warned, however, that these marketplaces take a sizeable per-sale commission. 
The following are just a handful of popular, legitimate, and accessible online galleries on which to consider selling your work:
Society6
Society6 is an approachable option for photographers, fine artists, graphic designers, and typographers to sell their work, or to turn their work into products—among this platform's more popular product categories include art prints and wall art, iPhone cases, T-shirts and other apparel, pillows, and stationery.
Society6 is an open community, so anyone can sign up to sell their work on this platform. If you sell an item, Society6 will produce, package, and ship your work for you. They'll retain 10% commission, which is very low compared to other marketplaces (and certainly galleries, which typically take around 50% commission).
Artfinder
Artfinder aggregates independent artists internationally and exposes them to a global audience of over 500,000 customers. This platform supports visual artists (painters, illustrators, collagists, printmakers, sculptors, photographers, digital artists, and fine art reproducers), and they don't allow the sale of clothing, jewelry, furniture, or greeting cards. 
Depending on the Seller Plan subscription you choose, Artfinder will take either 40% or 33% commission on sold items, which is more aligned with brick-and-mortar commission rates. You do need to apply to sell on Artfinder, however, and not every artist who applies will be accepted after review. Artists are also responsible for handling the shipping themselves, though customers cover shipping costs.  
Saatchi Art
Saatchi Art is the world's largest online platform for emerging fine artists to show and sell their work to collectors in over 80 countries. In addition to reaching an international audience of serious collectors, you can receive personalized support from Saatchi Art's in-house team of art advisors. Artists within the Saatchi Art network may also have the opportunity to be handpicked by Saatchi Art's curators, who can connect artists directly to designers, architects, experienced collectors, and other high-intent clients. The platform's partnership with The Other Art Fair provides emerging artists with even more opportunity for in-person exposure to major collectors. 
Considering its status as the premier global online gallery, creating a Saatchi Art account is quite accessible. To create a free account, you'll upload a government-issued photo ID; once you're approved, you'll upload photos of your work and complete a profile explaining your background and experience. Helpfully, too, the platform handles shipping, and shipping costs are included in the listing price; you just need to package your work and arrange for a courier to pick it up. Saatchi Art takes 35% commission from the final sale price. (Also, heads up: Despite the shared name, gallerist Charles Saatchi does not own Saatchi Art.)     
Ugallery
Ugallery connects artists with a global network of independent buyers, as well as corporate clients and individual collectors seeking commissioned work. Ugallery is among the more exclusive online galleries on this list—currently, the juried platform represents about 500 emerging and mid-career artists. That said, it only takes about 10 minutes and costs $5 to apply, so you have very little to lose (and, potentially, a lot to gain) by sending in an application. If you're accepted, you'll receive a call from a representative and receive a personalized onboarding process. 
Be aware that Ugallery takes a hefty 50% commission, similarly to brick-and-mortar galleries. They do cover all fees associated with packaging and shipping work, however.
The Bottom Line on How to Sell Art Online
It's pretty non-negotiable that artists create their own websites and social media channels for marketing purposes. Lucky for you, these channels also happen to be two of the more approachable methods when it comes to how to sell your art online. From there, you can decide whether you'd like to explore selling your work on an aggregated online marketplace, either art-focused or not; or applying for representation on an online gallery.