If you are or have been in need of legal help for your business, chances are you've considered online legal services. Getting legal help online is convenient, affordable, and best of all, quick—which is important when you need a legal answer right away.
Incfile is one of the top legal help sites for small businesses. Small business owners can incorporate a business on Incfile for free (pay just state filing fees), hire a registered agent, file business taxes, and much more. Find out all the available services, pricing, and best alternatives to Incfile.
What Is Incfile?
Incfile is an online legal services company that lets small business owners form business entities, file compliance documents, and file taxes. Services are customized based on the state or states in which your business operates. Incfile charges a flat, one-time fee for services, which means there are no long-term contracts or retainers to pay.
Incfile is best known for their business formation services. Since launching in 2004, Incfile has helped more than 250,000 companies get off the ground. Incfile staff are familiar with entity formation requirements in all 50 states and Washington D.C.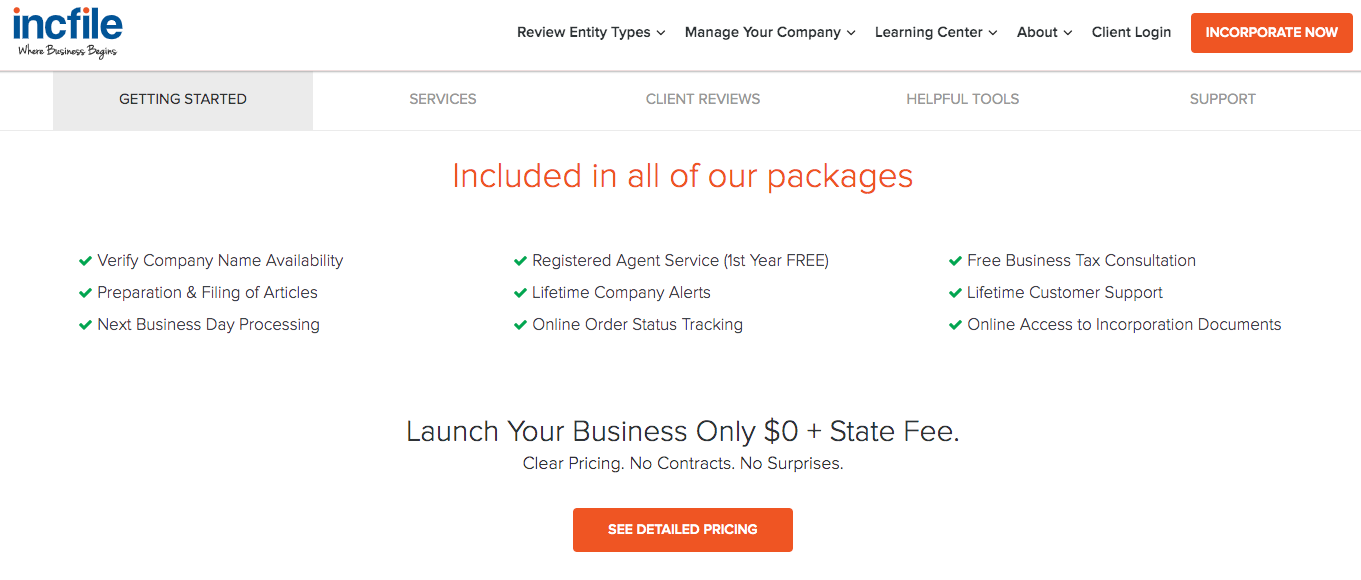 Photo credit: Incfile.com
Incfile Services
There are several kinds of legal assistance that you can access on Incfile, including the following:
Due diligence: Before your company can be up and running, you have to make sure your business name is available and that you have all local, state, and federal business licenses that you need. Incfile will run a business name availability check and business license search.
Business entity filings: Form an S-corporation or C-corporation, limited liability company (LLC), or nonprofit. Incfile will prepare your filing documents and submit them to the state.
Registered agent: Incfile will serve as your registered agent, and accept official mail and legal papers on your behalf. New business entity filings come with one year of free registered agent service.
File business taxes: Incfile will match you with a tax professional who will help you file your small business taxes. Sole proprietors and owners of other pass-through entities can file personal taxes through Incfile as well. You can also elect S-corporation tax status through Incfile.
Compliance Incfile will guide your business through compliance matters, such as requesting an EIN and filing an annual report for a corporation.
Company changes: If your company gets a new registered agent, undergoes a name change, or other information changes, Incfile will help you file any necessary papers.
Trademark registration: Although Incfile isn't too active in the area of intellectual property filings, they do offer trademark registration services.
Certificate of good standing: Sometimes, lenders, investors, or government agencies will ask your business to show proof of good standing. Incfile will help you obtain a certificate of good standing from the state.
Along with these services, Incfile has also a wealth of useful information for people starting a business. For example, they publish state processing times for business entity filings, and host a tool to help you calculate compliance deadlines.
Get Started With Incfile
Incfile Pricing
Here are Incfile prices for a variety of legal services:
| Service | Cost |
| --- | --- |
| Business entity formation | $0 to $299 plus state filing fees |
| Business name search | Free |
| Business license search | $99 |
| Registered agent | $119 (one year free with business entity formation) |
| Fictitious business name/DBA | $99 plus state filing fees |
| File corporation annual report | $88 plus state filing fees |
| Employer identification number (EIN) | $70 |
| Certificate of good standing | $49 plus state filing fees |
| Trademark registration | $199 plus federal filing fees |
| S-corporation tax election | $25 (for current C-corps) or $50 (for current LLCs) |
| Business tax return | $599 |
| Personal tax return | $299 |
| Business dissolution | $149 plus state filing fees |
Compared to other online legal services, Incfile offers one of the best values for business entity formation. Their pricing for business formation starts at $0 plus state fees for the entry level silver plan, goes up to $149 plus state fees for the mid-tier gold plan, and tops out at $299 plus state fees for the premier platinum plan. LegalZoom, a close competitor to Incfile, starts their business formation packages at $79 plus state fees, so Incfile is much more affordable. You can learn more about Incfile vs. LegalZoom to decide which is right for you.
Keep in mind that the exact amount you pay for various services will depend on which state or states you do business in. California, for example, tends to charge high state filing fees, so you would pay more for certain legal services if you do business in California.
No matter where your business is located, Incfile costs a fraction of the going rate for a business attorney. To take one example, it would cost just $75 to form a California LLC on Incfile ($0 Incfile fee plus $75 California filing fee) if you choose their silver plan at checkout. In contrast, a startup lawyer would charge $500 to $1,000 for basic LLC formation.
That said, using an online legal help site instead of a lawyer also opens you up to more risks. If you have a complicated legal situation, only a qualified attorney can give you legal advice. Legal services like Incfile explicitly state that they are not lawyers or law firms. The experience that a lawyer has in local, state, and federal laws can be critical in certain situations.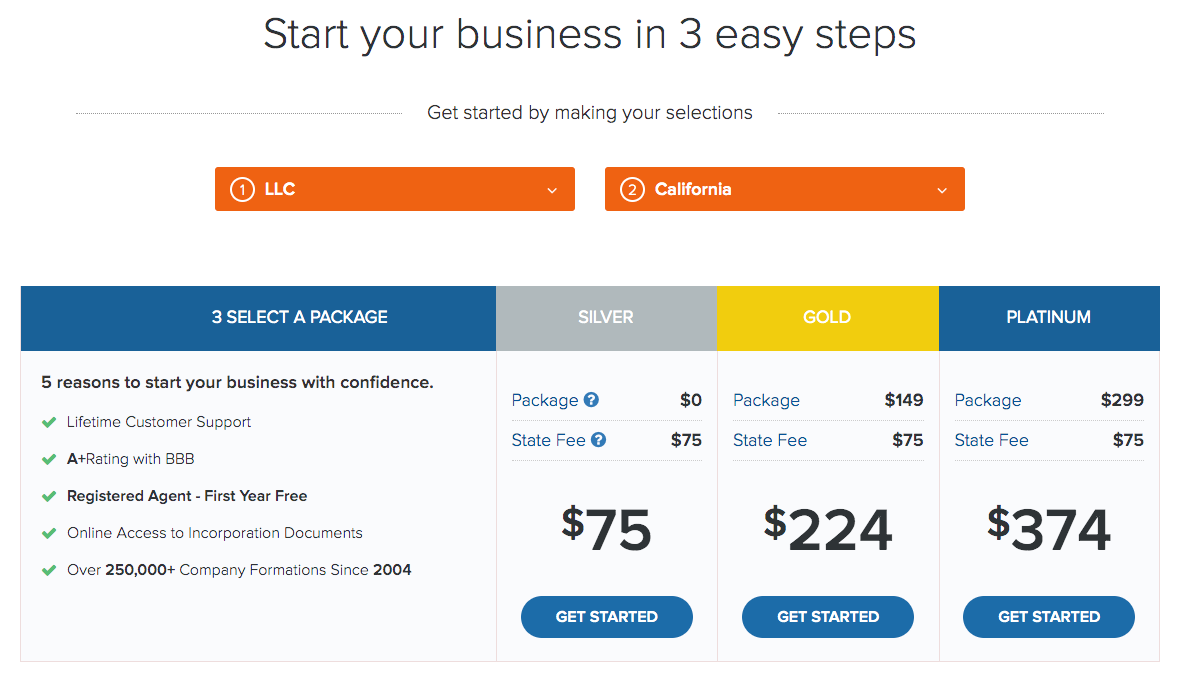 Photo credit: Incfile.com
Pros
Provides one of the best values for business entity formation
One year of free registered agent service is included with business entity formation
Tax filing services are available, with a discount if you file both personal and business taxes through Incfile
Manage updates to your business with Incfile, such as changes in your registered agent or business name
Receive automatic lifetime notifications that alert you to approaching compliance deadlines
All company filings are stored in digital format for easy access later
Access customer support via email or phone Monday to Friday, 9 a.m. to 6 p.m. CT.
Cons
No legal form builder to create contracts or other legal documents
No option to consult with or retain a lawyer
Limited intellectual property services
Photo credit: LegalZoom.com
Best Incfile Alternatives
When shopping for online legal services, it's a good idea to consider a few different providers. Particularly for business formation, different providers include different services. For instance, some include registered agent service for free, while others charge extra. Some providers include an operating agreement or corporate bylaws for free, while others charge extra.
Make sure you clearly understand pricing and customer service options should you have questions or problems with your order.
LegalZoom
It's likely you've come across this Incfile competitor in your search for online legal help. LegalZoom is one of the largest names in legal on the internet, and they've helped over two million people launch or run a business. On LegalZoom, you can access all of the same services that are available on Incfile, plus many more, including:
Legal form library where you can create custom legal documents (such as a nondisclosure agreement or independent contractor agreement)
More intellectual property services, including trademarks, copyrights, and patents
Legal advice plans. For a flat monthly fee, you can access legal consultations with a lawyer and document review from a lawyer. This is great for businesses that need more in-depth legal help.
Given that LegalZoom has more to offer, it shouldn't come as a surprise that they also charge more than Incfile for most services. For example, business formation services start at $79 plus state filing fees. Trademark registration starts at $699 plus federal filing fees.
Get Started With LegalZoom
Rocket Lawyer
Rocket Lawyer is another competitor to Incfile. However, the company is more similar to LegalZoom in terms of services offered and pricing. As with LegalZoom, on Rocket Lawyer you can form a new business, create custom legal forms, protect your intellectual property, and consult with a business lawyer.
Rocket Lawyer definitely pushes small businesses to sign up for ongoing legal advice. For $39.99 per month, you can become a Rocket Lawyer member and access all of their legal forms and enjoy unlimited phone consultations with a lawyer. You can cancel the plan at any time. After consulting with a lawyer, should you decide that you want to hire the lawyer for further work, you'll get 40% off the lawyer's typical hourly rate. If you don't become a Rocket Lawyer member, you can still access the legal services on an a la carte basis, but the cost is quite high.
Get Started with Rocket Lawyer
UpCounsel
When you are shopping around for the online legal services, another provider to consider is UpCounsel. UpCounsel is well suited for business owners who need legal advice on more complicated matters. Whereas Incfile, LegalZoom, and Rocket Lawyer are more like self-serve legal help sites, UpCounsel is where you go to be matched with an attorney.
UpCounsel partners with some of the top business attorneys in the country, including lawyers who've previously worked at Fortune 500 companies and some of the largest law firms in the country. These lawyers can help with a range of business legal issues, such as business formation, immigration, employment, securities, and finance. A few services come with pre-determined pricing, but in most cases, you must submit a proposal outlining your legal issue. Then, lawyers will respond with their hourly rate or a flat fee.
Although you can save up to 60% on UpCounsel compared to working directly with a law firm, UpCounsel is not a budget legal site. If you're primarily looking for self-help legal services or have a straightforward legal issue, then a provider like Incfile, LegalZoom, or Rocket Lawyer will suffice.
Incfile Review: The Bottom Line
When it comes to getting legal help for your business, quality, cost, and speed all matter. Incfile delivers on all three counts. They have years of experience helping businesses get off the ground. All of their services have a transparent flat fee. And you can accomplish most services with the click of a few buttons. The only downside to Incfile is that they are a bit limited in their service offerings. They don't offer legal forms or legal advice plans, for instance. However, if you're interested in business formation or compliance, then Incfile is definitely worth considering.
Get Started With Incfile
Senior Contributing Writer
at
Fundera
Priyanka Prakash is a senior contributing writer at Fundera.
Priyanka specializes in small business finance, credit, law, and insurance, helping businesses owners navigate complicated concepts and decisions. Since earning her law degree from the University of Washington, Priyanka has spent half a decade writing on small business financial and legal concerns. Prior to joining Fundera, Priyanka was managing editor at a small business resource site and in-house counsel at a Y Combinator tech startup.
Read Full Author Bio