What Is Intuit QuickBooks GoPayment?
The Intuit QuickBooks GoPayment app is the mobile payment processing app by QuickBooks. Through Intuit GoPayment, business owners can process keyed-in, camera-scanned, magstripe, chip, and contactless payments, depending on which card reader they opt for. If you use QuickBooks Online, QuickBooks Desktop, TurboTax, and/or Mint to manage your business's finances, then QuickBooks GoPayment will easily sync with your pre-existing accounts. As a result, Intuit QuickBooks GoPayment is the top mobile payment processing app for businesses already using an Intuit financial software.
As point-of-sale systems become increasingly mobile, all of the top names in small business finance are clamoring to provide customers with the best payment processing app possible. The Intuit QuickBooks GoPayment app is Intuit's attempt at providing you with your go-to mobile payment processing solution.
If you're already using an Intuit financial software—like QuickBooks, TurboTax, or Mint—as many small business owners are, then it might be a knee-jerk decision to go with QuickBooks GoPayment for your mobile payment processing needs.
But is this instinct to opt for another Intuit app the right one?
After you've read through our comprehensive Intuit QuickBooks review, you'll be more than well-equipped to answer that question for yourself.
Here's all you need to know about the QuickBooks GoPayment app, all in one place.
All of the QuickBooks GoPayment App Capabilities
Now that we've solidified what the Intuit QuickBooks GoPayment app is, let's begin our deep dive into the details. First and foremost, you're likely wondering what this app can do for your business, so let's check in on all of the capabilities that Intuit GoPayment can offer.
Available for both Android and Apple smart devices, the Intuit QuickBooks GoPayment app itself is completely free. You'll need to pay payment processing fees (and potentially hardware costs)—which we'll cover later—as you use the app, but downloading the app won't cost you a cent.
Once you download the app, your smart device will turn into a basic point-of-sale system, equipped with the following capabilities:
Mobile payment processing
Account syncing for your QuickBooks, TurboTax, and Mint accounts
Card camera scanning
Easy taxable transactions
Custom tipping
Custom percentage and dollar-amount discounting
Basic inventory item library
Virtual receipts through SMS and email
Intuit GoPayment Fees to Look out For
Though the Intuit GoPayment app is completely free, you'll have to pay for its payment processing services. Their fees are pay-as-go, by-transaction, so you won't have to pay any lump-sum or monthly fees.
Plus, QuickBooks GoPayment fees are remarkably simple. They will depend on how you process transactions, and will only come in two forms:
2.4% + $0.25 per magstripe, chip, and contactless payment
3.4% + $0.25 per keyed in payments, including camera-scanned payments
Other mobile payment processing apps will charge you larger percentages of your transactions—usually around 2.7%—but won't charge you a base fee like the $0.25 that the Intuit GoPayment fees include.
As a result, these fees will be more ideal for businesses who are processing larger transactions, whereas businesses processing smaller tickets (usually $50 or under) might be paying more than they would with other, flat-rate processing fees. If you typically process transactions on the smaller side, then consider the alternatives to QuickBooks GoPayment that we feature later on in this article—their fee structures are likely better fit for your business model than the GoPayment fee structure.
See Your Best POS Options
Intuit GoPayment Card Reader Options
If you want to be able to process magstripe, chip, and contactless payments—and avoid the extra cost of keyed-in transactions—then you'll need the GoPayment card reader. Luckily, the more basic of your two card reader options will come free when you sign up for Intuit GoPayment. On the other hand, you'll have to purchase their other card reader.
Let's have a look at the details on both of the Intuit GoPayment card readers so that you'll be able to decide whether or not the free option is enough for your business's needs:
Chip and Magstripe Card Reader
The QuickBooks GoPayment card reader that comes free when you sign up reads both magstripe and chip payments. Plus, it will connect to your smart device through BlueTooth. These are pretty noteworthy details, as most card readers that come free with mobile payment apps will typically only read magstripe payments and will require a headphone jack to connect to a smart device.
Along with the QuickBooks GoPayment app, you'll also be able to sync this reader with your QuickBooks Online account. This card reader will come with a USB cord that will allow you to connect it to your QuickBooks Desktop account, as well, which won't be a possibility with the other, more wireless GoPayment card reader.
One more thing to note—your first chip and magstripe card reader will be free when you open your account, but if you want to purchase a supplementary one, it will cost you an extra $19. So, unfortunately, you won't have access to unlimited card readers for your team.
All-in-One Card Reader
If you want your customers to be able to check out through Intuit GoPayment using contactless payments like Apple Pay or Google Pay, then you'll need to upgrade to the All-in-One card reader.
Just like the other card reader, this one will accept magstripe and chip payments and connect to your smart device via BlueTooth. This card reader, however, will also allow you to accept contactless payments from your customers.
To access this additional payment option, you'll need to pay $49 for the All-in-One reader. Plus, you won't be able to sync this card reader with your QuickBooks Desktop account as you would with the other reader option. That said, if you use QuickBooks Online, you'll still be able to sync this reader with your accounting software (and with your QuickBooks GoPayment app, of course).
The Top Intuit QuickBooks GoPayment Alternatives
Even with all of its conveniences and capabilities, the Intuit QuickBooks GoPayment might not be a fit for you. As we mentioned, their fees aren't the best fit for businesses who typically process smaller payments—the $0.25 fee that is tacked onto each payment will be much more proportionate to these smaller transactions than to larger transactions. Accordingly, smaller-ticket businesses should look into alternatives whose fees are flat-rate and percentage-only.
Here are the top alternatives to the Intuit QuickBooks GoPayment app that can offer up fee structures that are more hospitable to businesses that typically process smaller payments.
PayPal Here
PayPal Here is PayPal's mobile payment processing app that functions much like the Intuit GoPayment app. You'll be able to download the PayPal Here app for free, and you'll receive a free credit card reader upon joining. With PayPal Here, though, the free card reader only reads magstripe payments, and it will only be able to connect via headphone jack.
That said, the payment processing fees that come with PayPal Here will be much better suited for small-ticket payments than Intuit GoPayment fees. For all magstripe, chip, and contactless payments, you'll simply pay a fee of 2.7% of the transaction amount, with no base fee tacked on. Be sure to note that keyed-in transactions will cost more and come with a base fee—even with PayPal Here, they'll cost you 3.5% + $0.15.
Square POS
Another top alternative is Square's suite of smart device-power POS systems. Again, just like Intuit GoPayment, you'll be able to download Square's point of sale app for free to your Apple or Android smart device. And when you open your account, you'll also receive a free card reader.
Like PayPal Here, though, the free card reader for Square will be a more basic magstripe reader that connects to devices through a headphone jack. If you want to upgrade to card readers that can process chip and contactless payments, and if you want to connect the reader to devices via BlueTooth, then you'll need to pay for an upgraded Square card reader.
That said, Square will also offer more ideal fee structures for smaller-ticket businesses than GoPayment fees can offer. Square will charge you 2.75% of your transaction value for magstripe, chip, and contactless payments. For keyed-in payments, they'll charge you 3.5% + $0.15, just like PayPal Here.
Sign Up for Square for Free
The Final Verdict
Now that you've combed through our comprehensive review of the Intuit QuickBooks GoPayment app, what's the verdict on this mobile payment processing option?
That's for you to decide—after reading about the two QuickBooks GoPayment card reader options and all of the fees that comes with them, you're ready to make the best decision possible for your business. Though QuickBooks GoPayment offers account-syncing and a stellar free card reader, its fees are less-than-ideal for small transactions. So, it's up to you to decide whether you're willing to sacrifice this app's upsides in order to avoid its downsides, and vice versa.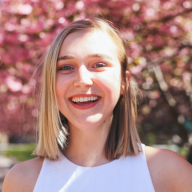 Contributing Writer
at
Fundera
Maddie Shepherd is a former Fundera senior staff writer and current contributing writer for Fundera. 
Maddie has an extensive knowledge of business credit cards, accounting tools, and merchant services, but specializes in small business financing advice. She has reviewed and analyzed dozens of financial tools and providers, helping business owners make better financial decisions. 
Read Full Author Bio