Being compensated for your hard work is a crucial aspect of being a small business owner—but in order for that to happen in a timely manner, you need a streamlined system of creating, sending, tracking, and organizing your invoices. Thanks to invoice software with both desktop and mobile functionality, like Invoice2go, that's relatively easy to do.
If you're looking for an easy-to-use, professional-looking invoicing software with an equally functional mobile option, Invoice2go should be at the top of your list. What Invoice2go is not, however, is an all-inclusive business accounting software; so if you're expecting features like tax preparation, bank feeds, and highly detailed reports, you'll need to set your sights elsewhere.
In this Invoice2go review, we'll show you exactly what you need to know about this invoicing software option, including its major features, pricing, and why you should (and shouldn't) consider using this service as your invoicing solution. We'll also show you some of the best alternatives to Invoice2go if you decide that this particular software isn't the right fit for you.
What Is Invoice2go?
Invoice2go is a cloud-based invoicing software. They offer a desktop service, but they're perhaps better known for their mobile app—compatible with both Apple and Android devices, both phones and tablets—that allows users to send invoices on the go (and even make on-the-spot estimates).
Invoice2go is designed to suit businesses of any size or entity type. But because its capabilities are limited to invoicing, this particular invoicing software may best suit sole proprietorships, freelancers, small LLCs, or other businesses that don't need a fully outfitted accounting software.
Invoice2go Features
Although its main function is to create, send, and track custom invoices, Invoice2go does offer additional features to optimize that core service. Here are the highlights of Invoice2go's features:
Invoice templates: Easily create a customized invoice with one of Invoice2go's several readymade templates. You can use Invoice2go's graphics or upload your own business logo.
Instant estimates: A unique Invoice2go feature is their instant estimate capability, which allows you to survey a potential job, then make and present an estimate to your potential client. Then, the customer can view, comment on, and accept (or turn down) your estimate onsite.
Expense tracking: Track your expenses by taking a picture of your receipts or manually entering the data.
Time tracking: Record your billable hours and export them right to your invoice.
Sending invoices: You can choose to email your invoices to clients or send them via SMS, WhatsApp, or Facebook Messenger.
Accept payments: Invoices include a "Pay Now" button, which gives your clients the option to pay immediately. Through its Stripe integration, Invoice2go can accept major credit and debit card payments, or payments through PayPal. Funds typically take between one to two business days to land in your bank account, and your invoices update automatically after payment.
Invoice tracking: You can see when your invoices are sent, opened by your client, and overdue. Invoice2go also gives you the option of turning on payment reminders and unopened invoice alerts, so you don't have to deal with the hassle of emailing your clients with late payment reminders yourself.
Client features: Invoice2go has a client portal that allows your customers to view and pay their invoices. You can also input and store your clients' contact information and preferred method of payment.
Performance reports: Invoice2go automatically creates reports of your annual and monthly sales, revenue, and balance.
Invoice2go Pricing
Invoice2go offers three service plans: Standard, Advanced, and Unlimited. All service plans are billed annually. Also note that if you choose to accept payments with Invoice2go, then you'll also be charged a transaction fee starting at 2.9% + $0.30, though the exact fee varies depending on your plan.
Standard: $9.99 per month
200 invoices
200 estimates
Can store up to 25 clients' contact information
Suitable for 1 user
Can accept credit, debit, and PayPal payments
Phone support
Time tracking
Invoice status tracking
Expense tracking
Client activity
Integrate with Xero
Advanced: $19.99 per month
400 invoices
400 estimates
Store up to 100 clients
2 users
Accept credit, debit, and PayPal payments
Phone support
Time tracking
Invoice status tracking
Expense tracking
Client activity
Xero integration
Appointments
Unlimited: $33.99 per month
Unlimited invoices
Unlimited estimates
Store unlimited clients
5 users
Accept credit, debit, and PayPal payments
Phone support
Time tracking
Invoice status tracking
Expense tracking
Client activity
Integrate with Xero
Appointments
Dedicated premium support team
Time tracking
Invoice status tracking
Expense tracking
Client activity
Xero integration
Appointments
Recurring invoices
Payment receipts
The plan you choose is largely dependent upon how many invoices you need to send per month, as well as the amount of users you need to have access to your Invoice2go account, rather than the amount of features attendant to your plan—as you can see, the more advanced plans don't carry too many more features than the Standard plan.
Do know that Invoice2go has a 14-day free trial period, so you can test it out before committing to a plan. And if you're not happy with Invoice2go, full refunds are available for up to 90 days after signing up for the service.
Invoice2go Pros
Invoice2go is billed as a "professional invoice app," and that's exactly what it does best: It allows business owners the ability to send and track professional-looking invoices either on the go, via their Apple- and Android-compatible app, or on their easily navigable desktop dashboard.
Perhaps most handily for business owners, Invoice2go's "Pay Now" option allows for instantaneous payment. Plus, their option to turn on payment reminders takes the guesswork (and awkwardness) out of following up with delinquent clients.
As such, positive reviews from Invoice2go users mostly cite that the software easy to install, set up, and use on several devices, as well as their attractive and customizable invoices.
Invoice2go Cons
Invoice2go essentially does what it says on the tin: It's an easy, convenient invoicing service with a mobile option—but it doesn't do too much more than that. Also, certain important features, like recurring payments and payment receipts, are only available on the Unlimited plan.
If you need a fully fledged accounting package, then Invoice2go probably can't offer you the services you need. In that case—or if you think you'll outgrow Invoice2go's five-user limit—look toward a more robust accounting solution with an invoicing feature, like FreshBooks or QuickBooks.
Among the negative reviews, users cite Invoice2go's limited integrations with other apps, as well as occasional glitches—some reviewers warn against lost invoices and syncing issues—and poor customer service. Some reviewers also noted that the pricing is a bit steep, considering its limited functionality.
The Best Invoice2go Alternatives
If you decide that Invoice2go isn't the best fit for your business—or if you simply want to research all your options before committing to one provider (which we recommend!)—consider these three alternative invoicing software options, which may make up for Invoice2go's shortcomings.
Invoice Ninjas
If you run a very small business and don't need a robust invoicing solution (and you don't want to pay for one, either), look into Invoice Ninja.
With Invoice Ninja, you can create customized invoices with your own business logo, accept payment through over 40 payment gateways, and set up recurring invoices and auto-billing (which Invoice2go can't do). Invoice Ninja also has some basic task-management capabilities and a time tracking feature.
Their free service plan allows for 100 clients and unlimited invoices and quotes, but for just $8 a month you can store unlimited clients.
Zoho
If you're concerned that you'll soon outgrow Invoice2go's user limit, and you'd also like access to business management features, consider Zoho Invoice. In addition to the invoicing features you'd expect, Zoho Invoice also features a collaborative client portal and integration with several apps—including the Zoho customer relationship management and project management software, as well as popular apps like G Suite, Dropbox, One Drive, PayPal, and Stripe.
Zoho Invoice pricing is reasonable for all four of their service plans, too. The smallest of small businesses can opt for their free plan, which allows for up to five customers. Larger businesses can scale all the way up to their Professional plan, which allows for unlimited customers for $29 per month.
FreshBooks
Business owners who want a fully fledged accounting software—with robust invoicing solutions, of course—should put FreshBooks at the top of their list.
FreshBooks is one of the most popular and trusted accounting solutions for freelancers and small business owners. That's not only for their invoicing capabilities, but for their long list of additional capabilities: think time tracking, client management, and project management features. And FreshBooks is equally known for their full-service accounting tools, so you can handle all your bookkeeping tasks within the same software.
Considering its wide-ranging capabilities, FreshBooks a relatively affordable, too. They offer three service plans, for either $15, $25, or $50 per month, though their most popular plan is the mid-range plan. For a limited time, FreshBooks is offering 60% off for six months on Lite, Plus, and Premium plans when new users skip the 30-day free trial period and opt to buy now.
Buy FreshBooks Now For 60% Off
Is Invoice2go Right for Your Small Business?
As we mentioned, Invoice2go will probably work best for sole proprietorships, freelancers, and very small businesses with low invoicing volume; or, more broadly, the businesses that just need a simple, easy-to-use, but highly functioning invoicing software, and not much else. But since it's so easy to use, and because it does the job of invoicing so well, Invoice2go should be a frontrunner for these businesses.
Established businesses with high invoicing volume, or quickly growing businesses that need an easily scalable invoicing solution, might consider opting for an all-inclusive accounting software with a strong invoicing feature. This solution would work for businesses that simply want to consolidate their accounting and invoicing capabilities into one software, too.
Luckily, Invoice2go is hardly the only invoicing software option on the market. By doing a bit of research, you can easily discover apps and software that are more robust, cheaper, or simply easier for you to use than this one (though Invoice2go is a pretty intuitive experience).
Also, remember that Invoice2go offers a 14-day free trial period, and the option to receive a full refund for up to 90 days after you sign up—so you have nothing to lose by testing out the service and seeing if it works for you before making a commitment.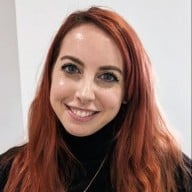 Contributing Writer
at
Fundera
Caroline Goldstein is a contributing writer for Fundera.
Caroline is a freelance writer and editor, specializing in small business and finance. She has covered topics such as lending, credit cards, marketing, and starting a business for Fundera. Her work has appeared in JPMorgan Chase, Prevention, Refinery29, Bustle, Men's Health, and more.
Read Full Author Bio