Whether you're a startup or established B2B company, creating and consistently adjusting your lead generation strategy is essential to the growth of your business. After all, if you're not driving interest in your products and services, attracting new customers, and establishing brand awareness, success is going to be difficult.
So, if you're looking for the best lead generation strategies, we're here to help. In this guide, we'll walk you through 13 of the top lead generation strategies that can be utilized by all kinds of small businesses. Plus, we'll also break down real-world examples of each strategy, so you'll have a better understanding of how to put these ideas into practice.
What Is a Lead Generation Strategy?
Lead generation is one of those phrases that's tossed around frequently in the world of small business marketing, but when it comes down to it, the concept is fairly simple: A lead generation strategy is any tactic or action that's used to attract customers to your business in the hopes of having them interact with your company in some way.
In other words, your lead generation strategy might be advertising on a social media platform, like Instagram, and prompting users to provide their email to learn more about your business. Through this online lead generation strategy, you're gaining leads from every person that submits their email. With these leads, you then have further opportunities to contact or retarget these individuals to encourage them to buy from or work with your business—the ultimate goal of lead generation strategies.
Best Lead Generation Strategies for Small Businesses
Finding the right lead generation strategies for your business can be difficult—not only are there many to choose from, but the ones that work for other businesses might not necessarily work for your business. This being said, to determine the best strategies for your business, you'll want to think about your industry, business size, what your business does, and of course, what exactly you hope to accomplish with these tactics.
Ultimately, as with many facets of marketing, finding the best way to generate leads for your business will likely involve some trial and error. With this in mind, let's review some of the top lead generation strategies out there—so you have a place to start when trying to determine what will be successful for your business.
1. Create an incentive-based referral system.
Word-of-mouth advertising is still as important as it's ever been—plus, the ways in which people spread the word about their favorite businesses have changed drastically with technology. If anything, customer referral programs have become even more useful among successful lead generation strategies, since they're easier than ever to quantify and track.
Therefore, you might decide to create an incentive-based referral system to generate leads for your business. For instance, if you sell a product or service online, you can develop customized referral codes for individual clients and prospects—a new client gets a discount for their first purchase, and your loyal client will get a referral discount, too.
Although you might be able to use this concept in a brick-and-mortar store, it's a particularly useful online lead generation strategy—as customers can easily email, text, or message their referral code to a friend.
Example: The mattress company, Casper, implements this strategy (as shown below). Casper allows you to send a referral link to friends—the friends you refer get 15% of their purchase, and you get a $75 Amazon gift card when a purchase is made using your unique link.
2. Broadcast advertising to your niche audience.
Podcasts have become wildly popular in recent years and content creators need advertisers, which means you can turn listeners into leads—possibly with even greater potential than you could with a regular radio ad. Since podcasts typically focus on specific themes, and listeners choose which ones to stream, you already have a good idea of what this audience will find interesting and relevant to their lives.
Therefore, you can identify the podcasts that best speak to your target audience and focus your lead generation strategy there—working with the podcast to run your ads and drive customers to your website or store. Again, this is a popular online lead generation strategy—especially when combined with our first tactic, in which you offer the podcast listeners a referral code with a discount off their purchase.
Moreover, with the popularity of streaming sites, another spin on this lead generation strategy is creating video ads that can fill the "commercial slots" during streaming hows or on YouTube. Although this may seem like any basic advertising strategy, by picking a specific podcast or show based on the audience, you can better target the customers you're looking for, those that would most likely be interested in your product or service.
Example: The online education platform, the Great Courses Plus, advertises on the popular iHeart Media podcast "Stuff You Should Know." Since this podcast appeals to an audience that's interested in learning about new and different subjects, it's a suitable place for the Great Courses Plus to market their product.
3. Take a new approach to direct mail.
Although it may seem like an outdated tactic, implementing a new spin on direct mail campaigns can be an unusually successful lead generation strategy.
Instead of offering an unsolicited coupon that's mailed "to the current resident," you can:
Mail out compelling flyers with valuable offers

Use data-driven referral codes

Hit smaller, more tuned-in audiences
By being selective with your direct mail efforts, you can invest more in the physical item you're sending out. Plus, you can offer better discounts, coupons, or other enticements to get new leads to take the next step. You might think of direct mail as your first foray into getting someone to go to your business website or call you, rather than your final step in getting new clients.
Example: The online home goods company, Wayfair, works with the USPS so that when you submit an official change of address form and receive a confirmation letter in the mail, the letter includes a 10% off coupon for Wayfair purchases.
Here, Wayfair is targeting a very specific audience—individuals that have recently moved—that is more likely to utilize their services and actually take advantage of the coupon, instead of just sending direct mail coupons to a more generalized audience.
4. Optimize your website and use CTAs.
Gone are the days when only digitally-focused businesses, media companies, and tech organizations needed to impress with compelling websites. Even if you run a brick-and-mortar store, you should still have a website that marries elegant, smart design with speed and efficiency.
This being said, however, you shouldn't just have a website just to have one, your website should give visitors the who, what, where, and why behind your company and compel them to take some sort of action. You'll want to think about what you want customers to do once they come to your website and how you can get them to take that action.
If you want customers to visit your store in-person, you might craft a call to action, or CTA, that drives them to a "location" or "contact us" page. Conversely, if you want a customer to make a purchase on your website, you'll want to create a CTA driving them to certain product pages, or maybe even a discount landing page for first-time shoppers.
Example: On the Fundera homepage (shown below), we drive visitors to complete our application with CTAs that read "see your loan options."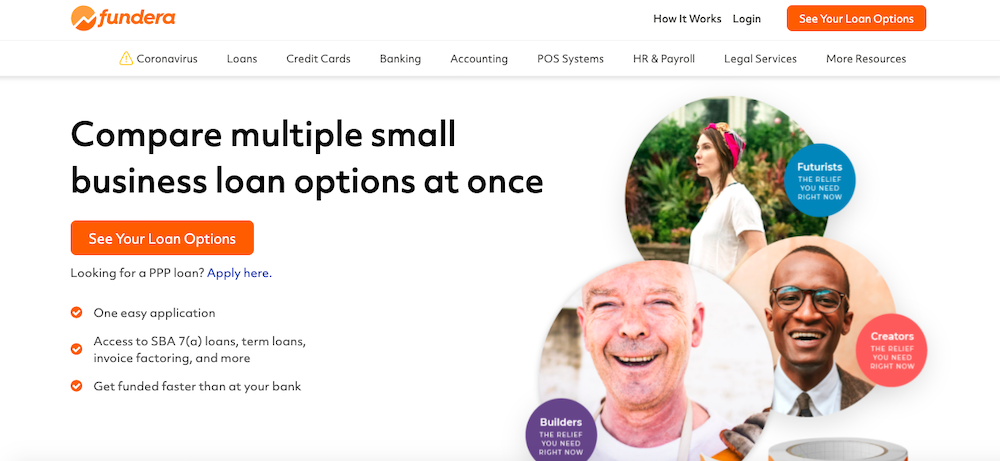 5. Rethink deals and discounts.
You've likely offered sales or promotions in order to incentivize new customers to make a purchase. However, if no one knows about your business and the great deals you're offering, this won't do you any good.
Therefore, if you want to get creative with your discount strategy, you might try working with sites dedicated to deals and discounts—like Groupon—and using them as a lead generation strategy.
Similarly, you might also look into partnering up in a package with other complementary businesses that are more familiar with the deals territory. Since these sites are all about reaching new customers, they'll do the legwork of finding the eyes for you to get your product or service in front of—and with a budget and reach you might not have.
Although the margins on deals sites may not be the biggest, this is a top lead generation strategy for startups, who simply need to get their name and brand out there. Plus, hopefully, by offering excellent deals now, you'll convert leads into loyal customers over time.
Example: Again, working with Groupon is a perfect lead generation strategy example here. With Groupon, you have the opportunity to list your product or service, with a discount, and you gain access to Groupon's unique audience, as well as their marketing and advertising tactics.
In addition to startups, you'll see local businesses have a lot of success with this strategy—especially with a platform like Groupon, which organizes certain listings based on location.
6. Learn search engine optimization.
Interestingly, only 10% of search users go past the first page of search results when looking for information—this makes it difficult for any business to get their website in front of potential leads, no matter how well-designed or informative it is.[1]
For this reason, SEO continues to be one of the most successful lead generation strategies, especially for online businesses, B2B businesses, and even B2C businesses. Of course, it's not always easy to understand and craft the perfect SEO strategy, however, the first step is utilizing the tools at your disposal (most website builders include SEO optimization tools) and keeping search engine visibility top of mind.
On a basic level, therefore, you can start by ensuring that your website:
Provides good information

Gives answers to frequently asked questions

Contains writing that is clear and concise
Learning SEO best practices yourself is free—but if your business is in a particularly competitive market, investing in a consultation from SEO experts could provide extra value to your business. But for most, investing in content marketing and SEO-savvy writers should be enough to provide you with a clear advantage.
Example: If you search Google for "business website builder," you'll find various website builder companies, like Squarespace and Wix, that have optimized their own websites to ensure that they show up on the first page of Google results—making it more likely that they'll gain leads from search.
7. Create and publish top-notch content.
Similar to SEO, investing in content for your website is an excellent lead generation strategy.
In essence, content-based lead generation marketing strategies allow you to increase your presence in search as long as the content you create is well-optimized. The more high-quality content you produce, the more you're rewarded by search engines.
When it comes down to it, search engines give preference to websites that help answer questions quickly and simply. For instance, if you create a blog post that provides the who, what, where, and why of something your company is an expert on, you'll reap rewards by ranking well in search.
Plus, as search becomes increasingly local, you'll benefit from lead generation tactics that tie your content into your physical location. Then, you might be on your way to dominating online local marketing.
Example: If you perform a google search for "craft beer in NYC," you'll find that the top (non-ad) results are content-based sites, like Eater and TimeOut, that have created roundup posts of the best craft beer bars in NYC—as opposed to a website from an actual brewery or restaurant. In this case, those websites are taking advantage of content marketing to promote their businesses and gain leads.
8. Get creative with social media.
Although using social media organically can be one of the best lead generation strategies for startups, especially in local markets, there are ways to get creative with these platforms that might work better for your business.
First and foremost, you might invest in paid social media marketing that's fairly inexpensive and generally goes further than organic posts, which typically only reach a handful of followers. To this point, social media platforms like Facebook and Instagram allow you to target very specific audiences with their paid ad solutions, as well as retarget audiences who have interacted with your business before.
Many of these platforms also offer one-click email submission'which allows users to submit their information at the click of a button and gives businesses a simple way to collect info on potential leads with minimal hassle.
Moreover, if you're looking to get really creative, you might decide to establish relationships with influencers, who can help bring attention to your company as a trusted third-party voice. Influencer marketing is one of the largest markets within digital advertising—and 67% of respondents to one recent survey said that influencer marketing campaigns helped them reach more specific, targeted audiences.[2]
Example: On the Instagram feed of the dog food company, The Farmer's Dog, you can see how the company uses influencer marketing as an online lead generation strategy. The business partners with dog Instagram accounts that have large or highly engaged followings and features those dogs in their posts, encouraging other dog owners to check out their product.
9. Begin a business newsletter.
Similar to content and social media lead generation strategies, you might try email marketing as a tactic for your small business.
You can think of your email marketing strategy as a content strategy paired together with social lead capture techniques. If it works out, you have a plan that delivers a captive audience with a stream of updates from your company or industry. They get updates right in their inbox, and you're not fighting for attention in a sea of social media updates.
This being said, to make the most of newsletter lead generation strategies, it's important to provide compelling reasons for people to sign up. The promise of exclusive sales, experiences, or knowledge are all great draws. But, it's important to make sure you keep those newsletters coming—the rewards of targeting a captive audience can lead directly to the acquisition of highly valuable leads.
If you're unsure how to get started, email marketing platforms like MailChimp and Constant Contact offer tools to assist with this type of lead generation strategy.
Example: Local Connecticut cheese shop, Fairfield and Greenwich Cheese Company, sends this email newsletter (snippet shown below) to inform their audience of a new available cheese, as well as advertise other products and recipes.
10. Create downloadable assets. 
Are you an expert in your subject area? If so, your knowledge is really valuable—so capitalize on it. You can offer free white paper downloads, eBook downloads (or other similar assets) featuring your expertise and your business to generate leads.
In essence, assets like white papers and eBooks allow potential leads to gain specialized knowledge or information on-demand in exchange for their contact information—it's a beneficial exchange. Additionally, assets like these can serve a dual purpose of acting as an informative, additive sales pitch that extends beyond industry jargon and advertising copy.
Plus, if your asset is of top quality, you might find that it's shared among peers, which will expand your business's brand name and reputation far beyond your own on-site marketing efforts. In fact, for all of these reasons, creating downloadable assets is certainly one of the best B2B lead generation strategies.
Example: Oracle, the enterprise management software company, offers downloadable white papers in exchange for information from prospective customers. As you can see below, once you provide your contact information, you'll be able to download Oracle's white paper on creating ideal customers.
11. Provide an assessment or report.
Another email-for-knowledge exchange is a five-minute lead generation questionnaire. If your business provides a professional service, you can set up a quick quiz, and then provide feedback, tips, or a quote based on a respondent's answers.
This is great for a few reasons: First, it's hard for many decision-makers in an organization to resist the temptation to get fast insights or assessment—making this another one of the top B2B lead generation strategies. But also, this technique provides potential clients with a first impression of your company's work.
Best of all, you get to learn quite a bit about the respondent in the process. These surveys don't need to be overly customized to deliver results, either. A simple questionnaire can lead to the creation of several pre-packaged results that offer just enough insight to be used repeatedly while also serving as a teaser of your company's broader services.
Example: Although this strategy is great for service-based businesses, it can also be used for certain product businesses as well. For instance, the online startup bra company, True and Co, allows you to take a "fit quiz" so that you can identify your size for their bras. To find out your size and your matches, however, you have to fill in your email at the end of the quiz.
With this simple assessment, you're gaining information about your size and product recommendations, and True and Co is generating leads.
12. Hold unique events or seminars.
Perhaps the most fun and interactive of our top lead generation strategies, holding an event or seminar allows you to build deep, meaningful relationships with potential customers.
One way to do this is to hold a seminar or event directly related to the field that your business or service specializes in. You'll be able to appeal directly to potential clients and customers by emailing them with something far more valuable than a cold sales pitch. Plus, not only can attendees learn something from you, but they can also network with each other, your own employees, and other existing loyal customers.
And, although holding an event or seminar may seem like it will take significant planning and money, there are other ways to spin this strategy depending on your business, your audience, and your budget. Instead of an event or seminar, you might:
Host a happy hour.
Create an add-on event or run a booth at a conference.
Host an expert chat or webinar.
All in all, this is one of the best lead generation strategies for startups who need to get their name out there, as well as B2B companies who can partake in conferences or local business events that relate directly to their industry.
Example: IBM has a packed webinar schedule, offering free webinars to professionals across a variety of topics (shown below). All you have to do to get access to the free webinar is to provide your contact information and register.
13. Add a live chat feature to your website.
Finally, you might consider adding a live chat feature as one of the top online lead generation strategies. In a recent study, 44% of respondents viewed a website's real-time chat function as one of the most important features of an ecommerce page[3]. Better yet, 63% said they were more likely to return to a site that had a live chat function, and 62% were more likely to be a repeat customer.
For your business, this means that live chat can be a great lead generation tactic to pique interest from new customers and encourage repeat business by being accessible in real-time.
Live chat functions allow site visitors to reach out to you directly without having to pick up a phone or write an email. New customers benefit from being able to ask questions whenever they want, and then you can reach out directly to answer questions and help close new sales. And in this case, a little touch—such as a "Chat Now!" button on a business website—can go a long way toward establishing relationships with new customers and leads, as well as generally improving customer service on your site.
Example: From the ecommerce platform, BigCommerce, to expansive companies like Amazon, to small online boutiques, you see more and more businesses implementing live chat on their websites. In most cases, the live chat shows up in the lower right-hand corner of the screen and you can talk to a chatbot or live agent about concerns or questions.
The Final Word
At the end of the day, there is a multitude of successful lead generation strategies out there, including those that we've discussed here. What's important, however, is the ones that will be successful for your business. Therefore, as you start building your small business advertising and marketing strategies, you'll want to keep the following tips in mind:
One size doesn't fit all, so if one tactic doesn't succeed, don't be afraid to try something else. The best lead generation strategies for startups won't be the same as those for established businesses.

Old strategies can still work—but make sure to update them with a new twist for the best success.

Expect to spend at least a little cash, but lead generation tactics don't have to be expensive.

Get creative—because you never know what might work for your unique business.
Article Sources:
ProtoFuse.com. "The First Page of Google, by the Numbers"
VtlDesign.com. "How Live Chat Can Help Your Website Generate More Leads"