Service-based businesses need a reliable appointment scheduling system to keep their schedules organized and their clients happy. But luckily, you don't need to book your sessions by hand—with a good appointment scheduling software, you can outsource and automate this tricky task, along with other essential business management tasks. And even more luckily for businesses in the fitness, integrative health, and beauty industries, there's one such scheduling software designed expressly for your needs: the MINDBODY app.
MINDBODY is one of the most popular appointment scheduling tools out there for health and wellness businesses. In addition to taking care of your scheduling needs, the MINDBODY app comes with a good amount of features, including marketing capabilities and staff management tools. Plus, its intuitive client-facing app makes it easy for your customers to view your schedules and book their sessions right from their phones.
In this MINDBODY review, we'll go into greater detail about these and other of MINDBODY's wide-ranging features. And because we believe in the power of due diligence, we'll also suggest a few MINDBODY alternatives so you can better evaluate whether MINDBODY is the truly right booking app for your business.
MINDBODY Features
MINDBODY is a comprehensive appointment scheduling and booking software that helps health and wellness businesses manage several aspects of their enterprises. MINDBODY's features include the major players like booking, payment processing, marketing, reporting, and staff management, but as you explore the software, you'll find a few unique features, too—like a fitness software that enables your customers to track their physical performance (like heart rate and calories burned) during their sessions.
Let's get into more detail about MINDBODY's major offerings:
Online Booking
What the MINDBODY app is best known for are their booking capabilities. With this service, your customers can book their sessions online or on their phones, either through the MINDBODY app, a branded widget embedded into your business website, or on Facebook. Your schedule will automatically update whenever a booking or cancellation comes through. Plus, you can set a maximum class size and provide an option for clients to join a waitlist, and if a client cancels, the waitlist automatically kicks in to fill available spots.
Point of Sale
Perhaps one of their most valuable offerings, MINDBODY's POS system allows you to process credit card payments in person, via the MINDBODY app, on your website, or through your own, branded app. And if you're accepting payments at your front desk, they'll provide all the necessary hardware to do so, including a credit card reader, a mobile POS reader, a barcode scanner, a receipt printer, and a cash drawer. That MINDBODY safely stores your customers' credit card information means one-click transactions, and the ability to set up recurring billing for regular customers.
Client Management
MINDBODY also offers a customer-facing app so that your clients can book and manage their appointments from their phones, laptops, or devices—and, once again, that their payment information is securely stored on their personal profiles makes the process as simple as a few clicks.
On your end, you can also access important information about your clients on their individual profiles, including their purchase history, any of their signed forms or waivers, and even their relationships with other clients with whom they might schedule and pay together, like spouses, parents and children, and siblings. MINDBODY can also automatically send appointment reminders, payment expiration reminders, and even birthday messages promoting special offers.
Staff Resources
All of your staff members will receive their own, unique logins, so they can all manage their schedules individually. They can also clock in and out on the software, and all of their work—including tips and commissions, which you'll specify beforehand—is automatically linked to MINDBODY's payroll processing, so you don't need to worry about calculating paychecks manually. You can also generate individual sales reports to better understand your employees' performances.
App Integrations
On MINDBODY's partner marketplace, you can find software integrations to complement your MINDBODY account, such as ClassPass, Constant Contact, Fitbit, Trainerize, and Core Health & Fitness.
Branded Apps
For $249 per month, you can have MINDBODY design, build, then list your business's customized app in the app stores. You and MINDBODY's designers will work together to create an app that's aligned with your business's branding, logo, and colors, and the resulting app will work on both Apple and Android devices. Your own app will have similar functionality to the MINDBODY app, including real-time scheduling, payment storage, push notifications, and performance metrics.
Marketing
Through MINDBODY, you can use marketing tools Promote and Frederick to help attract and engage both new and existing customers. Some of these marketing features include dynamic pricing, intro offers, promos, loyalty rewards, personalized texts and emails, requesting client feedback via SMS, and rewarding customers that provide reviews.
MINDBODY Pricing
MINDBODY offers three pricing tiers, which increase in cost and accompanying features:
Essential: $129 per Month
Free MINDBODY app and web listing
Class, appointment, event, and workshop scheduling
Retail POS
Reporting
One-on-one onboarding session and 24-hour customer support
Branded widgets for your website
Accelerate: $239 per Month
This tier includes all of the features available with the Essential program, plus:
Two-way text notifications and reminders for bookings and cancellations
Email campaign builder and templates
Ultimate: $349 per Month
Finally, MINDBODY's premium tier includes all of the above mentioned features, as well as:
Automated email and text campaigns, based on bespoke criteria
Customer feedback, ratings, and reviews
Customer referral program
Keep in mind that you'll need to pay a transaction fee when you process payments through MINDBODY, as would be the case with any other payment processor you use. Unless specified otherwise, you'll pay 2.75% per swipe when you process payments through the MINDBODY app.
Top Alternatives to MINDBODY
Ultimately, MINDBODY is just one of many appointment scheduling software programs available for service-based small businesses. So even if you think you're totally sold on MINDBODY, it never hurts to look into alternatives to determine whether this is really the best software for your business—and whether it's worth sinking your cash into MINDBODY's relatively hefty monthly fee, or if you can find a suitable, and less expensive, alternative.
Here are just three other options to look into:
Zen Planner
Like MINDBODY, Zen Planner is an appointment scheduling software designed specifically for fitness-related businesses, like gyms, yoga studios, personal trainers, and boutique fitness studios.
Some reviewers say that Zen Planner is lacking in certain capabilities, though the software does update with new features regularly. It's also a fairly universal consensus among reviewers that the software is easy to use. And although Zen Planner may not be quite as comprehensive as MINDBODY, it still delivers on the essentials you'd expect from an appointment scheduling software, including online check-in, easy billing, stored customer data, and integration with your website and marketing emails.
Zen Planner's price point is also slightly lower than MINDBODY's: Their single membership tier costs $117 per month.
Square Appointments
If you use Square as your business's payment processor, then you know how user-friendly and intuitive their small business-centric services are—and the same thing goes for Square Appointments, their relatively new appointment scheduling and booking software geared toward service-based businesses.
With this software, customers can book appointments online through a booking site that's unique to your business; and if you have a business website, you can embed a widget that takes customers straight to that site. Other useful features include automatic syncing with your personal Google calendar, automatic appointment reminders via text or email, light inventory management and sales reporting capabilities, and, naturally, a built-in Square POS system.
As a major bonus, Square Appointments is completely free for individuals. If you have employees, the price bumps to $50 for businesses with two to five employees and $90 per month for six to 10 employees. Businesses with more than 10 employees can contact Square directly for a custom quote.
10to8
10to8 is another cloud-based appointment and booking software that performs similar capabilities to all of the software we've mentioned, including staff management features, sales reporting, and payment processing (in addition to allowing customers to book appointments online, of course). But where 10to8 really sets themselves apart from the pack are their client communication features.
With this software, you can create your own, branded appointment reminder messages to automatically nudge your clients via text, email, Facebook, Slack, or through the chat feature on your 10to8 dashboard. Unlike many other software with this feature, however, 10to8 enables your clients to directly respond to those messages to cancel or modify their appointments, or to communicate with you about any other comments or requests they may have.
10to8 is also the most affordable appointment scheduling software on this list, and offers five subscription tiers with increasing capabilities. Their most basic subscription, which could work for the smallest small businesses, is totally free. Their premium tier is $40, though the biggest businesses can contact 10to8 to create a bespoke scheduling solution at a variable price.
The Bottom Line on the MINDBODY App
If you're in the health and wellness business—and you want an app that can do more for your business than simply scheduling your sessions or appointments—then you should definitely consider the MINDBODY app. But if you need a simpler booking solution, or if you're not willing to spend MINDBODY's relatively steep subscription fees, then another booking app, like Zen Planner, Square Appointments, or 10to8 might suit your needs better right now.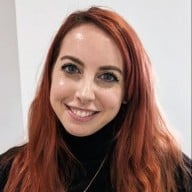 Contributing Writer
at
Fundera
Caroline Goldstein is a contributing writer for Fundera.
Caroline is a freelance writer and editor, specializing in small business and finance. She has covered topics such as lending, credit cards, marketing, and starting a business for Fundera. Her work has appeared in JPMorgan Chase, Prevention, Refinery29, Bustle, Men's Health, and more.
Read Full Author Bio