What Is Patriot Payroll Software?
Patriot Payroll is one of the most well-reviewed payroll software options on the market. Patriot offers two payroll plans: Basic Patriot Payroll, which costs $10 per month plus $4 per employee or contractor per month, and Full Service Patriot Payroll, which comes with full-service payroll taxes for $30 per month plus $4 per employee or contractor per month.
Odds are, you're not running a small business because you're eager to administer payroll on a regular basis. Maybe you started your small business on your own and didn't necessarily mind handling payroll just for yourself, plus maybe a few part-time contributors here and there.
But as you grow your team, payroll administration for multiple employees isn't exactly fun for most entrepreneurs. If you find yourself stressing over your DIY payroll process, that's your cue to start looking into your payroll service options. And one of the most user-friendly, affordable options on the market is Patriot Payroll software.
In this Patriot Payroll review, we've compiled all the details you need to determine whether this is the right payroll solution for your business. Whether you're looking to secure your first payroll software or you're hoping to switch over from another payroll software, let's check out the details on what Patriot Payroll has to offer your business.
Pros
Good customer reviews
Affordable
Cons
Patriot Payroll Pricing
To start, let's take a look at the different Patriot Payroll pricing option. Patriot offers two payroll plans: Basic and Full Service. Each plan comes with a different set of features and different price.
Patriot Basic Payroll
As the name implies, the Basic Payroll plan is a more bare-bones solution for small businesses. However, you'll still be able to access the user-friendly, secure payroll that characterizes Patriot software. This includes unlimited payrolls that you can run 24/7, paying both hourly and salaried employees, and flexible payroll cadences.
If you're looking for a steady, accurate, and easy-to-use entry-level payroll software, then the Patriot Payroll Basic plan could be a top option.
With the Basic plan, you'll pay a monthly base fee of $10, plus a monthly employee fee of $4 per month per employee or contractor. Plus, Patriot Software is currently offering a free 30-day, zero-obligation trial. So, if you're wondering whether or not the services that the Basic Patriot Payroll plan offers would be worth the cost, you can try it out for yourself for free.
Patriot Full Service Payroll
Alternatively, if you want to access more comprehensive payroll tax services with your Patriot Payroll account, then we suggest you look more closely at their Full Service Payroll plan. This more advanced version of Patriot Payroll software comes with all the features that the Basic Payroll plan offers, plus some extras.
If you're looking to upgrade into a payroll software that's more hands-on with your business's payroll tax processes, then it's worth considering Full Service Patriot Payroll.
Just like the Basic Patriot Payroll plan, the Full Service Patriot Payroll plan comes with a 30-day free trial so that you can try it out for a month with no obligation or cost. After your first month, Full Service Patriot Payroll pricing will set in with a base fee of $30 per month, plus $4 per month per employee or contractor.
Try Patriot Payroll for Free
Patriot Payroll Features
With this pricing in mind and a broad understanding of each Patriot Payroll plan, let's take a closer look at the features you'll receive with each.
Basic Payroll Features
Even with this Basic Payroll version of the software, Patriot Payroll offers crucial fundamentals for automating your small business payroll. Though you won't be able to access full-service tax filing as you would with the other Patriot Payroll plan, you will be able to access the following perks through the Basic plan:
Payroll setup help, including data input from previous payrolls you might have run in the year prior to Patriot Payroll setup
Expert support through phone, email, or chat
Paychecks through direct deposit, printed check, handwritten check, or cash
Dedicated Patriot Payroll employee login and portal
All in all, if you're looking for the first payroll software for your business, you'll get a lot out of the support and payroll services that Basic Patriot Payroll offers.
Full Service Payroll Features
Along with all of the capabilities that the Basic plan offers, the Full Service Patriot Payroll plan comes with the following payroll tax capabilities:
File W-2s
File W-3s
File and deposit federal taxes
File and deposit state taxes
File and deposit local taxes
If you anticipate needing to outsource your payroll taxes to an expert, then we suggest you opt for the Full Service Patriot Payroll. And even if you're willing to file your payroll taxes on your own, having an expert team do it for you could help you avoid common payroll compliance mistakes that could cost your business.
Add-On Features
Beyond the two plans that Patriot Software has for their payroll, they also have two add-on features that you can tack onto your payroll account for an additional monthly cost.
One of these add-on features, their time and attendance tracking feature, will allow you to integrate your employees' time cards and attendance with your Patriot Payroll account. This add-on costs $5 per month, plus $1 per month per employee, but is also eligible for the 30-day trial that the two Patriot Payroll plans come with.
The second add-on feature for Patriot Payroll is their HR software. If you decide to add Patriot HR software to your payroll account, you'll be able to paperlessly manage your employee records and share documents with your team. This will cost you an extra $4 per month, plus $1 per employee per month.
Patriot Payroll Software Pros and Cons
So, now that we've combed through all the logistics on Patriot Software payroll offerings, it's time to zoom out and consider the biggest takeaways for this Patriot Payroll review.
Pros
Customer reviews: Arguably the biggest draw for this software option is the hundreds of glowing Patriot Payroll reviews from customers on the internet. Patriot Payrolls reviews average out at close to five out of five stars on pretty much every major reviews site. Knowing that so many customers are eager to leave such positive Patriot Payroll reviews should make this option a top contender for your business.
Cost: More practically, Patriot Payroll pricing is one of the most affordable on the market. For reference, even the Full Service Patriot Payroll plan costs less per month than the basic plan for Gusto, which costs $39 per month, plus $6 per month per employee. Plus, a month's free trial makes Patriot Payroll pricing that much more affordable.
Cons
Limited features: Since Patriot Payroll only offers two plan options, it's relatively limited in scope. Additionally, Patriot Payroll competitors often offer health benefits administration and workers comp administration. So, if you're looking for payroll automation that will handle these benefits, then you should look beyond what Patriot Payroll offers.
Top Alternatives to Patriot Payroll Software
If you want to look beyond Patriot Payroll for the perfect payroll software for your small business, then you're in luck. There is a market full of payroll services for small businesses, and each of them is vying for your business. Each will offer something unique for your business, so it's certainly worth checking out all of your options. To start, here are two top payroll alternatives to consider if Patriot Payroll software isn't right for your needs:
Gusto Payroll
If you're looking for a highly capable software that goes way beyond just payroll, then Gusto Payroll could be the perfect Patriot Payroll alternative for you. Gusto offers three tiers of their software, priced as follows:
Gusto Core: $39 monthly base fee, $6 monthly employee fee
Gusto Complete: $39 monthly base fee, $12 monthly employee fee
Gusto Concierge: $149 monthly base fee, $12 monthly employee fee
As we mentioned before, Gusto is certainly a pricier option than Patriot Payroll. But it also offers far more capabilities. Gusto also has a new option for contractor-only employers, who simply pay the $6/employee rate and no base price. You'll be able to access the following fundamental capabilities, no matter which Gusto Payroll plan you go with:
Full-service payroll
Employee self-service
Employee profiles
Health benefits administration
Workers comp administration
Customer support
PTO tracking
Get Started With Gusto Payroll
Square Payroll
On the other hand, if you're looking for a more bare-bones alternative to Patriot Payroll, then you should look into Square Payroll. If you use a Square Point of Sale to process transactions and track your employees' time, then you'll be able to seamlessly sync tips and timesheets with your Square Payroll.
Plus, if you only work with contractors, Square Payroll will be the most affordable payroll for your business—you'll simply have to pay $5 per contractor per month. And that's it—you won't have to pay an additional monthly base fee.
If you have a team of both contractors and employees on your team, then Square Payroll will cost you a $29 monthly base fee, plus $5 per person per month. This additional monthly cost will cover the full-service payroll tax that Square Payroll offers for W-2 employee payroll taxes.
Get Started With Square Payroll
The Verdict on Patriot Payroll Software
Having made it through our Patriot Payroll review, you're equipped with some pretty crucial information for deciding what your verdict for Patriot Payroll software will be. While Patriot Software offers some of the most affordable payroll software on the market, they also leave a few features to be desired.
You'll need to decide whether or not you're willing to pay for the features that Patriot Payroll might lack. If you don't feel the need to automate things like workers comp and health benefits administration and you want to keep your payroll software simple, then Patriot Payroll should be on your short list.
Try Patriot Payroll for Free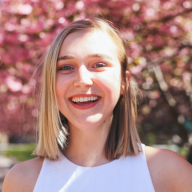 Contributing Writer
at
Fundera
Maddie Shepherd is a former Fundera senior staff writer and current contributing writer for Fundera. 
Maddie has an extensive knowledge of business credit cards, accounting tools, and merchant services, but specializes in small business financing advice. She has reviewed and analyzed dozens of financial tools and providers, helping business owners make better financial decisions. 
Read Full Author Bio