PayPal Small Business Solutions
Payment Processing – Credit and debit card processing on web, mobile, and in-person.
Payment Gateway – Accept payments with any merchant processor.
Invoicing – Create and send invoices by email.
Business Financing – Obtain loans specially designed for PayPal sellers.
PayPal Credit – Allow customers to pay over time for goods and services.
PayPal Business Debit Card – Use your PayPal balance online or in-store and earn cash back.
PayPal Shipping – Purchase and print shipping labels, and earn discounted shipping rates.
PayPal was one of the first companies to bring convenient digital payment options to the masses when it debuted in the late 1990s. Even if you don't use PayPal for business, it's likely that you've used their services as a consumer when paying a friend or family member or when shopping online on a small business website.
Since PayPal launched all these years ago, many competing and complementary merchant services options have surfaced to create seamless ecommerce and payments experiences for millions of web users. PayPal has evolved too, with a variety of options for helping small business owners with online and offline transactions.
In 2019, PayPal offers a robust suite of financial solutions for small businesses and large enterprises alike. See if any of these PayPal small business solutions could be a good fit for your company's needs, and learn how to use PayPal for your business.
How to Set Up PayPal for Small Business
PayPal realizes that small businesses depend on the payment processor's ability to collect money quickly and easily on their behalf. For that reason, they've rolled out business account features that cater specially to small business and solopreneurs.
The first step to accessing any of PayPal's small business solutions is to create a free PayPal business account. To create an account, you'll be asked to input some basic contact information and identifying information about your company.
Here are a few benefits of creating a PayPal business account:
Do business under a company or group name
Accept all payment types for low fees
Set up a payment gateway to increase checkout conversion
Accept payments from customers without PayPal accounts
Send and receive payments with members in more than 200 countries and regions
Implement subscription payments for your content or services
Multiple logins give employees limited access to your PayPal account
Explore lending solutions for your business, and offer your customers financing options
If the number of PayPal small business products is intimidating for you, then you can opt for PayPal's Business in a Box product. This all-in-one solution includes payments processing, access to PayPal loans, ecommerce integrations for creating an online store, and software to track and organize your sales and expenses.
Photo credit: PayPal
PayPal Small Business Solutions: Using PayPal for Small Business
As you'll soon see, PayPal offers a wide range of small business solutions. Businesses might use just one or all of these products, based on their needs.
Here's a breakdown of PayPal's small business offerings:
Payment Processing
This is what most people are familiar with in terms of PayPal services. You can use PayPal to either send or receive payments, whether you're a B2C or B2B business. The good news is that this service is pretty universal and offers integrations galore. Nowadays, it's very common in the checkout process to see PayPal as an option.
Quick setup options make it so you can start accepting and receiving payments in a matter of minutes. Plus, PayPal is a trusted payment method with high conversion rates—customers know they can request help if something goes wrong with the transaction.
But in terms of drawbacks, PayPal fees for small business can be a tad higher than traditional credit card processors.
Mass payments (PayPal Payouts), online payments, and in-person payments (PayPal Here) are the most popular payments solutions.
PayPal Payouts: Mass Payments
PayPal mass payments, called PayPal Payouts, is an incredibly convenient way to send payments to up to 5,000 people in one fell swoop. This features works from the PayPal website or from the PayPal API (application programming interface).
This situation is helpful for merchants who have to pay a large number of people without cutting checks or initiating ACH drafts. In terms of who would use this feature, think of someone who has to make monthly affiliate payments to hundreds or thousands of affiliate partners (people who sell a product and receive a sales commission). Mass Payout costs a flat $0.25 per transaction or a 2% transaction fee.
This is a quick, lower-risk way to transfer funds to many people at once. The fees for the sender are relatively low, and recipients don't pay anything. You can even send payments in different currencies and countries. However, canceling an individual payment can be tricky if they've claimed the payment already. And Payment recipients must already have or create a PayPal account and receive approval to retrieve funds.
PayPal Here: Accept Payments In-Store
Retail merchants can use PayPal Here, a mobile payments solution which lets you accept credit and debit card payments from customers from any location. You can choose from several card readers to set up your point of sale system and also send invoices and record cash and check transactions. The great part is that there are no setup fees, monthly fees, cancellation fees, or required monthly minimums for this product. You pay a 2.7% fee on most transactions. Manually keyed-in payments and invoice payments are more expensive.
Online Payments
Allowing online payments gives your customers more options and reasons to buy. You can add a PayPal button to your existing website or build a custom checkout process. Customers can pay with their PayPal balance, credit card, debit card, or a linked bank account. Offering PayPal at checkout increases conversions by 82%. You pay a fee of 2.9% plus 30 cents on most transactions.
Photo credit: PayPal
Invoicing
PayPal also offers a service for creating invoices and receiving payments through the same invoice. The invoices are customizable with templates along with the option to add your logo, company information, etc. Once the invoice is created, it's sent via email to the recipient, who can either pay it from their own PayPal account, a credit or debit card, or a bank account. Fees are assessed according to PayPal's standard fees—2.9% plus 30 cents per transaction.
Photo credit: PayPal
Payment Gateway Services
PayPal's Payflow payment gateway is another service that small businesses can use to process payments. Payflow, formerly Verisign, operates as a PayPal company. It's similar to other gateway services like Authorize.net or First Data.
Many small businesses are familiar with using PayPal as a payment processor but not as a payment gateway. In a nutshell, a payment processor handles transactions by transmitting data between a buyer, the merchant bank, and the acquiring bank (the buyer's bank). Payment processors can also provide equipment to accept credit card payments in person, but the focus for payment gateways are mainly on online transactions.
The payment gateway makes it so businesses can accept card payments directly from a website, no matter who their payment processor is. You can use PayPal or another credit card processing company. Security is a major concern here, so a payment gateway provider has to be familiar with and able to comply with fraud prevention protocols for online payment processing.
PayPal works with a variety of merchant accounts, major processors, and shopping carts. There are two service-level options: $0/month with Payflow Link (PayPal-hosted checkout) or $25/month with Payflow Pro (customized checkout)
There are also additional costs for additional services like advanced fraud protection, recurring billing, and buyer authentication. Although a variety of currencies are supported, the PayPal's payment gateway product is available in only four countries: U.S., Canada, Australia, and New Zealand.
Business Financing
PayPal offers two types of business loans for small business owners:
PayPal Working Capital – PayPal Working Capital provides cash advances for PayPal sellers that are paid back with a small percentage of daily PayPal sales. The maximum amount you can receive is 30% of your last 12 months' of PayPal sales.
PayPal Business Loans – PayPal Business Loans are more like traditional, fixed rate business loans with a pre-determined term and weekly payment. These range between $5,000 to $500,000.
Out of these two loans, PayPal Working Capital is easier to qualify for. You must have been a PayPal seller for at least three months and process between $15,000 and $2 million of PayPal sales each year. If eligible, you can apply from your PayPal dashboard and choose the percentage of your PayPal revenues that will go towards paying back the loan.
To be eligible for a PayPal Business Loan, you must have nine months in business and $42,000 or more in annual total revenue (either from PayPal or other sources). Repayment terms range from 13 to 52 weeks. PayPal doesn't publish interest rates publicly, but you can check your eligibility on their website to get a quote.
Photo credit: PayPal
PayPal Credit
Offering customers more financing options with PayPal Credit. With PayPal Credit, you can give your customers the option to pay for goods or services over time. You can add banners to your website promoting PayPal Credit. You'll get paid right away at no extra charge, but your customers can defer payment.
This can lead to increased sales and better conversions for your business. On purchases of $99 and higher, your customers get no-interest financing for up to six months. The best part is that there's no cost to you, and PayPal takes care of billing your customers.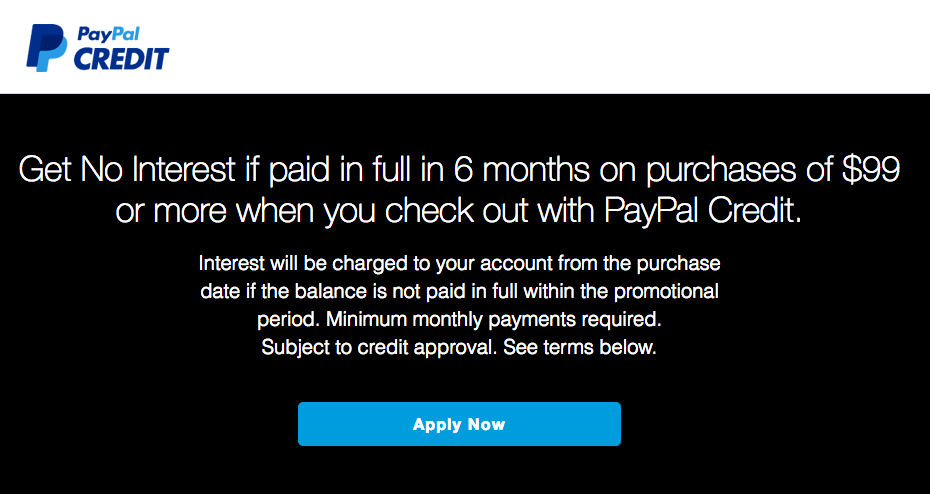 Photo credit: PayPal Credit
PayPal Business Debit Card
Although there is no such thing as a PayPal business credit card at the moment, PayPal does offer a Mastercard business debit card. The card is linked to your PayPal account, letting you use your PayPal balance online or in store whenever you want to. You can even withdraw money from your PayPal balance using an ATM (for a withdrawal fee). There's no fee to get the card, and you earn 1% unlimited cash back on all purchases. The biggest value add of this card is that it saves you the trouble of transferring money from your PayPal account into your bank account.
Photo credit: PayPal
PayPal Shipping
Many business owners aren't aware that PayPal offers business shipping services. All services in the PayPal Shipping Center are accessible directly through your PayPal business account. From there, you can purchase and print shipping labels and track your packages. You can also print packing slips and customs forms for international shipping. One of the biggest perks is that you can earn shipping discounts due to PayPal's partnerships with UPS and USPS. There's no additional fee for the service beyond the shipping cost.
Photo credit: PayPal
PayPal Integrations With Other Business Software
PayPal is such an industry-standard payment solution that many e-commerce companies use PayPal payment services to facilitate transactions. PayPal has well-documented software development kits (SDKs) along with support for developers. This means that if you are looking to support an application or any platform that requires digital payments, there's usually a way to integrate PayPal into the mix.
Pros:
PayPal APIs integrate with a number of platforms for everything from ecommerce to elearning, forms processing, and more.
The SDK supports several programming languages including Java, PHP, Node, Python, Ruby, and .NET
The widespread use of PayPal along with SDKs in several languages means you won't have much trouble finding a developer to create or tweak your integrations
Cons:
Not for the faint of heart. Requires use of programming languages and the knowledge of development protocols like testing in a sandbox environment.
Creating an integration can be pricey if you have to hire out the work. Plus, there could be maintenance costs for ongoing updates
Creating and using integrations requires extensive planning. Be prepared to spend time and energy on business analysis before diving into developing an integration with PayPal payment services.
PayPal Fees for Small Business
One of the reasons PayPal is so small business-friendly is that they don't charge monthly fees, subscription fees, or cancellation fees. These types of charges are common with other payment and ecommerce providers.
Fees vary by product, and here is a summary of PayPal fees for different business services:
Online and Invoice Payments – 2.9% plus $0.30
per transaction
In-Person Payments – 2.7% per transaction
Mass Payments – $0.25 or 2% per transaction, depending on which version of the product you're using
Payment Gateway – $25 per month for custom checkout, $0 for PayPal-hosted checkout
PayPal Working Capital – $0.01 to $0.60 in fees for every $1 borrowed
PayPal Business Loans – Rates not publicly available
PayPal Credit – No cost to seller, customers get six months interest free on purchases over $99
PayPal Debit Mastercard – $1.50 ATM fee, $3 over the counter withdrawal fee, and 1% foreign transaction fee
PayPal Shipping – Shipping costs only
In most cases, PayPal ends up combining extensive functionality with great value for small business owners.
PayPal for Small Business: A Full Range of Business Services 
PayPal offers an extensive suite of payment solutions for small businesses that are great for anyone needing to start nimbly and inexpensively. From quick-start buy buttons to full-scale POS solutions and mass payments, PayPal enables the small business owner to compete on the level of larger operations.
However, getting started quickly and easily also means a business could pay on the back-end in higher transaction fees and for nonstandard additions to their payment services.
If you're just starting out, the trade-off might be worth it just to get going quickly. As your small business gets bigger, it's a good idea to go back and reevaluate your options to see if you might get better terms and transaction fees. But with all the features, you might also find that PayPal continues to work and is a good fit for your business model.
Senior Contributing Writer
at
Fundera
Priyanka Prakash is a senior contributing writer at Fundera.
Priyanka specializes in small business finance, credit, law, and insurance, helping businesses owners navigate complicated concepts and decisions. Since earning her law degree from the University of Washington, Priyanka has spent half a decade writing on small business financial and legal concerns. Prior to joining Fundera, Priyanka was managing editor at a small business resource site and in-house counsel at a Y Combinator tech startup.
Read Full Author Bio