What Is the Best Payroll Software for Small Business?
Making sure you pay your employees in full and on time is a non-negotiable ingredient to a high-functioning team, which makes choosing payroll software for your small business a weighty decision.
Whether you're looking for a barebones, free payroll software, or you're willing to pay for full-service payroll software, there are some pretty stellar options out there for you. Here are the four best options on the market right now.
The Details on the Best Payroll Softwares for Small Business
Let's dive into the information you came here for. Here are the details on the 10 best payroll software for small businesses like yours:
1. Gusto Payroll
Our pick for the best payroll that offers up the fullest package—for the most reasonable price—is Gusto. Gusto is a payroll, benefits, and HR platform that is available to small businesses starting at just $45 a month ($39 as a base price and then an additional $4 per person per month for their least expensive plan.) Gusto also has a new option for contractor-only employers, who simply pay the $6/employee rate and no base price.
No matter which of the versions of Gusto you go for, you'll get access to full-service payroll. The more you level up, though, the more features you'll gain access to through this payroll software. Every one of the Gusto plans comes with the features included in the Core plan:
Full-service payroll software
Employee self-service and profiles
Health benefits administration
Workers' comp administration
Customer support
PTO tracking
The Gusto Complete plan is the next level up and has the same $39 base price but is an additional $12 per employee per month. The added features are
Admin permissions
Employee offers and onboarding
PTO approvals to accompany PTO tracking
Employee directory and surveys
The Gusto Concierge plan, the most expensive plan, costs $149 per month and an additional $12 per employee per month with the added features of
Dedicated customer support
Certified HR professionals
HR resource center
Plus, each of the three versions of Gusto payroll software offers a month's free trial, so you can test them out to see if they're the right fit. Don't forget that you can also tack on extra benefits and insurance—like 401(k) retirement plans and health benefits, for instance—to whichever Gusto plan you end up choosing.
To give you an idea of what each of these options entails, let's run through all three versions of Gusto payroll software:
Get Started With Gusto Payroll
2. QuickBooks Payroll
Another top payroll software option for small businesses is QuickBooks Payroll. If you're already using QuickBooks accounting software to keep track of your business's finances—as many business owners are—then this will be one of the easiest ways to automate your payroll. In fact, if you're using QuickBooks Online, you'll be able to turn on this payroll software with the click of a button in your accounting software.
There are three versions of QuickBooks Payroll software that you'll be able to choose from. The first plan option for you is QuickBooks Payroll Core, the self-service version of QuickBooks Payroll software. This product allows you to calculate paychecks, pay your employees, and calculate and file year-end forms. For your first three months with this payroll software, you will only have to pay a base cost of $13.50 per month, along with $4 per employee per month. After those first three months, your base cost will increase to $45 per month, but your employee cost will remain the same.
If you want to access more help from your payroll software than the basic version of QuickBooks Payroll can offer you, then consider leveling up to the Premium version. With Premium QuickBooks Payroll, you'll be able to access all the features that the Self Service version offers, along with the following list of additional features:
Payroll taxes done for you
Same-day direct deposit
Free W-2s filed and sent for you
Assistance setting up payroll
User-based permissions
Premium time tracking (via mobile app)
An HR support center
Their no-penalty guarantee for tax filing
For these extra features that Premium QuickBooks Payroll offers, though, you'll have to pay more—your first three months will come with a discounted base rate of $22.50 a month and subsequent months will come with a base rate of $75. Again, each employee you add to your payroll will cost you $8 per employee per month.
Finally there is QuickBooks Payroll Elite—the most comprehensive payroll product QuickBooks offers. With this package, you'll get everything included in the Core and Premium packages, plus the following features:
Employee onboarding handled by QuickBooks
Time tracking with geofencing
Additional customer support for US-based businesses
A personal HR advisor
For all of these additional perks, you'll pay a starting rate of $37.50 for three months. After three months, your rate will increase to $125 per month, plus $10 for every employee you add.
Get Started With QuickBooks Payroll
3. Patriot Payroll
Another option that's made it onto our list of the best payroll software for small businesses is Patriot Software Payroll. Patriot Payroll software comes in two versions, both of which could serve small businesses wonderfully, depending on their needs and preferences. Plus, you can add on two bonus features to your Patriot Payroll software—time and attendance tracking and HR software—for small monthly fees.
The Basic version of Patriot Payroll software comes with a base cost of just $10 a month and an employee cost of $4 per month per employee you add to your payroll. For this price, you'll be able to access the following payroll capabilities:
Payroll setup and support
Paycheck or direct deposit payments
Flexible payment schedules
Your other Patriot option is their Full Service payroll software. With this option, you'll have to pay a base cost of $30 per month, plus $4 per month per employee. For this extra $20 a month, you'll gain access to all features of Basic Patriot Payroll, along with this list of additional features:
Try Patriot Payroll for Free
4. Payroll4Free
If you're strictly on the hunt for a free payroll software, then your best option is Payroll4Free. If you have fewer than 25 employees in your payroll, then you can access all of the basic features that Payroll4Free offers for no money at all.
These basic features include the following capabilities:
Payroll processing (for both W-2 employees and 1099 contractors)
Direct deposits (to your own bank only)
Tax calculations and forms
Vacation tracking
Outside software integrations
HR functions
Reporting
Live customer support
Beyond those basic features, you can pay Payroll4Free to deposit and file your taxes directly from your payroll software for $12.50 a month. Plus, if you want to transfer direct deposit funds to your employee's bank accounts—rather than your own—then you'll have to pay them another $12.50 a month.
Other than those two optional services, Payroll4Free is a completely free option that won't make you sacrifice too much for its being free.
5. ADP Payroll
Advanced Data Processing, also known as ADP, is a huge name in the business software world, so you've probably heard of them before. They offer a plan called ADP Run that can be used by small businesses. There are four plans to choose from with ADP Run called the Essential, Enhanced, Complete, and HR Pro plans. No prices are available for the plans online so you'll have to ask ADP for a quote if you're interested, but the plan details are available.
Every plan comes with the following features:
Payroll via the computer, tablet, mobile app, or phone call
Direct Deposit
Payroll Delivery
Reporting
General Ledger Interface
New-Hire Reporting
W-2s and 1099s
Tax Filing
ADP Employee Access
New Hire Onboarding
Employee Discounts
As you move up the more expensive plans the main features you get in addition to the payroll you're already getting in the Essential plan have to do with human resources management and tools. If you're simply looking for a payroll plan then the most basic plan, the Essential plan, or the most popular plan, the Enhanced plan, will do the trick. This is a great option for business owners on the go because you can use it on your phone in the mobile app, on a tablet, on a computer, or even call in to run your payroll.
Get Started With ADP Payroll
6. OnPay Payroll 
If you mainly pay hourly and contract workers then OnPay is a great option for you to consider when it comes to a payroll provider. The costs for OnPay are readily available and there's just one service they offer for payroll so there are no plans to sort through. The cost will be $36 per month and then an additional $4 per month per person you pay whether they're a contractor, a full-time, employee, or part-time employee.
The reason it's a good fit for your business if you're paying contractors or part-time employees is that payroll does not run automatically with OnPay. You have to select the employees you want to pay and then enter their hours or wages before you can run the payroll. But that being said you can run payroll quickly and easily either from your phone or from a computer thanks to the fact that it's a cloud-based service.
Features included with OnPay Payroll services are:
Get Started With OnPay
7. Paychex
There are several plans all offered by Paychex Flex which is great for growing businesses, you can start with one of the lower tier plans and move on up to the more expensive and more robust ones as necessary. The most simple plan is the Express Payroll plan, followed by the Paychex Flex Select, Paychex Flex Pro, and Paychex Flex Enterprise plans.
All four of the Paychex plans we just mentioned come with the following features:
Payroll tax administration
New-hire reporting
Free mobile app
24/7 phone and chat support
Employee financial wellness program
Direct deposit and paycards
Employment and income verification services
When you opt for the next level plans you get more features like a dedicated payroll specialist to help you with any tax or payroll questions you have. You can also gain access to additional ways to pay your employees like via check, or analytics and reporting. One drawback about Paychex Flex is that the pricing isn't readily available on their website so it can be a little difficult to compare their services to others that do have public pricing schemes.
Request a Free Quote From Paychex
8. Square Payroll
You're probably familiar with Square, at least for their point of sale product, whether you've used it for your business or used it at another business. But they also offer a payroll service to business owners. If you only pay contractors Square Payroll has a plan that's just $5 per contractor per month. If you have full-time employees you pay then the plan costs $29 per month and an additional $5 per person per month.
Some of the features that are included in the full-service payroll are:
Pay employees and contractors
Offer health benefits
401k
PTO and sick leave tracking
Track hours
Use the mobile app to pay employees
Give employees access
Import time cards
Tax filing
If you use Square as your point of sale then your employees can already easily clock in and out. You can then sync that information with the payroll service so you can easily track hours and know they're accurate come payday.
Get Started With Square Payroll
9. Zenefits Payroll
Zenefits is an incredibly comprehensive payroll option that also covered the other benefits you might want to give your employees. Their payroll plan integrates seamlessly with their HR, benefits, and time and scheduling plans. They also have tons of integrations available for business owners to use. There are integrations for everything from productivity, applicant tracking, retirement savings, accounting, travel, employee management, and performance management.
Some of the many features actually included in the payroll software are:
Automatic prorating for new hires
Automated payroll reminders
Informational paystubs
Pay stub messages
Direct deposit
Pay for contractors
Custom earning codes
Multiple pay rates
You might think all of these features would come at quite a cost, but the three plans offered by Zenefits are fairly reasonably priced. The least expensive plan, the Essentials plan, is $10 per month per employee, while the Growth plan is $18 per month per employee, and the Zen plan is $27 per month per employee. As you increase in plan price, you get more features included in the price.
Get Started With Zenefits Payroll
10. Wave Payroll
You may know Wave already thanks to the fact that they offer some pretty good free software for accounting and invoicing. They also offer payroll software, you do have to pay for it, but if you're in the market for accounting software too it could be a great time to try both, thankfully they sync seamlessly.
The cost of Wave Payroll will vary depending on the state you're in because in some states they can offer you tax services while in others, they can't. In those states with tax services the cost is $35 per month, plus $6 per active employee or independent contractor you pay. In states where taxes are considered "self-service" the base price will be $20.
The features are the same no matter what state you're in though:
100% payroll accuracy
Unlimited free direct deposits
Self-service check printing
Payroll reminders in your email
Customer support
Employee holds
Tax filing where applicable
Pay stubs and tax forms for employees
The Bottom Line
Now that you're familiar with the best payroll softwares for small businesses, it's time to start deciding which of these four options will be the best fit for your payroll needs and preferences.
But with all of these options at your fingertips, how are you to decide on the best payroll software for your business?
Each option has its own pros and cons, but at the end of the day, you'll need to think primarily about how much help you'll need with your taxes and payroll setup, and balance that with how much you're willing to pay every month for your payroll software.
Don't forget to allow for the additional monthly cost that each of your payrolled employees—and future payrolled employees—will mean for your payroll software. As your small business grows, so will your payroll software expenses.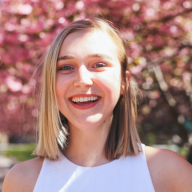 Contributing Writer
at
Fundera
Maddie Shepherd is a former Fundera senior staff writer and current contributing writer for Fundera. 
Maddie has an extensive knowledge of business credit cards, accounting tools, and merchant services, but specializes in small business financing advice. She has reviewed and analyzed dozens of financial tools and providers, helping business owners make better financial decisions. 
Read Full Author Bio