Best POS System for Food Trucks
The best POS system for food trucks will ultimately depend on your individual business, your budget, and what kind of functionality you require. This being said, here are four food truck POS systems worth considering:
If you own and operate a food truck, you know that your business is different from many others out there. As a quick-service business that's constantly on the go, you have to consider flexibility, mobility, and, of course, cost, when it comes to the tools your food truck uses—including your merchant services.
You need your food truck point of sale system to not only process customer orders and payments, but also to help you manage your day-to-day operations, as well as save you time, automate your processes, and ultimately, promote the success of your business.
Therefore, if you're looking for the best POS system for food trucks, you'll want to determine which POS system will truly fulfill your business's needs. To help you find the right solution for your business, we've compiled this list of the top POS systems for food trucks.
We'll explore each of these food truck POS systems, discussing both their capabilities and pricing. We'll also explain what you should look for when choosing a POS system for food trucks, so you'll have all of the knowledge you need to decide what will work best for you.
Best POS System for Food Trucks
Now that we've explored what types of features and aspects of a food truck POS system you'll want to keep in mind as you go through the search process, let's break down our list of the best POS systems for food trucks. Although the right food truck POS for your business will ultimately depend on your specific needs, any of these four options may be able to serve you well.
Let's see what each of these food truck POS system providers can offer.
Get Started With TouchBistro
Get Started With ShopKeep
Clover
Best Mobile POS System for Food Trucks
Like ShopKeep, the Clover POS system was built to accommodate a variety of businesses, not just those in the food services. However, with two software options, impressive mobile hardware choices, and solid features, you may find that Clover is the best POS system for your food truck.
Clover Features
Unlike the food truck POS systems we've discussed thus far, Clover is set up a little differently. Clover offers two software plans—Register and Register Lite—and then four countertop or handheld hardware systems from which you can run the software you choose.
The Register Lite software offers the most basic functionality, whereas the Register software includes more features. With Register Lite, you can:
Accept all credit and debit cards, including EMV cards, as well as contactless payments
Track cash payments
Process payments offline
Send paperless receipts
Accept on-screen signatures and tips
Ring up items, discounts, and tax
Change taxes at the item level
Process refunds
Set employee permissions
Manage employees, payroll and shifts
Export basic reports
Receive 24/7 customer support
Access apps in the Clover market
Monitor activity, sales, and refunds remotely
Track sales with item level reporting
With the Register software, you receive all of the functionality of Lite, as well as:
Inventory management for items, categories, modifiers, and variants
Process exchanges
Integrate with a weight scale
Pre-authorize credit cards
Build your mailing list automatically
Review customer feedback and reply with coupons
Create a simple, custom loyalty program
Send orders to a kitchen printer or other stations
Add gratuity to checks
Manage tables
Compared to TouchBistro and ShopKeep, the Clover POS software may be simpler; however, it still offers the capabilities you would need to start your food truck and manage daily operations. Although you could certainly operate with the Register Lite plan, the inventory, order-sending, and customer tools included in the Register software might make this plan the better option.
Additionally, Clover is unique in the way their payment processing works. Clover's credit card terminals, as we'll discuss shortly, are included within their hardware options. When you purchase hardware directly from Clover, therefore, you can apply for a merchant account and receive credit card processing through First Data. However, you can also find a Clover reseller, like Bank of America Merchant Services, and buy your Clover POS and payment processing capabilities from them.
Clover Hardware
As we mentioned, Clover has four POS hardware options, all of which are specific to Clover and include credit card terminals. With this food truck POS, you can choose from:
Clover Go: Clover Go is a mobile card reader that connects to an iOS or Android device. If you use this hardware option, you'll run your software through the Clover app on your device—making it a particularly affordable and portable option.
Clover Flex: The Clover Flex is a handheld POS device that allows you to take orders and process payments via touch screen. Although you must purchase this device in addition to your Clover software, this hardware provides you with impressive mobility.
Clover Mini: The Clover Mini is a countertop tablet device. Like the Flex and Go, you can perform all of your food truck POS functions using the Mini; however, this terminal, while compact, is not particularly mobile.
Clover Station: The Clover Station is most like your traditional countertop POS terminal. With a larger tablet touchscreen and more processing power, this system also includes a cash drawer and receipt printer, but is meant to be stationary.
Clover Pricing
One of the benefits of Clover is that with their variety of software and hardware options, you have more flexibility in the cost of your food truck POS system.
In terms of software, the Register Lite plan costs $14 per month, whereas the Register plan costs $29 per month. For hardware, the Clover Go costs $59, the Flex costs $449, the Mini starts at $599, and the Station starts at $1,149. With each of these systems, as we mentioned, your credit card terminal is included; however, any other peripherals or accessories that you need must be purchased separately.
The cost of payment processing when you use Clover will depend on your merchant account provider; however, Clover advertises rates as low as 2.7% + $0.10 for in-person transactions with the Lite plan and 2.3% + $0.10 for in-person transactions with the Register plan.
With these options, therefore, Clover certainly stands out in terms of simplicity, mobility, and flexibility. As Steffen Marin, a chef and owner of Heirloom, a food truck business in Toronto, told us, "Clover Flex has been a perfect fit for our business, whether to handle a long queue of customers or when working a large event, Clover is made for the job."
Open a Clover Account
Sign Up for Square for Free
Best POS System for Food Trucks: Features to Consider
Before we break down our best POS system for food trucks list, you should know what to look for when trying to find the right food truck POS for your business. Like all point of sale systems, your food truck POS system will consist of a combination of software and hardware, and the provider you choose will dictate your software features and hardware options.
As an on-the-go, fast-paced business, then, you'll want to look for a food truck POS system that's affordable, flexible, and easy to use. Additionally, although you may find that any type of POS system can serve your food truck, it's probably best to consider systems that offer capabilities specific to your type of business.
Therefore, as you go through the search process for a POS system for food trucks, you'll want to look for the following:
Payment Processing
The food truck POS system you choose will determine how you can accept payments from customers—an integral piece of your business operations. Most POS systems for food trucks (or any POS system for that matter) should give you the ability to accept multiple payment methods including credit and debit cards, cash, digital payments, gift cards, and more.
Additionally, you'll want to consider what kind of credit card processing options your food truck POS system offers. Some POS systems include in-house processing, while others offer integration options with third-party processors.
Menu and Inventory Management
Since you'll be using your food truck POS to input and process customer orders, you'll need the system you choose to have menu management capabilities. Your POS system should allow you to input and customize your menu—accommodating different item types, categories, modifications, and other useful options.
In the same vein, your food truck POS system should also be able to track and manage your inventory and notify you when items are out of stock.
Customer Orders
Another element that's at the core of any POS system for food trucks is how the system allows you to take and process customer orders. You'll want your POS system to be able to take orders quickly and easily, communicate with any peripheral devices (like receipt or ticket printers), and allow for modifications, split payments, taxes, gratuity, promotions and discounts, etc.
Mobility
As a quick-service business on the move, you'll need a mobile food truck POS system. You'll want to ensure that your system can move with you, is flexible and easily accessible, and can take orders on the go. The best mobile POS systems for food trucks will include an offline mode—where you can take orders and accept payments without an internet connection, as well as multiple mobile hardware options, like tablets and smartphones.
In addition, you'll want to also consider how a food truck POS system handles peripheral connections—can you connect to a Bluetooth printer, for example—as well as how and where you have access to your POS account.
Additional Sales Tools
Although you may not need these tools to complete your basic business operations, the best POS systems for food trucks will include features to facilitate your success, including but not limited to capabilities for employee management, customer relationship management and loyalty programs, analytics and reporting, and third-party or internal integration options.
Customer Support
Running a food-service business isn't always easy, so the best POS system for food trucks will offer you customer support in a variety of ways. Most POS systems offer self-service resources such as tutorials, FAQs, and community forums on their website, as well as direct support via email, phone, or live chat. Moreover, some POS systems provide hands-on assistance with setup and training.
Hardware Options
You'll need hardware to operate your point of sale system—but POS hardware can be the part of your system that requires the most upfront investment. Plus, for an on-the-go food truck business, it's even more important that your POS hardware is portable and can function within a small and fast-moving environment.
In looking at different POS systems for food trucks, therefore, you'll want to determine what kind of mobile hardware is offered, like tablets, smartphones, or hand-held devices; where you can purchase the hardware; if you can use hardware you already own; and what types of peripherals are compatible with the core terminals and, of course, overall cost.
The Bottom Line
Once you've acquired your food truck financing and start to move forward in your business planning, choosing the best POS system for food trucks is an important step. As we've mentioned, the POS system you use will dictate how your business operates on a day-to-day basis including everything from how you accept payments, take orders, and manage customers.
Therefore, before you make this crucial decision, you'll want to consider the options available to you, including but not limited to the four food truck POS systems on this list, and compare each solution against your budget as well as hardware and software needs. As a food truck business, you'll want to focus on a system's flexibility, mobility, and offline as well as online capabilities. 
This being said, if you're looking for food truck POS systems with in-depth functionality and can afford the higher monthly service fee, you might consider TouchBistro or ShopKeep. On the other hand, if you'd first and foremost prefer affordability and multiple mobile options, you might consider Square or Clover.
At the end of the day, however, you're the only one who can decide what's best for your business—and once you do—you'll be well on your way to running a successful food truck.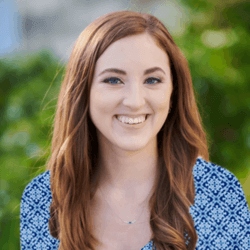 Senior Staff Writer
at
Fundera
Randa Kriss is a senior staff writer at Fundera.
At Fundera, Randa specializes in reviewing small business products, software, and services. Randa has written hundreds of reviews across a wide swath of business topics including ecommerce, merchant services, accounting, credit cards, bank accounts, loan products, and payroll and human resources solutions. 
Read Full Author Bio