Poynt Smart Terminal
Poynt's flagship product, the Poynt Smart Terminal, is a credit card terminal with a lot of flexibility. It boasts a touch-screen and user-facing display, receipt printer, and the ability to accept magstripe, chip card, NFC, and QR code payments. There's also a set of apps that can give your credit card terminal POS functionality. The cost of this device is $299. Payment processing rates start at 2.3%.
The payments industry is constantly evolving. Before Square came along in 2009, mobile payment processing wasn't even a thing. And before 2015, merchants weren't required to use point of sale systems that could facilitate EMV (chip card) payments.
But now both of those things are commonplace, and who knows what changes tomorrow will bring?
If you're looking for a POS system that can stand the test of time, you may want to look into Poynt, which co-founder Osama Bedier describes as a "future-proof" payment terminal that can be a long-term solution for business owners' payment needs.[1]
In this review of the Poynt Terminal, we'll evaluate that claim by looking at Poynt's hardware, software, and payment processing capabilities. By the end of this review, you should have all the information you need to decide whether or not the Poynt Terminal is for you.
Poynt Overview
Poynt launched in 2014 with a payment processing terminal that allowed merchants to accept all major forms of payment. This was largely due to the demand for payment terminals that were EMV-compliant.
"For the first [time] in payments infrastructure history, every one of the 16 million terminals in the country will change over to a different device… In the history of payment terminals, that's never happened before. No one has ever been able to change these things before," he told TechCrunch at the time.
Over the years, Poynt has expanded their offerings to become a full-fledged POS system capable of providing brick-and-mortar business owners with everything they need to manage sales.
According to their website, Poynt has processed $18 billion in transactions since launching, and over $1 million in transactions per day for a network of 100,000 merchants.
Let's take a closer look at what they can do for you.
Poynt Payment Processing
Poynt offers in-house payment processing called Poynt Processing. With Poynt Processing, you can process payments at a rate of 2.3% per transaction—which is very cheap compared to other systems. With Poynt Processing, funds will arrive in your business bank account within 24 hours.
You can also integrate your Poynt system with a variety of third-party payment processors. Poynt says they work with six of the 15 top merchant acquirers in the world. This includes:
Vantiv
Elavon
First Data
Chase Paymentech
TSYS
Global Payments
And more
However, which of the aforementioned payment processors you can work with is determined by the third-party reseller you go through to acquire your Poynt Terminal (Poynt does not offer direct sales—more on this later). If you go with a third-party payment processor, they will determine your payment processing fee.
Poynt Hardware
Poynt's payment processing hardware is the core of its offering. Poynt currently offers two different card terminals. Here are the details on both:
Poynt Smart Terminal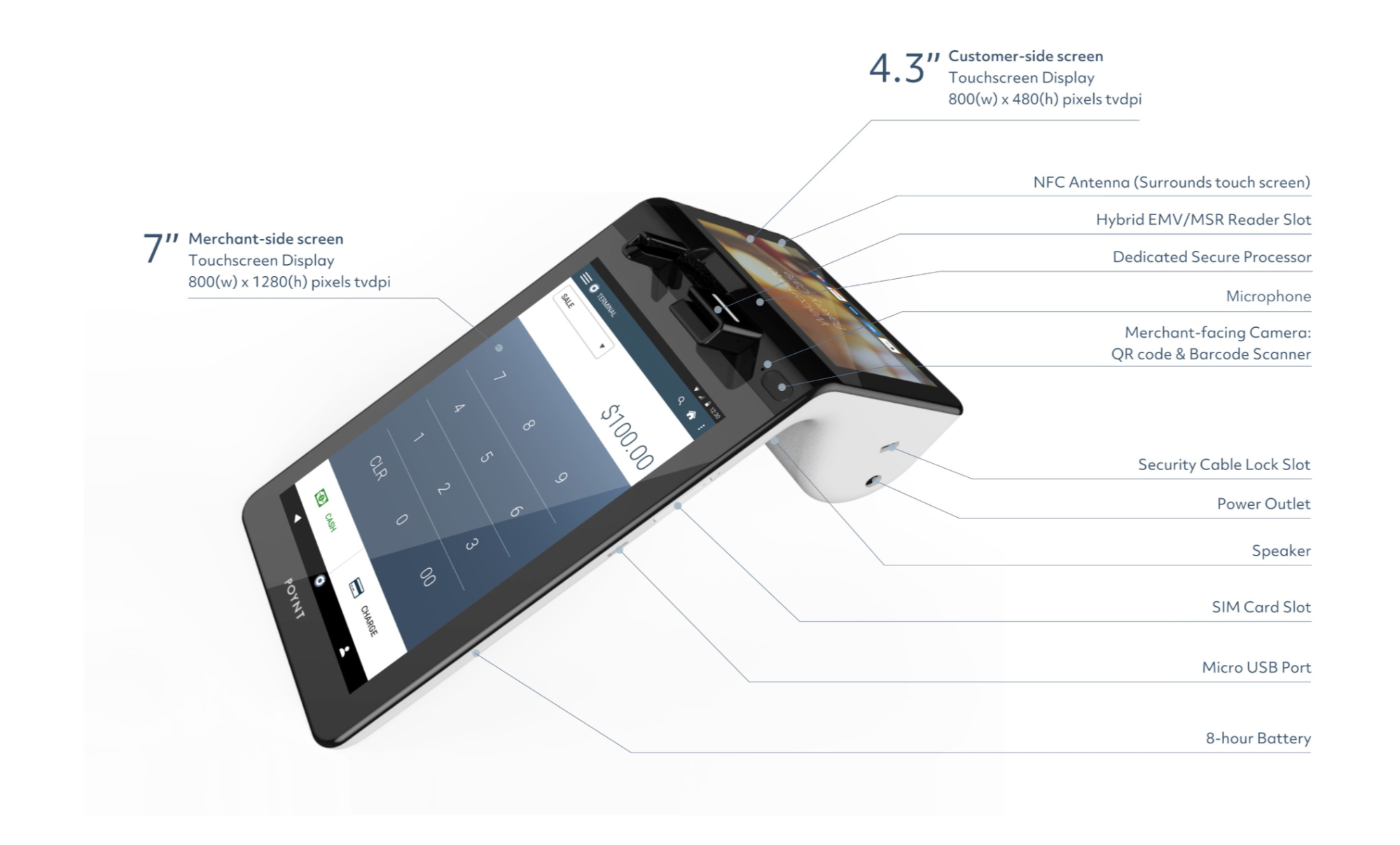 Image source: Poynt
The Poynt Smart Terminal is Poynt's main product. Similar to the Square Terminal, the Poynt Smart Terminal is a crossover between a credit card terminal and a full-fledged point of sale device. However, unlike the Square Terminal, this device runs on the Android operating system.
Here's everything the Poynt Smart Terminal comes with:
Magstripe and EMV card reader slot
Antenna for identifying and processing NFC payments
Merchant-facing camera for scanning QR codes and barcodes
User-facing touch-screen display with on-screen keypad
Customer-facing touch-screen display
Thermal receipt printer
Built-in microphone and speaker
Micro USB port for connecting a cash drawer or scale
Ethernet port
WiFi-enabled (can also operate offline)
Eight-hour battery
The Poynt Smart Terminal is roughly the same size as an iPad or tablet. Therefore, it can be used as a handheld device or as a countertop terminal. If you're looking for something more compact, Poynt as another option.
Poynt 5 Terminal
Image source: Poynt
The Poynt 5 Terminal is a smart-phone-sized credit card terminal perfect for accepting payments on the go. Here's what comes with this device:
Magstripe and EMV card reader slot
Antenna for identifying and processing NFC payments
Merchant-facing camera for scanning QR codes and barcodes
Touch-screen display with on-screen keypad
Built-in microphone and speaker
USB port
These are the only two devices Poynt currently sells. However, Poynt also provides a list of hardware accessories that are compatible with their terminals (and provides you with a link to Amazon where you can purchase them). This list includes:
USB receipt printers

Esky POS 580-70
EPSON TM-T2011
STAR TSP650
STAR TSP100
STAR TSP143iiU
mPOP
POP10-B1

Wireless printers

STAR TSP100/TSP143Lan thermal printer
EPSON TM-m30 thermal printer
STAR SP700
EPSON TM-U220B

Cash drawers

Star Micronics SMD2-1317
Star 37965560
MS Cash Drawer
M-S Cash Drawer CF-405 Series
SOLUX  SX-CD-1OO-RJ
MPOP POP10-B
APG Vasario
MMF ValuLine

Barcode scanners
Cash register
Poynt Software
On their website, Poynt describes themselves as "a payment terminal with basic register functionality built in." This refers to one of several apps that comes pre-installed on your Poynt Terminal: Poynt Register.
Image source: Poynt
Poynt is fairly opaque about what exactly the register app does. According to their website, this app can be used to "organize and optimize your customer payment flows painlessly." The app features a CRM tool and gives you the ability to create branded receipts, collect customer feedback, and set up loyalty programs. It also has employee management tools, including user-based permissions and sales and tip tracking.
Another app that works in conjunction with Register is Poynt Catalogue, which is essentially an inventory management app.
Next there's the Poynt Terminal app, which is the app you'll use to process payments, including invoices. Note that this app also features a virtual terminal. There's also the Settlements app, which allows you to settle batches, view previous batches, and generate reports on your device, and the Help app, which allows you to perform diagnostics tests on your device, and also has a repository of guides and tutorials.
Image source: Poynt
An app that doesn't come built-in, but which you may choose to download, is the Poynt HQ app. This is a data analytics app that allows you to generate and view reports and real-time statistics about your business.
Outside of these apps, Poynt also offers integrations with a variety of third-party applications. Aside from the payment processors we mentioned, you can integrate Poynt with:
QuickBooks
Vend POS
Homebase
eHopper
Kitchen Display by AppKogent
Lightning Register
Apptizer
eThor
Mangomint
Talech
A full list of third-party apps available for Poynt can be found here. Poynt also offers a software development kit (SDK) for developers looking to integrate their app with Poynt.
Security
Poynt is fully PCI compliant. It uses end-to-end encryption and meets all EMV requirements. Merchants also receive 24/7 fraud and tamper detection.
Customer Service
Along with the Help app, Poynt has an online Help Center with guides for merchants, resellers, and developers. In terms of speaking with a Poynt representative, Poynt has a support phone line that you can call or text 24/7. Poynt also offers email support.
However, for any issues with your Poynt Terminal, Poynt first recommends reaching out to your reseller for help.
Price
The Poynt Smart Terminal costs $299. Poynt does not list a price for the Poynt 5 Terminal. All of the proprietary Poynt apps come free with your terminal. For additional apps integrated with Poynt, Poynt takes a 20% cut of the subscription fee from the software provider. They then give this money to their merchant acquirer (which is how Poynt is able to offer such low payment processing rates).
As previously mentioned, you can only buy Poynt through one of their certified third-party resellers. Different resellers have their own rules on which payment processors you can use with your Poynt Terminal.
Poynt Pros and Cons
So, is Poynt the right tool for your business's payment needs? To find out, let's look at the pros and cons of the Poynt solution.
Pros
Here's what we see as the main benefits of the Poynt Terminal system:
Price: The Poynt Smart Terminal is reasonably priced for all the functionality it offers. What's more, Poynt Processing's fee of 2.3% per transaction is incredibly low (although not all resellers will offer this rate). Finally, Poynt comes loaded with a lot of free apps that help turn this credit card terminal into a nearly full-functioning POS. So overall, you're getting a lot of value for your money.
Hardware: The Poynt Smart Terminal is a highly sophisticated piece of technology. With it, you get a credit card terminal that can accept all major payment methods, a customer-facing display, and a receipt printer all in one. Other POS providers charge a lot more for that level of functionality.
Customer service: Having an issue with your credit card terminal that you're unable to fix means lost revenue. That's why it's good that Poynt offers 24/7 customer support, as well as robust documentation on how to use their products.
Cons
As for drawbacks of the Poynt system, here's what we think you should look out for:
Resellers: While not all resellers are problematic, there is often a stigma associated with independent sales organizations (ISOs). They don't work directly for the company that produces the product, so they're not always concerned with what's in the best interest of the users of that company's product. Now, Poynt works with a large network of resellers, so it's certainly possible to find a reputable organization from which you could acquire your Poynt Terminal (and one that allows you to use the payment processor of your choice). However, it's always wise to proceed with caution and double-check your contract for unfair terms before proceeding.
Not a full-fledged POS: Poynt can offer you payment processing and some inventory, employee, and customer management tools. But it's not on the same level with the POS software of a service like Square or Clover. It can work for some small businesses, but as time goes on, you'll probably want to look into a more scalable POS solution.
User Reviews
So you've heard what we think. But what about others who have used this product? Here's what one small business owner told us:
"I would definitely recommend Poynt to others because it has all that fits your needs. You can operate your stores from home or on the go. You can keep track of transactions. You can check the performance of your product lines daily. Poynt is reliable and flexible. With this device, SMBs will experience a positive change in their business."

— Mike Bran, founder of Thrill Appeal
Poynt Alternatives
If you're not totally sold on Poynt, you may want to compare it to some alternative payments systems. Here are two to consider.
Square POS
As we mentioned in the beginning of this review, Square made their mark on the payment processing world back in 2009. Since then, they've built up an extremely impressive set of payment services that are used by small businesses of all stripes.
If you go with Square as your payment processor, you'll be charged a per-transaction fee of 2.6% + $0.10—more than Poynt, but still relatively low for the payments space. Using Square as your payment processor also earns you a free mobile credit card reader and access to the free Square POS app.
If you're willing to spend extra, Square has two specialized POS apps: one for retail and one for restaurants. There's also a wide selection of Square POS hardware you can buy for your business, including the Square Terminal, as well as a large countertop POS and a variety of handheld mobile credit card readers. What's more, Square can integrate with your ecommerce platform to accept digital payments, which Poynt cannot.
All in all, these options make Square an excellent Poynt alternative.
Sign up for Square for Free
Clover POS
An equally popular POS solution is Clover. This POS system makes it possible to buy complete POS hardware and software bundles and pair them together. Their hardware bundles range in price from $69 to $1,349. Their Clover Flex system—which costs $499, is comparable to the Poynt Smart Terminal.
Clover's POS software is some of the best out there. A non-exhaustive list of the features it comes with includes offline processing; custom sales taxes; email and text receipts; electronic signature capture; inventory, employee, and customer management tools; a built-in loyalty program; an email marketing tool; and specialized functions for restaurateurs and retailers.
The price for Clover's software is built into the per-transaction fee you'll pay. The cheaper plan costs $14 per month plus 2.7% + $0.10 for in-person transactions. The more expensive plan costs $29 per month plus 2.3% + $0.10 for in-person transactions. Like Square, Clover can also facilitate online payments.
Is Poynt the Right POS for Your Business?
Poynt is right in the middle of the conversation for great SMB point of sale systems. While it can't do all the things a Square or Clover system can, it makes up for that with its reasonable price, cutting-edge hardware, and excellent customer service. The only red flag for us is that Poynt doesn't sell their products directly (in all fairness, neither does Clover). But if you can work around this, you may find yourself with a great payment solution for your business.
Matthew Speiser is a former staff writer at Fundera.
He has written extensively about ecommerce, marketing and sales, and payroll and HR solutions, but is particularly knowledgeable about merchant services. Prior to Fundera, Matthew was an editorial lead at Google and an intern reporter at Business Insider. Matthew was also a co-author for Startup Guide—a series of guidebooks designed to assist entrepreneurs in different cities around the world.
Read Full Author Bio