Smart product sourcing is the main ingredient in a successful ecommerce business and there are many ways to populate virtual shelves. Some sellers resell products sourced from wholesale manufacturers, private label suppliers, or dropship vendors. Others contract with manufacturers for made-to-order products. Many combine several sourcing methods to build a unique and versatile product collection.
This guide explains the various ways you can find wholesale products, explores other product sourcing options, and examines the entire product sourcing process. 
How to Find Wholesale Product Suppliers
There are three primary ways to find wholesale products and suppliers—online search, trade shows, and wholesale buyers' markets—when you sell online. 
Naturally, online search is the easiest place for ecommerce sellers to start their product sourcing. You can do it in your spare time and it's free. In contrast, trade shows and wholesale buyers' markets require travel time and expenses. However, they let you explore hundreds of potential vendors together in one place, see products firsthand, and build relationships with line reps.
Online Product Sourcing
Online search and wholesale marketplaces are great ways to begin exploring product suppliers. You can start by digging into massive online wholesale marketplaces like Alibaba and ThomasNet, which house millions of products made by thousands of suppliers. You can search for specific products, see manufacturers' pricing, terms, and ratings, ask questions, and even request samples.
Each listing on Alibaba provides a wealth of information including pricing, order turnaround, and supplier details. Image credit: Alibaba.
Here are some top online wholesale marketplaces to explore:
Online search engines help you uncover smaller niche-focused suppliers based on the category keywords you enter, like the "pet collar wholesale" search shown below.
Want to get the wholesale search party started? Head to Google and enter an item or category name and add "wholesale." Image credit: Google.
Most small wholesaler websites catalog their product collection, list wholesale pricing, and support online ordering. You might have to apply for an account to access wholesale prices on smaller companies' websites. However, large marketplaces like Alibaba show pricing with or without an account. 
How to Source Products at Trade Shows
In any given week, there are thousands of industry-specific trade shows across the nation that feature wholesale exhibitors. If you run an industry-related business, you can usually get an attendee or buyer's pass for a small fee or for free. 
If you're unable to secure one, reach out to a business that's attending—you can usually find exhibitor lists on trade show websites. If you express an interest in purchasing from them, they might provide you with a visitor's pass. 
The Times10 website is a great place to search for industry trade shows across the globe. You can also search online using industry-specific terms paired with the search term "trade show."
Most trade shows websites include exhibitor lists along with dates, times, and travel deals. Image credit: Times10.
Find Wholesale Products at Buyers' Markets
Most major cities have dedicated trade centers filled with manufacturer and wholesaler showrooms. Commonly called "buyers' markets," these trade centers connect retail and ecommerce buyers with wholesale suppliers across many categories, including fashion, gift, home, decor, tech, gourmet, and specialty goods. 
You need to apply for admittance to these centers and meet stringent buyer qualifications. That typically requires a registered business name, proof of a physical store or ecommerce website, and a valid sales tax resale certificate in your home state.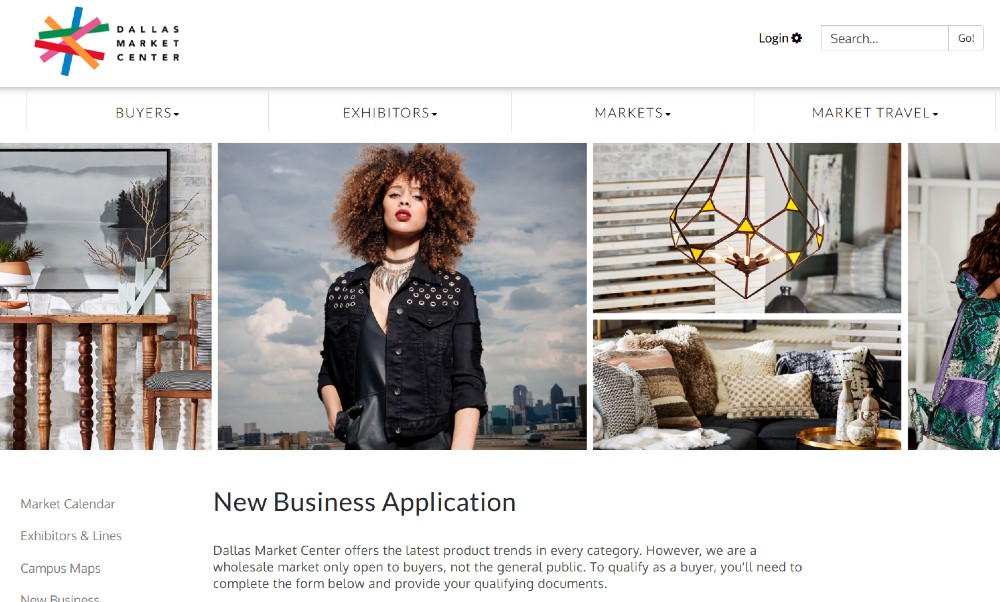 Market center websites feature business application requirements and online applications for buyer passes. Image credit: Dallas Market Center.
Market centers offer registered buyers year-round access to permanent showrooms. Plus, they host major market events throughout the year. These periodic "super markets" are great opportunities to discover unique items made by smaller sellers exhibiting in temporary booths.
Some of the top regional wholesale buyers' markets include:
Other Product Sourcing Options
Along with wholesale buys, ecommerce sellers can build product collections using dropshipping, private label products, and contract manufacturing. These alternate product sourcing options offer increased flexibility, more branding opportunities, and higher profits.
In fact, many successful ecommerce sellers build their collections using a mix of product sourcing options. For example, pairing wholesale goods with select private label products is very common, as is using dropshipping goods to test the viability of new products.
How to Find Dropshippers
Dropship suppliers stock goods in their warehouse and ship products on your behalf when your customer places an order. The main benefit of dropshipping, when it comes to product sourcing, is that you have no upfront stock purchase costs or storage or shipping concerns—the vendor takes care of everything for you. However,  profits tend to be lower compared to other sourcing methods. 
Dropshipping's flexibility makes it a popular choice for many ecommerce businesses. Some sell dropship goods exclusively, while others use dropshipping to test new categories of products or extend collections without upfront costs. It's also handy for selling bulky items, like furniture, without added storage space and inbound shipping fees.
Finding dropshipping suppliers is easy since many dropshipping marketplaces readily integrate with ecommerce platforms. For example, the Oberlo dropshipping marketplace is built into the Shopify platform, while BigCommerce connects to top dropship marketplaces AliExpress and Inventory Source.
AliExpress is the dropshipping division of Alibaba's wholesale marketplace and it integrates with most ecommerce platforms. Image credit: AliExpress.
You can also ask wholesale vendors about dropshipping options. Many are getting on the dropshipping bandwagon and offer ecommerce platform integrations that streamline the entire process. You can capitalize on this by having wholesalers dropship large orders while you ship small quantities from your own inventory. This is a great way to expand into discounted volume and commercial sales without increasing your stock and storage costs.
How to Find Private Label Products to Sell Online
Private label products are goods manufactured by a vendor but labeled with your logo and information. A surprising number of products can be sourced via private label vendors. Some top private label categories include healthcare, supplements, beauty and cosmetics, home goods, clothing, and gourmet foods. 
To search for potential private label suppliers within your business category, simply search for a product or category term and add "private label," as shown below.
Cosmetics, personal care, and health supplements are popular private label categories with plenty of sourcing options. Image credit: Google
If you already have a relationship with a wholesale vendor and do well with their products, you should ask about their private label options. Many are willing to offer this service to regular clients.
How to Find Contract Product Manufacturers
Having products made to order can be more profitable than straight wholesale, plus it lets you develop unique products per your specifications. Many ecommerce sellers use contract manufacturers to produce custom runs of made-to-order goods  or to make customized versions of standard items. 
Custom runs generally have larger order requirements than wholesale goods. However, the per-unit cost is lower so there's far more profit potential. Like private label products, if you already have a good relationship with a wholesale vendor, you can inquire about custom options on standard goods or made-to-order products. Many wholesale producers offer custom and made-to-order services along with their stock goods.
Major wholesale marketplaces like Alibaba and ThomasNet also provide information on contract manufacturers in nearly all product categories.
Knowing where to find wholesale, dropship, private label, and made-to-order products is just part of the product sourcing puzzle. Next, we'll cover the entire process—from researching potential products and budgeting considerations to ordering samples and negotiating prices.
The Product Sourcing Process
It's tempting to forge ahead with your own ideas about what types of products to sell online. However, there are many details that impact your purchasing decisions. Things like consumer demand, minimum quantities, vendor turnaround, and shipping costs directly affect your profitability, operational efficiencies and—ultimately—your overall success. 
Understanding the intricacies of the product sourcing process will help set you up for success before you place your first wholesale order.
1. Research Consumer Demand
Most marketing experts agree that it's far easier for a small business to sell a product with existing demand than it is to educate the public about a new product. Following that logic, seeing what shoppers actually want before selecting products to sell is a smart first step.
Two of the easiest ways to discover what shoppers are actively seeking are Amazon and online search results. Both of these product sourcing research methods are surprisingly helpful and—best of all—they're free.
Using Amazon
Amazon is a goldmine of useful product research data if you know where to look. You don't even need to have an  Amazon seller account to find this information. The standard Trending Products and Best-Seller List pages tell you everything you need to know about what's selling on Amazon. 
Trending Products:

 Amazon lists the top trending products in every category on pages that are updated daily. This gives you a snapshot of the products that are growing—and falling—in popularity among Amazon's vast shopping audience.

Best-Seller Lists: 

These pages list the top 100 best sellers within any category or sub-category. Knowing the most in-demand products on Amazon can guide smart product decisions for your ecommerce store.
Curious about the best-selling or trending items in any product category? Head to Amazon and enter your search term paired with "best sellers" or "trending products." Image credit: Amazon.
Using Online Search
A keyword research tool can show you how many online searches there are each month for specific products. There are several paid tools you can use, but the free Keywords Everywhere tool is all you need to get started. It conveniently displays Google's monthly search volume for both specific keywords and related terms right on your search page. 
Once you've installed Keywords Everywhere into your browser, simply enter a product name into the search box—like "custom dog collars" in the below example. 
Under the search box, Keywords Everywhere shows an average of 12,300 monthly searches for custom dog collars, plus related search term volumes in the sidebar. Image credit: Google.
The results page will show how many people are actively searching for an item each month. Organic search volume is a good indicator of the overall demand for a given item. Plus, the related terms list provides ideas for popular products that you might not have considered.
Drilling into related terms and Amazon subcategories can help you spot product opportunities within specific niches. Further research might show that "custom collar with leash" or "custom leather collars" might be popular items to target within the overall custom pet collars category.
2. Determine Sales and Income Potential
Researching products using Amazon and online search also helps you determine the sales potential of a product. High search volumes and inclusion in Amazon's Best-Sellers and Trending Products generally indicate a hot-selling item. Of course, it also uncovers the competition you'll face if you sell something similar. However, some competition isn't bad—it usually proves there's healthy demand. 
This product sourcing research also gives you an idea of the prices your target products currently bring. It will be your job to find similar products at wholesale costs low enough to ensure profits. It's also important to understand that the cost of storing and shipping products directly affects overall profitability. 
A good rule of thumb is that large, bulky, and heavy items are costly to ship both into and out of your facility, plus they require ample storage space. Small, lightweight products have lower shipping costs and fewer storage space demands. As you explore the sales and profit potential of different products, keep potential storage and shipping costs in mind. 
3. Consider Your Budget 
Once you have a target product list, you can use competitor's prices to estimate product costs and set a budget before ever contacting a potential wholesaler. Half of an item's list price is a good ballpark estimate for this exercise. You can stretch a small budget further by looking for products from  suppliers that offer flexible terms.
For example, a startup with a small budget and limited storage space should look for suppliers that offer:
Smaller, lightweight items that are cheap to store and ship

Small order minimums and quick reorder turnaround times

A variety of related products for combined purchasing and shipping savings

Net 30-, 60-, or 90-day payment terms

Prepayment discounts 

Free shipping at a certain order levels
Startups can also use dropshipping vendors to launch a complete collection without any upfront purchasing costs or storage needs. 
4. Research Suppliers or Manufacturing Options
This step is where you put the first section of this guide into action. You can search for target products to sell via wholesale suppliers found online,  through trade shows, or at major buyers' markets. Or, tap other product sourcing methods like dropshipping, private labeling, or contract manufacturing to build your collection.
5. Request and Review Samples
If considering using wholesale vendors found online for product sourcing, you'll want to request samples and closely review products for quality workmanship. This step also introduces you to each potential vendor's customer service practices. If sample requests are processed in a timely fashion and items are packed well, there's a good chance the vendor is reliable. If not, it might be a good idea to move on.
Of course, if you visited trade shows or wholesale markets covered above, you'll see most products in person. Other items can be requested as samples, or showrooms might have an area rep that can bring you samples for review.
6. Negotiate Pricing, Shipping, and Payment Terms
Most wholesale suppliers, private label vendors, and contract manufacturers have pricing sheets based on order minimums and standard payment terms. However, you should always ask about negotiated pricing, terms, and specials. Volume or prepaid order discounts are very common, as are extended payment terms or free shipping  deals. 
Many wholesale suppliers offer these types of deals at certain times of the year, at trade show or market specials, or for closeouts. It never hurts to ask at other times, too—especially if you're placing an order with very large quantities.
The Bottom Line
Product costs are the top expense for most ecommerce sellers, so every product sourcing decision you make directly affects your bottom line. 
Research, budgeting, supplier shopping, and price negotiations are key ingredients to your overall success. Likewise, straying from the plan with impulse buys can lead to hefty investments in unsellable stock—and, ultimately, lost income.
In the end, thoroughly researched product sourcing, reliable suppliers, smart stock buys, and flexible sourcing options give ecommerce sellers the profitable foundation needed to compete in the long term.