Editorial Note: Fundera exists to help you make better business decisions. That's why we make sure our editorial integrity isn't influenced by our own business. The opinions, analyses, reviews, or recommendations in this article are those of our editorial team alone.
Given the low profit margins, high turnover, and tough competition in the restaurant industry, owning a restaurant is definitely one of the most challenging forms of small business ownership. As a restaurateur, you're passionate about the food industry and providing a memorable dining experience for customers. You probably don't spend much time thinking about small business insurance. However, there are numerous insurable risks that a restaurant faces—grease fires, food poisoning lawsuits, a rogue employee stealing from your cash drawer, and the list goes on—that you should be aware of. 
In each of these cases, restaurant insurance ensures that you're not left paying for the losses out of your own pocket. We'll explain what types of insurance a restaurant should have, how much restaurant insurance costs, and the best providers of restaurant insurance.
The 10 Types of Restaurant Insurance Every Restaurateur Should Have
Based on the type of restaurant you have and where it's located, insurance requirements for a restaurant business will vary—ranging from the obvious to the less-so. For instance, a restaurant in a flood-prone area should have flood insurance; while a restaurant that depends on a celebrity chef should have a life insurance policy on the chef. Here are the most common types of restaurant insurance:
1. General Liability Insurance
If there's only one type of restaurant insurance you buy, it should be general liability insurance. General liability insurance will protect your restaurant from a wide variety of losses, including bodily injuries, medical claims, property damage, and advertising injuries. People normally associate general liability insurance for a restaurant with slip and fall incidents, but that's just the beginning. If your restaurant signage damages the window of the shop next door, then your general liability policy will cover the damages. Similarly, you'll be covered if you run a Facebook ad, and a competitor restaurant claims you're unlawfully using their logo. 
Sometimes, general liability insurance might be required by a vendor. Anna Nash, Co-Owner of La Cascade du Chocolat, has a general liability policy for her bakery restaurant. She says, "We, at La Cascade du Chocolat, have general liability insurance, which covers us for damages due to a fire or flood (from plumbing issues), loss of inventory or ingredients, or consumer injury that occurs at our shop or from one of our products. The insurance was required pursuant to our retail/shop leases and was even required by the farmers markets we participated in before we had our shop." 
2. Commercial Property Insurance
After general liability insurance, commercial property insurance is the other basic insurance requirement for small businesses. Commercial property insurance protects your restaurant's premises against different types of damage. Restaurants are more likely than other small businesses to incur certain types of property damage. For example, more than 8,000 restaurants per year suffer from fires due to grease traps, gas leaks, and faulty wiring. Without property insurance, a fire could set you back thousands of dollars. 
Commercial property insurance will also come to your aid if a customer steals from your restaurant or if your restaurant point of sale system experiences disruptions. If you refrigerate items at your restaurant, make sure you add spoiled goods coverage to your property policy.
3. Business Interruption Insurance
Many small business owners are unaware of business interruption insurance, but this can save your restaurant when you need help the most. If your restaurant experiences a fire or other natural disaster, it's not just the damage to your property that needs to be fixed. Depending on the extent of the damage, your restaurant might also be out of commission for awhile until the damage is fixed. During that time, you could lose hundreds, even thousands, of dollars. Business interruption insurance reimburses your company for the income that's lost until you're up and running again. 
Janice Jucker, who owns Three Brothers Bakery with her husband, used business interruption insurance when Hurricane Ike forced the bakery to shut down in 2008. "With [Hurricane] Ike, we received business interruption income the entire time we were closed," Jucker says. "It was based on the average pay of the previous three weeks of payroll. It is important as an owner to be on the payroll, so you can get paid as well. [Business interruption insurance] covers any contractual obligations, leases probably being the largest. After payroll and expenses, the insurer pays you what they estimate is your net profit."
4. Equipment Breakdown Insurance
Restaurants use a variety of equipment—such as refrigerators, stoves, and ovens—to operate on a daily basis. If this equipment fails, your restaurant's service capacity will take a hit, causing a loss of income. Equipment breakdown coverage pays to repair or replace malfunctioning equipment, and you can also get reimbursed for lost income. This restaurant equipment insurance can even be used to cover the cost of mandatory safety and hygiene inspections, which are common in the food and beverage industry.
5. Commercial Auto Insurance
Restaurants that use vehicles to deliver prepared food, ingredients, or supplies should purchase commercial auto insurance. Except in New Hampshire and Virginia, all other states require drivers to carry adequate auto coverage. 
If you use your personal vehicle to make restaurant deliveries, or for other business purposes, your personal auto insurance won't cover you. You need separate commercial auto insurance to cover injuries to the driver and passengers, as well as damage to other drivers and property. Optionally, you can also purchase coverage for roadside assistance, collision damage, and rental car reimbursement.
6. Liquor Liability Insurance
The stakes for restaurant insurance are even higher if you sell liquor. Dram Shop Laws, which make a business liable for serving a customer who is already inebriated, exist in 30 states. If a patron gets drunk at your restaurant and later gets into a fight or causes an accident, the injured party could sue your restaurant. General liability insurance won't cover liquor-related incidents, so it's best to buy specific liquor liability coverage or add it as an endorsement to your general liability policy.
7. Crime and Employee Dishonesty Insurance
Unfortunately, employee theft is common in the restaurant industry, accounting for $3 to $6 billion of losses annually. Commercial property insurance guards against customer theft, but not employee theft. To cover employee theft, you need commercial crime insurance or employee dishonesty insurance. This insurance also covers credit card and check forgery, as well as computer fraud. Prevention is the key to stemming these types of incidents at your restaurant, but it's also wise to insure yourself against these possibilities.
8. Employment Practices Liability Insurance
Employee turnover levels are notoriously high at restaurants, topping 66% according to the National Restaurant Association. Businesses with high turnover face more employee lawsuits alleging discrimination, harassment, or wrongful termination. Not only can such legal claims be costly, but they can also take months—sometimes years—to settle or wind through the courts. Employment practices liability insurance (EPLI) can help you gain more control over these claims. If your company is sued, the insurance carrier will provide a lawyer for your defense and cover legal and court costs.
9. Workers Compensation Insurance
If your restaurant employs cooks, wait staff, hosts, or other employees, you'll need to buy workers compensation insurance. Besides Texas, every state requires businesses with employees to purchase workers compensation coverage. If an employee gets hurt on the job, workers compensation insurance will pay for their medical treatment. 
Robert Fiorito, vice president with HUB International Northeast, says restaurant owners should not find themselves without adequate workers comp coverage because injuries are common in the industry. 
"Restaurant workers," he says, "face a variety of potential risks for common injuries that lead to lost time in the workplace and costly workers compensation claims for the employer. An employee working in the kitchen can puncture their hand while cutting ingredients or get injured while lifting heavy supplies in the kitchen. Workers compensation insurance coverage provides benefits for workers injured or [who have] contracted illness on the job. This insurance covers medical treatment and loss of wages, subject to benefit schedules that differ from state to state."
10. Business Owners Policy 
A business owners policy (BOP) can combine several types of restaurant insurance in a single policy. A BOP typically combines general liability insurance, property insurance, and business interruption insurance into one policy for a lower premium than you'd pay if you purchased each policy separately. You can also add on EPLI, equipment breakdown coverage, or crime insurance to a BOP, depending on the insurance carrier's offerings. Many carriers offer industry-specific BOPs with coverage designed specifically for restaurants.  
Restaurant Insurance Costs
Restaurant insurance costs can add up when you consider all of the different types of coverage you need. Here is a breakdown of restaurant insurance costs:
| Type of Restaurant Insurance | Estimated Annual Premium* |
| --- | --- |
| General liability insurance | $805 |
| Commercial property insurance | $742 |
| Business interruption insurance | $1,200 |
| Equipment breakdown insurance | $30 |
| Commercial auto insurance | $1,982 |
| Liquor liability insurance | $545 |
| Crime insurance | $500 |
| Employment practices liability insurance | $2,495 |
| Workers compensation insurance | $1,480 |
*Cost details come from insurance marketplace Insureon and money management site HowMuch.net.
How to Save Money on Restaurant Insurance
When you add up the restaurant insurance costs shown in the table above, you get a total of $9,779 in annual premiums! Before you get sticker shock, consider these ways to save on restaurant insurance:
Only buy the coverages you need: Not all of these coverages apply to every restaurant owner. For instance, if you don't transport food or supplies in your vehicle, you don't need commercial auto coverage. And some states don't mandate workers compensation coverage until you hire several employees.
Try a BOP:

A BOP combines several critical coverages into a single policy. You'll pay a lower price for the package deal than if you were to purchase each coverage separately.

Consider your deductible carefully: Almost all business insurance policies come with a deductible. The owner of an established restaurant with consistent revenues might be willing to accept a higher deductible in exchange for lower premiums. A new restaurant owner, on the other hand, might wish to pay a lower deductible and pass more losses to the insurance carrier if an incident occurs.
Another way to save on restaurant insurance is to shop around with several different carriers and choose the one who gives you the best price. Next, we'll cover the best providers for restaurant insurance.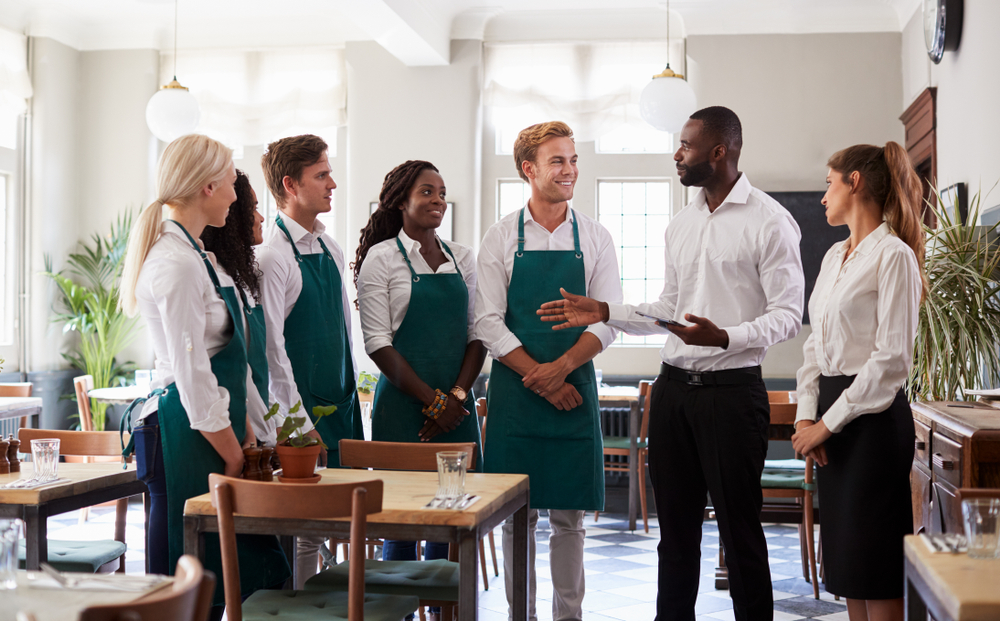 Where to Buy Restaurant Insurance
Restaurant owners have several choices when shopping for insurance. For simplicity's sake, you might prefer to buy all of your insurance policies from the same carrier. Alternatively, you might be able to save more money if you purchase different policies from different carriers. We suggest only buying policies from insurance carriers who are A-rated or higher by the financial credit rating agency AM Best.
Here are the top rated carriers for restaurant insurance:
The Hartford
The Hartford is an A-plus-rated insurance carrier that specializes in selling coverage to small business owners. They have a BOP that's specially designed for food and beverage businesses, combining general liability insurance, commercial property insurance, and business interruption insurance. The Hartford's BOP comes with something called "Super Stretch for Restaurants" that lets you further customize your BOP. For example, you can add liquor liability coverage, data breach coverage, food spoilage insurance, and other optional coverages for an affordable price. Start by requesting a free quote on The Hartford's website or through a local agent.
CoverWallet
CoverWallet is an insurance marketplace that makes it easy to find the best price for restaurant insurance. Answer a few questions about your restaurant in their online questionnaire, and you will instantly be able to compare several quotes from A-rated insurers. Need more advice about what types of coverage to buy? CoverWallet offers options for full-service restaurants, fast food restaurants, food trucks, bars, and more. They will recommend coverage based on the type of restaurant, location, number of employees, and annual revenue.
Nationwide
Nationwide is another good option for buying restaurant insurance. This A-plus-rated insurer gets high customer service ratings from J.D. Power and Associates. They offer stand-alone insurance policies, as well as a BOP that brings several policies under one umbrella. We like Nationwide because of the additional benefits they provide for small restaurant owners. For instance, they publish bulletins on safe food handling that you can print and post in your restaurant. Nationwide also has a loss control services team who can review your current procedures and processes, with the goal of reducing claims.
Liberty Mutual
Liberty Mutual is another of our top picks for buying restaurant insurance. Similar to Nationwide, they offer a range of coverages that a restaurant owner might need, as well as the option to combine coverages in a BOP. They also have industry-leading loss control services to help you minimize claims. In addition to traditional restaurants, Liberty Mutual offers policies for food management contractors and franchisee-owned establishments. You can get a quote on Liberty Mutual's website or work with an independent agent or broker.
Farmers Insurance
Farmers Insurance is our final recommended carrier for restaurant insurance. They have over 90 years of experience in the insurance industry and can help you create a customized coverage plan for your restaurant. On their industry page, Farmers specifically mentions food trucks, so this is a good option if you have a mobile restaurant. Farmers also offers some highly specialized coverage types such as food contamination shutdown insurance—a variation on business interruption insurance that comes into play if you have to close your restaurant due to a contamination incident. Farmers has licensed agents who can help you get started.
Restaurant Insurance: The Bottom Line
Restaurant insurance is a necessity for restaurants of all types. Restaurant owners often operate on a tight budget. However, the price of not having insurance is usually much higher than the cost of buying essential coverages. Fortunately, there are multiple carriers who offer restaurant insurance, so you can get the best price to protect your business from the unexpected. We recommend starting your search at CoverWallet, where you can compare restaurant insurance quotes from multiple top-rated carriers.
Priyanka Prakash is a senior staff writer at Fundera, specializing in small business finance, credit, law, and insurance. She has a law degree from the University of Washington and a bachelor's degree from U.C. Berkeley in communications and political science. Priyanka's work has been featured in Inc., Fast Company, CNBC, and other top publications. Prior to joining Fundera, Priyanka was managing editor at a small business resource site and in-house counsel at a Y Combinator tech startup. Email:
priyanka@fundera.com
.