As a salon or spa owner, you're primarily in the business of making people feel better, whether that's by cutting their hair or kneading out the knots in their shoulders. But when you've finished your services, a slow or glitchy check-out process may be stressful enough to undo all the hard work you've just done for your client (and it won't make you feel great, either). That's why a good salon POS system is so crucial.
Most POS systems today are loaded with features beyond just efficiently processing tender: they can also help you schedule appointments, manage your employees and inventory, and even automate your marketing material, just to name a few. In this review, we'll show you just four of the best salon POS systems on the market, all of whose features are ideal for service-based businesses like yours.
The 4 Best POS Systems for Salons
Based on the above criteria, we've chosen four of the best POS systems for your salon or spa:
Square
Square POS makes it onto most of our "best-of" POS lists, and for good reason: Square exists to help small business owners grow and succeed, so they design their myriad products and services to be as comprehensive and simple as possible for busy entrepreneurs.
In particular, Square POS is one of the most streamlined, tech-forward POS solutions available today. To start, the Square POS app—which is the software that enables payment processing—is totally free, but it's loaded with capabilities like employee management, inventory tracking, and automated sales reports. Their customer relationship management (CRM) tools are handy, too: You can save credit card information to easily check out repeat customers, compile your customers' important information in a centralized directory, and send custom digital receipts. You can also give your customers tip options upon checkout.
You can choose from a range of physical hardware, including Square Register, Square Stand, Square Terminal, or Square Readers that plug into your device's headphone terminal and can accept chip, swipe, or contactless payments on the go. Plus, Square POS can integrate with any other of the comprehensive merchant services in the Square universe, including Square Appointments, their similarly intuitive appointment scheduling app.
Square POS is an especially smart choice for new or very small operations, as it's incredibly easy to set up and use. Their transaction fees run on a pay-as-you-go model, and all their fees are clearly delineated on their website.
Sign Up for Square for Free
Clover
Like Square, Clover POS is a highly customizable, all-in-one POS system that can accept essentially every type of payment your customers are using, including chip, swipe, and tap cards. You can choose among a range of Clover's physical hardware, including Clover Go, their mobile card reader; Clover Flex, a handheld POS device; Clover Mini, a compact countertop register; or Clover Station, the most powerful countertop register in their range that comes with a cash drawer and receipt printer.
Whichever hardware you choose to accept payments, your Clover software is loaded with features that are particularly helpful for salon owners, including:
Employee Management: Through your Clover POS system, you can manage employee shifts, measure employee performance through sales reports, and offer your customers tip options upon checkout. Clover also integrates with staff management apps like Gusto, a payroll processing software; and Time Clock, a time-tracking and employee shift management software, among many others.
Customer Relationship Management: Clover's built-in CRM tools include promotional tools, rewards and discounts, customer profiles detailing their buying history, both physical and digital gift cards, and the ability to request private feedback with their digital receipts.
Inventory Management: Retailers can use Clover's Inventory app to organize and track their products.
If there's a particular task you need help managing that's not included with Clover's software, you can likely find the tool you need on the Clover App Market, which collects hundreds of third-party business management apps that integrate with your Clover POS system. In particular, you can download Appointments Pro or Salon Scheduler as your appointment scheduling app, as Clover doesn't have a native appointment scheduling feature.
Do be aware that the Clover POS system is pricier than other POS systems, and you'll have to pay for both your hardware and your software (as well as credit card transaction rates, which differ depending on which software plan you choose).
Here's a breakdown of Clover's pricing:
Clover Go: $69
Clover Flex: $449
Clover Mini: Starts at $599
Clover Station: Starts at $1,349
Register Lite Plan: $14 per month. This plan is best for businesses with credit card sales of less than $50,000 per year.
Register: $29 per month. This plan works for businesses that process more than $50,000 in credit card sales per year, and has more features than the Register Lite plan.
Clover does provide a full refund within 60 days, however, so you could test out your Clover POS during that time and determine whether it's worth the investment.
Open A Clover Account
Vend
Vend POS is a cloud-based, all-in-one POS system that was designed specifically for retail stores. As such, their additional features cater particularly to running in-person transactions at a brick-and-mortar location, like cash management tools, customized receipts, and the ability to process returns, refunds, and store credit. Vend POS can also securely accept all major payment types, and you can even allow your customers to make partial payments or to split payments among several types of tender in one transaction.
Vend carries many of the CRM features you've come to expect from an all-in-one POS system: think comprehensive customer profiles including their personal information and payment history, a loyalty program (that involves simple admin on your end), and discounts for VIP customers. Rest assured, too, that as a retailer-oriented system Vend carries advanced inventory tools so you can automate the organization and management of your stock. You can also customize your Vend POS system as much as you want or need by downloading compatible apps, like Timely for scheduling appointments and Deputy for managing your staff schedules.
Vend's powerful POS software and hardware are compatible with both the web and mobile devices, but your Vend system will work even if you don't have an internet connection. If you have existing hardware, you can check if it's compatible with Vend. Otherwise, you can buy hardware bundles directly through Vend, depending on whether you're using your POS through a Mac, PC, or iPad. And once you have your Vend hardware set up, its intuitive interface means it's easy to train your staff to use your Vend system.
Salon Iris
As you can tell by its name, Salon Iris was designed specifically for salons and spas to securely accept payments and automate their operations. So in addition to integrated credit card and other payment processing, Salon Iris' software is preloaded with an online booking interface, a client management portal, targeted marketing tools like email campaigns and loyalty points, text or email appointment reminders, one-click check-in and check-out capability, and time clocks.
Then, from your Salon Iris dashboard (which is also formatted for mobile) you can run payroll, review your appointments, review your sales and employee performance, and create custom reports. Salon Iris offers a few add-on services, too, like a QuickBooks integration, payroll checks, and a Facebook plugin.
Salon Iris offers five packages with advancing capabilities and price points, so the right package for you will depend on the size of your operation: namely, how many employees you're managing, how many clients you're servicing, the type of POS hardware you need (e.g. mobile or a full front desk register), and whether you need to manage multiple rooms.
Basic: At $29 per month, this plan works for freelancers or booth renters as it's suitable for only one user. Features include appointment scheduling and reminders, online, Facebook, and Instagram booking, optional mobile credit card processing, and reports and analytics.
Deluxe: This plan costs $59 per month and works for three users (or an added $9 for every additional user). The Deluxe plan includes a few employee management features, like basic payroll and a time clock, as well as CRM tools like gift cards and a client loyalty program.  
Premier: At $99 per month and unlimited users, Salon Iris' Premier plan works for medium- to-large salons and spas that need more advanced employee management and resource management tools.
All-In-One: Salon Iris' All-In-One plan provides salons with a fully functional front desk register and tablet, which includes a receipt printer and barcode scanner. You'll need to call Salon Iris directly to inquire about pricing.
Professional: Finally, Salon Iris' Professional plan, which costs $109 per month and supports unlimited users, is the best plan for large salons with eight or more employees, and/or businesses with multiple locations.
Keep in mind that Salon Iris offers free trial periods for each of these tiers, so you can test out this service before committing to a paid plan.
What to Look for in a Salon POS System
At the heart of it, a good POS system enables you to accept and process all types of payment from your clients. Your point of sale system should also be easy to set up and have an intuitive interface—that way, you can spend less time processing your clients' payments and more time making your clients look and feel their best.
But as a salon or spa owner, ideally your POS system should be equipped with certain features that other retailers may not need. First off, since appointments are your bread and butter, it's crucial that your POS system either comes with an appointment scheduling software baked in, or that can integrate with a good,  third-party appointment scheduling app. Ditto for employee tracking and payroll processing capabilities, as you're likely charged with managing a team of stylists and estheticians and ensuring that they're getting paid in full and on time.
Next, if like most salons and spas you sell products, a POS system with sophisticated inventory management capabilities is a must. Also, as many of your clients are repeats, it's useful to have a salon POS system that includes loyalty programs, gift cards, referral codes, and other incentives to show your customers how much you value their patronage. And finally, a POS system that's equipped with mobile POS readers is crucial if you or your staff make house calls, or if you just want the option to share your services outside your homebase.
The Bottom Line
You can't really go wrong with any of the above salon POS systems, as they're some of the best of the best for service-based businesses like yours. Ultimately, the right POS system for your particular business is the one whose fees and hardware you can afford; whose features streamline and automate your logistical processes; and which you and your staff feel comfortable using. As you search, keep an eye out for free introductory periods. That way, you can trial one or more salon POS systems, risk-free, to know definitively which works best for your salon or spa.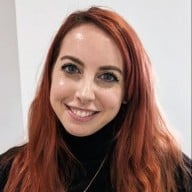 Contributing Writer
at
Fundera
Caroline Goldstein is a contributing writer for Fundera.
Caroline is a freelance writer and editor, specializing in small business and finance. She has covered topics such as lending, credit cards, marketing, and starting a business for Fundera. Her work has appeared in JPMorgan Chase, Prevention, Refinery29, Bustle, Men's Health, and more.
Read Full Author Bio