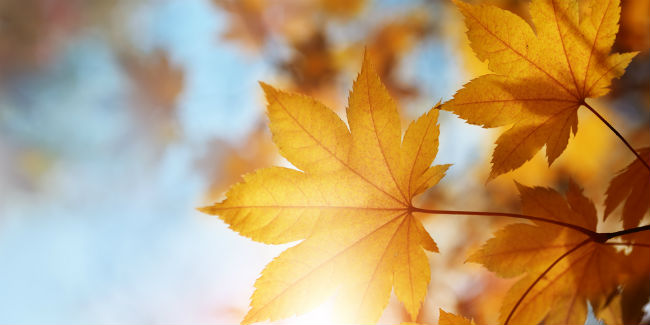 Good News for SMBs — SBA Lending is Most Active in September
The small business lending industry is growing and diversifying at a rapid rate, making it an exciting time to be a small business owner in search of capital, as well as a lender helping these businesses grow. But, as small business lending continues this growth, the seasonality of loan demand will have a strong impact on these new lenders. But, by anticipating this seasonality, lenders can prepare for ups and downs in loan volume and allocate their resources accordingly, making the lending process more successful for both themselves and their small business borrowers.
So that begs the question: When is small business lending most active?
The answer: September.
With September right around the corner, we decided to take a deeper look into how and why September is consistently the most active month for small business lending.
Methodology
In order to determine when small business lending is most active, we would ideally investigate total loans made to small businesses (across all loan product types) and summarize this data by units and by dollar amount. However, this information is difficult to collect across all product types. For instance, most providers of invoice factoring and merchant cash advances are privately owned and do not disclose loan performance data. In fact, most alternative lenders do not disclose their lending volumes because they are not required to do so by regulators.
However, there is one product category that we do have an accurate and exhaustive dataset for — SBA loans. Part of every SBA loan is guaranteed by the SBA and, therefore, the SBA, by consequence of being a government agency, publishes loan data on a regular basis. We decided to dig into the SBA loan data and operated under the assumption that SBA lending activity can be used as a rough proxy for overall small business lending activity.
Findings
First, we took a look at unit volume, i.e. the number of SBA 7(a) loans funded on average during each month over the past 14 years. Then, we plotted the average monthly volume in terms of dollars funded. The findings (table and graph below) show that, on average, September has (a) the highest number of loans funded and (b) the highest dollar amount of loans funded. In fact, the number of loans funded in September is ~12% higher than the average across all of the other months; moreover, the loan amount funded in September is ~27% higher than the average across all of the other months.
Since this data is based on historical averages, it is possible that the average number of loans funded and amount funded in September are skewed by a few outliers. In other words, it may be the case that a few Septembers in the past 14 years were really strong and thus managed to pull up the historical averages. This would mean that September is not consistently the most active month for SBA lending. However, the yearly data from 2001 to 2014 (tables below) clearly shows that September is consistently the most active month for SBA lending:
The most loans were funded in September for 7 of the 14 years.

The highest total loan amount was funded in September for 9 of the 14 years.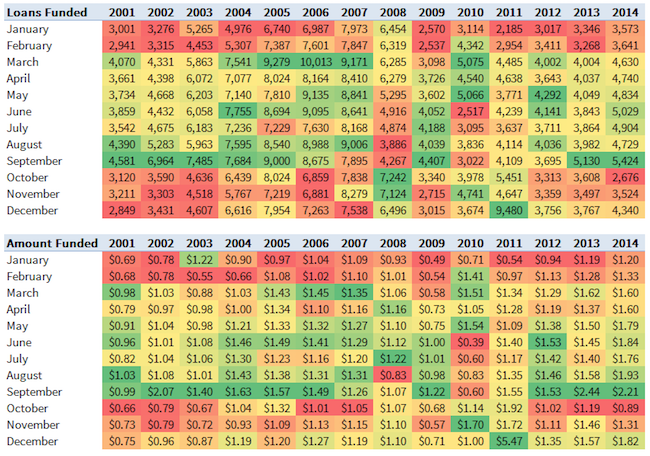 Drivers of Monthly Variations in SBA Lending Activity
Why is September consistently an active month for SBA lending? There are few possible reasons.
The most likely cause of the increased lending activity is increased demand for capital during the summer months. On average, it takes 60-90 days for traditional banks to fund an SBA loan. Thus, if a high number of loans are being funded in September, then this means that small business owners are more frequently applying for credit in June and July. Summer months can be slow for businesses because more consumers are on vacation; the highest months for consumer spending are typically toward the end of the year (for the holidays). Consequently, business owners may be looking for capital to finance business operations after experiencing weaker cash flow in the summer months or they may be looking to expand in preparation for the holidays.

Second, there may be a structural reason that banks increase SBA lending volume in September. The other two months that are consistently strong months for SBA lending are March and June. March, June, and September are all months that happen to be at the end of calendar quarters (e.g. September is the end of the third quarter). Banks might have quarterly expectations for the amount of capital they intend to lend through SBA loans and thus banks may push lending volume during these months to meet those expectations before the quarter ends. Lastly, the federal government's fiscal year ends on September 30; this means that SBA's fiscal year also ends on September 30. Though the SBA does not actively lend capital, it may encourage increased lending activity in order to meet expectations for the amount of small businesses they've supported through the 7(a) program.
It's hard to tell whether this September will tell a similar story. But based on the vast historical data on SBA lending, we think it's safe to conclude that September will be an active month for small business lending activity, which is good news for America's small businesses.

Varshil is Head of Growth at Fundera. He was previously an Associate Consultant at Bain & Co. Fun Fact: You can find Varshil, and his college a cappella group, in the major feature film Pitch Perfect 2.

Latest posts by Varshil Patel (see all)