How to Sell on Facebook
Sign up for or log into your Facebook business page.
Add a shop to your business page.
Add products to your shop; you can add as many as you want.
Verify your identity on the shop so you eventually can access your profits.
Manage items and keep inventory up to date.
Ship your sales.
Whether or not your small business already has a page on Facebook, it's probably a platform you're fairly familiar and comfortable with. What started as a platform for friends and family to stay connected quickly became an ecommerce platform as well, where small business owners like you could expand their horizons. Hundreds of millions of people in the United States shop online each year, according to Statista, meaning it's a huge opportunity for your business.
Facebook is an easy platform for small businesses to sell their products on and maintain and manage an online store. Plus, some stores also have their products showcased in the "Marketplace" on the platform, giving them an added boost.
There are a few requirements for a business to be allowed to have a shop attached to it. Although any business page can also have a shop attached, that shop is required to sell a physical item. It also has to have a valid business tax ID number, a valid bank account, and you as a seller have to agree to the merchant terms.
Below we'll explain in detail how to start selling on Facebook. Keep in mind, most of this is best done on a computer version of Facebook rather than in the app, so the step-by-step directions pertain to the actual website.
How to Sell on Facebook
The first step to selling on Facebook is creating a Facebook business page if you don't already have one. You need a business page and a physical product to be able to sell on Facebook and have a Facebook Shop.
A page for your business is where you'll be able to post all of the details about your business and what you sell. Information like location, what items or services you sell, hours, photos and even job openings can be shared and posted on this page.
If you need to create one, log in to your Facebook account and along the top you'll see the option to "Create" and a dropdown menu where you can choose "Page" from a list of options. This option is also available on the Facebook login page. Once you select that you want to create a page, you'll have to sign in with your regular account.
Source: Facebook
How to Choose a "Shopping" Template
Even if you have a business page you might not be able to see the option to add a shop on your page. Make sure you have the "Shopping" template set up to add a shop.
You can change the template by navigating to your page and selecting the settings option at the top of the page. There will then be a "Templates and Tabs" option for you to navigate to where you can select "Edit" under the working template. Once you click that, select "View Details" and change the template to "Shopping," and press "Apply Template," then confirm by pressing "OK." Now you should be ready to go ahead and set up a shop.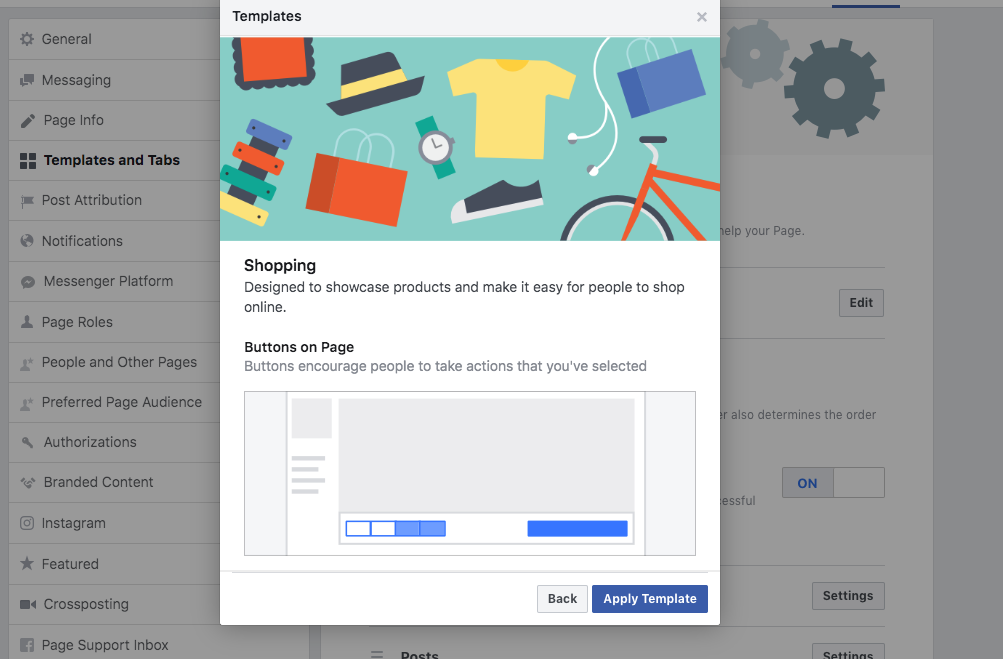 Source: Facebook
How to Set Up a Shop on Facebook
In order to sell items on Facebook, you'll need a shop. You can easily add one to your page once it's set up with the shopping template. There are four requirements Facebook lists as the minimum you need to have a shop, they are: Sell physical items, agree to the merchant terms, connect your bank account, and have a tax identification number.
Select "Shop" on your business page.

Select "Get Started" and fill in the details required, like business address and email.

Add your state tax registration number where it says "Where do you do business?" You can also skip this step temporarily if you don't have a registration number yet.

Select your business category in "What do you sell?"

For the "Get Paid on Facebook" section fill out the necessary tax details and business representative information.

Add the information from your

business bank account

under "Link Your Bank."

Fill out your preferences, these include the shipping options, return policy, and customer service information.

Add products to your shop. Once you add one and it's approved, customers can start shopping.
Source: Facebook
How to Connect Your Current Shop to Facebook
If you already have a shop set up somewhere outside of Facebook, you can connect that third-party platform with the shop to sync inventory. This would save you the time of having to upload your items to Facebook's shop individually.
There are only some third parties that can be combined with Facebook's shop. The ecommerce platforms BigCommerce, ChannelAdvisor, CommerceHub, Quipt, ShipStation, Shopify, and Zentail can all be combined with Facebook.
How to Add Products to Your Facebook Shop
Once you actually set up your shop, you have to start adding products to it to sell, unless you synced your third-party shop. You can add an unlimited number of products to your shop and even organize them all so customers have an easier time finding what they're looking for.
On your shop page there should be a button to add products. There you can add photos of products as well as names, descriptions, and prices, and you can also manage your inventory and more. You can also designate the shipping services and other options like the amount of inventory to help keep track of your shop.
Some items are prohibited by Facebook and cannot be sold on the platform. Animals, tobacco products, drugs, weapons of any kind, alcohol, offensive and some more items are not allowed on the platform. If you try to sell any of these items, it could be disapproved and not allowed on the platform. Sellers can appeal a disapproved item if they feel like it was wrongly disapproved.
Tips for Listing a Product on Your Shop
How you list and explain your products to shoppers and how easily those customers find products could have a big impact on your sales on Facebook. The product photos, titles, and descriptions are important to keep in mind when adding new items to your shop.
Facebook lays out the dos and don'ts for the photos, titles, and descriptions of your items that you're selling. Many of the rules are logical and probably something you might already know when it comes to listing your products.
Photos: For starters, the photos should be at least 1,024 x 1,024 in resolution and should be square shaped with a white background. Beyond that, photos should be easy to understand and show the entire product; if applicable they should even show the product in action being used and up close. Photos shouldn't have watermarks, promo codes, offensive content, or any text. You need a minimum of

one photo per item

.

Titles: There should be no awkward spacing, no symbols or other characters, and no profanity in the product titles. Those titles should not be stuffed full of multiple keywords either. The title should be spelled correctly, use proper grammar, use numerals instead of spelling out the numbers, and describe the item accurately. For titles you should also try to

stick to using 65 characters or fewer

.

Descriptions: Descriptions for your products are pretty logical. Make them about the product, short and to the point, and highlight anything special about the product. They should also use proper grammar and capitalization. There should be no HTML, shipping or company information, addresses or phone numbers

in the descriptions

.  

How to Monitor Sales and Orders
The great thing about using Facebook as an online shop is that you can also use it to manage your shop, sales, shipping, earnings, and more.
All of the information about sales you've made can be found on the Commerce Manager on the site and then in the "Orders" tab. There the orders can be filtered by "All," "Waiting to be Shipped," "Completed," and "More." The "More" tab is where orders that were canceled or refunded for whatever reason can be found.
When you select and order, you'll be able to see the details about it like the receipt, the option to refund or contact the customer, or the option to cancel the order. Most orders should be shipped within three business days, says Facebook, and once the order ships then the payout process can begin.
After a sale is completed you'll get information necessary to ship the product like the shipping type, address, name of the customer, and more. Facebook requires you to use a shipper that provides tracking as well as delivery confirmation.
What Fees Are Associated With Selling on Facebook?
Depending on how much the item costs that you sell, the fees deducted by Facebook can vary. If you sell an item for $8 or less, they will automatically take $0.40 from the earnings. All transactions above $8 have a 5% selling fee per transaction; you keep the remaining profits.
This fee from Facebook is automatic and you have no control over it, and it does not include any type of small business taxes you may owe or any shipping costs. You can use the Commerce Manager to manage how you're paid out your earnings. You have to include the business address, email, states registration numbers, tax and business information, and bank information. Until all these details are filled out and your identity is verified, you won't be paid.
Source: Facebook
What Are the Return Policies on for a Facebook Shop?
You have to set the return and refund policies for your own shop. "Merchants must accept returns for new or unused items within the return policy specified in the listing. Return policies can be adjusted in Settings within Commerce Manager," says Facebook.
There are a few reasons why the merchant may have to pay for the return. If a product isn't delivered by a specified date or if the product significantly does not match the description. That could mean it's missing parts, it's the wrong item, it's used and that was not stipulated, it arrived damaged, or if it's the wrong version of an item the buyer ordered. If the buyer is returning for any other reason, then the buyer is responsible for paying for the return shipping and you have to agree with them how to ship the product.
How Does Facebook Marketplace Connect With Selling on Facebook?
Some sellers have their items also featured on the Facebook Marketplace. Meaning if you sell bicycles, your Shop listing for a bicycle might appear when someone searches for bicycles in the Marketplace where all users can post items for sale. This helps more customers find your items, but this feature isn't available to all sellers with a Shop.
Why Sell on Facebook?
Facebook is a familiar platform that millions of people in the United States use. The platform allows you as a seller to list as many products as you want on your shop and customize that inventory as well to help shoppers browse more efficiently. It's fairly easy to use as well and good for people who might just be starting an ecommerce business.
The message function of Facebook also allows you to easily connect with customers who may have questions while shopping or after they've placed an order. Tools built into the Shop on Facebook can also help you get information about your customers like what they're clicking on and what they're purchasing. All of this can be done right on Facebook, just like customers can find your business, shop, and make purchases right on the platform as well.