Small business owners looking to sell their products online should consider selling on Walmart. The retail behemoth has made a concerted effort over the last few years to boost their ecommerce operation, and is now second only to Amazon in terms of online sales. 
Unlike selling on Amazon, the process for getting your business set up on the Walmart online marketplace is free, and it's fairly straightforward. Marketplace sellers also have complete control over inventory, price, fulfillment, and customer care.
Let's look at how you can get your products in front of Walmart marketplace's 100 million unique monthly visitors. We'll break down how to become an approved marketplace seller, complete your profile, add your products, and begin selling on Walmart. We'll also touch on the advantages and disadvantages to selling on Walmart, as well as some tips for how you can get the most out of the Walmart marketplace.
Selling on Walmart: How to Get Your Business Set Up
There are four steps to getting your business onto the Walmart marketplace. To make the process as seamless as possible, you should prepare a catalog of the items you plan to sell beforehand. We also advise that you sort out shipping and storage methods, and determine your policies around customer service, returns, and privacy.
Step 1: Register With Walmart Marketplace
You must apply to become a registered marketplace seller via an online form. The form takes about 10-15 minutes to fill out and asks for some preliminary information about your business. Once submitted, it can take Walmart up to three weeks to get back to you to let you know if you have been approved.
Source: Walmart
Walmart is more selective about who they admit to their marketplace than Amazon. Sellers are selected based upon a variety of factors, including reputation, customer service, product assortment, and pricing. Typically, products accepted into the Walmart marketplace are the type you might also encounter in a Walmart brick-and-mortar store.
"Walmart wants professional sellers," says Sarah Ayala, owner of The Kiwi Importer, a Texas business that sells gourmet food products from New Zealand. "If you are an established business, you shouldn't have an issue, but newer businesses will need to prove they have the ability to ship products and manage customer service."
If approved, you will receive an email from Walmart with the subject line "Your Walmart Seller Center account has been created." This email will include a link that will take you to the Signup Wizard, which provides a checklist of all the tasks you need to complete to be successfully onboarded to the Walmart marketplace, with the first step being to "Complete Registration."
To do so, you must create a username and password, provide your company and tax information, create a Payoneer account to receive payments, and submit shipping info, including your pricing model.
Walmart does not offer order fulfillment, meaning you are responsible for the storage and shipment of your own product. If you don't have your shipping method sorted out yet, Walmart will give you up to two weeks to complete your registration. All of the information you provide can also be changed later on.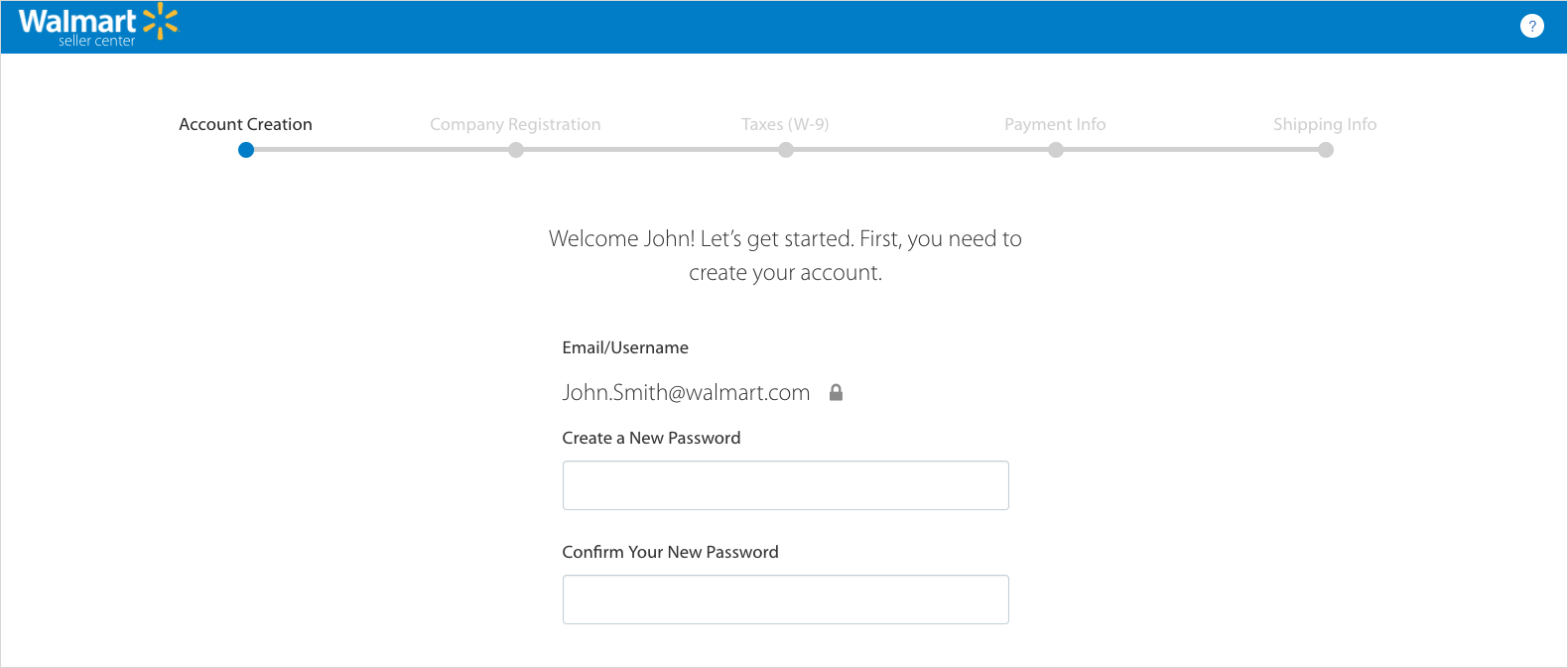 Source: Walmart
Once you have completed registration, you will be logged into the Walmart Seller Center where you can create your Partner Profile and upload products.
Step 2: Complete Your Partner Profile
Your Partner Profile is a representation of your company to customers shopping on Walmart.com, so you want to spend some time carefully putting your profile together. Specifically, your Walmart partner profile consists of the following information:
Company Info:

Including the name of the company, a maximum 4,000-word description, and a company logo. Note that Walmart requires logo images to be 400 x 50 pixels and in JPG or PNG format.



Customer Service Info:

You must provide an email and phone number customers can reach out to, as well as a maximum 4,000-word description of your business's customer service policy. Walmart also requires that you provide a customer service escalation email, which is an email Walmart's customer service team will use to reach out to your business. 



Shipping Options:

This includes the various shipping methods, regions, and prices that you will be charging, the schedule with which your business processes orders, and a maximum 4,000-word description of your shipping policies. Visit

Walmart Partner Profile Settings

for more information.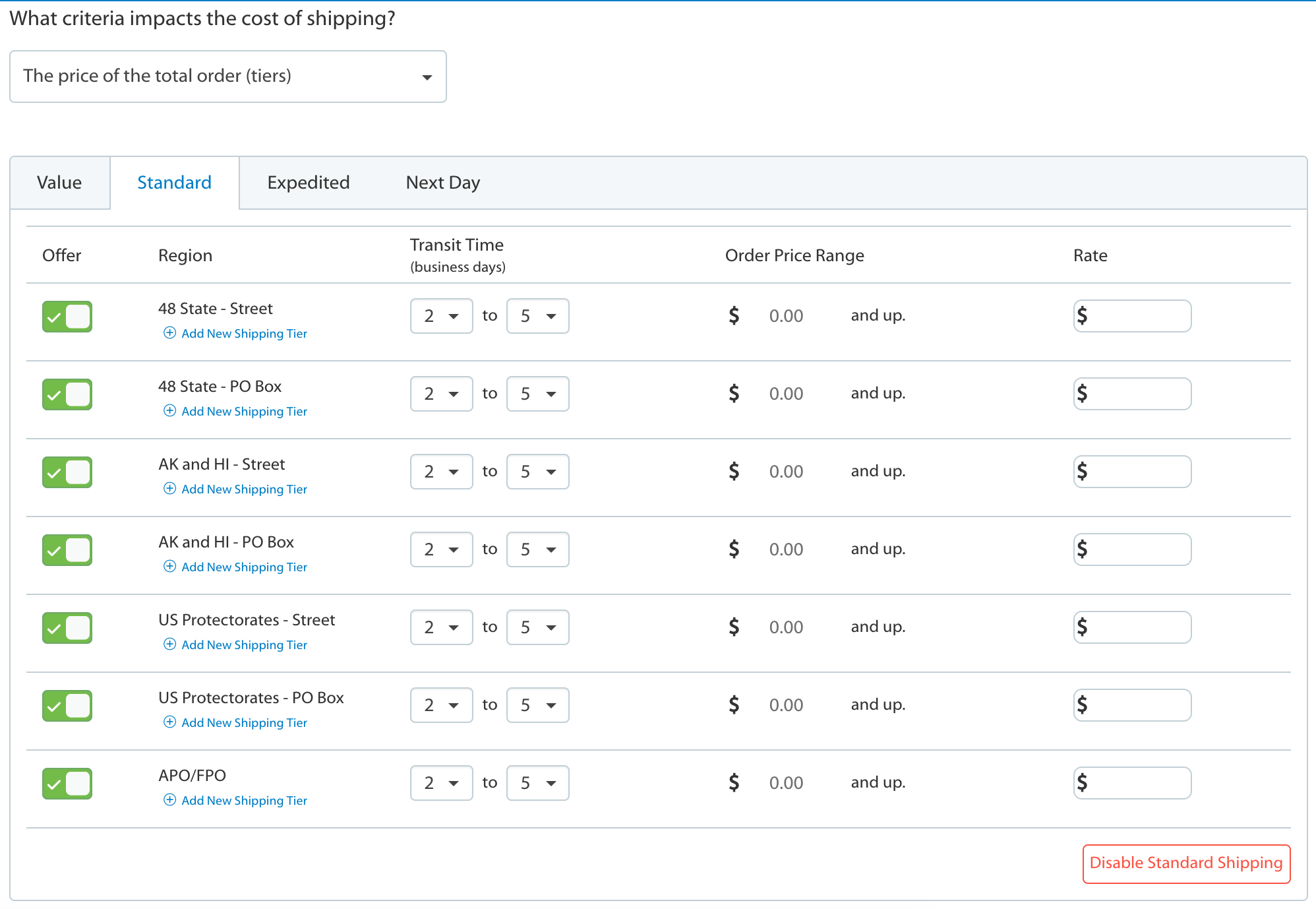 Source: Walmart
Return Policy:

On the Returns page you can set the

methods, rules, and fees associated with customer returns. Review Walmart's

Marketplace Returns Policy

to ensure your practices are in compliance with these standards.



Privacy Policy:

In this section you will explain how you secure customer data. Your privacy policy has a 4,000-word character limit.



Tax Info:

This is where you let customers know what taxes may apply for the products they are purchasing, including sales and shipping tax. You will also be allowed to write a 4,000-word description of your general tax policy and rules.
Step 3: Upload Products
Now that you have input all your background info, it is time to do the real work of adding your products to Walmart.com and making sure customers can buy them. Walmart offers four methods for uploading your catalog:
API Integration:

If you have a large amount of items to upload to Walmart.com and you have a programming background, this is the best method for you. Using API integration, you can connect the Walmart marketplace API to your business's ecommerce platform or database.



Bulk Upload:

If you have a smaller catalog and limited technical skills, you can upload your products via an Excel spreadsheet. Simply input your products into Excel and create a CSV file upload.



Solution Provider:

Walmart works with a variety of solution providers that can help synchronize ecommerce data across multiple marketplace platforms through data feeds. This is the best solution if you already sell your products on another ecommerce platform like Shopify. Note that you have to pay for a solution provider's services.



Single Item Method:

If you have very few items to upload, you can enter them directly into the Seller Center UI.
Source: Walmart
Before uploading, you will build out your product catalog in accordance with Walmart's required list of product attributes. Some attributes are common to most ecommerce platforms, while others are unique to Walmart. These attributes help determine when and how easily your products come up in search results.
"Make sure you've filled in every available item on your product pages and that all of the listed information is wholly accurate," Nate Masterson, owner of New Jersey-based health and beauty business Maple Holistics, says. "One misstep can doom your product in search results and ensure that you make little or no sales."
The most important attributes are:
Product Name:

The name of your product.



Product ID Type:

This is where you indicate the type of product ID you are using for the product, such as UTC, EAN, or ISBN. Most retail packaging in the U.S. uses UPC.



Product ID:

This is the value for the product identifier. It is typically represented as the numbers listed below a barcode.

SKU Code:

This is the number you assign the product for

stock-keeping purposes

.



Brand Name:

The name of your brand.



(Optional) Manufacturer, Manufacturer Part Number, and Model Number:

A manufacturer part number is an identifier for a specific part originating from the manufacturer. A model number is an identifier for a product made by a computer hardware manufacturer.



Long Product Description:

4,000-word limit.



Short Product Description:

1,000-word limit.



Shelf Description:

This is a short bulleted list of product features that gets displayed in the search box and under the buy box on the Walmart marketplace.



Product Main Image URL:

A main image is required for all products. It should be set against a white background with a front angle view of the product, and no watermarks or text overlays.



Additional Asset URL:

This is where you can put a URL to additional images of the product.



Price Currency:

U.S. sellers should select dollars.



Price Amount:

The price of the product.



Shipping Weight-Value:

The weight of the product.



Shipping Weight-Unit:

Walmart uses pounds (lb).



Is Shipping Allowed:

Select "Y" to enable shipping for your product or "N" to disable it.



Ship Method:

Describe the ways you ship your orders.

Ship Region:

Explain where you ship to.



Ship Price:

The costs associated with shipping.



Variant Group ID:

If you have more than one iteration of the same product, such as a different color or size, you must set up variant attributes within that product's feed. The Variant Group ID is a unique ID for all items in the variant group.



Variant Attribute Name:

Describe the type of variant, such as the color or size. 
There may be additional attribute fields to fill out based on the product category. Walmart has 24 product categories outlined in their Categorization Guide. For example, if you're selling dress shirts you may want to fill out the collar type attribute. If you're selling food, you can fill out the GMO-Free Claim field.
For more on attribute fields, see Walmart's page on creating a great product listing. Once your catalog is in order, upload it using one of the aforementioned methods. Note that depending on your upload method, your catalogue will need to be saved in different formats.
Step 4: Preview Items and Place Test Orders
The last step to making your products available for purchase on Walmart.com is to see how they will look on Walmart's website and place a few test orders.
Preview Items
To start, send a few items you wish to test using one of the previously mentioned upload methods. Walmart suggests sending 10% of all your products, or 1,000 products total. After Walmart reviews your account, you will be able to upload the rest of your catalogue.
Your uploaded items will populate in the "Feed Status" tab of the Seller Center. All of the uploaded products will be in "Stage" status, meaning they are not yet available for purchase on Walmart.com. Under the "Items Details" section of the feed there will be a link to preview your staged items. Clicking on it will allow you to view your product the same way a customer would view it online. If you see anything you wish to change, you can re-submit the item with updated information.
Source: Walmart
Set Up Order Management
While your product feed is being reviewed, you will need to set up your order management method. Walmart marketplace sellers are responsible for processing, shipping, exchanges, returns, and customer service of all their products. This means you will need a way to access orders as they come in and update shipping information as you send orders out. There are three methods to order fulfillment:
Manually through Walmart's UI:

You can opt to manage all incoming orders through the Order Management page in the Seller Center. However, if you are expecting many orders you may find this method to be cumbersome.
Excel Bulk Upload:

This method is good if you need to download orders into a management and shipping system. You would need to include an itemized list of orders and corresponding shipping details in the spreadsheet.
Integration Partner:

Many integration partners handle order fulfillment by connecting your Walmart marketplace account with your existing order management or ecommerce platform. Note that you will have to pay for this service.
Test Orders
Once your order management is set up, you are ready to test an order. Walmart recommends test ordering two to three items and pricing them at $19.99 or lower. To make them available for purchase, select the "Publish Items" link under the "Actions" section in your Product Feed. Note this will make your items available for purchase on the Walmart marketplace.
After the items are published, click the "Purchase" icon on the product page. You will have to make a customer account on the Walmart marketplace to purchase the item. Once the items have been purchased, test for the following scenarios to make sure your order management system is operating properly:
Order cancellation:

Cancel an order to ensure it appears as cancelled in the Seller Center.



Order shipping:

Insert a valid tracking number to ensure shipping information updates.



Order refund:

Refund an order to ensure the refund function is operating as intended.
If everything works as it should, the "Complete Items & Order Testing" step in the Signup Wizard will be crossed off. A pop-up window will then appear asking if you're ready to launch. If you select "Yes," the Walmart Integration team will fully review your account. If all looks good, they will take all your products live. Congratulations, you are now officially selling on Walmart!
Costs of Selling on Walmart
Walmart only charges merchants a referral fee for selling on their platform. Referral fees vary based on the product, but range between 6% and 20% of the product's sale price.
While the referral fee is the only cost merchants will face from Walmart, they will likely need to partner with an order fulfillment and shipping partner, given that Walmart does not have its own. Some options to consider include FedEx Supply Chain, which provides packaging, warehousing, and shipping, and Deliverr, which integrates with Walmart's platform to provide free two-day shipping.
Working with an integration partner will incur additional costs. Typical prices range from $30 per month to $500 per month. Walmart provides a full list of integration partners they work with and the services they provide.
Pros to Selling on Walmart
Now that we understand associated costs, let's look at some of the benefits to partnering with Walmart.
No Setup or Maintenance Fees
As we mentioned before, merchants will only pay a referral fee for selling their products on Walmart. Compare that to Amazon, which charges a variety of fees outside of referrals.
Build Brand Awareness
Having your products available for purchase on Walmart.com can build brand awareness and credibility amongst your customers. You may also be able to drive more visitors to your site.
"Buyers are likely to trust the Walmart marketplace when directed there by ads as opposed to private Shopify sites," says Masterson.
Widen Customer Base
Over 100 million people visit Walmart.com on a monthly basis, which could help expose your products to audiences who would never find it otherwise. In addition, Walmart's low cost guarantee attracts a different segment of the market than you might find on Amazon.
In-Store Returns
Starting in November of 2019, returns for the Walmart Marketplace just became a lot easier. Customers can continue to return products online. However, Walmart is also offering in-store returns for most of its products. That means you won't have to pay for return shipping. Customers will simply package up their item and return it to a local Walmart store. Walmart will then ship the item back to you.
Lower Competition
The Walmart marketplace is growing rapidly, with the ecommerce segment slated to expand 35% by 2020. Despite high levels of growth, however, Walmart isn't Amazon. And this isn't necessarily a bad thing. Fewer sellers mean there's less competition for your product to be seen and purchased.
Cons to Selling on Walmart
Selling on Walmart isn't without its drawbacks. Here are some things sellers should be aware of:
Lower Margins
Walmart prioritizes competitively priced products, meaning that you may have to price your products at a lower rate than you otherwise would on another ecommerce platform. While this can lead to increased sales, you will likely also see lower margins.
DIY Order Fulfillment
Having to deal with your own order fulfillment can be a use of time and money that some small business owners cannot afford. In addition, businesses that make errors when shipping can be penalized by Walmart.
Delayed Seller Support
Some merchants say they have had difficulty dealing with Walmart's Seller Support service. They can either be slow or unresponsive in handling seller issues.
"We had trouble uploading a few products and we tried to troubleshoot it with seller support," says Ayala. "We've sent a few emails back and forth but we haven't been able to get on the phone to talk to someone."
Tips for Selling on Walmart
There are some things you can do to improve your sales on Walmart. Consider prioritizing the following when selling your products:
Get Great Customer Reviews
Customer reviews on Walmart do not appear on third-party sites, but some customers search for the best-reviewed products. Reviews also appear right below the price on the product page. 
Win the Marketplace Buy Box
Walmart has a buy box on many of its product pages to foster competition among sellers. This allows buyers to check which sellers is offering the product for the least cost. If your product is featured in the buy box, it can really increase your sales.
Fast Shipping Is Key
Walmart has certain shipping standards that merchants must agree to when they sign the Seller Agreement Document. Some of the requirements that merchants must meet include:
Shipping on time 99% of the time.

Shipping accurate products 99.5% of the time.

Less than 3% of products returned due to damage or defects.
Provide Great Customer Service
Walmart also has customer service standards merchants must meet. These include:
Customer service escalations on less than 0.5% of all orders.

Provide notice confirming shipment of product and tracking information within four hours of order.

Answer 90% of customer emails within 24 hours.
Failure to meet any of Walmart's shipping or customer service standards can lead to suspension from the Walmart marketplace.
Source: Walmart
Advertising on Walmart Marketplace
Advertisements can help you promote your products ahead of other sellers. There are two ways to advertise on Walmart.com:
Ads use a cost-per-click model, which means you'll only be charged when a customer actually clicks over to your ad. You can have your ad link to your Walmart product pages or to external landing pages. Ads can take several formats, such as banner ads, in-text ads, and more. Above, we've shown a sample of a banner ad that appeared in Walmart.com's furniture category.
If you intend to offer a special deal or promotion on your products, you should notify Walmart.com by email at marketplace_promotions@walmart.com. This applies to any offers that are available on your own site or on other marketplaces (if for example, you're also an Amazon seller).
Selling on Walmart Marketplace: The Bottom Line
The Walmart online marketplace is a golden opportunity for established businesses to expand their market reach. Business owners should create a unique strategy for how they can leverage the Walmart platform, given that they will likely need to use a different pricing structure and handle their own fulfillment. Once approved, you can expect higher order volume and minimal fees, plus the brand awareness and credibility that comes with being on Walmart.