If you're a small business owner hoping to sell online, one of your most important decisions early on is to choose the right digital home for your products. Shopify vs. Etsy are two of the biggest names in ecommerce solutions, but how do you know whether Shopify vs. Etsy is right for your particular business?
Before we get into the comparison, we need to clear up a major difference between Shopify vs. Etsy: Through Shopify, you'll build a standalone ecommerce store with it own domain name, and which you can customize and manage however you see fit. On the other hand, Etsy is a marketplace, like Amazon or eBay, through which you're just given an account to list your products. It's not a fully fledged store, and as you're working within the platform's parameters, you won't have the same, almost-unlimited freedom to design and manage your Etsy store as you would your Shopify store. Because of that crucial difference, it's hard to make a one-to-one comparison of Shopify vs. Etsy—and in fact, some business owners use both platforms in tandem.
In this review, we'll tell you what you need to know about Shopify vs. Etsy, how much each platform will cost you, and provide advice sourced from business owners who've used both platforms. That way, you can come to your own conclusions about the Shopify vs. Etsy debate.
Shopify vs. Etsy: An Overview
First, let's take a look at Shopify vs. Etsy through the lens of their offerings and capabilities.
Shopify Major Features
As one of the most powerful ecommerce platforms available for small business owners (if not the most powerful), Shopify is loaded with features that help you build, manage, and market your digital storefront from the ground up.
First, you can choose from over 70 professionally designed templates to build and customize your website, using a domain name that you can either buy through Shopify or, if you have an existing domain name, that you can easily transfer to your Shopify store. Then you'll be able to securely accept all major credit and debit card payments, at no additional transaction fee, through Shopify Payments—the platform's built-in payment processor, which is powered through Stripe—or you can choose to integrate one of 100+ third-party payment processors.
When your store is up and running, you can take advantage of Shopify's huge arsenal of store management features: Save your customers' personal and billing information, integrate with dropshipping apps, fulfill orders with one click, connect to Amazon or other fulfillment centers, and access powerful performance analytics, among many others.
Shopify is also equipped with robust customer relationship management (CRM) and marketing tools, like built-in SEO tips, integration with all of your social media profiles, blogging, and the ability to offer your customers discounts and gift cards. And as a cloud-based platform, all updates and changes you make on your Shopify dashboard will automatically sync with the Shopify App, and vice versa.
Start Free Trial With Shopify
One tool that business owners find especially valuable is the Shopify App Store, through which you can search and download thousands of apps you can integrate with your store to help you optimize your processes, whether that's upselling, inventory management, SEO tactics, product reviews, or so much more. Also, Shopify POS is the platform's in-house software and range of hardware that enables business owners to accept and process payments in person.
Etsy's Major Features
Where Shopify allows you to build your own, standalone store, Etsy itself is its own platform that aggregates sellers onto their site—originally, the platform was built as a marketplace on which artists, creators, and sellers could sell their handmade goods and vintage items. For that reason, Etsy isn't the right choice for resellers, as this platform is really a hub for one-of-a-kind, original items.
But Etsy is a good choice for side-hustlers, very small businesses, or simply the businesses that aren't ready to put in the sweat equity it takes to build, manage, and accept payments through a full-blown online store, as it's easy to open an Etsy store and start selling through Etsy's built-in parameters. You can also use Etsy as a supplement to your online shop, whether that store is hosted by Shopify or another ecommerce store platform.
Like Shopify, you can manage your Etsy listings and orders, communicate with your buyers, and buy and print postage either through an online dashboard or the Etsy App. But unlike Shopify, which allows for integration with third-party payment processors (for an additional transaction fee), Etsy users can only accept payments through Etsy Payments. This in-house payment processor can accept all major forms of payments, including credit and debit cards, PayPal, ACH payments, Apple Pay, and Google Pay.
One of Etsy's major draws for business owners is the ability to tap into the platform's huge, existing customer base (in 2018, Etsy saw almost 39.5 million buyers), so there's a little less legwork on your end to attract customers.[1] That said, you will have to compete with the 2.1 million other Etsy sellers in order for those millions of customers to find your listings.[1] For that, you can use Etsy's built-in marketing tools, or integrate third-party apps that specialize in Etsy-specific marketing tactics to boost your listings. You can also consult the Etsy Seller Handbook, a comprehensive guide that can answer virtually any question you may have about selling on the platform.
Shopify vs. Etsy: Pricing
Shopify Pricing
Shopify runs on a monthly subscription model, so you'll pay a flat monthly fee to keep your store up and running, plus credit card rates for each sale. You won't need to pay a per-listing fee, which means you can sell an unlimited amount of products, for an unlimited amount of time, without needing to cough up extra cash as you scale.
Shopify has three account tiers, which increase in monthly fee and capabilities:
Basic Shopify: $29 per month, plus 2.9% + $0.30 for online credit card sales, 2.7% for in-person sales, or 2% if you use a payment processor other than Shopify Payments.
Shopify: $79 per month, plus 2.6% + $0.30 for online credit card sales, 2.5% for in-person sales, or 1% for other payment processors.
Advanced Shopify: $299 per month, plus 2.4% + $0.30 for online credit card sales, 2.4% for in-person sales, or 0.5% for other payment processors.
Each Shopify plan offers shipping discounts from USPS, UPS, or DHL through Shopify Shipping: up to 64% with the Basic Shopify plan, 72% with the Shopify plan, or 74% with Advanced Shopify. Also, keep in mind that add-ons downloaded through the Shopify App store will cost extra.
Shopify offers a 14-day free grace period after launching your store before you're required to sign up for a particular plan.
Start Free Trial With Shopify
Etsy Pricing
Etsy's standard plan is totally free to use, but they also offer a Plus plan for $10 a month, or a Premium plan, which launches this year and whose pricing information isn't yet available. As you would imagine, for the price of a paid plan you'll have access to more tools, including shop customization, email marketing tools, and a custom address.
Whichever Etsy plan you choose, you'll also need to pay three fees:
Listing fee: Listing items on Etsy will cost you $0.20 per item. Listings will only stay up for four months, or until the item sells.
Transaction fee: You'll need to pay Etsy 5% per transaction.
Payment processing fee: Etsy Payment's processing fees are 3% + $0.25.
You can see that Etsy's listing prices are inexpensive, but their additional fees outweigh Shopify's—and depending on the volume of your products and sales, you may actually end up spending more for your Etsy page than you would in monthly subscription fees for a Shopify store.
The Bottom Line on Shopify vs. Etsy
Ultimately, when you're deciding between Shopify vs. Etsy, you need to keep this important distinction in mind: Shopify is an ecommerce store builder, and Etsy is a marketplace.
With Shopify, you'll have full freedom to customize your store's design and manage all aspects of your site as you see fit, plus you have access to Shopify's huge arsenal of integrated apps and plugins. But because your Shopify store is powered through your own, independent branding, you'll also be responsible for driving traffic to your site yourself.
On the other hand, Etsy has a robust, existing audience and built-in marketing tools for you to leverage. But because it's a marketplace and not an ecommerce site builder, then you can't personalize or run your store to your own, particular T. For those reasons, Etsy may be a better choice for new businesses, or those that sell very few items and don't need to build a dedicated store yet.
That said, many of the business owners we spoke to recommend using both Etsy and Shopify. As Deniero Bartolini says, "If you want to dip your toe in the water, start selling on Etsy and see what the demand is like, or sell on Etsy if you don't have a big selection of products. As you scale your business, you'll want to open your own store, buy yourself a domain, and drive traffic to your site through Shopify."
Use Etsy as a testing ground to gauge demand for your products, develop your brand identity, and garner a customer base. Then, you can use Shopify to sell and scale your best-selling products and establish yourself as a fully fledged brand, while still maintaining your Etsy site as an additional revenue stream.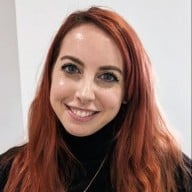 Contributing Writer
at
Fundera
Caroline Goldstein is a contributing writer for Fundera.
Caroline is a freelance writer and editor, specializing in small business and finance. She has covered topics such as lending, credit cards, marketing, and starting a business for Fundera. Her work has appeared in JPMorgan Chase, Prevention, Refinery29, Bustle, Men's Health, and more.
Read Full Author Bio