A website is a key part of many small businesses. Whether you're using your website to sell products directly online or you're just trying to use it as another channel for your web marketing, it's important to have the right ecommerce platform to help you reach your goals.
There are so many options to choose from when it comes to building a small business website and it can take time to sort through them all. Some builders are far easier to customize than others and offer users an intuitive platform to design their site to their liking.
When it comes to two specific builders, Shopify vs. GoDaddy, there are key points to understand before making a decision to use, or not use, either one. You'll have to consider how much you're willing to pay, the amount of themes and options you want to have access to, how important it is to you to own your domain, and more. With that, let's dive into the details about each one.
Shopify vs. GoDaddy: Overview
| | Shopify | GoDaddy |
| --- | --- | --- |
| Features | 60+ storefront designs, drag-and-drop editor, marketing tools, unlimited products and bandwidth, Shopify Payments, third-party payment processors, shipping partners, inventory tracking, hundreds of integrations, 24/7 customer support | 20+ storefront designs, drag-and-drop editor, inventory tracking, mobile-responsive design and checkout experience, SEO and marketing tools, social media integration, appointment scheduling, sync to third-party marketplaces, blogging tools, GoDaddy Guides |
| Pricing | $29 to $299 per month for main plans; $9 per month for shopping cart functionality only; quote-based for enterprise-level solution | $25 per month when billed annually for Ecommerce plan |
| Pros | Ecommerce capabilities, integrations, payment processing options, customer service | Simplicity, cost, mobile-optimization, customer service |
| Cons | Cost, longer setup time, transaction fees for third-party payment processors | Lack of ecommerce features, inability to scale, fewer payment processing options |
| Best For | Serious ecommerce businesses with the potential for significant growth | Small ecommerce operations, or businesses looking for a simple business website without ecommerce capabilities |
Shopify is one of the most popular and powerful ecommerce platforms on the market. In fact, they power over 800,000 websites around the world. Known for their ease of use, customization options, unlimited product and bandwidth capabilities, and their built-in payment processor—Shopify Payments—there's really nothing you can't do with a Shopify online store.
GoDaddy, on the other hand, is most well known as a domain registration company. While GoDaddy started in this space—and continues those services today—they have since expanded into website creation and ecommerce. It's important to keep in mind, though, that this isn't their specialty, so you'll find significantly fewer customization options and features to choose from. However, for smaller businesses that don't have a robust ecommerce operation, it may be a simpler and cheaper solution.
Shopify vs. GoDaddy: Features
With this Shopify vs. GoDaddy overview in mind, let's take a closer look at both platforms by first seeing what features each has to offer.
Shopify Features
As we mentioned, ecommerce is what Shopify does best. As such, they offer a significantly more robust feature set. Here are some of the most important features to help your build and grow your ecommerce operation.
Themes
Shopify offers more than 60 storefront designs that were made by professional designers for small business owners to use as templates for their online storefronts. The designs can all be customized using Shopify's drag-and-drop editor, so you don't need any coding knowledge to edit your design to suit your needs exactly.
Marketing Tools
Shopify does come with internal search engine optimization (SEO) and marketing tools for social media to help you effectively advertise your products. This can be helpful for marketing your small business online. Those tools include blog capabilities, SEO tools, promotions through Google and Facebook Ads, and reporting tools that show how successful your efforts are.
Database for Products
Like GoDaddy, Shopify will help you keep track of your products and inventory on and offline. Shopify offers a dashboard that allows users to list an unlimited number of products and track all of the inventory on their dashboard. That same dashboard has information on shipping, payments, marketing, and more.
Payment and Shopping Cart
Shopify offers a built-in payment process, Shopify Payments, and also partners with 100 third-party payment gateways for you to choose from. One thing to keep in mind, though, Shopify will charge transaction fees if you use a third-party processor.
These features are integrated with the shopping cart directly on the platform, so customers can easily check out securely.
Shipping
The Shopify platform allows you to keep track of your inventory across everywhere you sell, from your brick-and-mortar location to your Shopify platform and social media. This means when you get an order, you immediately know whether you can fill it and how soon. It also offers shipping solutions through DHL, UPS, and USPS partnerships. You'll also be able to print shipping labels yourself to speed up the process and access tracking right on your site.
Integrations
While Shopify offers countless built-in features, you can also tap into their app store for additional tools. Shopify has over 1,200 integrations, from dropshipping tools to social media plugins, to give you even more control over your store and what you can do.
Customer Support
It's also worth noting that Shopify offers 24/7 customer support via email, live chat, and phone. This can be a huge bonus for business owners new to the ecommerce space, or just for peace of mind that if your website ever runs into issues, you can receive immediate assistance. After all, the more time an issue persists on your site, the more sales you stand to lose.
Start Free Trial With Shopify
GoDaddy Features
GoDaddy, on the other hand, can also help you build a professional-looking website. Of their four service plans, though, only the highest-level plan has ecommerce capabilities. Again, this makes GoDaddy best-suited for smaller businesses with fewer ecommerce needs. That said, let's take a closer look at some of the features GoDaddy offers.
Themes
GoDaddy offers over 20 storefront themes, which is significantly less than Shopify, but still gives you options to work with. Like Shopify, you can also customize their themes with a drag-and-drop editor.
Database for Products
With GoDaddy, you'll be able to display your database of products and track inventory both on-site and via mobile. You can post photos, price, description, and more to the product listings to give your customers the most information possible.
Shopping Cart
Easily add a shopping cart to your site where customers can complete their purchases. Additionally, customers have easily checkout via mobile, and all designs are mobile-responsive so you don't have to worry that your mobile customers won't have the same great experience as desktop users.
Payment Processor
GoDaddy offers fewer payment processors than Shopify—customers can checkout using PayPal, Apple Pay, and Square.
Shipping
If you sell a physical product that needs to be shipped, you can also integrate that into your store. GoDaddy offers the option to ship via USPS or UPS and you'll have to choose whether to charge flat-rate shipping, weight-based shipping, or free shipping. And, if your customers are local, you can also give them the option to pick up in-store.
Appointment Scheduling
You also have the option to allow customers to book appointments through your GoDaddy website. You can charge deposits, cancellation fees, and collect payments, as well as create a recurring class and event schedule and allow your staff to manage their schedules and set their availability.
GoDaddy vs. Shopify: Pricing
GoDaddy Pricing
To have ecommerce capabilities, as we mentioned, you will have to opt for GoDaddy's most expensive plan. Their Ecommerce plan costs $25 per month when billed annually. Their other plans range from $10 to $20 per month; however, you won't be able to sell products or services online.
Shopify Pricing
Shopify offers several plans and pricing levels, almost all of which are significantly more expensive than GoDaddy's plan. However, they also offer a 14-day free trial if you're unsure of which plan to choose. The least expensive full-service option, Basic Shopify, costs $29 a month. There's also Standard Shopify for $79 per month and Advanced Shopify for $299 a month.
For very small ecommerce operations, there's also Shopify Lite, which costs $9 a month. This plan won't let you build an online store but it will allow you to sell products on social media or embed a buy button on another site to sell your products. For an enterprise-level solution, there's also Shopify Plus, which has quote-based pricing.
The Shopify payment processing fees also differ depending on which plan you choose. Online credit card processing fees vary from 2.9% for the least expensive plan to 2.4% for the most expensive plan both with an additional $0.30 per transaction. In-person rates are a bit better, and the rates Shopify charges for using payment providers other than Shopify Payments are far better for the more expensive plan.
Depending on how many transactions you process each month, the more expensive plan could end up being a better deal.
Start Free Trial With Shopify
Shopify vs. GoDaddy: User Reviews
GoDaddy Reviews
GoDaddy has an A+ rating with the Better Business Bureau. Positive reviews with the BBB highlight the customer service users received while using the GoDaddy platform. One user said they called the customer support line in the early morning hours and was still able to get a response and help at that time. Another user said the price was worth avoiding the headache of poor customer service that other providers might have.
Shopify Reviews
The Better Business Bureau gives Shopify an A+ rating as well, so both services are tied in that respect. Customers with Shopify who left reviews on the BBB website highlighted the many helpful features the platform offers and, like GoDaddy, the good customer service.
Shopify vs. GoDaddy: Pros and Cons
When it comes to choosing the right ecommerce platform for your small business, there's a lot to consider between GoDaddy vs. Shopify. The two offer similar options, but they have a few key differences. Choosing one might come down to how much business you're really doing and how much flexibility you need when it comes to customizing your online store.
Pros and Cons of Shopify
Shopify offers their users far more tools for customizing their online store, since they specialize in ecommerce. There are plenty of templates to choose from, ways to customize them, and integrations to add to make sure your online store does everything you need. Shopify also offers a built-in payment processor, which can be a great solution for many; however, for those who already use a payment processor, Shopify also works with more than 100 payment providers.
One drawback of Shopify is the cost—Shopify is significantly more expensive than GoDaddy. However, this is because they offer significantly more. Plus, Shopify has several plans dedicated to ecommerce, whereas GoDaddy only has one. Another con is that compared to GoDaddy, setting up your store with Shopify will likely take longer because there are more features to work with. Another common criticism of Shopify is the transaction fees they charge for any third-party payment processor you use. This fee will be on top of the cost the payment processor charges.
Pros and Cons of GoDaddy
GoDaddy is the less expensive option and, since there's less to set up, it can be easier to create your online store on GoDaddy. Another pro is the ability to easily sync your store with online marketplaces so you can broaden your brand exposure and drive more sales. Their mobile-optimized designs also mean you can appeal to more customers on whatever device they favor. Plus, user reviews tout the brand's customer service, which can be a big plus for beginners.
A con for small business owners who need a more robust online store is that GoDaddy can be difficult to customize and scale for a larger store. While it's easy to use, it is definitely more limited compared to Shopify. They also have much fewer payment processors to choose from, which can be a disadvantage for business owners.
The Bottom Line
There's a lot to consider before choosing between Shopify vs. GoDaddy. Luckily, both have free trials available to users so you can try each one out before committing and spending any money. If you do a free trial, though, remember to cancel whichever you don't want to keep before the trial is up and you get charged.
Consider the size of your business, how much bandwidth, and the level of customization your online store will need. Additionally, the ease of use and how quickly you need your site up and running are also worth considering while trying out both options.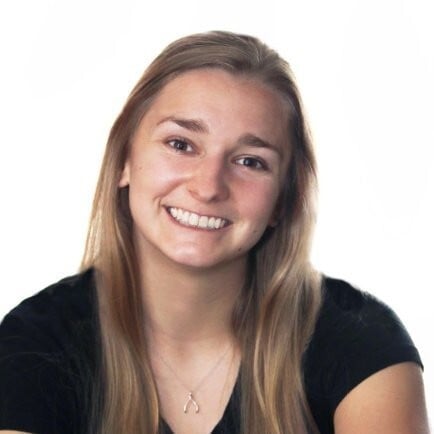 Nina Godlewski is a former staff writer at Fundera.
Nina worked to help make complicated business topics more accessible for small business owners. At Fundera, she focused on complex topics ranging from payroll management to launching a business. She was previously a staff writer at Newsweek covering technology, science, breaking news, and culture. She has also worked as a reporter for Business Insider and The Boston Globe.
Read Full Author Bio