Shopify Plus is the enterprise version of the top-rated Shopify ecommerce platform. For most, the deciding factor between Shopify vs. Shopify Plus is cost. Shopify Plus pricing starts at $2,000 per month compared to Shopify's economical $29 to $299 small business plans, and you get many features over and above Shopify's already robust selling tools.
Shopify vs. Shopify Plus Overview
Shopify
Shopify Plus
Cost

$29 to $299 per month

Starts at $2,000 per month

Features

-Full range of payment processing options (including Shopify Payments)
-Multichannel sales tools let you sell via marketplaces, social apps, and more
-Credit card processing with fraud protection
-Built-in shipping labels and discounted fees

Everything Shopify offers plus:
-Accept over 10,000 orders per minute
-Run multiple websites from one management dashboard
-Offer customer-based pricing including wholesale tiers
-Customize the user experience with AI technology
-Customize shipping processes

Drawbacks

-Limited user accounts
-Higher credit card processing fees

-Monthly pricing
-The added learning curve for enterprise tools

Customer Support

Email, phone, and chat support for all plans

Dedicated Launch Manager and ongoing Merchant Success Manager

Best For

-Startups and side-gig sellers
-Dropship and print-on-demand product sales
-Multichannel ecommerce businesses (i.e. selling across multiple websites, marketplaces, and social media channels)

-High-volume multichannel sellers with annual revenues over $2M
-Businesses needing volume-focused sales tools
-Sellers managing multiple country-specific or wholesale websites
Shopify: Best for Startup to Mid-Size Ecommerce Stores
Shopify's three small business plans are ideal for all types of ecommerce businesses, from startups and side-gigs up to sellers processing thousands of orders each day. Shopify's economical flat-rate business plans cost $29, $79, and $299 and deliver tools that let you quickly launch a starter website and grow it to a multimillion-dollar online business.
All Shopify flat-rate plans deliver modern, customizable website designs, multichannel sales via Amazon, eBay, Facebook Shop, Instagram, as well as dropshipping, built-in shipping labels, stellar marketing tools, and more. In fact, many highly successful Shopify sellers stick with the small business plans and never miss the added features of Shopify Plus.
However, having an enterprise-level service just a click away is a great overall benefit of the Shopify ecommerce platform. If your growth demands added bandwidth for high-velocity sales, customized user experiences, or advanced operational support, you can simply move up to Shopify Plus instead of migrating to another platform.
Shopify Plus: Best for High-Volume Ecommerce Businesses
Major online brands like Brooklinen, Magnolia, Kylie Cosmetics, Bombas, and more use the expanded Shopify Plus platform to personalize user experiences and streamline operations. Image source: Brooklinen
Shopify Plus is the closest thing to an all-in-one ecommerce enterprise suite on the market today. For its $2,000 (and up) monthly fee, Shopify Plus expands upon everything you get with the Shopify small business platform.
With Shopify Plus' virtually unlimited bandwidth, you can accept over 10,000 transactions per minute, which prevents website errors or downtime during peak seasons and sales spikes. You can also set up time-saving operational automation for order processing, inventory management, customer segmentation, product publishing, and more.
Perhaps the most notable features of Shopify Plus is its AI-driven user experience and checkout features designed to exponentially increase sales. These targeted tools deliver a customized homepage to shoppers based on their search and shopping history and add customized messaging to increase sales at checkout.
And let's not forget the multi-site options you get with Shopify Plus vs. Shopify. You can manage several website brands within your Shopify Plus account—something you can't do in any of Shopify's small business plans. You can even set up customer-specific pricing on your website to display volume discounts or wholesale pricing based on customer account types.
Clearly, Shopify Plus provides an expanded toolkit that both supports high-volume sales and helps growth-oriented businesses achieve higher sales and increase cart size. Shopify Plus pricing might be a stretch for growing business, but the revenue potential can quickly offset its higher price tag.
Shopify vs. Shopify Plus: In-Depth Comparison 
Remember that Shopify Plus is simply an expansion of all of the sales tools and features that standard Shopify small business plans offer. A direct Shopify vs. Shopify Plus comparison is simply a study of all that you get for Shopify Plus' much higher price tag.
Below is a detailed look at the cost differences between Shopify vs. Shopify Plus, and the operational and sales-driving perks that Shopify Plus offers over Shopify's standard ecommerce toolset.
Shopify vs. Shopify Plus Pricing
Shopify Plus pricing isn't publicly published. Instead, you have to request a quote and your Shopify Plus pricing will be based on your percentage of your monthly revenues. For most move-up sellers, this percentage is 0.25% of monthly revenues.
However, Shopify Plus also has a minimum monthly fee of $2,000, and it caps at $40,000 per month. So, regardless of your monthly sales, you'll always pay a minimum of $2,000 and no more than $40,000 per month on Shopify Plus.
To put it into perspective:
$800,000 in monthly sales x 0.25% (.0025) = $2,000 in monthly fees (the minimum level)
$1.5 million in monthly sales x 0.25% (.0025) = $3,750 in monthly fees
$5 million in monthly sales x 0.25% (.0025) = $12,500 in monthly fees
$16 million in monthly sales x 0.25% (.0025) = $40,000 in monthly fees  (capped fee)
Clearly, Shopify Plus pricing puts it in the realm of established, high-revenue online sellers. Shopify Plus also locks you into a one-year contract, unlike Shopify's cancel-anytime flat-rate plans. So, Shopify Plus really is geared for established businesses with a track record of success and income stability.
However, businesses that don't come close to $800,000 in monthly revenues find plenty of value in Shopify Plus. With conversion-driving tools that increase revenue growth and lower credit card processing fees compared to Shopify, Shopify Plus can be a great fit for businesses at around $2 million in annual sales.
Curious about Shopify Plus pricing for your business? Begin the conversation by filling out their Shopify Plus pricing form. Image source: Shopify Plus 
In contrast to Shopify Plus pricing, Shopify offers three economical flat-rate ecommerce plans which cost $29, $79, and $299 per month. With Shopify's small business plans, your monthly fee always stays the same, whether you have $10 or $100,000 in monthly sales.
Each Shopify small business plan supports multichannel sales for Amazon, eBay, Facebook, and more, plus delivers a complete website solution with plenty of built-in marketing and business management tools.
As you move up Shopify's flat-rate plan levels, you gain more staff accounts and get access to added features, like gift cards and advanced shipping and reporting tools.
Credit Card Processing Fees 
Both Shopify and Shopify Plus include the built-in Shopify Payments credit card processing solution. This is the most popular payment processing option for most Shopify and Shopify Plus users—mainly since Shopify adds a transaction fee if you use another payment provider, like PayPal or your own merchant account. Using Shopify Payments avoids this added fee.
On Shopify's small business plans, Shopify Payments fees and "outside provider" fees are based on your Shopify plan level.

As shown above, under Shopify's small business plans, Shopify Payments fees start at 2.9% + $0.30 per transaction on the $29 monthly plan, and the percentage drops to 2.6% and 2.4% on the $79 and $299 monthly plans, respectively. Likewise, the "other processor" fee is lower on the more expensive plans.
Shopify Plus users pay lower Shopify Payments rates, and these are typically negotiated based on your credit card sale volumes. Most sellers moving from Shopify to Shopify Plus garner a 2.15% + $0.30 rate for Shopify Payments, and the "other provider" transaction fee drops to 0.15%.
Moving from 2.4% + $0.30 per transaction on Shopify's $299 monthly plan to 2.15% + $0.30 on Shopify Plus might not sound like much. But when you're processing around $450,000 in payments per month, you're closing in on the tipping point.
Here's a look at the math comparing the percentage rate and monthly fee for Shopify vs. Shopify Plus:
Shopify vs. Shopify Plus Payment Processing Fees
Shopify
Shopify Plus
Shopify Payment %
based on $450,000 in sales per month

x 2.4% = $10,800

x 2.15% = $9,675

Monthly Fee

$299

$2,000 (minimum fee)

Total

$11,099

$11,675
Even at $450,000 in monthly sales, overall Shopify Plus pricing is slightly more than Shopify's $299 flat-rate plan. However, it's very close to the tipping point and, for most sellers, is likely worth the extra cost when you consider the many added features Shopify Plus brings to the mix.
For sellers looking to grow revenues quickly, stepping up to Shopify Plus—even well before reaching this $450,000 monthly sales tipping point—can be a worthwhile investment. In fact, some Shopify experts advise moving up when annual sales reach around $2 million, since the Shopify Plus platform sets the stage for faster growth.
Next, we'll look at the many perks that Shopify Plus delivers over standard Shopify plans, and why sellers might consider it far before revenues reach the hard cost break-even point.
Shopify Plus Customizes the User Experience and Checkout
Shopify Plus uses a behavior-driven AI and advanced user experience tools to deliver a completely customer-centric online experience. Here are a few of the unique things you can do to personalize customer interactions with your Shopify Plus website.
Create Personalized Homepage Displays
You can customize your Shopify Plus website homepage displays based on customer purchase history and behavior. Using Shopify Scripts and Shopify Flows—tools only available to Shopify Plus users—you can populate your homepage with products likely to interest your customers. You can also display personalized discount pricing and coupon deals based on your customer presets using Flows and Scripts.
Deliver Virtual "In-Home" Experiences
Using Shopify Plus's augmented reality, 3D, and video technology within product pages, you can create "live" in-home previews that replicate—and improve upon—the retail shopping experience.
Craft Conversion-Driving Checkout Pages
Shopify Plus lets you customize checkout pages and flows, which is something you can't do on Shopify's flat-rate plans. Incorporating progressive coupons and offers based on the items in the cart, cart totals, and customer presets is proven to dramatically increase conversions and cart totals.
Shopify Plus cart customization features let you insert responsive discounts and coupon offers based on items in the cart, cart total, and customer presets to drive higher cart totals and conversions. Image source: Brooklinen
Create an Impulse-Buy Experience 
Shopify Plus integrates one-click digital wallet checkout right within the product page. This quick-buy feature is proven to boost conversions by providing impulse-buy experience and minimize "cart remorse" and abandoned carts.
Shopify Plus Has Advanced Pricing, Shipping, and Operational Flows
Shopify Plus provides users with an array of customized pricing, automation, and shipping options. These are also defined and enabled using Shopify Scripts and Shopify Flows. Here are a few ways you can customize your pricing and shipping, and automate operational flows in Shopify Plus.
Create Customer-Based Pricing 
Using Scripts and Flows, you can define all types of customer-based pricing tables and volume discount displays and assign these to your customer presets. For example, you can create a Gold-member price discount or set up wholesale price structures that only display when those customer types log into your website.
Shopify Scripts includes many preset script templates for customized discounts or shipping, or you can create your own. Image source: Shopify Plus
Offer Customer-Centric Shipping 
Shopify Plus supports a huge range of specialty shipping and delivery options that you can set up using Shopify Scripts. These include shipping options and discounts based on customer presets—like offering freight shipping to wholesale customers only. Likewise, you can define item-specific shipping fees or discounts and customer-driven order minimums.
Automate Your Operations
Shopify Plus Flows and Scripts also let you set time-saving automation rules to streamline your operations. For example, you can set up a Flow to automatically email low-inventory alerts to specific staff or send these alerts to productivity tools like Trello or Slack.
Shopify Flow lets volume sellers automate all types of operational details and connect various tools and services, like fulfillment partners, within a single streamlined system. Image source: Shopify Plus
Shopify Flows also lets you route orders to various fulfillment centers, dropshippers, or in-house warehouse groups. They can also trigger a customer service follow-up call if there's an inventory issue or shipping concern. You can set up all types of time-saving Flows based on specific triggers and actions.
You can also use Flows to assign customers to presets based on a current checkout or overall purchase history. This is the key to automating the personalized user experiences like the customer-targeted home page, coupon, and pricing displays covered in the previous section.
For example, the Flow pictured below automatically assigns a customer to a loyalty program based on order total and marketing opt-in. Once the customer is tagged to the loyalty program, they'll automatically experience any price, home page, checkout, and shipping personalization that targets loyalty program customers.
Shopify Plus clients can use Shopify Flows to automate buyer presets, like automatically assigning customers to loyalty programs based on purchase size and marketing response. Image source: Shopify Plus
Shopify Plus Has Incredible Bandwidth
Every minute of website downtime can mean thousands in lost sales for volume sellers. Here,  Shopify Plus' truly unlimited bandwidth capacity is a major benefit over Shopify.
Shopify Plus websites run on lightning-fast servers with no bandwidth, storage, or capacity limitations. In fact, these systems are designed to handle over 10,000 transactions per minute. This ensures that your customers always experience the fastest, most error-free virtual experience possible—from initial search to checkout.
Shopify flat-rate plans all support unlimited products, storage, and bandwidth, which means you won't be charged for added storage or bandwidth allocations based on traffic spikes.
However, the flat-rate plans do have bandwidth ceilings and, though it's rare, sellers can experience site delays or errors during traffic spikes from flash sales or national media coverage.
Shopify Plus Has Unlimited Staff Accounts
Shopify Plus supports unlimited staff accounts, compared to Shopify's limited staff accounts which start at two on the $29 monthly plan and top out at 15 on the $299 plan. If you have operations, marketing, warehouse, customer service, and web development staff all accessing Shopify, unlimited user accounts can seriously boost productivity.
Shopify Plus Supports Multiple Websites
Shopify Plus supports multiple versions of your website, so you can create country, language, and currency-specific websites if selling overseas. You can also run a unique wholesale version of your website with wholesale price lists, discount structures, and shipping options that display based on your customer presets.
In contrast, Shopify flat-rate plans all support just a single website with basic language and currency translators and pricing features.
Shopify Plus Has Dedicated Account Managers
Shopify has a terrific reputation for customer service all-around. Any seller on their flat-rate small business plans can get assistance 24/7, and that includes phone, chat, email, and an extensive knowledge base with tutorials.
Shopify Plus also expands this feature by assigning a dedicated Launch Manager for launching on or upgrading to Shopify Plus. Ongoing support and day-to-day issues are handled by a dedicated Merchant Success Manager (MSM).
Unlike Shopify's general support where sellers reach a new service representative each time,  Shopify Plus Launch Managers and MSMs have hands-on knowledge of client accounts. They're not just passive support staff, either. Instead, they're a platform partner working to ensure you're using all of the tools at your disposal to grow your Shopify Plus store.
Remember, with the Shopify Plus pricing model, the more money you make, the more money Shopify Plus makes from your account. It's in their interest to arm you with the tools and strategies you need to succeed, and that includes access to dedicated support staff.
The Bottom Line
For many small to midsize businesses, the Shopify vs. Shopify Plus comparison stops at Shopify Plus pricing. The $2,000 monthly minimum and locked-in one-year contract is a huge commitment for those without a solid track record of revenue and online success.
Comparing just the monthly account and credit card fees, the hard cost break-even point between Shopify vs. Shopify Plus is about $800,000 in monthly sales. However, a profitable and growth-focused ecommerce business with around $2 million in annual revenues can still find plenty of value in Shopify Plus.
The sales- and conversion-driving tools that Shopify Plus delivers can help a business grow far more quickly than Shopify's flat-rate plans. Plus, personalized user experiences and time-saving automation lets Shopify Plus sellers compete on an even playing field with the web's biggest brands.
If you're not yet ready for Shopify Plus or are still comparing Shopify with other ecommerce platforms, remember that migrating from a Shopify flat-rate plan to Shopify Plus is easy. If Shopify Plus meets your long-term goals but you're not ready for the cost commitment, Shopify's incredibly robust small-business plans can bridge the gap.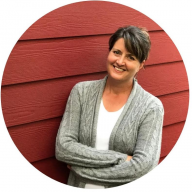 Contributing Writer
at
Fundera
Krista Fabregas is a contributing writer for Fundera.
Krista is an ecommerce pro sharing more than 20 years of hands-on experience with those looking to grow online businesses. Her expertise covers every facet of ecommerce as well as online lead generation, affiliate income, and content marketing. 
Krista has held senior positions at NASA, a Fortune 100 company, and several startups. She has been featured in Forbes, NBC, Newsweek, U.S. News & World Report, and other top publications.
Read Full Author Bio