If you're searching for the best ecommerce platform for your online store, you've no doubt run across the names Shopify and WordPress. Each of these top-rated website platforms caters a wide variety of budding entrepreneurs. With them, you can build a website to sell all types of goods, plus manage products, orders, customer data, and more.
While you can create an ecommerce website using both platforms, that's where the similarities end. How you get there differs greatly on each. In fact, the Shopify vs. WordPress matchup is more akin to comparing a race car to an SUV. Both vehicles will go the distance, but they're very different when you look under the hood.
Shopify vs. WordPress: An Overview
Before we dive into some interesting particulars on how these platforms differ, here's a quick look at who each platform is geared for, what each does best, and some drawbacks to consider.
Shopify Is Geared Toward Sales-Focused Businesses 
Shopify is what's known as a "dedicated ecommerce platform," which means its focus is supporting your online sales. Everything about the Shopify platform is designed to help businesses efficiently run an ecommerce business.
What Shopify Does Best
Shopify helps startups and small businesses quickly build, launch, and run an ecommerce store with minimal effort. Every tool that you need to sell on Shopify is built into the platform, including:
Quick-start online store design wizard
Built-in payments via Shopify Payments
Built-in shipping label printing with shipping discounts
Inventory, product data, and collection management tools
Integrations for dropship vendors and print-on-demand suppliers
Multichannel marketplace selling on Amazon and eBay
Social selling on Facebook Shops and Instagram
Built-in marketing tools for Facebook ads, email, and abandoned cart recovery
In-person and in-store sales using Shopify POS
24/7 customer service to help you get set up or troubleshoot issues
Shopify's Drawbacks
Since your website "lives" on Shopify's ecommerce platform, you'll always be stuck with a few things, such as Shopify's monthly and per transaction fees, weak blogging features, and other limitations of the platform.
Monthly costs: Shopify websites cost $29, $79, or $299 per month, depending on your business's needs, but the 14-day free trial lets you test-drive Shopify risk-free.
Transaction fees: If you don't use Shopify Payments to process payments for your orders, you'll pay an added fee per-sale of 2%, 1%, or 0.5%, depending on your store's monthly plan. Plus, you must use Shopify Payments if you want to tie in-person and in-store POS sales to your Shopify ecommerce store.
Limited features: You can extend some store capabilities via Shopify apps, but these often add costs to your monthly totals.
Blogging features: Shopify provides a basic blog with every Shopify store, but content creation, management, and display options are very limited compared to a content-focused platform like WordPress.
Start a Free Trial With Shopify
WordPress Is Geared Toward Businesses Wanting Versatility
WordPress is a content management platform that can be turned into any type of website. You can build an online storefront like a Shopify ecommerce website—or you can create any kind of website that you can dream up. You can craft a news and media website, influencer blog, educational portal, and much more—then add a variety of online sales capabilities using an ecommerce plugin for WordPress.
What WordPress Does Best
Versatility is the hallmark of the WordPress platform. On its own, WordPress lets you build a content-based website made up of pages, images, videos, and blog posts. You can expand this using various "plugins" that add all kinds of functionality—including ecommerce features—to any WordPress website.
Here are just a few of the many things you can do when you pair WordPress with an ecommerce plugin:
Create an online store with a robust, full-featured, single-user or multi-contributor blog.
Add traffic-driving features like online forums and video channels to an online store.
Enable blog-based commerce and sell items directly from your blog posts.
Turn any existing WordPress blog or website into an online store.
Combine affiliate income and physical product sales within one website.
Sell both physical items that ship and digital goods via download.
Sell products through dropship vendors and print-on-demand suppliers.
Sell access or memberships to an educational portal or members-only content.
Market events, take reservations, and sell tickets online or via download.
Market local services, take bookings online, and require deposits or prepayments.
Offer partner advertising or guest posting for additional income.
Did you notice that some of Shopify's highlights, such as a quick-start website, built-in payments, in-person sales, and marketplace and social selling didn't make this list? It's not because these features aren't available on WordPress—they are available. However, unlike Shopify, they aren't built into every WordPress ecommerce plugin. You need one that delivers the sales features you need, and finding the perfect solution can take some work.
WordPress' Drawbacks
The versatility that is WordPress's strength also makes it a more challenging platform to set up and maintain, especially compared to Shopify. Here are some things to consider when comparing Shopify vs. WordPress for your business needs:
Many moving parts: WordPress has more moving parts than Shopify's tidy, all-in-one system. You'll need to select hosting for your WordPress website, then install an ecommerce plugin, an ecommerce WordPress theme, and additional plugins for SEO, marketing, and other functionality that you need.
Varying costs: WordPress itself is free, as are many top-rated ecommerce plugins. However, monthly hosting, a good theme, and other plugins can add costs to your website build. You certainly can launch a WordPress online store for just the cost of hosting, starting at just $6.95 per month with Bluehost.[1] However, most online sellers eventually need plugins with expanded capabilities, so bank on monthly costs of $20 to $50 as you grow.
Security is on you: Unlike Shopify, which manages its own secure servers, you have to ensure that your WordPress store is secure via secure sockets layer (SSL) encryption. This is handled through your hosting provider and is generally included in WordPress ecommerce hosting packages.
Ongoing maintenance: Every element of your WordPress website will need regular updates, including WordPress itself and your ecommerce plugin, other plugins, and your website theme. These are automated, but updates and even adding new plugins can cause an occasional conflict that you'll have to resolve.
Little support: WordPress hosting services like Bluehost, GoDaddy, and WP Engine can help with your initial WordPress hosting setup and any hosting-related issues. However, ecommerce plugins, store themes, and other plugins are supported by the various companies that make them. Most support is via online forums, email, or support tickets. In this area, Shopify delivers far more hands-on help.
In this quick look at the Shopify vs. WordPress showdown, Shopify is the clear winner for ease of use, while WordPress blows the doors off of Shopify for versatility in making any type of website you can dream up. However, there are other considerations that might sway you to one platform or the other.
Shopify vs. WordPress: The Bottom Line
In the Shopify vs. WordPress showdown, Shopify is the winner for sales-focused businesses who want an easy-to-use, full-featured, and relatively automated ecommerce solution. Its intuitive interface, multichannel integrations, and robust business management tools let you focus on building a sales-based business, rather than managing a website.
In contrast, WordPress takes far more getting used to, incorporates many moving parts to get the job done, and requires ongoing upkeep.
However, WordPress is the hands-down champion when it comes to versatility. If you want the freedom to take an ecommerce website in any direction—like a sales-enabled news and media outlet, influencer blog, educational portal, affiliate site, or standalone storefront—you can make it happen with WordPress and an ecommerce plugin.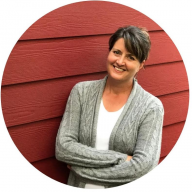 Contributing Writer
at
Fundera
Krista Fabregas is a contributing writer for Fundera.
Krista is an ecommerce pro sharing more than 20 years of hands-on experience with those looking to grow online businesses. Her expertise covers every facet of ecommerce as well as online lead generation, affiliate income, and content marketing. 
Krista has held senior positions at NASA, a Fortune 100 company, and several startups. She has been featured in Forbes, NBC, Newsweek, U.S. News & World Report, and other top publications.
Read Full Author Bio