The 10 Biggest Business Problems for Small Business Owners
Managing your money – creating a budget, running financial reports, tracking expenses, paying bills, and more.
Building a quality team – finding and hiring the right people to help your business grow.
Providing health care for your employees – finding the right solutions for your employees, fitting it into your budget, etc.
Establishing a brand identity – how you'll position your company to the world, and how you want consumers to experience it.
Scaling your business – determining the right pace to grow your company and sustain it.
Following the rules – complying with local and federal agencies to ensure your company is operating legally.
Handling cash flow – are you using your profits for the right things?
Being an effective leader – motivating your team and showing that you value them.
Managing your time – understanding how you spend your time each day and if it can be done more efficiently.
Knowing when to delegate – sharing responsibility and giving up some control to focus on other aspects of your business.
Every new business venture comes with its own set of unique challenges, and starting a small business is no exception. For newly minted entrepreneurs, those quintessential business problems can break their operations if they're not addressed properly. 
In fact, only half of small businesses will survive past their five-year mark, and that small business success rate falls to just one-third when it comes time to celebrate the first decade.

How do you ensure the longevity and success of your small business? The first step is knowing what business problems you're potentially up against. Read on to learn about 10 business problem examples that every small business owner faces, and how you can tackle them to avoid putting your business in jeopardy.
Business Problem 1: Managing Your Money
Running a small business is not the same as balancing a personal checkbook. In addition to running day-to-day operations, small business owners need to track expenses and revenues, allocate funds for employee salaries and company resources, create budgets that reflect overhead costs and expected growth, and pay their business loan and credit card bills in full and on time. Unless you have an accounting degree or background in finance, one of the top business challenges may be keeping your financial obligations organized.
The Solutions
Yes, being a small business owner means crunching a lot of numbers (and keeping track of them). Lucky for the right-brained, you have a few tools at your disposal to help tackle this business problem.
Install business accounting software.
Setting a realistic budget for your business is only half the battle; the real challenge is staying on track. That's why many small business owners look to online accounting software like QuickBooks or FreshBooks for support. These user-friendly tools track inventory and cash flow, run reports, estimate taxes, create and send invoices, and more.
Hire an accountant or bookkeeper.
Even better than solely relying on your business accounting software to keep your books in order? Relying on an actual, human accountant. In fact, accountants are the solution for a variety of business problems.
If your budget allows for it, you might want to consider hiring an accountant outright. You don't need to keep one on retainer, but your accountant helps you navigate benchmarks in your business's evolution. That includes figuring out your business's legal structure, expansion, and helping prepare year-end financial statements and tax forms. You can find one in your area by searching the U.S. Association of Chartered Accountants or the American Institute of Professional Bookkeepers.

Pick your business credit card wisely.
What's harder than keeping track of your business's finances? Keeping track of your business's finances when your personal finances are in the mix. For a whole host of reasons—not the least of which is avoiding extra stress during tax season—keeping your personal and your business finances separate is super important. This eliminates a whole host of business problems related to money management.
Sign up for a dedicated business credit card, and make sure only to charge business expenses on that card. There are literally hundreds of business credit cards out there—no-fee cards, travel cards, 0% intro APR cards, and lots, lots more—so you're spoiled for choice. Ultimately, you'll want to choose the card that your credit score qualifies you for, with a rewards program that your business can truly benefit from.
Business Problem 2: Building a Quality Team
There's a lot of truth to the saying, "You're only as good as your team." For small business owners, in particular, having a high-quality roster of employees is essential to your success. Chances are, though, you're starting out with limited resources, which means you'll need to hire fewer employees and make extra sure that every head counts, which can pose a significant business problem. Here's how to handle it.
The Solutions
What you'll want to look for when you're hiring? Passionate, scrappy individuals who believe in your business, bring a unique skill set to the table, and will fit in with your company culture. No matter how long your business has been around, here's what else you should remember when building your small but mighty team. (Remember: Solutions to these sorts of business problems start with you and your methods.) 
Be strategic.
If you're hiring your first employee, or feel less-than-confident about a particular facet of your business, bring someone on board who can fill in those gaps in your knowledge or the business's operations. If there's an aspect that you'll be taking the lead on, then it's probably not necessary to hire someone with your exact skill set. Most important is that you have a clear sense of the job requirements and your expectations to give to the potential new hires. 
Take your time.
This is where a lot of startups (and big businesses, for that matter) get it wrong. You might be inclined to fill key positions quickly, but it's always better to pump the breaks than put the wrong person in the driver's seat—and, potentially, end up needing to let them go if they're not the right fit. This will only exacerbate your existing business problems, as those still with the team lose confidence in your decision-making. 
When you're considering potential new hires, ask thoughtful questions about their skills and career goals, be upfront about your expectations for the role, check past references carefully, and consider team dynamics. If you invest time and energy in the recruiting process, it will be better for everyone in the long run.
Business Problem 3: Providing Health Care for Your Employees
When you first hatched your business plan, you probably focused on big-picture concerns: how to acquire funds, how to best structure your team, how to differentiate your brand and craft a strong value proposition… and so on.

You probably did not think too much about employee benefits, but health insurance is notorious for being one of the biggest pain points for small business owners. That's because finding the right plan can be timely, complicated, and downright dangerous for your business—if chosen incorrectly.
The Solutions
There's no magic formula you can follow that'll make the health care search suddenly easy. What you can do, though, is keep your search organized and, potentially, avail yourself of professional help.  
Do your homework.
There's a wide range of health insurance providers and plans, so you'll want to do plenty of research before making a decision. Also, know that there are several required documents and a ton of business information that you'll need to provide in your application, so it's best to prepare ahead of time.
You should also carefully consider your business financials to determine how much you can spend on benefits, and where that money will come from. Some businesses choose to factor it into their payroll expenses, while others deduct the cost for each employee on a monthly basis. The choice is all yours.
Know your options.
If you're totally overwhelmed by the task of finding the right health care for your company, consider working with a licensed health insurance broker. Your broker can do the "shopping" for you, and help to make sense of your options. They typically charge a commission fee of about 15% of the policy premium. Most times, they can also assist with billing, eligibility, and claims, as well as the renewal process later on.
Business Problem 4: Establishing a Brand Identity
Regardless of your industry, one of the most crucial steps in starting your own business is developing a strong brand identity. This is how you position your brand in the world, and how you want consumers to experience it. Questions of brand don't start off as pressing small business problems, but they can grow over time. 
"Getting marketing involved soon is essential," says Michael Simonetta, founder and CEO of Kibii, a social planning app that allows its users to discover new experiences in their area. "You need to start marketing your product or service even before you begin development."
But for small business owners who lack marketing experience, this can pose one of the most daunting tasks—how do you go about defining your brand, and which marketing channels should you use to spread the message?
The Solutions
When tackling your brand identity and broader marketing plan, consider the following ways to go about business problem solving: 
Get real feedback.
Simonetta explains that while it's easy to make assumptions about your target demographic based on market and competitive research, you'll learn the most from direct feedback. For a software product or service, this could mean conducting a series of user tests. But for other small businesses, the tactic could be as simple as delivering your elevator pitch to family and friends—or, better yet, testing out your product or service on them—as a means of crowdsourcing.
Identify your niche.
This one's especially important if you're starting a business in a competitive marketplace. Consider your target demographic, what sets your product or service apart, and how you can weave that specialty into your brand positioning.

Nicole Faith is the founder of 10 Carat Creations, a consulting firm for freelancers. As soon as she narrowed in on "sophisticated solopreneuers" as her target clientele, she says it was like striking gold. "Once I pivoted, I had an easier time talking to people about my business, which made me more memorable."
Take your business online.
When you're shaping your brand identity, online marketing can be a powerful tool. First, create free business accounts on social platforms like Facebook, Instagram, Twitter, and LinkedIn. You can also pay by the dollar for promotional ads to run on Facebook and Instagram. Both tools allow you to choose an audience based on your target demographic or behavior, allowing for optimal discovery of your business.
You'll also want to create a website that easily lists out products, services, and contact information for your customers. Try free website builders like WordPress, Wix, and Weebly, which offer customizable templates and allow you to register for domains. Once your business has some cash to burn, you can pay for a subscription to a more robust platform like Squarespace, fix errors with on-demand support, or enlist the help of SEO experts to optimize your online presence and drive organic traffic.

For more ideas, check out six of the most effective online marketing tactics that you can implement with as little as $50.
Business Problem 5: Scaling Your Business
There's one buzzword in particular that summarizes this next big set of business problems for young businesses: growth. When asked about their company goals, most small business owners will reply with some variation of this word. Scaling a business, however, rarely comes easily.

If you've ever heard the term "growing pains" applied to a small business, it's usually a result of trying to scale too rapidly, without taking the time to address existing or potential roadblocks. This could manifest as greater sales with less profitability or more employees on staff without any notable impact on efficiency.
The Solutions
The biggest takeaway here is to slow down and try not to rush your business expansion. But there are a few other pointers to keep in mind.
Trim the fat.
When you're laser-focused on growth, it can be difficult to see some of the glaring weaknesses of your current operation. Take stock of ongoing business challenges, inefficiencies, and overspending, and address those issues ASAP.
Focus on company structure.
Before you can scale your business, it's important to refine the infrastructure already in place. The best thing to do here is ask for honest employee feedback. You'll often gain the best insights into productivity and workflow from team members on the ground level. You might learn that certain processes can be bypassed or outsourced to optimize efficiency.
Business Problem 6: Following the Rules
Even if you're your own boss, that doesn't mean you're exempt from the red tape of governmental regulations. Some of these regulations include but are not limited to: licensing and permits, employment laws, payroll and sales taxes, environmental codes, and email marketing anti-spam laws.
The Solutions
If your head is already spinning, keep reading. These are some of the tactics that you can utilize to ensure that your business stays legally compliant:
Hire a business lawyer.
While most small businesses won't need in-house legal counsel, having a reputable lawyer on speed dial helps. Refer to our comprehensive guide for hiring a business attorney, which details why every small business needs one, what types of services you can expect, and how to go about your search.
Use tax software.
Even if you've been filing your own taxes for years, corporate taxes can present a unique business problem for entrepreneurs. Consider using a tax preparation software like TurboTax or TaxAct to give you peace of mind when tax season rolls around. Of course, this is also when having an accountant or bookkeeper comes in handy.
Business Problem 7: Handling Cash Flow
A lack of cash flow is the number one reason small businesses fail, and it can happen because of a number of things. In fact, a company can be successful but still run into cash flow issues. Luckily, if you're struggling with a lack of cash flow, there are several steps you can take to help course correct.
The Solutions 
The way to address a lack of cash flow is to look at where the money from your profits is going.
Examine your overhead costs.
Even if you're making a decent profit you might be spending much of it on overhead costs. A great way to address this is to reexamine your overhead costs and make sure you're spending in a smart way and where it directly benefits your business. Some common examples of overhead costs include vehicle costs, commercial leases, office equipment, and more. Learning where to trim these costs early on in your business's life will help set you up for continued success.
Don't carry unnecessary inventory.
Inventory is another place you can potentially cut costs and solve this business problem. Take a look at what's actually selling, and what's just hanging around gathering dust. Be sure that there's a demand for what you're selling, and don't carry inventory that doesn't move. Sinking your money into inventory that your customers don't want won't benefit your business, it'll just demand more of your cash and hurt your cash flow.
Business Problem 8: Being an Effective Leader
Even if you have just one employee, you want to make sure you're being a strong and effective leader as the owner of the company. Being a good manager and a leader is essential to run a successful business—and on the flip side being a bad or absent one could hurt your employee's motivation and your business could suffer as a result.
The Solutions
Developing good leadership and management skills can take some time, but you can start doing it immediately. Some leadership traits you can even start developing in an afternoon. There are plenty of online resources and advice available online from other leaders on small business management.
Motivate your team.
Being able to motivate your employees is a key skill to master early on. An unmotivated team can be one of the biggest problems in business, as both productivity and morale will suffer. On the other hand, keeping employees motivated and happy can help your business run more smoothly and efficiently. With the right team in place and the right motivation, you can spend less of your time micromanaging and more time working on ways to grow your business.
Be an active listener.
One of the best things you can do for your business is to listen to all of your employees. Not only will this help you make sure your employees are happy with their jobs and the company, but it can help improve the business as well. Your employees know your product almost as well as you do, and they offer a unique point of view. Listening to them can help you crowdsource innovative ideas and solutions to other business problems more easily than you might realize.
Business Problem 9: Managing Your Time
One thing most business owners wish for is more hours in a day—there's just not enough time to get everything done, especially when you're just getting your business off the ground. Even if you're not in those beginning stages, a common business problem is not effectively managing time. But not only does this decrease your productivity, but it can also lead to work burnout and more. Here's how to tackle this top business challenge.
The Solutions
There are some things you can do to manage your time and create a better work-life balance.
Track your time.
Just by examining how you're actually spending your time each day, you can get a better idea of where you can spend it more efficiently. If you're spending time on tasks that could be delegated, eliminated, or automated, that's a great place to save some time while helping you create a more balanced schedule. You may also find by tracking your time you can determine certain times of day when you're the most productive, and then tackle certain tasks during these peak performance times.
Create a set schedule and stick to it.
Some entrepreneurs find it helpful to create a schedule for themselves so they never have to wonder what they should be working on or how long they have for a task. Creating structure in your work day—including when to take breaks and leave for the day—can help bring a sense of order to an entrepreneur's otherwise hectic day. Using the information you learned from tracking your time, you can create the perfect schedule to optimize your time. For instance, you might block out the morning to focus on your own work, while leaving the afternoons open for meetings, etc.
Business Problem 10: Knowing When to Delegate
As a small business owner, one of the common small business problems you'll likely face is the reluctance to delegate. It can feel scary to relinquish some control, or you may feel like you're handing off your problems to others, but delegating and sharing responsibility is necessary if you want your business to succeed.
The Solutions
The solution to this business problem might seem pretty obvious, but delegating is easier said than done.
Identify your employees' strengths.
You took the time to hire well—now trust that you did a good job and delegate to the employees with the strengths best-suited for the tasks you need help with. When delegating, make sure you clearly outline the task and the outcome you want to your employee. And remember to encourage questions and feedback. Schedule regular check-ins, at least in the beginning, to ensure your employees are going in the right direction or to course-correct if not.
"As a solopreneur, the biggest challenge has been delegating responsibilities and relinquishing control," says Scarlett Roucout, founder of natural hair care line Wonder Curl. "We know we can do it best. However, we have to realize when a certain task isn't the best use of our time." Roucourt finds that her business runs more smoothly now that she's mastered the art of outsourcing.
Ask for help.
It's always okay to ask for help when you need it. If you're trying to do a million things perfectly, chances are you'll wind up dropping the ball in all areas. By asking for help and outsourcing certain tasks (like your accounting or bookkeeping), you can spend more time on the tasks that actually need your specific attention and expertise.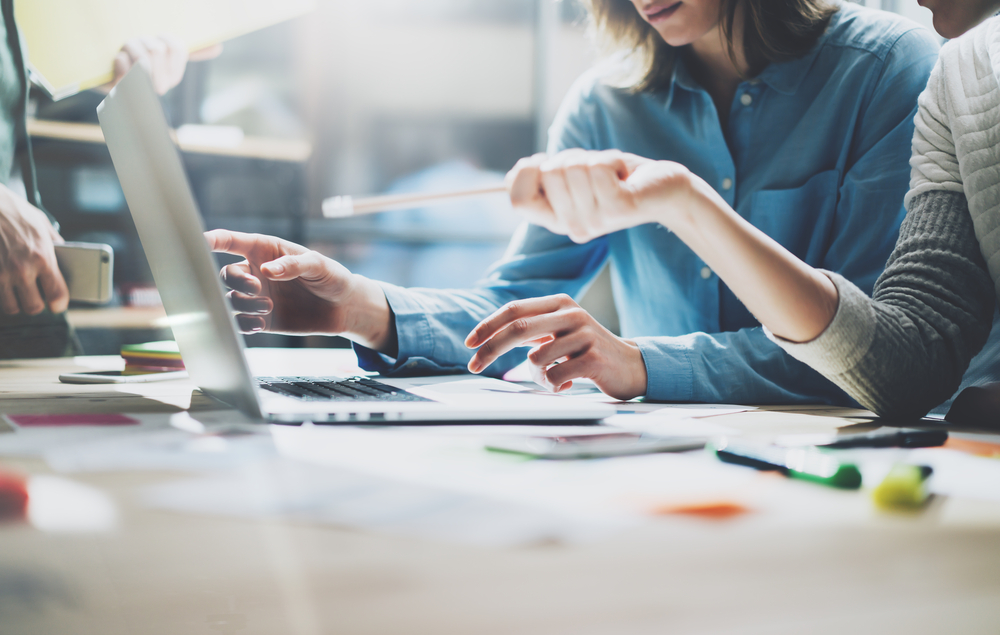 How to Tackle Business Problems: The Bottom Line
Starting your own business can be exhilarating and rewarding, but that's not to say your journey will be easy. The next time you find yourself face-to-face with any of the 10 business problems above, know that there's more than one solution to every challenge. It could mean exploring money management software, kickstarting marketing efforts right away, or asking your team for feedback.
Bottom line? Stay organized, regularly take stock of your business's challenges, and don't be afraid to ask for help when you need it—whatever your business problems, there's a service or professional to help you fix it.