Any small business owner knows that entrepreneurship has its highs and lows. After all, starting a business is a huge undertaking in and of itself, but growing your business can be even more difficult. When you hit the low points of entrepreneurship, sometimes it helps to read some inspirational quotes from other prominent business owners who have been in your shoes.
Here are 20 business quotes from inspiring entrepreneurs and leaders for the days when the going gets tough.
Small Business Quotes on Success
Trying to bring your business to soaring heights? Wondering how to get there, and how to know when you've made it?
Read these four small business quotes on entrepreneurial success.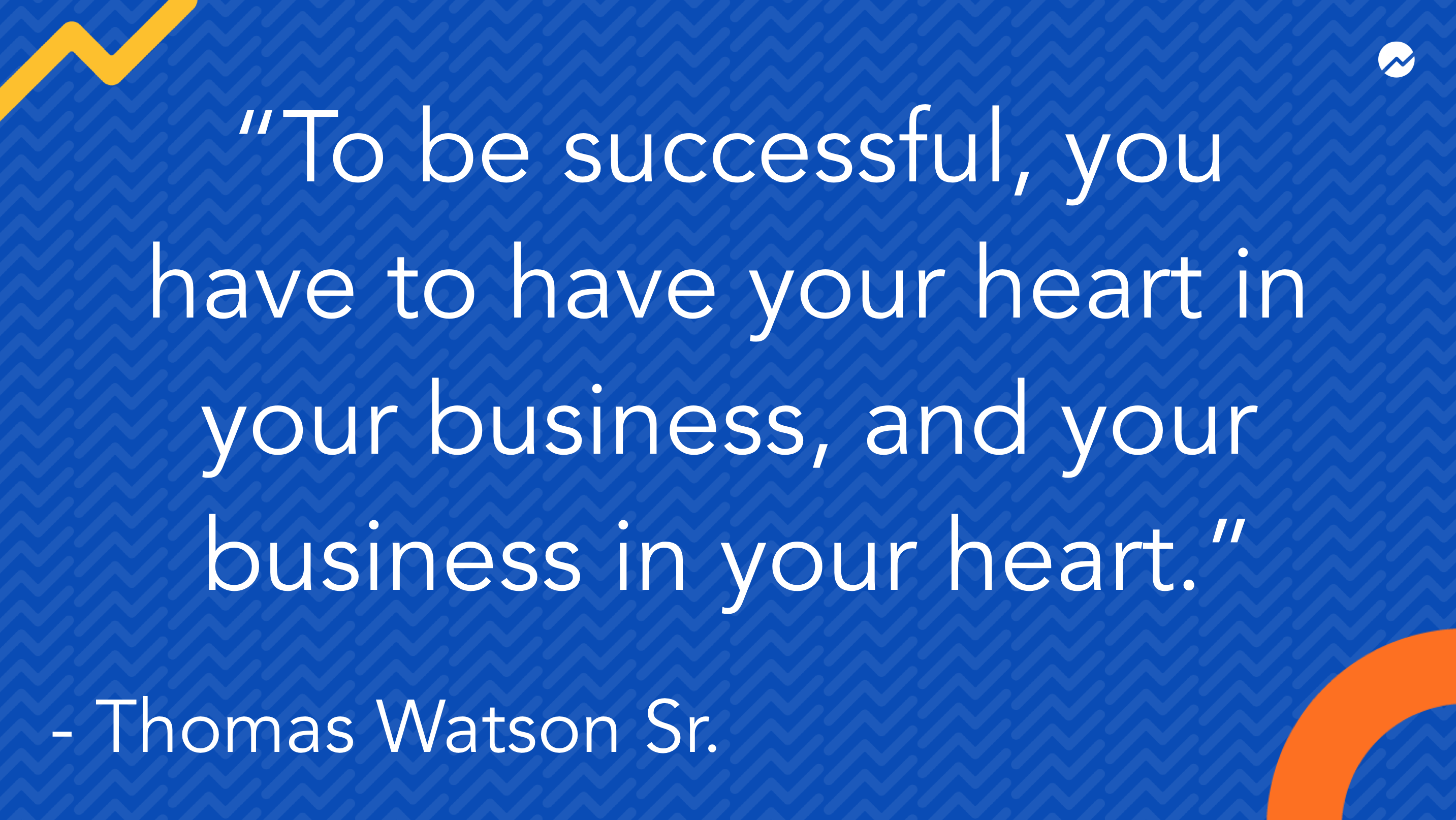 1. "To be successful, you have to have your heart in your business, and your business in your heart."
—Thomas Watson Sr., chairman and CEO of International Business Machines
Key takeaway: Success won't come your way if you didn't try your absolute hardest for it.
2. "I may be over the top on this, but I just don't want to like my competitors. I want my people to believe that whenever he and our other competitors succeed, we will be less able to do all the things we want to do."
—Phil Knight, chairman emeritus of Nike
Key takeaway: How you measure success will be different for every entrepreneur, but sometimes it's about being the best on the market.
3. "Most great people have attained their greatest success just one step beyond their greatest failure."
—Napoleon Hill, author of  "Think and Grow Rich"
Key takeaway: Failure is a disappointing but inevitable roadblock on the path to success. And sometimes, success is just one more push beyond your last failure.
4.  "Some people dream of success, while other people get up every morning and make it happen."
— Wayne Huizenga, prolific American business person, owner of Blockbuster Video and the Miami Dolphins
Key takeaway: To see results, you have to put in the work.
Small Business Quotes on Failure
Hit a new roadblock in your business? Don't give up and close your doors. Instead, read these four small business quotes to find the inspiration you need to keep plugging away.
5. "Failure is simply the opportunity to begin again, this time more intelligently… A business absolutely devoted to service will have only one worry about profits. They will be embarrassingly large."
—Henry Ford, founder of Ford Motor Co.
Key takeaway: Examine your failures carefully—they hold powerful information on how you should move forward.
6. "I have not failed. I've just found 10,000 ways that won't work."

—Thomas Edison, American inventor and businessman
Key takeaway: Don't be too hard on yourself! Failures aren't the end-all-be-all of your business.
7. "I knew that if I failed I wouldn't regret that, but I knew the one thing I might regret is not trying."
—Jeff Bezos, founder and CEO of Amazon
Key takeaway: Lots of entrepreneurs fail in their first business, but that's not a reason to keep you from trying in the first place.
8. "You can't connect the dots looking forward; you can only connect them looking backwards. So you have to trust that the dots will somehow connect in your future. You have to trust in something—your gut, destiny, life, karma, whatever. This approach has never let me down, and it has made all the difference in my life."
—Steve Jobs, co-founder, chairman, and CEO of Apple
Key takeaway: Know that looking back on your failures and hurdles is one of the best ways to figure out your way forward.
Small Business Quotes on Innovation
Innovation is at the heart of entrepreneurship—it's what makes the most successful businesses great.
How can you become a better innovator? Take in these three small business quotes for inspiration.
9. "You can't ask customers what they want and then try to give that to them. By the time you get it built, they'll want something new."
—Steve Jobs, co-founder, chairman, and CEO of Apple
Key takeaway: Your customers hold powerful insight into what your product should be, but they shouldn't fully dictate your future business ideas.
10. "Your most unhappy customers are your greatest source of learning."
—Bill Gates, founder and CEO of Microsoft
Key takeaway: What do your customers need? You'll innovate and create a better product for your customers as you answer that question.
11. "You don't need to have a 100-person company to develop that idea."
— Larry Page, co-founder of Google
Key takeaway: Innovation isn't just for the big shots. Fun fact: there's actually a ton of research that suggests smaller is better when it comes to innovation.[1]
Small Business Quotes on Motivation
How can you find the motivation to start a business, and even harder—keep making it better day in and day out?
These three small business quotes are at the heart of what motivates an entrepreneur.
12. "My biggest motivation? Just to keep challenging myself. I see life almost like one long university education that I never had—every day I'm learning something new."
—Richard Branson, founder of Virgin Group
Key takeaway: No entrepreneur starts a business knowing everything about their customer, product, or market. You'll learn and push yourself along the way.
13. "The way to get started is to quit talking and begin doing."
—Walt Disney, founder of Disney
Key takeaway: Starting a business is intimidating, but at some point you need to just take the plunge.
14. "Whether you think you can, or think you can't—you're right."
— Henry Ford, founder of Ford Motor Co
Key takeaway: Sometimes motivation is all in your head, and a simple change in mindset is enough to put you back on track.
Small Business Quotes on Hard Work
As a small business owner, you know that success doesn't happen overnight. And if it seems as though it did, upon closer look you'll probably find that years of hard work led to a breakthrough.
Here are three small business quotes on the hard work it takes to be a great business owner.
15. "I'm convinced that about half of what separates the successful entrepreneurs from the non-successful ones is pure perseverance."
—Steve Jobs, co-founder, chairman, and CEO of Apple
Key takeaway: Some successful entrepreneurs get where they are today because they never gave up.
16. "Desire is the key to motivation, but it's determination and commitment to an unrelenting pursuit of your goal—a commitment to excellence—that will enable you to attain the success you seek."
—Mario Andretti, American race car driver
Key takeaway: You want to be a business owner and you want to be successful. Just wanting it isn't going to get you there. In the end, it's the quality of the work you do.
17. "The price of success is hard work, dedication to the job at hand, and the determination that whether we win or lose, we have applied the best of ourselves to the task at hand."
—Vince Lombardi, executive, head coach, and NFL player
Key takeaway: You'll never accomplish your business goals if you're not 100% dedicated to them. Work hard and the results will speak for themselves.
Small Business Quotes on Taking Risks
No entrepreneur starts a business thinking that success is a done deal. Running your own company comes with its fair share of risks.
These three small business quotes will help you become more comfortable with the inevitable risks you'll take as an entrepreneur.
18. "As ever, the accountant in me saw the risk, the entrepreneur saw the possibility. So I split the difference and kept moving forward."
—Phil Knight, chairman emeritus of Nike 
Key takeaways: Giving one of the most powerful small business quotes of the challenges of entrepreneurship, Knight knows that he wouldn't be where he is today if he didn't take risks early on.
19. "If you do what you've always done, you'll get what you've always gotten."
—Tony Robbins, businessman, author, and philanthropist.
Key takeaway: Don't let your fear of failing make you complacent. To be better, you have to take some risks along the way.
20. "Risk more than others think is safe. Dream more than others think is practical."
— Howard Schultz, CEO of Starbucks
Key takeaway: An inherent part of risk is standing away from the crowd.
Applying These Small Business Quotes to Your Business
Starting and running your own business can be scary, challenging, and full of setbacks. It can also be rewarding, inspiring, and liberating. Luckily, there are many others who have come before you, had similar struggles, and developed some wisdom. We hope these 20 small business quotes help you keep your head up when you're in a bind, motivate you to keep going, or help you take a leap of faith for your business.
Article Sources: