As you search for the right system to allow your small business to accept card transactions, or for the perfect upgrade from your business's current point of sale system, you've likely come across Square POS.
And for good reason—the Square POS app is one of the very best values on the market.
But is Square POS the right move for your business specifically? We've compiled a comprehensive review of all that the Square POS app has to offer your business so that you can make the best decision possible.
What Is the Square POS App?
In order to learn all there is to know about Square POS, we first need to cover some basics. Namely, we'll address what Square POS is exactly.
Although the Square point of sale system as a whole involves both hardware and software, Square Point of Sale—or Square POS for short—refers specifically to the app that functions as the system's software.
The Square POS app is accessible through both Apple and Android devices, and is the most basic, affordable version of the Square software that can function hand-in-hand with whichever Square hardware your business chooses to use.
All in all, while Square hardware will be primarily responsible for allowing your business to process card transactions through its POS, the Square POS app is the reason that Square is one of the most valuable, user-friendly options on the market.
Square Point of Sale Overview
So, now that you have a frame of reference for what we're talking about when we refer to Square POS, it's time to move a bit deeper into this subject. Let's dive into the details on what Square POS can offer your business:
Square POS Pricing
The top draw of the Square POS app? Square POS pricing—or lack thereof.
Basically, the Square point of sale app is a completely free app. Granted, depending on which Square hardware you use and how many card transactions your business processes, you'll certainly have to pay for Square's services.
That said, it still stands that the Square POS app will be completely free for your business to use.
Sign Up for Square for Free
Square POS Customizations
Through Square POS, both you and your customers can customize your Square POS app experience.
First and foremost, your customers can choose from suggested or custom tip options. Additionally, they could choose whether to receive digital or print receipts.
Meanwhile, you and your employees can keep tabs open, split tabs by cards, and take payments multiple ways.
Inventory Tracking
You can perform some serious inventory tracking through Square POS.
Through this free Square POS app, you could manage your inventory in bulk—and, more remarkably, you can do so quickly.
Plus, through Square POS, you'll receive a daily stock alert email summarizing the status of your business's inventory.
Employee Management
Square POS lets you manage your business's employees through top-of-the-line employee management capabilities.
Employees can clock in and clock out through your Square POS, and each transaction that an employee performs gets attached to their name within your business's account.
As a result, the Square POS provides hardworking analytics on employee performance and makes tips and commissions reconciliations a non-issue.
Finally, you can grant different levels of access to various employees and/or roles in order to ensure utmost security for your Square POS account.
Quick Deposits
Some other POS systems will make your business wait after you decide to transfer your funds to your bank account, but Square POS isn't like its competitors.
That's because you can receive your deposits as soon as the next business day if you're depositing from your Square POS account.
Offline Payments
You can also ensure that your Square point of sale system can make transactions no matter where, no matter what. That's because Square POS lets employees take payments even when your account is in offline mode.
As a result, your Square POS app could perform basic transactions even when it can't connect to the internet.
Square POS Security
Finally, you can rely on Square POS for exceptional security.
Each time a customer swipes their card with your Square point of sale system, their card information is immediately encrypted.
Plus, Square POS will never store your customer's data on your device after any given transaction is processed.
How Does Square POS Make Money?
Even though we've combed through all of the details on the Square POS, there's likely still one question that lingers. You're probably wondering how exactly Square POS makes money.
Because the app is free, they have to make their money elsewhere. They'll do this by charging your business a small percentage of each payment that it processes through its Square point of sale system. Plus, depending on which Square POS hardware you opt for, you might have to pay for your hardware, though there is one free Square POS hardware option (more on this below).
Through the two avenues of payment processing fees and hardware costs, Square makes more than enough money to make up for any losses they might take on for providing such a comprehensive software as the Square POS app for free.
Square POS Highlights
With all of the pertinent logistics on Square POS covered, it's time to take a few steps back.
What do all of these logistics actually mean for your small business's card transaction processes?
To answer this question, let's take a look at which features stand out as notable perks and disadvantages to choosing Square POS as your business's point of sale system.
First, we'll discuss the highlights of what Square POS has to offer your business.
A Free Software
Put simply, one of the major upsides to Square POS is that it's a free software.
Though you will have to pay for the transactions you process through this software and perhaps even the hardware you process it with, you won't have to pay for the software itself.
This means that you can access valuable insights, manage inventory, manage employees, and set up customized transactions for free.
And the fact that the Square POS app is one of the most user-friendly, intuitive POS softwares on the market only means that you and your employees can take advantage of these top-of-the-line capabilities that much easier.
And you can do so for no extra money at all.
Sign Up for Square for Free
Compatible With Free Hardware
Though most versions of Square POS hardware come at a one-off cost, there is one option—the magstripe reader—that's free and allows your business to take advantage of all that the free Square POS app has to offer.
Because Square POS software is compatible with this free hardware, your business can get away with paying only the payment processing fee that Square will impose on each transaction you run.
Altogether, with both a free software and hardware, the most basic version of the Square point of sale system is one of the most affordable on the market.
Square POS Low Points
There are a few downsides to the Square POS that might prove to be deal breakers for certain business owners.
As such, let's take a moment to run through the drawbacks to using Square POS, just to make sure they don't overshadow its upsides for you.
Processing Fees
One significant downside to using Square POS?
You have to pay a processing fee for each transaction you process. And this fee varies based on the hardware that you choose to attach to your Square POS account.
If you process a payment through the magstripe reader—Square's free POS hardware—then your business will have to pay a fee of 2.6% plus $0.10 of each card transaction's value. Additionally, if you process a payment through Square's contactless and chip reader or Square's Stand, then you'll also pay a fee of 2.6% plus $0.10 of the transaction's value.
Finally, if your business invests in a Square Register—the most expensive of the Square POS hardware options—you'll pay the same fee of 2.6% plus $0.10 for each payment processed through it, unless you purchased your Register prior to August 20, 2019 (in this case, your rate will be 2.5% plus $0.10 per transaction).
When all is said and done, paying for a POS system through payment processing fees can be pretty frustrating for a small business. As you can see, most of the fees rely on a percentage, which means the more your business makes, the more it has to pay to Square.
Limited Capabilities
It's worth noting that Square's Point of Sale app isn't the most powerful software option that Square offers.
Even though the Square POS app offers a remarkably long list of capabilities for a free software, there are still a few facets where it leaves some things to be desired.
For example, the Square POS app won't be particularly hospitable to businesses that have to keep track of inventory across multiple locations. You can't track, note, or transfer inventory across multiple locations with the Square POS app.
All in all, while the Square POS offers a substantial suite of capabilities, it's still lacking in some pretty key areas for small business, especially those with many locations.
The Best Alternatives to the Square POS App
Now that you're well-acquainted with the ins and outs—both good and bad—of the Square POS software, what's next?
Well, if you've found the downsides that come with Square POS far outweigh the upsides, then it's time to find your top alternative.
If you're ready to look beyond Square POS, let's check out your best alternatives to this software.
Square for Retail
If you want to stick with Square but you want to access more capabilities from your Square software, then look to Square for Retail.
This is essentially a souped-up version of the Square POS app. With Square for Retail, you can access elevated capabilities that are especially essential for retail businesses.
For one, unlike with the Square POS app, with Square for Retail, you can manage customer information to a tee. Square for Retail automatically creates customer profiles so that you can easily keep up with customer information and purchase history.
Additionally, Square for Retail allows your business to handle and manage inventory across multiple locations. This means that you can track, adjust, and transfer your business's inventory through all of its locations. Plus, you can even create and print barcode labels for your business's inventory to make inventory tracking much easier.
All that said, you need to know that the extra capabilities that Square for Retail brings could cost your business, depending on your plan. Square for Retail offers a Free plan with zero monthly charges. The Plus plan is $60 per month per location and the Premium plan starts at $299. The processing rates vary for each.
Sign Up for Square for Retail
Clover POS Software
If Square POS isn't for you, and you're not married to the idea of sticking to a Square POS system, then we suggest you look to Clover POS software.
Clover POS software offers up three tiers of software—Payments Plus, Register Lite, and Register. All three Clover POS software options are stellar options and will open up your potential to customize your Clover experience, even beyond the four types of hardware they offer.
With Clover Payments Plus software, your business can perform crucial POS capabilities along with some key extras like customer engagement marketing, customer feedback channels, and 24/7 phone support.
The next tier up—Register Lite—lets businesses access all the capabilities of Payments Plus, along with additional features like item-level taxes, inventory management, and order management, to name a few.
Finally, if you decide on Register—the top tier of Clover POS software, then you'll gain access to all that you'd access through Register Lite along with industry-specific features and enhanced inventory and order management.
If you're looking for more options than a Square point of sale system can give you, then look into Clover.
Open A Clover Account
Is Square Point of Sale System Right for Your Small Business?
Because every small business needs something different from a POS software, there's really no one best POS software out there—only the best one for your business.
If you like what you see after hearing all of the nitty-gritty on Square POS, then it might be the best option for your business. If not, there are other excellent options available to you.
Sign Up for Square for Free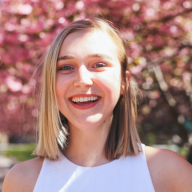 Contributing Writer
at
Fundera
Maddie Shepherd is a former Fundera senior staff writer and current contributing writer for Fundera. 
Maddie has an extensive knowledge of business credit cards, accounting tools, and merchant services, but specializes in small business financing advice. She has reviewed and analyzed dozens of financial tools and providers, helping business owners make better financial decisions. 
Read Full Author Bio