When you're running a small business, you likely dedicate a lot of careful attention into making a sale. Whether you're selling a good or a service, you're likely pouring a lot of your business's resources into achieving that moment when a customer pays your business for whatever you offer.
What point of sale system can make sure that each moment of payment will be fully optimized, every single time? One of your top, most widespread options will be Square.
Is this tech-based point of sale system the right fit for your business's needs? We've compiled a comprehensive review of all things Square—from the fundamentals like answering the question, "How does Square work?" to the details of each of their options—so that you can decide.
How Does Square Work?
Square is one of the most innovative, tech-based point of sale systems out there. You might recognize Square by their characteristic white gear that plugs into various mobile devices, allowing small business owners and their employees to run transactions quickly and easily.
And although Square does offer a wide variety of small business services, they're definitely best known for their point of sale hardware and software.
Through their various point of sale systems, Square will not only run smooth transactions for your business and your customers, but will also use the info they gather from these transactions to help you run your business better.
Let's see what the details are on all Square has to offer your business:
Pros
Intuitive and user-friendly
A wide variety of options
Free features
Cons
Complicated pricing
Necessary additional technology
Doesn't integrate well
Square Pricing Per Transaction
Another question you're likely asking yourself as you consider Square—how much will it cost your business?
There's no hard-and-fast answer to this question, because Square's credit card processing fees will be based on how many transactions you run through one of their systems.
Plus, depending on which software and hardware you opt for, Square will probably charge you for those, as well.
First, let's see how much each transaction will cost your business if you run it through a Square credit card processing.
Manual Card Entry
For each transaction you run through Square, no matter which hardware you use to do it, you'll have to pay a processing fee of 3.5% of the transaction value, plus $0.15 per each transaction.
All in, manual card entry is by far the costliest option for processing credit card transactions through a Square system.
Cards and Contactless Payment
On the other hand, accepting credit cards or contactless payments will cost your business much less.
But just how much less will depend on the Square hardware your business uses.
For all magstripe and chip cards from major issuers, along with contactless payment methods—like Apple Pay and Google Pay—you'll pay a different rate depending on whether you use a Square Register or any other Square hardware.
For transactions processed through Square Reader or Square Stand, your business will pay a 2.6% plus $0.10 processing fee. Transactions processed through the Square Register will be deducted a 2.6% of the transaction value, plus $0.10 per transaction. (If you bought the Register prior to August 20, 2019, your transaction rate will be 2.5%, plus $0.10.)
Square Software Options
If you opt for Square, then you'll need to choose your preferred version of their software. You'll be able to choose from a free, bare-bones version or a souped-up, more costly version.
Square Point of Sale
The most basic—and free—version of Square payments software is Square Point of Sale.
And though this software might be free, it comes replete with tons of intuitive, useful capabilities that will help your business's check-out process run smoothly.
With Square Point of Sale software, you can give your customers options—they'll be able to choose between digital or print receipts and opt for a suggested tip option quickly and easily.
Square Point of Sale software will also allow you to keep tabs open, split tabs, and take payments in multiple ways. Not to mention, Square Point of Sale software will also allow you to manage your business's inventory with a few clicks by editing item details, tracking stock quantities, and getting email alerts when inventory is low.
Additionally, you can track employee hours with Square Point of Sale software. By clocking in and out through your business's Square hardware, your employees will be able to log their hours automatically and be attached to all of the transactions they oversee. As a result, reconciling tips and commissions will be an automated cinch.
Altogether, despite being the more basic of your two options, the Square Point of Sale software could easily fulfill all your business's point of sale needs. And do so for free.
Sign Up for Square for Free
Square for Retail
Alternatively, Square for Retail is another option that certainly isn't out of the question.
To access all the capabilities of Square Point of Sale and much more, Square for Retail will cost your business varying amounts depending on the plan you choose—though you can access a 30-day free trial to test it out.  Square for Retail offers a Free plan with zero monthly charges. The Plus plan is $60 per month per location and the Premium plan starts at $299. The processing rates vary for each.
What makes Square for Retail worth the additional, substantial fee? It's the most intelligent software that Square has built, and it's the result of careful studies of just how retailers run their businesses.
With Square for Retail, you'll be able to access more powerful inventory capabilities, which allow you to get alerts, create purchase orders, and send purchase orders all in one place. It's also far more accommodating for the inventory tracking needs of businesses with multiple locations—you'll be able to track, adjust, or transfer inventory and create and print barcode labels for your business's goods, as well.
You'll also be able to access elevated customer relationship management capabilities—like instant customer profiles, instant customer groups, and the ability to enter notes on a customer for next time.
Sign Up for Square for Retail
Square Hardware Options
In order to reap the benefits of all that Square software offers, you'll have to access them through a piece of Square credit card processing hardware. There are more options when it comes to Square's hardware, so you'll be able to personalize your Square payments to a tee.
Which of the five Square hardware options will fit your business's credit card processing needs?
Reader for Magstripe
Your first and most basic option for Square credit card processing hardware is their magstripe reader. You might have seen one of these guys plugged into the headphone jack of an iPad at your favorite small business or your favorite stall at the farmers market.
One of these comes free when your business signs up for Square services, and they're only able to read the magstripe of a credit card. They work with both Apple and Android devices, and Square encrypts all card information it reads through this device.
Reader for Chip and Magstripe Cards
Square's chip and magstripe reader looks almost exactly like its magstripe counterpart, but it has double the capability. That's because it will allow your business to process both chip and magstripe card payments.
That said, this version of the Square reader doesn't come free—you'll have to pay $35 to be able to read both chip and magstripe cards.
Reader for Chip Cards and Contactless Payment
If you're looking for a more capable, upscale version of the reader—and you're willing to pay for it—then consider the contactless payment and chip reader.
This piece of Square credit card processing hardware will connect to your device through Bluetooth. More importantly, it will allow your business to accept payments through chip cards and contactless payment.
For all that this reader offers, though, your business will have to pay $49. But this is an arguably small price to pay to optimize and speed up transactions not only for your business but also for your customers. Not to mention, you'll also receive a free reader for magstripe as a backup, in case any of your customers don't yet have a chip credit card.
Stand for Chip Cards and Contactless Payment
The next step up for Square credit card processing hardware is the iPad POS Stand. This hardware option accepts chip cards, contactless payments, and magstripe cards all in one. You'll just have to connect your own iPad to the Stand, download the Square Point of Sale app or Square for Retail, then get going.
That is, after you pay a cool $169 for the Square Stand, which can be a significant sum for many small businesses. However, if you want to convert your iPad into a fully operating, highly capable point of sale system, then this hardware could be a worthy investment.
Register
The newest and most powerful of all the Square hardware options is the Register. This Square hardware is far more than a mere Square credit card processing system, and it comes with a long list of perks. The more affordable transaction prices—2.6% of the transaction plus $0.10 per transaction—sit at the top of that list. So, investing in a Register will also be investing in your business's future with the sustained savings you'll see with this lower Square credit card processing cost.
Additionally, with the Register, your business won't have to have another device to access Square functionalities, so no iPad, smartphone, or tablet will be necessary for your Register to run.
Plus, this hardware comes with a dedicated customer display, which will seriously speed up your transaction process. You'll also be able to process any type of payment—whether it be a magstripe card, a chip card, or a contactless payment—with the Register's all-in-one processing capabilities.
Though the Register might be a smart investment, it certainly is an investment—you'll have to pay a cool $799 for it. That said, if you don't already have an iPad or smartphone at your disposal, this all-inclusive hardware will be even more affordable than your other options.
What Are the Advantages of Square?
Now that you're familiar with all of the ins and outs of all of your options for Square, it's time to take a step back to consider the implications of all of these ins and outs.
What features of Square systems will be beneficial for your business, and which features won't be so beneficial?
Let's start by focusing on the most notable perks you'll be able to access through Square hardware and software should you choose it as your business's point of sale system:
Intuitive, User-Friendly Experience
Put simply, Square software and hardware are some of the easiest to use on the market. That's because they essentially function through the system you likely use day in and day out—your smart device.
Plus, the Square software options—both their free Point of Sale app and Square for Retail—are remarkably user-friendly for both your employees and your customers. Your employees will be able to ring your customers up in seconds, and your customers will be able to make crucial choices, like tip amount and receipt type, with just a few taps.
A Wide Variety of Options
You'll also be able to perform some pretty remarkable mix-and-match customizations by choosing between their varieties of software and hardware. Whether you want high-end hardware and simple software, or high-end software and simple hardware, or somewhere in between the two, you'll be able to make your Square point of sale your own.
Free Features
Finally, although your experience with Square will never be totally free due to Square's credit card processing, transaction-based pricing, you can opt to make it completely free outside of these prices. That's because Square's basic software—Square Point of Sale—along with their basic hardware—the magstripe reader—will come free with your Square package.
So, although the credit card processing pricing will apply to every payment they process for your business, they will also offer you multiple free features.
What Are the Disadvantages of Square?
Despite all of these perks that Square payments come with, it's far from perfect. What are reasons that you might hesitate on choosing Square payments as your business's point of sale?
Let's take a look:
Complicated Pricing
The first and most salient of Square's imperfections? The complicated pricing. The answer to the question of how much Square will cost your business won't be a simple one to answer. It will depend on which software you opt for, which hardware you opt for, and how many transactions you run with these systems.
Really, Square can cost you anywhere from just 2.6% plus $0.10 per each credit card transaction, all the way up to a whopping lump sum of $999, (on top of a percent of your transactions). With Square's many options will come lots of uncertainty on pricing, which will also require your constant vigilance with regard to what this point of sale system is actually costing your business.
Necessary Additional Technology
For most of the Square software, your business will either need to already have a smart device or be willing to invest in one.
From the basic, free magstripe reader, all the way up to the $169 stand, your business will need to come to the table carrying some kind of smart device in order to actually be able to use Square.
And this is no small expectation of a small business. Unless you decide to invest in a $999 Square Register, your business will need to take into account that some kind of smart device—whether it's a smart phone, an iPad, or a tablet—will need to be at the ready.
Doesn't Integrate Well
One last downside to using Square as your business's point of sale system?
It just doesn't integrate smoothly with other small business finance apps. Even if you're trying to work with another facet of Square's offerings—like Square Payroll or Square Capital—you'll have to close out and open separate apps for separate functionalities.
Even more, if you're working with accounting software that's not among the most recognizable names on the market—QuickBooks or Xero—then you probably won't be able to get it to work with your Square account.
The Top Alternative to Square
Is there a better option for your business beyond Square payments? If Square's disadvantages were deal breakers for you, then there just might be. The point of sale company, Clover, might be the perfect alternative for your business.
Just like Square, Clover can offer your business many options when it comes to both software and hardware for your business's point of sale. With a total of three software options and four hardware options, Clover matches Square when it comes to offering your business choices.
Even more, only one of Clover's hardware options, Clover Go will require your business to come to the table bearing a smart device in order to use it.[1] All other Clover hardware options will come with full functionality, no additional devices needed.
If you're looking for a point of sale system that will make things simpler while still providing you options, then Clover might be your better bet over Square.
The Bottom Line
Now that you've learned all there is to know about this top point of sale option, what's the bottom line?
The way we see it, despite the complicated pricing and a handful of quirks, Square is one of the very best point of sale system options on the market.
Its intuitive, efficient, and friendly processes are just the things to keep both your employees and your customers happy in that crucial moment of transactions.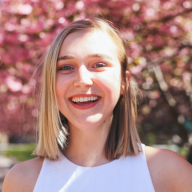 Contributing Writer
at
Fundera
Maddie Shepherd is a former Fundera senior staff writer and current contributing writer for Fundera. 
Maddie has an extensive knowledge of business credit cards, accounting tools, and merchant services, but specializes in small business financing advice. She has reviewed and analyzed dozens of financial tools and providers, helping business owners make better financial decisions. 
Read Full Author Bio