Whether you're looking for your first point of sale system or want to make a change from your current one, you've probably come across dozens of possible options that you could use for your business.
Two of the most popular POS systems out there for you to consider are QuickBooks POS and Square. Determining which one is better for your business is no easy task, and you might be worried about making the right decision. Luckily, this Square vs. QuickBooks POS comparison is here to help. We're going to break down the similarities and differences between the two platforms, as well as discuss pricing and alternatives, so you can be sure you're making the right choice for your business.
Key POS Features to Consider
There are a few things that should be on your list of must-haves when it comes to choosing a point of sale system. This list will be slightly different for each business owner, but, overall, consider these features when evaluating a POS system.
Processing Payments 
The main purpose of a POS system is to process payments, so this is the most important feature you'll want to consider. Make sure you know what types of payments each system can process (magstripe or chip card, contactless payment, etc.) and the fees associated with each type of transaction.
You should also consider what kind of hardware comes with the POS software. Most people have credit cards that they either swipe or dip, but more and more people also have contactless cards. You'll want to make sure you'll be able to accommodate as many customers as possible.
Integrations
If you use other types of software for your business operations, like accounting or inventory tracking software, you should make sure that your POS system can integrate with them so you don't have to manually import data back and forth.
Consider the integrations that come with any POS system before deciding on it—both for any software you currently use, as well as software you may use in the future as your business grows.
Reporting
Your POS system can also offer some great reports to better understand the trends behind your business's transactions, including what's selling well, what's not moving, when your sales are best, and when you experience slow seasons. These insightful data points can help you save money and grow your operations.
Employee Management
Your POS system may also be able to help you manage your employees. If your employees are hourly, they may be able to clock in and out using your POS system, which makes time tracking and payroll a cinch. Additionally, you may be able to set custom permissions for certain employees, so no one has access to any information that they shouldn't.
Square vs. QuickBooks POS: The Differences
Now that we've gone through the main features you should be looking at when you're evaluating a POS system, we can look at the specific features QuickBooks POS and Square have to offer.
Before we get started, remember that there are different plans for both QuickBooks POS and Square POS, so the price and the features each comes with will depend on the plan you choose.
Payment Processing Fees
The price for these POS systems will depend on how many transactions you're running each month and which plan you opt for from either Square or QuickBooks. As you look through the features listed below and their prices, keep in mind that the QuickBooks POS plans build on one another, and we'll elaborate further on the features later on.
Product
Cost
Features

QuickBooks Basic

Starts at $1,200 (one-time purchase)

Accept payments, track inventory, track customer data, basic reporting

QuickBooks Pro

Starts at $1,700 (one-time purchase)

Employee management, payroll, gift cards, advanced reporting

QuickBooks Multi-Store

Starts at $1,900 (one-time purchase)

Multi-store management, inventory management and transfer, advanced sales and inventory management across stores

Square POS

Free, plus 2.6% + $0.10 per in-person
swipe, dip, tap

Payment processing, store credit card files, item modifiers, offline mode and more

Square POS Restaurant

$0, $60, or $299+/month, plus 2.6% + $0.10 per
in-person swipe, dip, tap

Happy hour discounts, sales and shift reports, custom floor plans and more

Square POS Retail

$0, $60, or $299+/month, plus 2.5% + $0.10 per
in-person swipe, dip, tap

Sell online or in-store, purchase orders, inventory tracking, team management, and more
One thing to keep in mind when it comes to QuickBooks POS is that the prices listed above are simply for the one-time software fee. You'll also have hardware costs and transaction fees to consider. To process transactions, you'll also need to sign up for a QuickBooks Merchant Services account and then use either QuickBooks Online Payments or QuickBooks Desktop Payments.[1] A further breakdown of these fees is as follows:
| QuickBooks Merchant Services | Monthly Price | Bank Transfer | Swipe | Invoice | Keyed-in |
| --- | --- | --- | --- | --- | --- |
| QuickBooks Online Payments | $0 | $0 | 2.4% + $0.25 | 2.9% + $0.25 | 3.4% + $0.25 |
| QuickBooks Desktop (pay as you go) | $0 | $1/transfer | 2.4% + $0.30 | 3.5% + $0.30 | 3.5% + $0.30 |
| QuickBooks Desktop (monthly) | $20 | $1/transfer | 1.6% + $0.30 | 3.3% + $0.30 | 3.3% + $0.30 |
Overall, you'll probably pay less if you're using Square, especially if you decide to use the basic Square POS system over the specific retail or restaurant versions. The upfront cost of QuickBooks and the subsequent per-transaction fees can be a lot for some business, and unless you use QuickBooks as your accounting software and are set on syncing the two, it may not be your best choice.
Inventory Tracking 
Of course, you won't solely be making your decision between QuickBooks and Square based on the prices of the two, so let's take a look at the inventory management capabilities each one offers.
Square POS
Even the free version of Square POS comes with in-depth inventory tracking. Again, the needs of your business will depend on the amount of business you do, but Square offers most of the inventory tracking you'd need. Low stock alerts and downloadable inventory reports are included with Square POS, including a daily email with inventory updates. For the retail- and restaurant-specific POS systems that Square offers, you get even more in-depth inventory tracking.
Sign up for Square for Free
Square Retail POS 
When you opt for Square for Retail POS, you get bar code labels, low-stock notifications, and multi-location stock management capabilities. You can even create item categories so you can check in on inventory more easily. This version also comes with vendor management so you can easily access your vendors' contact information and then create and send purchase orders for anything you're running low on.
Get Started With Square for Retail for Free
Square Restaurant POS 
You'll also get the basic inventory management tools you need with Square Restaurant POS. You can quickly and easily remove items that you've sold out of so your servers can't add them to an order. You'll also get downloadable inventory reports and be able to track remaining items so you know exactly when you're out of something and need to reorder it.
Get Started With Square for Restaurants for Free
QuickBooks POS
Inventory tracking comes with every QuickBooks POS plan, so you don't need the most expensive plan to be able to track your inventory. You'll be able to track items live as you buy and sell them so you know exactly what you have on hand.
With QuickBooks Pro and Multi-Store, you'll also be able to include photos of inventory items so your employees will know exactly what they're looking for when they head to the storeroom. These two plans also come with the option to set automatic purchase orders for items you're running low on and the Multi-Store plan, as the name implies, allows for tracking inventory across multiple locations.
Get Started With QuickBooks POS
Employee Management
Both QuickBooks and Square offer employee management features, but they do vary by provider and plan. The Square POS system comes with employee protections and permissions so you can control who has access to what and set up two-step verification processes. Employees can clock in and out, and each transaction will be attached to a name, so you know who is responsible for what.
With QuickBooks POS, all of the plans come with the option to create and manage employee access while only the Pro and Multi-Store plans will allow you to track employee hours and sales commissions.
Hardware
Square is known for their small, square, white credit card reader that can be easily plugged into a smartphone or tablet to complete transactions. They also offer terminals, registers, and stands for businesses that want a little more than a simple magstripe or chip reader. But the mobility of the processors is a huge plus for some business owners. You can rent or buy your Square hardware for your business, and it is worth noting that the least expensive hardware from Square is just $10.
The hardware offered by QuickBooks POS is a bit less modern-looking and a bit limited. You have the option to buy a pin pad, receipt printer, barcode scanner, cash drawer, pole display, wireless barcode scanner, and tag printer. The pin pad retails for $349.95, and all of these hardware solutions can be purchased on the QuickBooks website.
Integrations
This is one area where Square vs. QuickBooks really differ. QuickBooks POS only integrates with QuickBooks Desktop accounting, so if you don't use QuickBooks already, this likely won't be the best choice for you. On the other hand, if you do use QuickBooks Desktop, this could be a huge benefit.
Square POS, on the other hand, offers integrations with hundreds of other apps—including accounting and tax, appointment scheduling, ecommerce, order management, marketing, inventory, and more. Thus, Square can likely work in conjunction with any apps you are currently using; or, you also have the option to expand your portfolio down the line.
Square vs. QuickBooks POS: Alternatives
Now that you have a better understanding of what QuickBooks POS and Square have to offer, you may have decided that neither of them sounds like the right fit. If that's the case, check out these alternatives to see if one of them can better serve your business.
Clover POS
There are two Clover POS options for you to choose from: One is the Register Lite plan for $14 per month plus a 2.7% + $0.10 transaction fee per in-person charge, and the second is the Register plan, priced at $29 per month plus transaction fees of 2.3% + $0.10 per in-person charge.
This POS system can get pricey depending on the hardware you want for your Clover system. Even their mobile smart device attachment is $69 alone, priced high above Square's. The Clover Station, which is a full countertop setup, costs at least $1,300.
You'll get the basic POS features with all of Clover's plans, including payment processing, sales reports, and employee permissions.
Toast
A great alternative option for businesses that are looking for a restaurant-specific POS and want an option besides Square for Restaurants is Toast POS.
Toast allows you to split checks, add notes to orders, access reports at the end of each day, receive real-time inventory updates, and more. This system starts at $79 per month for the software and their hardware kits start at $450 per month.
This restaurant POS system will also allow you menu management capabilities so that you can adjust your menu, prices, and more whenever you need to.
Square vs. QuickBooks POS: Which Is Right for Your Business?
After reading through this Square vs. QuickBooks POS comparison, you might have an idea of which POS system is right for you. Keep in mind that each POS offers slightly different features at various price points, so finding the right one for your business means considering your budget as well as your business needs.
Square has the advantage when it comes to hardware, both in the price and looks. Their hardware is sleek and you can even get one of their magstripe readers for free. When comparing their hardware with that offered by QuickBooks, Square typically offers comparable items for less money. You might also end up paying less for Square in monthly fees as well because QuickBooks has a high monthly base cost before you even add in the per-transaction processing fees.
But, if you already use another QuickBooks product, the convenience of that product easily integrating with QuickBooks POS might be worth the extra money to you. After all, your time as a business owner is precious, and being able to automatically sync your different business management platforms could save you a lot of time. 
If you're still unsure, consider signing up for free trials of either product or walking through the services with their on-site demonstrations. Working directly in the platforms will help you determine which—if any—of these solutions is best for your business.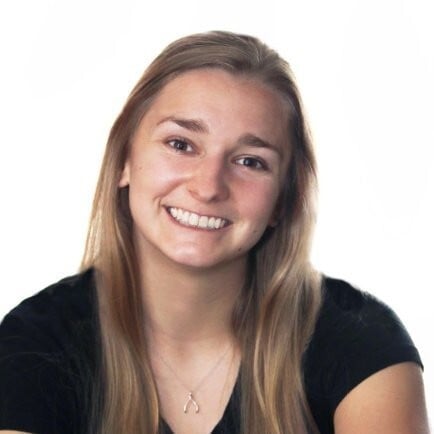 Nina Godlewski is a former staff writer at Fundera.
Nina worked to help make complicated business topics more accessible for small business owners. At Fundera, she focused on complex topics ranging from payroll management to launching a business. She was previously a staff writer at Newsweek covering technology, science, breaking news, and culture. She has also worked as a reporter for Business Insider and The Boston Globe.
Read Full Author Bio