Editorial Note: Fundera exists to help you make better business decisions. That's why we make sure our editorial integrity isn't influenced by our own business. The opinions, analyses, reviews, or recommendations in this article are those of our editorial team alone.
It can be overwhelming to try and make sense of all of the ecommerce platforms out there for a small business owner to choose from. Price, ease of use, payment gateways, transaction fees, and security are probably just a few of the things on your mind when considering the best way to build a beautiful, user-friendly website so you can start to sell online.
Whether you have a brick-and-mortar store you're looking to take online or are launching your first ecommerce business, one thing is for certain: You'll need an ecommerce platform so your customers can buy your products or services online. One option is Squarespace. Since they launched in 2003, millions of websites have been created using this platform.
So, is Squarespace the right choice for your small business? In this Squarespace review, we'll dive into what this ecommerce platform features, as well as pros and cons, pricing, and we'll also explore some of Squarespace's top alternatives. 
Squarespace: The Basics
You've likely heard of Squarespace as one of many resources to build a small business website, but it actually offers more than basic website-building functionality. Squarespace does indeed allow users to create their own website by using pre-made templates and to add or edit features via the drag-and-drop method. In addition to being a website builder, though, Squarespace also offers ecommerce capabilities, web hosting, analytics, domain purchasing, and has a host of marketing tools to help you grow and share your website and business. 
Squarespace Features
So, Squarespace is more than just a website builder, but what exactly can they do? Here are some Squarespace features to help you determine if they're the right fit for your small business.
Pre-Designed Templates
One thing Squarespace is especially well-known for is their ease of use. Building a website is simpler than ever with Squarespace's host of ready-made templates. You can even preview them before signing up to get an idea of which designs would serve your business best. 
You can customize your chosen template as much, or as little, as you like using their drag-and-drop tools, meaning you don't need a coding background to create a website you're proud of and that showcases your business in the best light. If you happen to have coding knowledge, though, you can also apply custom CSS to make any changes. Additionally, Squarespace's designs includes a unique mobile experience, customizable content layouts, the ability to add video backgrounds, and more.
Commerce
Squarespace allows you to sell unlimited products through your website, and also features product image zoom, quick view, embed, custom forms, and more for a user-friendly shopping experience. You can also accept payments from 20 different currencies if you're selling internationally. Squarespace uses Stripe as their payment gateway, so if you decide on Squarespace, you'll also be using Stripe, Apple Pay, or PayPal. It comes with 128-bit SSL encryption for security between your customers and your shop.
Customers are also able to make their own accounts on your site so that they can easily sign in and check out for a more seamless shopping experience. With some plans you can also have access to gift cards for your customers to give and use in your store. 
Marketing Tools
Squarespace has their own set of marketing tools that you'll have at your disposal if you create an ecommerce site with them. They offer email marketing campaigns to make it easy for you to share your products and any blog posts you might have, as well. They also have built-in search engine optimization tools to help you create and understand an SEO strategy for your business. 
Squarespace also offers social media tools for marketing. You can link your various social media accounts—like Facebook, Twitter, Instagram, and more—to your website so customers can connect with your business in multiple ways. You can also autopost between accounts once you've linked them. 
Analytics
Squarespace has an app designated to analytics, called the Analytics app, so you can check up on your page views, sales, audience stats, and more from anywhere. 
For even more robust analytics, you can also add your Google Analytics account. The Squarespace Analytics app shows you what devices people are using to access your site, abandoned cart information, traffic sources, content popularity, and more. You can also get analytics on your email campaign strategies and see what yields the highest engagement. There are also tracking tools for revenue, orders, how many items you've sold, what performs best and worst, and more about your shop. 
Inventory Management
With Squarespace's web platform as well as the app you'll be able to see your products and your inventory in real time. You can also search through your inventory by the titles, hashtags associated with them, or the SKUs. You can also edit the stock levels and add limited availability notices and low stock emails so you know when you're about to run out of an item.
You can also designate users who have store manager permissions, meaning if you aren't available to manage the store, you can designate an employee to control inventory and orders. 
Internal IT Department
Squarespace has a built-in IT department for your tech needs. You can get support 24/7 from them via email if something isn't working correctly or there's a problem with your store. They also provide a help center with guides, videos, and workshops. They also have a live chat support function, but this is only available during select hours.
Squarespace Pricing
If you don't need ecommerce capabilities and are simply looking to create a website for your business, that's also possible with Squarespace. Their least expensive plan, the Personal plan, costs $12 per month and provides you with a custom domain and unlimited bandwidth and storage, but does not give you the ability to sell on your site. Their other three plans, however, all give you the option to build an ecommerce site. Let's take a closer look at these three plans.
Squarespace Business
Touted as their most popular plan, Squarespace Business provides a number of features, including unlimited bandwidth and storage, a mobile-optimized website, advanced website metrics, free custom domain (with annual purchase), SSL security included, 24/7 customer support, unlimited contributors, professional email from Google, $100 Google Ads credit, promotional pop-ups, fully integrated ecommerce, the ability to sell unlimited products and accept donations, 3% transaction fees, mobile information bar, complete customization through CSS and JavaScript, premium blocks and integrations, and announcement bar.  
Squarespace Business costs $216 for a full year, which breaks down to $18/month, or you can pay $26 monthly. It's a more basic model than Squarespace's two commerce plans, but if you're not looking for the most robust capabilities, this could be a viable option for your small business.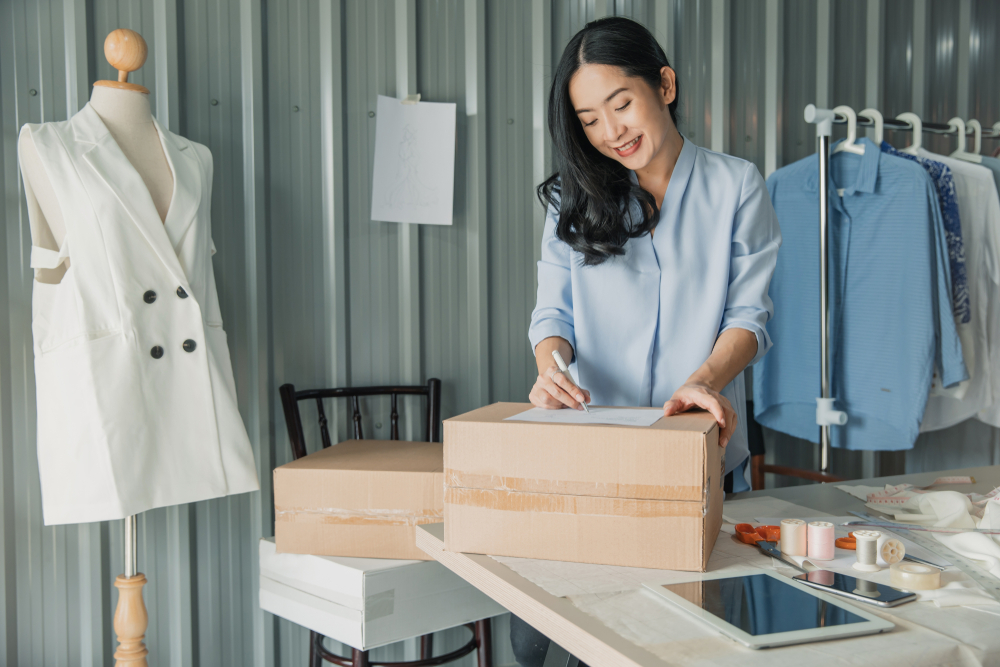 Squarespace Basic Commerce 
Of their two commerce-specific plans Squarespace Basic Commerce offers fewer features, as its name implies. The basic plan will cost you $30 a month, or $312 yearly (equal to $26/month). This plan comes with all of the features you get with the Business Plan in addition to: no transaction fees, customer accounts, powerful ecommerce analytics, checkout on your domain, the ability to sync products with Facebook's Product Catalog and tag in Instagram posts, label printing via ShipStation, and integrated accounting via Xero. 
Squarespace Advanced Commerce
If you upgrade to Squarespace's most robust and expensive plan you'll get even more features. Advanced Commerce will cost you $46 a month or $480 yearly (equal to $40/month). Along with the features of the Business and Basic Commerce plans you will also get: abandoned cart recovery, gift cards, the ability to sell subscriptions, advanced shipping and discounts, orders API, and limited availability labels.  
Squarespace Reviews 
Overall, Squarespace reviews are positive when it comes to the robust template offerings and the ease of use. The biggest complaint users have are with Squarespace's customer service. Squarespace has just one star out of five on Trustpilot where there are a total of 325 Squarespace reviews.
Many of the one-star Squarespace reviews mention the lack of positive customer service experiences, whether they were unable to get support over the phone, were sent in circles while trying to solve a technical problem, and failed to receive an email response in a timely manner. 
Squarespace users also said they had a hard time canceling their automatic renewals and some were even charged after trying to cancel. "After sending numerous emails and cancellations, we have been billed over and over. I sent numerous termination emails, as well as logged into my account and took off the recurring payments," wrote one reviewer. 
Users do highlight how easy to use and beautiful the templates are, though. "As easy as a breeze to work with," one user on Trustpilot wrote. Some also note that they've had nothing but good experiences with the customer service live chat feature. 
The Better Business Bureau profile for Squarespace showcases some of the company's downfalls. Customers on the site gave it a one out of five star rating, with the highest rating of them all only being two out of five stars. Again, the negative reviews highlight the lack of customer service offered by Squarespace. The company has been responding to complaints as they're filed on their BBB profile, and they've closed 26 complaints in the last year. 
"They automatically charged me and renewed my subscription even though I canceled months ahead of time. Customer support was horrible and refused to help me in any way. I ended up having to dispute the charge with my bank," wrote one reviewer. 
Another reviewer highlighted slow response times from customer service: "They might be handling so many customers on chat that every response takes three to five minutes—so each question in a discussion takes an average of 15 to 30 minutes."
Squarespace Pros and Cons
Based on Squarespace reviews and features, here are what we've determined are the biggest pros and cons of using Squarespace for your ecommerce website. 
Squarespace Pros
One of the most visible pros of using Squarespace is the beautiful and modern-looking templates. The marketing tools that come with the site are also a huge help that users highlight as unique to the platform. 
The price for Squarespace is also a huge pro, because you can get so much for your ecommerce store for anywhere between $216 to $418 a year, depending on which option you choose. You can also start a free trial if you want to check things out before paying for a plan with a potential year commitment. The trial lasts 14 days and you don't need a credit card to sign up, so there's no need to worry about the possibility of being automatically charged. 
Squarespace Cons
The negative Squarespace reviews around their poor customer service are impossible to ignore. If you don't expect to need customer support, or if you don't mind waiting for a response, then this might not be an issue for you. However, it's unlikely you'll never run into any issues, and the difficulty surrounding cancellations is also worth noting,
Additionally, Squarespace doesn't offer much flexibility in their payment gateway, as users only have the option to use Stripe. Again, if you already use or are willing to use Stripe, this may not be an issue, but for customers who are used to more options, this is something to keep in mind.
Squarespace Alternatives
If Squarespace doesn't quite sound like the right ecommerce platform for you, another option may serve your small business needs better. Here's a look at some Squarespace alternatives: 
Shopify
An immediate leg up Shopify has over Squarespace is that it was designed to be an ecommerce-specific platform and, as a result, has more features specific to ecommerce. Shopify offers more than 1,000 integrations for you to customize your website beyond the features and customizing tools it has built in. Shopify may also be a better option if you have a larger business or plan to scale quickly, as they're more equipped to handle all your ecommerce needs. Of course, if you have a smaller business, Squarespace may be the better choice. Because they offer so much, Shopify is also more expensive than Squarespace.
BigCommerce
If you're unhappy with Squarespace's exclusive partnership with Stripe as a payment gateway, BigCommerce may be a better option for your ecommerce website. They give you the chance to choose your own payment gateway, and they integrate with most major providers. They also won't charge you extra processing fees for using a third-party payment service provider. 
Furthermore, some of the features you immediately get with BigCommerce are only available with the more expensive plans from Shopify, like gift cards. It's also easy to use and intuitive but it will likely cost you a bit more than Squarespace would. 
Wix
If you're looking to create a website to showcase your specific business or industry in the best way, Wix may be the right option for you. While they include ecommerce functionality with their Stores vertical, they also provide specific features to showcase your blog, music, photography, video, events, or restaurant. So, if you haven't been able to highlight your products or services in the right way yet, Wix may be the solution.
Squarespace Review 2020: The Bottom Line
Whether or not Squarespace is the right fit for your business will have a lot to do with what you're looking for in an ecommerce website. Squarespace easily has some of the most visually appealing and beautiful page designs and templates for ecommerce businesses. 
But, keep in mind that Squarespace is known for being a website host; they only later added ecommerce support, so it's not necessarily what they do best. If you want some of the ecommerce features that are more standard with other ecommerce providers, like gift cards or abandoned cart recovery, you'll likely have to opt for a more expensive plan. Plus, depending on which plan you choose, you'll may also have to pay transaction fees. You'll also want to consider how important customer service is to you, since many Squarespace reviews call this feature out as a negative.
Luckily, Squarespace does offer a 14-day free trial, so if you're considering choosing this ecommerce platform to create your business's website, you can try it out commitment-free before deciding if it will be a longtime ecommerce solution.
Nina is a staff writer at Fundera where her goal is to help make complex business topics more accessible for small business owners. She was previously a staff writer at Newsweek covering technology, science, breaking news, and culture. She's also worked as a reporter for Business Insider and The Boston Globe. Nina has a degree in communication studies from Northeastern University. Email:
nina@fundera.com
.