Your business needs a small business checking account—there's no question about that. The question, instead, is which bank do you sign up with. If you're looking into TD Bank business checking accounts with the hope of finding a fit for your small business, then you might just have a match.
Institutional banks can certainly be baffling for small businesses. There are fees and ways to waive fees; free transactions, but not all of them are free; and even something as simple as depositing cash comes with a charge after a certain amount. But TD Bank's business checking accounts, made with small businesses in mind, have simplified a lot of these pain points.
The Canadian bank has grown from little more than a blip on the US radar into the 8th largest bank in the country throughout the past 10 years.[1] That's happened by sticking to its mantra of being "America's most convenient bank." Which is definitely a helpful feature in a small business bank account.
True, TD Bank currently only has locations on the US East Coast, with 1,300 branches stretching from Maine to Florida. But if your small business is HQ'd in that part of the country, then a TD Bank checking account could be the perfect place to set up your banking for your small business.
TD Bank is open every single day—even Sunday—and into the early evenings, too. The bank is also currently in the throes of substantially building out its small business offerings of TD Bank accounts including checking, savings, loans, and credit cards, too.[2] Better yet: It's built its success on catering to the average person, and small businesses that often fall under the radar of the biggest US banks.
Let's take a look at how the TD Bank small business checking accounts stack up, plus other alternatives, and what to choose.
Why You Can't Choose Any Old Small Business Checking Account
Why should something as "simple" as setting up a small business checking account be such a big deal? It's a totally reasonable question, especially if you're a one- or two-person company, or a sole proprietor business entity like so many American small businesses.
For one, it's just plain good business sense to separate your personal checking account from your business one. You'll make accounting season easier, but also if you're an LLC, S-corp, or C-corp, you'll need the distinction to make sure your personal finances are protected in case of a lawsuit.
Next, you need to make sure you choose the right business checking account for the size and type of business you're running. Otherwise, you could end up spending extra for things you don't need—like deposits, transfers, or transactions—or not getting the best deal for the things you do need.
To know if TD Bank's business checking accounts, or any bank's business checking account suite for that matter, are the right pick, as yourself these Qs about your own shop:
8 Important Questions to Ask Before Shopping for a Business Checking Account 
How many times will be you depositing and withdrawing from your business checking account? One or twice a month, or many times? If you don't know, guess.
How big or small will your business checking balance will be every month? Will it be consistent, or fluctuate a lot? If you don't know, assume the number will probably be small, to err on the safe side away from fees.
What about your average business checking and personal checking balances combined? Some banks will consider both each month to determine whether to waive certain fees.
Are you running a business that deals with a lot of cash? Or can you easily do most of your transactions digitally?
Will be making a lot of electronic transactions every month, or just a few?
Will those electronic transactions involve a wire transfer of money from one bank to your bank? Will those happen both domestically and internationally, and how often would those wire transfers take place each month? Most banks charge an arm and a leg for wire transfers, but if you do expect to do a lot of these, there are some out there that will waive the costs of certain kinds.
How far along in your business are you? Are you at a stage where your startup is really taking off and you'll need cash management, payroll, and other services?
Do you just need a business checking account? Or do you think you'll also need to shop around for a small business loan, business line of credit, or business credit card in the future?
Once you have a reasonable idea of what your banking needs will be, you're ready to move onto to the next part of the process: comparing one business checking account against the other.
11 Business Bank Account Features You Might Want to Compare Among Accounts 
Many business checking accounts, including the TD Bank business accounts, share similar features. As you go comparison shopping, keep some (or all) of these features in mind. Not all will be applicable to every business owner—or every account, for that matter. But they're a good frame of reference!
Monthly fee
Balance you might need to maintain in the account each month to waive that fee
Any other optional actions (minimum number of transactions, etc.) to waive that fee
Number of free transactions each account offers each month (transactions being any deposit or withdrawal, written check, wire transfer you make)
How much cash you can deposit before incurring a cost, and how much that cost is per amount of cash deposited thereafter
How many locations and ATMs a bank has, especially if you think you'll be using those a lot during the month, and your business requires you to be on the road a lot
What a bank charges in out-of-network ATM fees, aka ATMs that aren't the bank's own if you can't find a branch while you're traveling
What the bank charges for wire transfers and cashier's checks
If the bank charges for electronic transactions
If there's an overdraft charge, and what it is or if they offer overdraft protection, and what the details are
If you think you'll need payroll, cash management and other services, does the bank throw those into a small business checking account package for free, or do you have to pay extra?
Lots of banks have at least three and sometimes four different small business checking accounts to chose from, as well as a number of specialized accounts for different situations and industries.
TD Bank Business Checking Accounts: What Their Accounts Offer
One of the great things about TD Bank—and this goes back to its core value of catering to the average person, plus both the smallest of businesses as well as the larger ones—is that it's pretty upfront on everything it does and does not do. Not every big bank is super transparent.
There's no need to go hunting for small print and reread legal jargon a hundred times to understand what you're getting into—so, you'll know what you're paying for and what you're not. That's really good. (We'll get to those details in a moment.) All accounts include TD Bank's BusinessDirect online banking, which is a suite of benefits and support including:
Free mobile banking with Mobile Deposit (allows you to make single-item deposits account electronically via an app that scans in images of paper checks)
A TD Bank Visa Debit Card
Live customer service, 24/7
Longer opening hours of each branch than any other bank
Banking on the weekends
Payment options with BusinessDirect ACH (each ACH batch per statement costs $10.00)
Free bill pay
Free e-statements with check image
Business Overdraft Protection options (for a fee)
One notable difference with TD Bank vs. other big banks like Chase, Wells Fargo, or Bank of America, though, is that TD Bank doesn't have thousands of ATMs. ATMs are free—which is big—but they're all located in their branches along the East Coast.
So, if you travel a lot and need access to your business checking account via ATMs anywhere else in the country, you're going to be charged $3.00 for each use. That said, if you're in any city along the US East Coast, it's hard not to run into a TD Bank branch.
Now, onto the accounts. TD Bank has three different kinds of small business checking accounts: TD Business Simple Checking, Convenient Checking Plus, and Premier Checking. It also has three specialized accounts: TD Business Interest Checking Plus, Interest on Lawyers Trust Account, and Interest on Realtor Account Trust. We'll look at the first three for small businesses, and show you a contrast with Chase's accounts for a frame of reference, too.
TD Business Simple Checking Account
The TD Business Simple Checking account is one of the best deals on the market if you're just starting out, are a home-based one-person freelancer LLC, or if you're not yet sure just how much revenue you're going to generate each month.
$10 monthly fee
No minimum balance
200 free transactions, $0.75 each thereafter
Up to $5,000 of cash deposits free per month, $0.20 per $100 thereafter
The list of fees are spelled out in this TD Business Simple Checking Account guide. But before you gasp, remember that most banks charge similar amounts for these things, although they might express it in different ways.
Take TD's $2.00 charge for a monthly paper statement. Chase doesn't say it charges for the paper statement, but instead says it will charge you a $12.00 monthly fee (compared with TD's $10.00) rather than a $15.00 one, if you go paperless. So, in other words, you're being charged $3.00 extra for a paper statement versus TD's $2.00.
Here's how it stacks up against Chase's equivalent basic business checking account:
Chase Business Complete Checking Account (Formerly Chase Total Business Checking)
Low monthly fee waived if you keep a minimum daily balance of $2,000 (plus other ways to waive)
Unlimited free electronic deposits including ACH transactions, internal transfers, and Chase QuickDeposit transactions
Up to 20 deposits and withdrawals made with a teller and paper checks written on the account per month, $0.40 each thereafter
Up to $5,000 cash deposits free each month
TD Bank Business Convenience Checking Plus
The next step up in the suite of TD business checking accounts is Business Convenience Checking Plus. This is good for a small business that's up and running and doing some volume, too. You can check out its full list of costs and fees. Here are the account details:
$25 monthly fee
Fee can be waived if you keep a $1,500 balance, which you can bundle with your personal checking to reach the level and get the waiver
500 free transactions, and $0.50 each thereafter
$10,00 free cash deposits, and$0.20 for $100 thereafter
Chase's second-tier account is a big step up from its basic offering, which you'll see from the size of the minimum balance. If this one seems like a fit for your business, it's a good pick. For an alternative at this level, look at the second-tier Wells Fargo small business checking account.
Wells Fargo Business Choice Checking Account
This is a great option for small businesses that are now experiencing a steady flow of incoming and outgoing transactions, and are earning enough revenue to handle a bigger minimum balance than what someone would need for TD Bank's Convenience Checking account.
$14 monthly fee
Fee waived if you have a $7,500 minimum balance
Wells Fargo also offers a host of other ways to waive this fee.
200 free transactions and then $0.50 thereafter
Up to $7,500 free cash deposits and$0.30 per $100 thereafter
The TD Business Premier Checking Account
TD Bank's largest small business checking account, before going into specialized accounts, is the Business Premier Checking account. One of the best parts of this account is that you get free out-of-network ATMs—huge for those businesses based on the East Coast, but that have a need to travel.
$30 monthly fee
$40,000 balance, which can be reached by combining a personal checking account, or through a host of other measures that involve cross-selling of other TD Bank business offerings like TD Merchant Solutions, TD Digital Express, or if you take out a TD small business loan
500 free transactions; $0.35 each thereafter
$30,000 of free cash deposits, $0.20 per $100 thereafter
This looks a bit more like Chase's second-tier business option. If you can make the minimum combined with your business savings account, it could definitely be worth the extras.
Chase Performance Business Checking Account 
$30 monthly fee
Fee waived if you keep a minimum combined balance of $35,000 (combined with a linked Chase Business Premier Savings account)
250 free transactions
Unlimited electronic deposits
Up to $20,000 free cash deposits
All incoming wire transactions and two outgoing domestic wires are allowed per month at no charge
Interest option available
Is a TD Bank Business Checking Account Right for You?
It depends! TD Bank has a lot of good checking account options, especially for one to two-person micro-business or freelancers based on the East Coast. Their mid-sized option is especially good.
As with any small business bank account, you'll want to do some comparison shopping, and also consider which financial institution you're interested in building a long-term relationship with. Down the line, it could help you with small business financing if you're in need of a loan!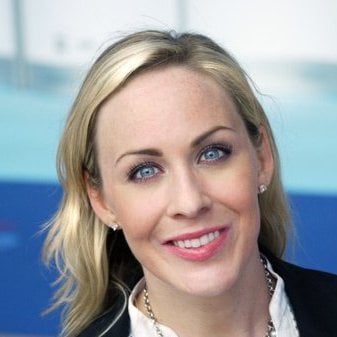 Founding Editor and VP
at
Fundera
Meredith Wood is the founding editor of the Fundera Ledger and a vice president at Fundera. 
Meredith launched the Fundera Ledger in 2014. She has specialized in financial advice for small business owners for almost a decade. Meredith is frequently sought out for her expertise in small business lending and financial management.
Read Full Author Bio