Whether you're a hobbyist, freelancer, aspiring entrepreneur, or the owner of a fully fledged small business, creating a business website is a crucial step in launching your venture. If you're looking for the right home for your website—whether an online portfolio or ecommerce business—Weebly is a good place to start. Ahead, we'll show you exactly what to expect from Weebly pricing, and what all four of their plans have to offer.
Since their start in 2007, Weebly has become a leader in the website-building industry, and they currently support 50 million sites around the world. Weebly continues to stand out from the competition in two, major ways: Their plans enable you to sell products online, and they offer a totally free plan.
In this Weebly pricing guide, we'll cover all four Weebly plans, how much they cost, and how to decide which Weebly plan works best for your goals.
How Much Does Weebly Cost?
Before we get into the details of what each Weebly plan entails, we'll provide a brief overview of all four pricing plans.
Keep in mind, Weebly first lists their prices according to an annual billing schedule, since that saves you money over time. If you're not ready to commit to an annual billing schedule, you do have the option of paying month-to-month for a slightly larger monthly fee.
Here's what each plan costs when paid both annually and monthly:
Weebly Pricing: An Overview
| Plan | Pricing | Features | Best For |
| --- | --- | --- | --- |
| Free | Free | SSL security; advanced site stats; site search; shopping cart; sell digital or physical items and services; inventory management; automatic tax calculator; coupons; Square gift cards; SEO; email, chat, and phone support | Businesses looking to test-drive Weebly before committing to a paid plan or personal-only websites, such as an online resume or portfolio |
| Personal | $6/month billed annually or $9/month billed monthly | Same features as the free plan, with the option to connect or purchase a custom domain | Those just starting out who have basic needs but want to connect a custom domain |
| Professional | $12/month billed annually or $16/month billed monthly | Free domain for first year, unlimited storage, remove Square ads, password protection, shipping calculator | Freelancers, new entrepreneurs, and very small business owners hoping to build a branded website |
| Performance | $26/month billed annually or $29/month billed monthly | Accept payments through PayPal, add item reviews, abandoned cart emails, print shipping labels, shipping discounts, advanced ecommerce insights, priority support | Growing businesses and businesses seeking a fully functional online store |
Weebly Plans
Now, let's get more granular about the features available on each Weebly plan. Obviously, the more expensive the plan, the more features you get.
But here's a cool thing: All four plans are equipped with ecommerce capabilities powered by Square, their parent company—even the free plan. (But of course, the more expensive the plan gets, the more advanced the ecommerce features.) You can choose Stripe, PayPal, or Square as your payment gateway, all of which integrate directly into your website.
An important point of differentiation among these four Weebly plans is that the two cheapest plans (Free and Personal) display advertisements on your website. There's nothing inherently wrong with that, but it definitely looks less streamlined and professional than a website without ads. It's really a question of personal preference, as well as your goals for your website (and your business).
With that in mind, here's a closer look at each Weebly plan.
Free
Many people wonder, "Is Weebly free?" And the answer is: Yes, if your business website needs are minimal. Weebly's Free plan is suitable for newbies, dabblers, experimenters, and the generally commitment-phobic (when it comes to making a website, at least). With this plan, you get a basic business website, basic online selling tools, and basic marketing tools. Of course, your website will look beautiful and be easy to build, thanks to Weebly's professionally designed website templates and drag-and-drop website-building interface.
Here's a full list of features with the Free plan.
Site Features
Free SSL security
Advanced site analytics
Site search
The option to add an embed code to link your Instagram feed
Ecommerce Features
Shopping cart
Items, item badges, item options, and quick shop
Inventory management
In-store pickup
Automatic tax calculator
Coupons
Square gift cards
Marketing Features
SEO tools
Lead capture
Linked Instagram feed
Support
Chat, email, and phone support
Community forum
It's important to note that the Free plan doesn't allow you to connect with your own domain name, even if you already bought it through another registrar. Instead, your website's domain name will include ".weebly.com." As with the advertisements caveat, this isn't necessarily a bad thing, but it does sacrifice a little bit of professionalism—so this is a better choice for purely personal websites, as opposed to business websites.
Personal
We'll keep this short: For $6 per month paid annually (or $9 per month paid monthly), Weebly'sPersonal plan gets you all the same features as the Free plan. In this case, however, you can connect to your own, custom domain name. So if you've already bought a domain name that you'd like to transfer, you want the option to buy one (and use it), or if you're planning on growing your business, then you should definitely consider this plan over the Free plan.
However, this plan displays ads on your website as well, so it's still not the most professional plan you can get with Weebly.
Professional
Speaking of professional, here's where Weebly's really business-friendly plans come into play. At $12 per month billed annually (or $16 billed monthly), this plan is the best choice for freelancers, new entrepreneurs, and very small business owners hoping to build a branded website.
With Weebly's Professional plan, you get everything included in the Personal plan, plus the following:
Site Features
Unlimited storage
Password protection
All the marketing and support features are the same on this plan as they are on the Personal plan.
Importantly, this plan gets you a custom domain name free for one year, if you choose to pay annually. After that year is up, you'll have to pay the standard rate for the use of your domain name. More on domain pricing later.
This plan also removes ads from your website, which makes your website look much cleaner (and, yes, more professional).
Performance
At $26 per month paid annually (or $29 per month paid monthly), Performance is the most advanced of the Weebly plans. This plan offers all the features included in the Professional plan—including a custom domain (free for one year) and an ad-free website—plus:
Ecommerce Features
Item reviews
Shipping labels
Shipping discount
Abandoned cart emails
Marketing Features
Advanced ecommerce insights
Perhaps the most substantive difference here is the advanced ecommerce tools. So this is the best choice not only for growing businesses, but also for businesses seeking a fully functional online store.
Which Weebly Plan Should You Choose?
Other than pricing, the differences among Weebly's four subscription plans mostly come down to domain names, advertisements (or lack thereof), and ecommerce tools.
To recap, the Free plan doesn't allow you to use a custom domain name, so your website will include ".weebly.com." For $6 more per month, you can opt for the Personal plan and use your own domain name. Both plans include advertisements on your website, however.
If you already have a domain name, you can transfer it to your Weebly website. Otherwise, you can buy a domain name directly through Weebly. Remember that the Professional and Performance plans allow you the use of your custom domain name for free for one year. After that, you'll need to pay the standard domain name rate.
Domain prices start at the following rates, according to the number of years you're committing to:
1 year: $19.95 per year
2 years: $16.95 per year
5 years: $14.96 per year
10 years: $12.57 per year
Also keep in mind that the Performance plan offers slightly more advanced ecommerce capabilities, so that's a better choice if you want the most possible online selling tools available on a Weebly subscription.
To make it really simple: The Free plan is best for a personal-only website, such as an online resume or portfolio. Personal is better for more serious, but still new or small, freelancers and entrepreneurs who want to put forth a more professional image. Go for Professional if you want a starter website for a serious venture, and Performance if your business is quickly growing and online selling is a priority for you.
With all that in mind, know that Weebly is hardly the only business website builder out there. If you want to thoroughly evaluate your options, see how Weebly compares to other industry-leading website platforms like Squarespace, Wix, WordPress, or Shopify if you're running an ecommerce business.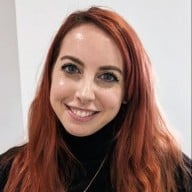 Contributing Writer
at
Fundera
Caroline Goldstein is a contributing writer for Fundera.
Caroline is a freelance writer and editor, specializing in small business and finance. She has covered topics such as lending, credit cards, marketing, and starting a business for Fundera. Her work has appeared in JPMorgan Chase, Prevention, Refinery29, Bustle, Men's Health, and more.
Read Full Author Bio