What's a Good System for Small Business Payroll?
Gather round folks, I have a scary story to tell.
No, it's not about Pennywise:
Source: pandag0d.tumblr.com
It's about…
SMALL BUSINESS PAYROLL.
Shhhh, it's okay, there's a happy ending. I promise.
Last year, at Kildal Services, we provided our QuickReview™ and Clean up Services to a new client so that he could get his 2013 tax return completed. We encouraged him to hire us to do his bookkeeping, so that he would have up to date numbers to submit his estimated taxes. Not to mention, it would eliminate the stress of scrambling at year end to get everything ready and come up with one giant payment.
But we also wanted to get him on board with monthly services because we knew he was growing – not just from what he told us, but from looking at the numbers. He'd hired a very small crew and was paying them as 1099 contractors. We told him, moving forward, that wasn't going to work. He would need to put them on payroll, and more than double his staff in the coming months.
Nope. He said he had it. He couldn't afford the monthly fees that we would charge to do after-the-fact books and to manage his payroll.
I know, I know… I see you shivering. I'm sure you can see what's coming…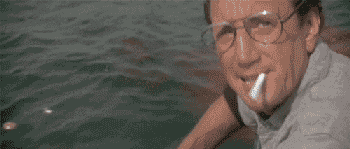 Source: giphy.com
That looks about right.
Cut to the beginning of 2015 and we get an email from his CPA, asking us if we can clean up his books so that the 2014 tax return can be prepared. Apparently, he had hired his ex-girlfriend to do all of this, and pays her $10/hour. She sets up payroll and learns all of this from watching YouTube videos. But, she didn't register for Michigan taxes, and never paid one bit of payroll tax liability. Nothing. Nada. Zip. Zilch.
Now we have to let the client know that A – he owes 8 months of past due tax liabilities and B – there will be substantial penalties and interest on these liabilities.
I'm sure you can guess his reaction?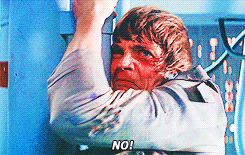 Source: giphy.com
In the end, after paying the ex-girlfriend, all of those penalties and interest, plus our fees to clean it all up (again) and set up the payroll properly, the client ended up paying almost twice as much as he would have if he'd just hired us in the first place.
Terrifying, isn't it?
Yes, I realize this article is about the best payroll options for a small business. I'm getting to that part.
I told that Very Scary Story because I'm a firm believer in this:
As a business owner, no matter what small business payroll solution you choose – you need to hire an accounting professional that has payroll experience to help you find a solution and guide you in the setup.
I'd make a needlepoint of it, but it's sort of long. Also? I don't know how to do needlepoint. (But I bet there's a YouTube video that will show me. HA! See what I did there?)
What are some options for processing small business payroll online?
Because I'm completely biased, and have built my career around Intuit products, I'm first going to recommend either Intuit Online Payroll (for Accountants) or Intuit Full Service Payroll.
As an accounting professional, I use Intuit Payroll for Accountants with my clients. The pricing drops per client as you add more clients, I can white label it to collaborate with clients, and it integrates with about 10 different accounting packages. As a small business owner, Intuit Full Service Payroll is a fantastic option because they have support agents that do the setup for you.
Second on my list is ZenPayroll. I really like ZenPayroll because it has a couple of features that are pretty great for a business owner – automatic new hire reporting, self service onboarding for employees, and it integrates with two of my favorite programs (along with others): QuickBooks Online and TSheets Time Tracking.
I tried to find a third option, but I really didn't find another one that I love enough to recommend. ADP has an accountant dashboard, and Paychex has SurePayroll, but I'm not familiar with either of them – but I'm sure both are worth checking out.
So many small businesses see payroll as intimidating and scary – and it can be, I'm not discounting that at all. Just as Frodo encountered in the Old Forest, there are many details about payroll compliance that can trip up a small business. Finding your own Tom Bombadil to help you navigate the options and keep you on the right path is the most important part of finding a small business payroll solution.

Stacy Kildal is owner/operator of Kildal Services LLC—an accounting and technology consulting company that specializes in all things QuickBooks. In 2012 & 2013, Stacy was named one of CPA Practice Advisor's Most Powerful Women In Accounting. Stacy is one of the three hosts for the QB Show and has also been featured frequently on Intuit's Accountant Blog, Community "Ask the Expert" forums, at various Intuit Academy To Go podcasts, as well as hosting a number of Intuit Small Business Online Town Hall sessions. She is a big fan of working mobile and has been recognized by Intuit as being an expert on QuickBooks Online, having written Intuit's original courses for the US, Singapore and Canadian versions.

Latest posts by Stacy Kildal (see all)