If you're looking for an e-commerce platform to launch a small business website, Wix, Squarespace, and WordPress are names that rise to the top of any search. Each is a multipurpose platform that supports various online pursuits, from blogging, ecommerce sales, and online bookings, to event tickets, music and photography sales, and more.
Where these top website platforms differ is in their ease of use, control over design, overall functionality, and expandability. We'll dive into the specifics below, but let's start with the highlights of each.
Wix vs. Squarespace vs. WordPress: At-a-Glance
| | Wix | Squarespace | WordPress |
| --- | --- | --- | --- |
| Best for | Beginners and basic online sales needs | Image-driven brands, influencers, and online sellers | Growth-oriented online brands, bloggers, and ecommerce businesses |
| Basic pricing | Free to $39/month | $16 to $26/month | From $3.95/month |
| Ecommerce pricing | $23 to $49/month | $30 to $46/month | From $6.95/month |
| Ease of use | Easiest option | Easy to moderate | Moderate to difficult |
| Design options | 500+ free customizable templates | 40+ free customizable templates | 1000s free and paid themes |
| Blogging features | Basic | Moderate | Unlimited |
| Sales functionality | Products and services | Products, services, and memberships | Unlimited |
| Customer service | Help center, email, and phone | Help center, email, and live chat | Online tutorials and forums |
Start Your Squarespace Free Trial
WordPress: The Basics
WordPress powers over half of the world's websites and its popularity is driven by its virtually unlimited functionality and low cost. However, new users typically find that WordPress's impressive power comes with a steep learning curve compared to platforms like Wix and Squarespace. You'll definitely spend some time learning the WordPress platform—but it's worth the effort if you want a site with unlimited capabilities.
WordPress isn't an all-in-one solution like Wix and Squarespace. It's a free, standalone platform that works on your choice of hosting service, like Bluehost, GoDaddy, WPEngine, or any number of WordPress hosting options on the market. For example, Bluehost's basic WordPress hosting packages start at about $3.95 per month, and ecommerce hosting starts $6.95 per month due to added security features.
WordPress is also infinitely expandable via plugins that add all types of functionality, and free ecommerce themes that deliver endless design possibilities. Pairing WordPress with various plugins and design themes lets you create anything imaginable on the internet. Influencer blogs, ecommerce stores, promotional websites, affiliate marketing websites, video lesson portals, membership sites, and more can all be powered by WordPress.
WordPress: Pricing
WordPress itself is a free platform and for small, basic websites, it can be nearly free to operate. However, as your website traffic and functionality needs expand, your costs can grow. Below are the basic costs you'll encounter when setting up a WordPress website.
WordPress Website Hosting Costs
Hosting a WordPress website can cost just $3.95 or $6.95 per month for basic websites or ecommerce stores. However, if you receive a lot of traffic or have a large site that demands added storage or bandwidth, your monthly hosting costs can quickly increase. Well-trafficked small business WordPress websites tend to average between $20 to $50 in monthly hosting, due to added security, backup, and storage or bandwidth needs.
Most WordPress hosting providers offer various plan levels and features like security, marketing perks, and storage increase as you move up the levels. Image source: Bluehost.
Website Domain Name Costs
Like Wix and Squarespace, most WordPress hosting plans include a year of domain name registration for free. After the first year, your domain renews at the hosting service's annual fee. Most WordPress hosting options offer discounted multi-year domain registration to reduce your cost and to reserve your website address for several years at a time.
WordPress Theme and Plugin Costs
As we've mentioned before, unlike Wix and Squarespace, WordPress isn't an all-in-one solution that lets you increase functionality by simply upgrading your plan. WordPress is just a basic framework. You make your website come to life by adding a design theme and, in most cases, functionality plugins.
There are thousands of themes and plugins to explore. Some are free, but most offer a free basic version plus a paid version that expands functionality, design features, and so on. Selecting the right theme and plugins all depend on your specific needs. For example, if you're publishing a simple blog, a free WordPress blog theme and add a few free plugins, like Yoast for SEO and MailChimp for email marketing, might be all you ever need.
Ecommerce sellers often use the popular free WooCommerce ecommerce plugin on WordPress with an ecommerce theme, but plugins for online lessons, subscription sales, online bookings, event ticket sales, and other specialty sales generally aren't free. In short, what WordPress costs you really depends on your specific plugin functionality and theme design needs.
WordPress: Ease of Use and Design Options
After reading the above, you're probably thinking that assembling a WordPress website takes some doing—and you'd be right. That's why WordPress gets a "moderate-to-difficult" rating for ease of use. However, its design options are virtually limitless thanks to thousands of themes available, so it gets an A-plus on that.
You can choose from thousands of free and paid WordPress themes to bring any type of website, blog, or ecommerce store to life. Image source: Themeforest.
Your initial setup steps are simple if you go with a major WordPress hosting provider. Bluehost and other top services come with WordPress pre-installed. From there, you just need to install your theme and plugins, then set up your website. This is where the work begins.
Selecting a design theme and functionality plugins can be time-consuming and a bit overwhelming for those new to WordPress. However, at the same time, it's fun to see the many possibilities open to your website, brand, or business.
The best way to get started down the WordPress path is to visit YouTube and search for "WordPress starter tutorials," there are plenty to choose from. These offer a quick education on installing and setting up WordPress themes and selecting the right plugins for your specific needs. You'll find that much of this is trial-and-error and even seasoned WordPress users are constantly trying out new theme and plugin solutions.
You'll also need to periodically update your themes and plugins. This is generally just a quick click in your WordPress dashboard, but it's a task you won't have with a Wix or Squarespace website.
WordPress: Features and Functionality
Vast, unlimited, and endless are three very appropriate terms that describe WordPress's functional capabilities. Essentially, if you can dream up a need, there's probably a WordPress plugin that fills it.
Consider these popular plugins to kick-start your WordPress website build:
WooCommerce: Free ecommerce plugin for WordPress for physical, digital, and service sales
Yoast: Free SEO tools for any type of WordPress website
Sucuri: WordPress security, many hosting platforms include this or a similar plugin for free
Jetpack: Multi-feature tool that offers marketing, social icons, security, backups and more
MailChimp: Free basic email marketing; paid version adds more features
Memberpress: Adds membership and subscription features to WordPress
LearnDash: Adds online learning and lesson sales to WordPress
WooZone: Turns a WordPress website into an Amazon affiliate store
AffiliateWP: Affiliate marketing content creation tool for affiliate bloggers
These are just a few of the thousands of plugins that can take your WordPress website in any direction. You can explore the full universe of WordPress plugins on ThemeForest and WordPress.org.
Many WordPress themes come pre-loaded with needed plugins to help simplify your WordPress website build. You can find theme/plugin packages for ecommerce, real estate, restaurants, blogs, affiliate marketing, online lessons, and membership websites, to name just a few.
Most of these are "Premium" themes and they generally cost from $20 to $150—though most average around $49.[7] These premium theme/plugin pairings are generally worth every cent since they save you a ton of time searching and testing various plugins.
Wix vs. Squarespace vs. WordPress: The Bottom Line
Wix, Squarespace, and WordPress are all leading website builders with features and benefits that cater to different types of users. Wix and Squarespace are simple-to-use platforms that bundle hosting, design, and functionality into an all-in-one package. Wix is the simplest startup solution, while Squarespace offers more control over content, blogging, and design.
WordPress, in contrast, is infinitely customizable and gives users complete control over hosting, design, content elements, and website functionality. However, WordPress's versatility comes with a far bigger learning curve compared to Wix and Squarespace.
Remember, it doesn't cost a dime to set up a free Wix website, or free trials with Squarespace and some of WordPress' hosting services. Diving in is really the only way to know what each platform offers on both the front and back end. After test driving each, you're sure to find the clear winner in the Wix vs. Squarespace vs. WordPress showdown for your unique needs.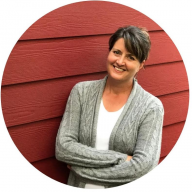 Contributing Writer
at
Fundera
Krista Fabregas is a contributing writer for Fundera.
Krista is an ecommerce pro sharing more than 20 years of hands-on experience with those looking to grow online businesses. Her expertise covers every facet of ecommerce as well as online lead generation, affiliate income, and content marketing. 
Krista has held senior positions at NASA, a Fortune 100 company, and several startups. She has been featured in Forbes, NBC, Newsweek, U.S. News & World Report, and other top publications.
Read Full Author Bio