The free WooCommerce POS plugin turns any WooCommerce ecommerce store into a point of sale register so you can easily combine in-store and online sales within one streamlined system. WooCommerce POS isn't the only POS solution for WooCommerce sellers, but this feature-packed plugin is very easy to set up and use—plus, it offers a completely free version.
Of course, WooCommerce sellers looking to expand into a retail space will find this plugin very useful, but that's not all. Online merchants who want to sell in pop-up shops, at weekend fairs and markets, or via open warehouse days can all benefit from this simple, fully integrated WooCommerce POS solution.
Our WooCommerce POS guide covers how to quickly set up this handy plugin. Below the tutorial, we'll also explore some other top-rated POS options that you can pair with WooCommerce.
How to Install and Set up WooCommerce POS
WooCommerce POS can be installed into any WordPress website that's running an online store using the WooCommerce ecommerce plugin. If you haven't set up your WooCommerce ecommerce website on WordPress yet, visit our WooCommerce setup guide first. Once your WooCommerce online store is up and running, you can add the WooCommerce POS plugin.
1. Install and Activate the WooCommerce POS Plugin
You'll install the WooCommerce POS plugin just as you would any WordPress plugin. Simply click "Plugins" and "Add New" in your WordPress dashboard. Once in the plugin search screen, enter "WooCommerce POS" into the search box. When the WooCommerce POS plugin pops up, click "Install."
Once installed, you can immediately activate the WooCommerce POS plugin from the above screen by clicking "Activate."
Upon activation, WooCommerce POS takes care of connecting to your existing WooCommerce product database, customers, and orders for you. You don't need to create any of these integrations yourself, it's all built-in and automatic. You just need to define a few settings and workflow controls and you'll be ready to start running sales through WooCommerce POS.
2. Define Settings
To begin setting up your WooCommerce POS plugin, click on "POS" in the left-hand menu of your WordPress dashboard. Next click "Settings" to open your POS Settings screen, as shown below. Here, you'll see that the POS settings are all housed under six easy-to-navigate tabs.
The first "General" tab has four settings controls. "Product Visibility" controls whether all or just selected WooCommerce items are available for POS-powered sales. If all of your items can be sold both in-person and online, leave this unchecked.
However, if you need to define POS-only and online-only items in your collection, you can set POS availability in your WooCommerce product edit screen. WooCommerce POS adds the following selector tool to all of your product edit pages.
Select the appropriate setting for each item, then return to the POS "General" settings tab and click "Enable" to show only POS-enabled products in your POS sales screen.
The other three general settings are self-explanatory. You can select the number of decimal places the POS system uses (two is most common) and define a default customer (guest is most common). You can also create preset discount amounts which will appear in the checkout screens create sales.
3. Set up Checkout Preferences
The "Checkout" tab is where you set up checkout details like order status, payments, and emails and receipts. Again, these are very self-explanatory.
Under "Completed Order Status," most sellers will use "Completed" if the sale is finalized at checkout; however, you can select other options. For example, "On Hold" can be handy if you take orders, say for custom goods, but don't complete them until item pickup or delivery.
You can automatically send emails and print receipts by checking the appropriate boxes next to "Order Emails" and "Receipt Printing."
And finally, you can select your POS payment gateways, including those you already use with WooCommerce.
The free version of WooCommerce POS supports cash, card, and PayPal for integrated POS payments. However, the "card" option can be a little misleading. In the free version, you can only accept credit cards via PayPal, though support for EFTPOS credit card terminals is in the works.[1]
To use WooCommerce POS with popular online payment processors like Square, Stripe, and other payment gateways, you need the paid Pro WooCommerce POS version, which is $129 per year. If you're just starting out, PayPal will give you a secure and reliable credit card payment option for WooCommerce POS with no added costs.
4. Define Quick-Click HotKeys
Under the "HotKeys" tab, WooCommerce POS lets you define four HotKeys on your keyboard to help speed up your checkout process. For example, if you use a barcode scanner, you can set up "B" as a HotKey, so when your POS screen is up and "B" is pressed, your barcode scanner is activated to scan in an item. These are not required, but they do come in handy when you're busy.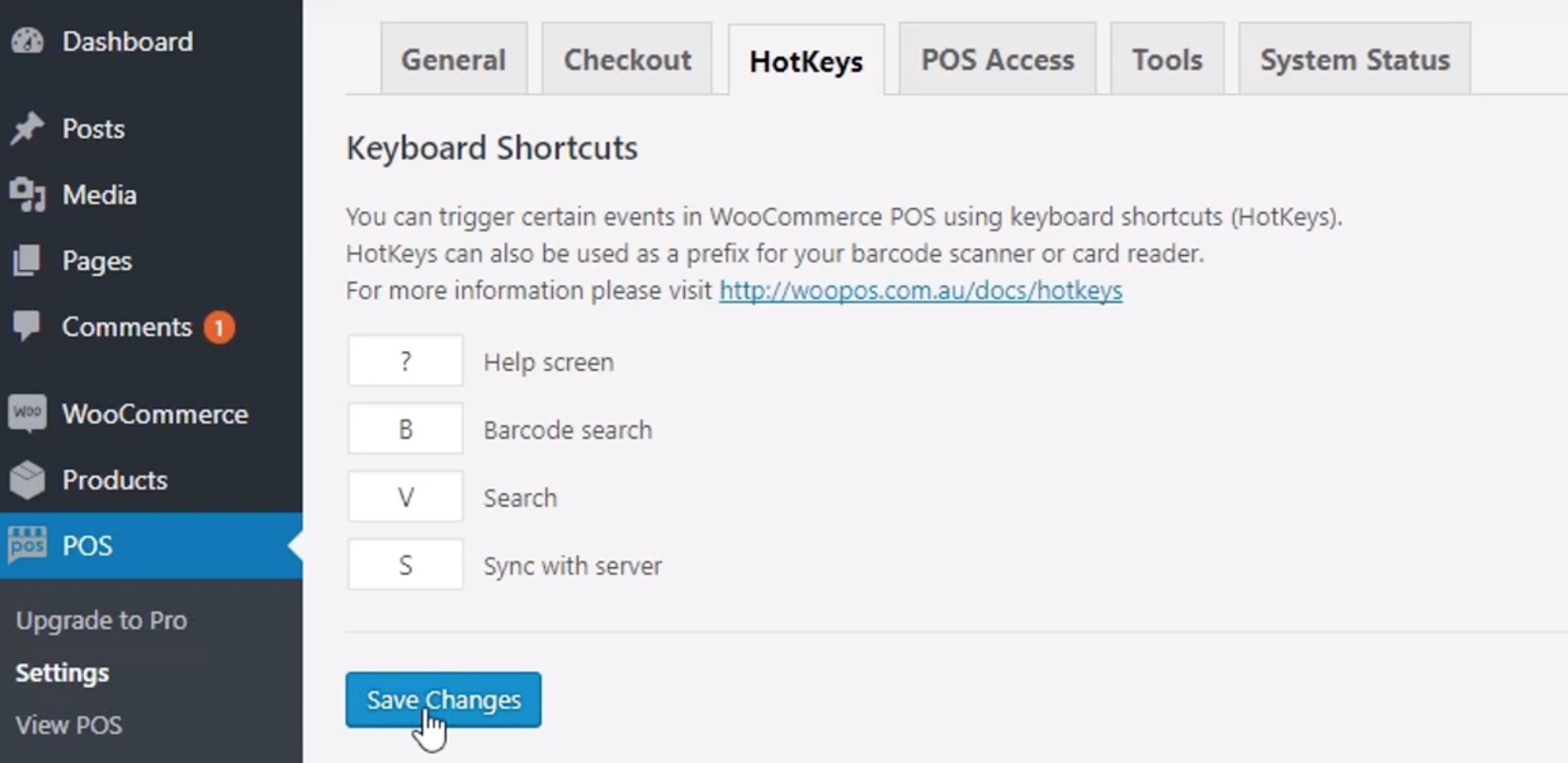 5. Create User Access Rules for Your POS Sales Screen
Since WooCommerce POS integrates with both WooCommerce and WordPress, it supports access by all types of defined users, from website admins through contributors and customers.
Your store POS checkout screens should only be accessible by key sales staff, like your admin and shop manager, and maybe a few clerks. You control all access to your POS features in your "POS Access" screen, below.
Simply click into any user field to select and deselect access settings for your WooCommerce POS functions. Most sellers will deselect access for all users other than the admin and shop manager. You can also add new users, like store clerk, in your main WordPress "Users" screen, then define these users' access to POS functions.
6. Review Advanced Tools and Check System Status
In the "Tools" tab, WooCommerce POS offers a few advanced controls. The "Language Translation" and a "Customizable Receipt Template" are tools you might need. Modifying the built-in receipt template requires some coding knowledge, but you can see how it's done in the WooCommerce POS support guide.
The "Legacy Server Support" and "Local Data" clearing tools are typically not an issue for users on top-rated WordPress hosting solutions, like BlueHost and HostGator.
The last "System Status" tab simply displays the current version of WooCommerce POS and the system active status.
How to Process Sales Using WooCommerce POS
After completing the above setup steps, you're ready to begin running in-person sales using WooCommerce POS. The first step is to access your POS screen and there are two ways you can do this.
Access your POS dashboard in your back-end WordPress dashboard by opening the main POS menu in your left-hand navigations and clicking "POS"
Access your POS dashboard on the front end—meaning your live website screen—by adding "/pos" to the end of your store address, like this: mystore.com/pos
Whichever way you choose to enter your WooCommerce POS system, you'll end up in the POS screen shown below.
In the left-hand column, you'll see your WooCommerce items for sale, a search box, and tabs for "All," "Featured," and "On Sale," items. "All" lists every item available for sale through your POS system. This is based on your product settings that we covered above.
The "Featured" and "On-Sale" tabs automatically populate based on POS-enabled items with sale prices or featured status in your WooCommerce product collection.
The right-hand side of the POS screen is your sale checkout screen. This is blank until you begin adding items to a sale.
WooCommerce POS makes the sale creation and checkout process extremely easy. Simply click on the "+" sign next to an item to add it to a sale. You can scroll up and down the list or, if you have a large inventory, you can search by item name or keyword.
You can also click on the tabs above to see just on-sale or featured items. If you use a barcode scanner, you can hit the scanner HotKey, which we covered above, and scan a barcode-labeled item to populate your sale screen.
As you begin adding items to the sale, you can also click on any field to change the quantity, as shown below. You can also change the name of an item by clicking in the name field. To delete an item from the sale, click on the red "x" to the right of the item.
Users can change the price of the item by clicking in the price field, but only if they're granted access to price changes in the "POS Access" settings, covered above. Here, you can also add a discount based on the discount levels you created in the "General" settings, as shown in the screen below.
After your sale is populated with products, you can search for and select an existing customer from your database, or you check a new customer out as a guest.
If you're using the paid Pro version of WooCommerce POS, you can also click the "+" button and add a new customer during the checkout process using the pop-up screen below.
While the "New Customer" window isn't available in the free version, you can always add a new customer to "WooCommerce > Customers" before beginning the POS checkout. It's an added step, but it lets you record the customer's information and purchase without paying for WooCommerce POS Pro.
Under the "Customer" selection field, you can add special fees for services or shipping charges if items will be shipped. You can even create a note with instructions, like customization details or delivery directions.
After that, your final step is to click the "Checkout" button, select the payment method, and print and/or email your customer's receipt. That's all there is to it!
Advanced Features and Drawbacks of WooCommerce POS
Clearly, the free version of WooCommerce POS is an amazing tool that WooCommerce sellers can use to expand into in-person sales. In just a few clicks, this free plugin cleanly connects your existing WooCommerce product, customer, and order data with its simple POS checkout screens. The Pro plan adds even more sales features, but there are a few drawbacks worth mentioning, too.
Advanced Features
The two main benefits of moving to the paid Pro version of WooCommerce POS are payment choices and checkout speed. For payments, Pro gives you many added payment options, such as Square, Stripe, Authorize.net or the more than 100 payment gateways that WooCommerce supports. For speed, the "Add New Customer" window at checkout can speed up the process for busy stores.
Other added benefits of the Pro version include:
Parked carts: This lets you save a customer's cart and proceed with the next customer in line if needed, say if a customer wants to look at more items before checking out.
Multiple stores: The pro version supports multiple WooCommerce stores versus the free version's single-store interface.
Sales reports: The Pro version delivers advanced reporting that separates POS sales from online sales and provides breakout details like sales by cashier and by store.
More on-screen controls: The Pro version lets you make many more on-the-fly changes in the checkout screen, like inventory adjustments, customer information updates, and, of course, adding a new customer.
Drawbacks
The free basic features and built-in Pro functionality all deliver on expectations. However, things like customizing checkout flow, adding cash drawers, and connecting external hardware like thermal receipt printers can get tricky.
If you review the user forums, you'll see that sellers do figure out ways to add these checkout tools, but they're not available with plug-and-play simplicity. To move beyond the basic features of the plugin, you'll need to do some homework, test hardware, and understand coding and integrations—or pay for someone to do the job for you.
Other POS Solutions for WooCommerce Users
WooCommerce POS is just one of many POS systems that either plug into WooCommerce or integrate with it to streamline in-store and online sales. Here are a few more POS options for WooCommerce that you might want to explore:
Webkul WooCommerce POS: This plugin-based POS is similar to WooCommerce POS, but offers a more modern look and feel. At $99 per year, it doesn't beat the free WooCommerce POS on price, but it does closely complete with its Pro plan. If you're able to spend a little, comparing the two is worthwhile.
Square POS: Square is an extremely economical all-in-one payment, POS, and business management system. In fact, this POS system delivers many value-added business tools like mobile card readers, appointment scheduling, and recurring payments, all for free. It also cleanly integrates with WooCommerce using the free Square extension, which connects your online and in-store sales and inventory.
Lightspeed POS: Unlike Square, Lightspeed POS isn't a free POS system, but is a very popular option for larger retailers and multi-store businesses. It can be integrated using WooCommerce's Lightspeed extension, which starts at $149 per year.
FooSales: FooSales is a subscription POS system that connects to many ecommerce platforms, including WooCommerce. FooSales costs from $30 to $90 per month, plus you need the FooSales WooCommerce extension, which starts at $249 per year.
The Bottom Line
WooCommerce POS is the best way to expand your WooCommerce store into in-person and in-store sales with no added costs. The biggest drawback to the free version is limited payment options, but if you already use PayPal to process some or all of your online payments, you can also use it with this free POS.
The paid Pro plan supports more payment options and sales features, but attaching cash drawers and external card readers still require work. If you need a serious register-style checkout, you might be better off with a more advanced POS for WordPress, like Webkul WooCommerce POS, Square POS, Lightspeed POS or others on the market. 
Of these, Square is the only one that offers a free way to extend WooCommerce into all types of in-store and in-person sales. It also makes it easy to attach card readers, cash drawers, and receipt printers. The caveat here is you must use Square to process your credit card payments. Other systems deliver more payment choices, but they add monthly fees as well as connectivity costs.
That said, none of these economical small business solutions will break the bank account of a growing merchant. If you want to expand your WooCommerce online store into in-person and/or in-store sales, the cost of integrating a feature-packed POS definitely will not hold you back.