BlueVine Business Checking Update: April 2021
BlueVine has currently paused new business checking account applications. You can visit their website to join the waitlist and be notified when applications resume.
Overview
You may already be familiar with BlueVine—a popular alternative lender that offers a variety of financing products for small businesses. If you're searching for a business bank account, however, you may just now be coming to realize that BlueVine also offers their own business checking account.
This review will break down the BlueVine business checking account in terms of features, fees, customer reviews, and more—so that you can decide if it's the right fit for your banking needs.
BlueVine Business Banking Review, Summarized
Pros

-No fees

-Interest-earning account

-Ability to deposit and withdraw cash

-Online and mobile tools

Cons

-No branch access

-Cash deposit fees

-Only one account user/debit card allowed

Best For

New or smaller business owners; business owners that don't need branch access
BlueVine Business Checking Account
BlueVine's business banking suite consists of a single product—their online-based business checking account. As BlueVine is not actually a bank, their banking services are provided by The Bancorp Bank, member FDIC.
That said, the BlueVine business checking account is also FDIC-insured to at least $250,000. Small business owners can apply for a BlueVine business bank account quickly and easily online with minimal documentation.
Once you're approved for an account, you can manage your BlueVine business banking online or via their mobile app.
Checking Account
BlueVine Business Banking
Great For: NOTE: BlueVine has paused accepting new applications as of April 2021
Min to Open

$0

Signup Bonus

$0

Monthly Fee

$0

No Fee Balance

$0
Features
Now that you have a basic understanding of BlueVine's business banking offering, let's review the features of their checking account:
Fees
No monthly fees
No non-sufficient funds (NSF) fees
No incoming wire fees
No minimum opening deposit
No minimum balance requirement
The only fees you'll pay with this business checking account are $15 for outgoing wires, $4.95 to deposit cash at Green Dot locations, and undisclosed fees for expedited debit card replacements.
Transactions
Unlimited fee-free transactions
Free business debit card
Two free checkbooks
Pay vendors or bills by ACH, wire, or check
Make transfers to and from your other accounts
Schedule one-time and recurring payments
Add your own payees or make payments to existing 40,000 registered payees in BlueVine directory
Deposits and Withdrawals
Withdraw cash fee-free at over 38,000 MoneyPass ATMs around the U.S.; out-of-network withdrawals may face fees from ATM owner

$2,000 daily withdrawal limit

Deposit cash at over 90,000 retail locations through BlueVine's partnership with Green Dot

$7,500 monthly deposit limit; rolling 24-hour limit of $2,000; weekly limit of $4,000

Deposit checks using the BlueVine mobile app

Rolling day deposit limit of $50,000
Interest
Earn 1.0% interest on account balances up to $100,000
Online and Mobile Banking
24/7 online and mobile banking
Mobile app available for iOS and Android
View your balance, deposit checks, set up transfers using the mobile app
Lock your debit card in seconds if lost or stolen
Fund your account, connect external bank and credit card accounts
Upload documents, order checks, review account information
Customer Support
Customer support available via phone and email, Monday through Friday, 8 a.m. to 8 p.m.
Online support resources also available; you can submit a support request from this section of BlueVine website
BlueVine Business Checking Customer Reviews
As you can see, BlueVine's business checking account is fee-free, user friendly, and very accessible for a wide variety of business owners. That said, it's also very similar to many other online-based business bank accounts on the market.
With that in mind, let's break down what customers have to say about their experience with BlueVine business banking.
Positive Reviews
Having only launched in August 2020, there aren't yet an abundance of customer reviews available for the BlueVine business checking account.
However, the existing reviews online are generally positive.
Many reviews focus on how helpful the BlueVine customer service team is, how simple and straightforward it is to set up and use the account, and how high the APY is for a business checking account.
Negative Reviews
In terms of negative reviews, you'll find that the majority of complaints are focused on the bugginess of the BlueVine mobile app—which isn't particularly unusual for the launch of a new product.
In addition, one particularly pertinent review mentions that the BlueVine business checking account can only accommodate a single user and one debit card—making it less than ideal for larger companies.
With these things in mind, it is worth noting that BlueVine's customer service team responds to many of the negative complaints on review sites, as well as on the Apple App Store and Google Play.
Overall, it will be interesting to see how these customer reviews change and evolve the longer the BlueVine business checking account is on the market.
Pros and Cons
Is BlueVine business banking right for your needs? Here, we've summarized the main advantages and disadvantages of this free business checking account to help you decide:
Pros
When it comes down to it, although BlueVine is a relatively new player in the business banking space, their checking account is flexible, accessible, and affordable.
This bank account is a great option for newer or smaller businesses, as well as any business owner that doesn't need branch access.
Cons
Of course, the BlueVine business checking account won't be right for every business owner. First and foremost, business owners looking for branch access will want to turn to an account from a brick-and-mortar institution.
Similarly, as a newer product on the market, there may be some account limitations that will lead larger businesses to opt for an alternative option.
Top Alternatives
At this point, whether or not you think the BlueVine business checking account may be suitable for your small business, it's always worth looking into other options to see if there's another bank account that may be a better fit for your needs.
Here are a few top alternatives you might consider:
NBKC Business Checking
For an account with very similar features, but a little more time on the market—and the backing of a brick-and-mortar bank—you might look into NBKC as a top alternative to BlueVine business banking.
Although NBKC's business checking account is online-based, NBKC itself is a brick-and-mortar bank—and therefore, can offer some additional products and services, as well as branch access for those in the Kansas City metro area.
In addition, even though their checking account does not earn interest, they do offer a free business saving account, which can easily be opened and connected to their standard business account product.
Pros:
No minimum balance, no minimum opening deposit, no monthly fees
No fees for transactions, NSFs, overdrafts, stop payments, incoming domestic wires, and more
Unlimited transactions
Online and mobile banking; online bill pay and check deposit
Fee-free access to cash withdrawal through MoneyPass network; cash deposits available through applicable MoneyPass ATMs
$12 monthly refunds for out-of-network ATMs that charge fees
Free business money market savings account available with 0.80% APY
Business credit cards, cash management tools, and more available from NBKC
Cons:
$5 to send domestic wires
$45 to send or receive international wires
Very limited branch access
Very limited access to cash deposits
No integration options
Read our full review of NBKC business checking.
Capital One Business Checking
Finally, if you'd prefer to visit a branch location, you'll want to choose a BlueVine business banking alternative from a brick-and-mortar bank. Although there are a variety of options you might consider, Capital One offers two particularly worthwhile business checking accounts within their Spark business suite.
Unlike most business checking accounts from brick-and-mortar banks, both of these options offer unlimited fee-free transactions—plus, many of the benefits associated with more traditional business bank accounts.
Pros:
Unlimited fee-free transactions
Two business checking account options
Free business debit cards which can be used fee-free at over 39,000 Capital One ATMs around the U.S.
Online and mobile banking; mobile deposits and online bill pay
Ability to waive the monthly service fee with a minimum 30- or 90-day average balance
Ability to deposit cash at any Capital One ATM; Spark Unlimited account has no fees for cash deposits
Spark Unlimited account includes free incoming domestic wires, as well as first five domestic outgoing wires per month for free
Nearly 500 branch locations around the U.S.
Option to add business savings account
Cons:
$250 minimum opening deposit requirement
$15 or $35 monthly service fee, depending on the account
Cash deposits on Spark Basic require fees
Standard wiring fees apply for Spark Basic, as well as for certain instances with Spark Unlimited
Additional fees may apply
No third-party integrations
Have to apply for an account in-person
Read our full review of Capital One business checking.
Frequently Asked Questions
The Bottom Line
Despite being fairly new to the market, BlueVine's business checking account is a highly competitive option in the online banking space—with no fees, cash deposits, and the ability to earn interest.
That said, this business bank account seems to be a great option for freelancers and self-employed professionals, smaller business owners, ecommerce business owners—and in general, a variety of business owners who don't need access to a physical branch location.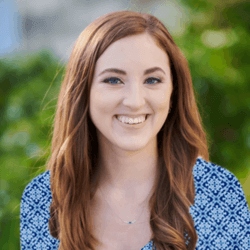 Senior Staff Writer
at
Fundera
Randa Kriss is a senior staff writer at Fundera.
At Fundera, Randa specializes in reviewing small business products, software, and services. Randa has written hundreds of reviews across a wide swath of business topics including ecommerce, merchant services, accounting, credit cards, bank accounts, loan products, and payroll and human resources solutions. 
Read Full Author Bio