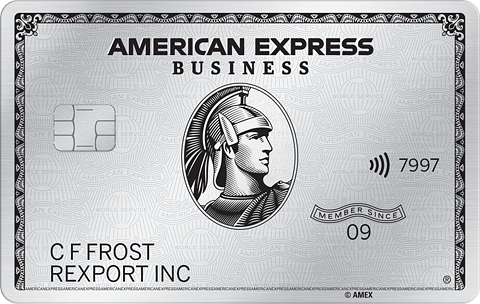 Credit Card
The Business Platinum Card® from American Express
Great For: Luxury travel perks and rewards
Earn up to 100,000 points if you spend $15,000 in the first 3 months.
5x points on flights and prepaid hotels booked through Amex.
Best airport lounge access of any card on the market. 
No preset spending limit, so you can use the card to fund your working capital.
Welcome offer

if you spend $15k in first 3 months

Rewards rate

based on where you spend money

Annual fee
Minimum credit
100,000 points
5 or 1 points
595
700
Overview
The American Express Business Platinum offers the best of all worlds—a 100,000-point welcome offer, a lucrative ongoing rewards rates, and unparalleled travel rewards and perks all wrapped into one cardholder experience. But you're going to have to pay $595 a year to get this all-access pass in your wallet.
AMEX Business Platinum Rates
This American Express card is a charge card, so you won't be able to carry a balance. That means that no interest rates apply to the card.
But don't get too excited.
Charge cards operate on the assumption that you'll always pay your balance in full. Because of this assumption, if you don't pay your balance on this card in full, American Express will charge you hefty late fees.
If you aren't sure whether or not you can pay balances on your American Express Business Platinum Charge Card in full, be sure to stick with a business credit card rather than a charge card.
AMEX Business Platinum Rewards: Welcome Offer
As you'd expect, American Express will welcome you warmly when you sign on as an AMEX Business Platinum cardholder.
You'll be able to earn a welcome offer of 100,000 Membership Rewards points. You can unlock this offer by spending $15,000 in your first three months.
And you'll be able to redeem these points as travel, merchandise, gift cards, charitable donations, Amazon.com purchases, among many other things for a varying value that will depend on how you redeem them.
AMEX Business Platinum Rewards: Ongoing Offer
When you spend with the AMEX Business Platinum Card, you'll earn 5 Membership Rewards points every dollar you spend on flights and prepaid hotels booked on AMEXtravel.com.
You'll also earn 1.5 Membership Rewards points per dollar spent on each purchase that's worth $5,000 or more. This rate will only apply for up to 1 million additional points per year.
On top of that, you'll earn 1 point for every dollar you spend elsewhere.
If you're making large purchases and booking a lot of travel for your business, then you'll be able to earn big with the American Express Business Platinum.
AMEX Business Platinum Annual Fee
The AMEX Business Platinum Card's travel rewards will come at a cost.
And a pretty substantial cost at that. The AMEX Business Platinum Card's annual fee rounds in at $595 a year.
We know—$595 dollars a year, especially relative to other, free business credit cards available on the market, can be a huge deal breaker.
But bear with us here.
Though $595 is a huge lump sum to wrap your head around paying, the American Express Business Platinum Card could still be worth it for you. And we'll break down how exactly you'll recoup this $595 in a minute.
Get the American Express Business Platinum if:
You're looking for luxury travel perks beyond compare.
You're a busy traveler who wants to earn for all your travel spending.
You're a big spender who wants to avoid set spending limits.
You do a lot of your business spending abroad and want to dodge foreign transaction fees.
You want to feel warmly welcomed with a generous signing offer of up to 100,000 points.
Skip the American Express Business Platinum if:
You don't want to pay a hefty annual fee of $595 for your business credit card.
You'll need to carry a balance.
You'd prefer to earn cash back for your spending.
Why Go For the American Express Business Platinum?
Airline Credit
With the American Express Business Platinum Card, you'll receive $200 every year for any incidentals you buy from your eligible airline of choice.
So, if you're paying for checked bags or in-flight refreshments with your airline of choice, this $200 annual credit will have you covered.
TSA PreCheck or Global Entry
You'll get an application credit of $100 for Global Entry or $85 for TSA PreCheck every 5 years. These programs expedite security screening and make a busy traveler's life much easier, and you can take advantage of this substantial application credit for whichever program you choose.
Airport Lounge Access and Priority Pass Select
As a Business Platinum Card owner, you'll get access to over 700 airport lounges worldwide—for free. And while you could access these lounges through Priority Pass, it would cost you $399 per year to do so.
If you were planning on investing in lounge access regardless, this Business Platinum Card premium benefit makes up for a large portion of the annual fee itself.
35% Airline Bonus
Additionally, if you use Membership Reward points to book a flight through amextravel.com, you'll get 35% of the points back.
Through this benefit, you'll be able to earn up to a whopping 500,000 annually—valued at a discount of around $500 every year.
Welcome Offer
If you earn the entire welcome bonus, AMEX will reward you 100,000 Membership Rewards Points. You'll be able to redeem these points for a variety of goods, all at different points per cent values.
American Express Business Platinum: Downsides to Consider
Annual Fee
We won't try to downplay it—$595 is a lot to spend on a credit card every year. And shelling out such a large sum in annual fees is one of the main downsides of being a AMEX Business Platinum cardholder.
But if you're the right kind of spender—one that will earn the welcome offer—and the right kind of traveler—one that will take advantage of the perks—then the annual fee will be far more than worth all the doors it will open up.
No Balances
As with any charge card, with the AMEX Business Plus, you'll have to pay down all of your monthly spending in full, every single time. Otherwise, you'll incur late fees instead of interest. This can be prohibitive to any business owner who relies on invoices that could languish. If a customer delays in paying up, you might not have the cash to cover your spending in full, making the AMEX Business Platinum an even more expensive card for your business.
No Airline-Specific Perks
Many business travelers opt for airline-specific cards in order to reap the benefits of their loyalty. These benefits will often come in the form of free upgrades, priority boarding, and heightened rewards worth. However, because the AMEX Business Platinum isn't co-branded, cardholders won't be able to access airline-specific perks through it. So, if you're already always loyal to a specific airline, you might want to consider looking into that airline's card options.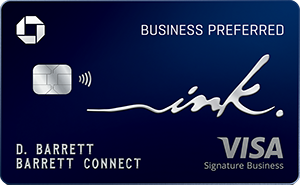 Credit Card
Ink Business Preferred® Credit Card
Great For: Point redemption rewards
Read Full Review
100,000 point signup bonus if you spend $15K in first 3 months
3x or 1x points depending on how you spend
Welcome offer

after you spend $15,000 in first 3 months

Rewards rate

for the first $150,000, then 1x points

Annual fee
Minimum credit
100,000 points
1 or 3 points
95
700
Credit Card
The Blue Business® Plus Credit Card from American Express
Great For: Making purchases with a 0% intro APR period
Read Full Review
12 month 0% intro APR period on purchases from the date of account opening
2X points for the first $50K spent
No annual fee
Intro apr

on purchases for 12 months from the date of account opening

Regular apr
Annual fee
Minimum credit
0%
13.24% – 19.24%
0
700
Compare the Best Credit Cards