Both Fundbox and Kabbage are popular names in the small business financing space. Both companies offer funding quickly, have a digital application and approval process, and set easy qualification standards—definitely different than what you'll find at your local bank. But when you're on the search for a small business loan, it's important to carefully compare your options. Between Fundbox vs. Kabbage, how do you know which online lender to trust?
We'll help you decide between Fundbox vs. Kabbage and will cover each company's eligibility requirements, cost, and pros and cons. We'll tell you which types of businesses are a better fit for Fundbox, and which businesses should opt for Kabbage. Fundbox and Kabbage offer very different loan products for different kinds of customers, so the best choice for you depends on your business's unique needs and financial situation.
How Fundbox Works
Fundbox is a San Francisco-based B2B financial technology company that provides lines of credit for small business owners. In addition to lines of credit, Fundbox also operates a net terms marketplace for buyers and sellers.
Fundbox Line of Credit Overview
Fundbox is one of Kabbage's top competitors for their line of credit. Here's an at-a-glance look at Fundbox's credit line amounts and terms:
Loan Amount: $100 to $100,000
Loan Term: 12 weeks or 24 weeks
Loan Rates: Approximately 0.5% to 0.9% of the drawn amount per week
TrustPilot Score: 4.8/5
Fundbox Net Terms Marketplace Overview
Apart from their line of credit product, Fundbox also operates a net terms marketplace for B2B sellers and buyers (formerly, this product was called Fundbox Pay). This product is meant to address a dual problem—sellers not receiving payment on time for services rendered, and buyers lacking the cash flow to pay for services immediately.
Either a seller or a buyer can create a Fundbox account. If you're a seller, you can create an account and offer access to net terms for your buyers. If you're a buyer, you can create an account and request net terms from your sellers. The easiest way to understand how this marketplace works is with an example.
Let's say Annie Accounting provides accounting services worth $2,000 to Betty Business. Betty can't pay for these services right away, so Annie Accounting creates a Fundbox account and offers 60-day net terms to Betty. Fundbox will pay Annie right away, minus a 1% to 3.3% merchant fee. Betty can pay Fundbox within the 60-day time frame without incurring any fees. After 60 days, Fundbox charges a weekly fee for payment up to 52 weeks. The interest rate is currently 19.42%, for a 52-week plan in most U.S. states. There are some states with lower rates.
Fundbox Eligibility Requirements
The standards to qualify for a line of credit from Fundbox are relatively easy. Here's a quick glance at the minimum requirements you'll need to meet:
Time in Business: Three months
Profitability: Not required
Collateral: No (Fundbox might place a lien on business assets in some cases)
Personal Guarantee: Not required on lower credit limits
FICO Credit Score Minimum: 500
Minimum Annual Revenue: $25,000
Entity Type: Any U.S.-based business
In addition to the above, you'll also need either a business bank account or accounting software.
Fundbox Cost and Repayment
Fundbox has two different products—the line of credit and net terms—with different costs and repayment options.
Interest rates on the line of credit product start at 4.66% for a 12-week repayment plan.[1] When you convert this into a weekly rate, it ends up costing 0.5% to 0.9% of the drawn amount per week. For example, if you borrow $5,000 for 12 weeks, you'll pay between $25 to $45 each week for 12 weeks. This amount will automatically be debited from your business bank account. On the 24-week plan, the fee is higher, but the weekly payment amount is lower since it is distributed over more weeks. There is no prepayment penalty, and if you pay off the loan early, you can save on fees.
If you'd like to offer net terms to your buyer on the Fundbox marketplace, you'll have to pay a merchant fee of 1% to 3.3% for net terms ranging from 15 to 90 days. The longer your net terms, the higher the fee you'll have to pay. Buyers won't pay a fee for payments made within the net terms that their seller offers. After the net terms expire, buyers will pay a weekly fee. The interest rate after net terms end is currently 19.42%, for a 52-week plan, in most U.S. states.
Fundbox Application Process
Once your financing has been approved, this connection will also give Fundbox access to timely updates as your sales numbers change. Based on increased sales, you might be approved for a larger credit line.
Fundbox's system is readily engineered to work with cloud-based accounting systems including, but not limited to:
QuickBooks Online and Desktop
Freshbooks
Harvest
Wave
Xero
SageOne
InvoiceASAP
Clio
Jobber
Zoho
Kashoo
eBility
If you don't have accounting software, you'll simply connect your business bank account to Fundbox.
Fundbox Is Best for: Businesses That Want Small Credit Lines or Want to Offer Net Terms
Fundbox is best for businesses that need fast, easy access to a small business line of credit. The easy eligibility requirements for the line of credit make Fundbox a good option for business owners with bad credit. The application process is very quick, and no paperwork is required, which is nice for busy small business owners.
That said, the maximum amount of money you can borrow through Fundbox is $100,000.[2] And you have to pay back the funds within 12 weeks or 24 weeks. If your credit needs are higher or if you need to borrow funds for a longer period of time, you're better off opting for Kabbage or another lender altogether.
Another Fundbox solution is to get paid faster for your services by utilizing their net terms marketplace. No other company is really competing with Fundbox in this space right now, and their cost to offer terms is pretty reasonable. If you're a B2B seller and have been struggling with uneven cash flow, Fundbox might be just the answer you were looking for.
When Fundbox Isn't a Good Fit
Although Fundbox has few restrictions in terms of your credit history or your business's financial qualifications, this lending solution certainly isn't the right solution for every business.
Fundbox won't be a good fit for your business if you:
Won't be able to repay a loan within 12 to 24 weeks
Need more than $100,000 in financing
How Kabbage Works
Kabbage is another financial technology company headquartered in Atlanta, Georgia. Kabbage Funding offers only one product—a short-term line of credit for small businesses. You'll be approved for a maximum funding limit from which you can draw upon the balance as needed. You'll only need to pay interest on the funds you actually use.
Kabbage Funding Line of Credit Overview
Funds obtained through a Kabbage Funding line of credit can be used for almost any business purpose.
Here's a top-line look at Kabbage Funding lines of credit:
Loan Amount: $2,000 to $250,000
Loan Term: Six, 12, or 18 months
Loan Rates: Flat monthly fee of 1.5% to 10%
TrustPilot Score: 4.8/5
Does this seem like a potential match for your business's needs? Here's a closer look at what it means to obtain small business financing from Kabbage Funding.
Kabbage Funding Eligibility Requirements
Along with helping you get cash into your bank account quickly, Kabbage Funding is seen as a great option for many borrowers because of their relatively flexible qualification standards. Here's a look at Kabbage Funding's eligibility requirements for their line of credit:
Minimum Time-in-Business: 12 months
Profitability: Not required
Personal Guarantee: Required
FICO Credit Score: Kabbage Funding doesn't have a minimum credit score
Minimum Annual Revenue: $50,000
Entity Type: Any U.S.-based business (except those in the following excluded industries: marijuana, CBD, firearms, gambling, financial institutions, lending, or non-profit organizations)[3]
In addition to these factors, Kabbage Funding does have a few other eligibility requirements for its borrowers. You must be able to show a minimum average bank balance of $2,500, and you can't have a personal bankruptcy within the last calendar year.
That said, it is particularly attractive to borrowers that although Kabbage Funding will review your personal credit history, there is no specific credit score that is required as a minimum in order to be eligible for financing. In contrast, Fundbox has a credit score minimum of 500.
Kabbage Funding Cost and Repayment
Whereas Fundbox charges a weekly fee on its line of credit product, Kabbage Funding charges fees on a monthly basis. The monthly fee ranges from 1.5% to 10% based on a range of factors, such as credit score and business revenue. Every month, you'll pay back an equal portion of your loan principal, plus the monthly fee.
Kabbage Funding will approve you for one of three repayment options—six, 12, or 18 months. Your fee structure depends on which repayment term you're approved for. For the six and 12-month loan, the fee is front-loaded, meaning you'll a higher fee in the first few months. You can save on fees with the six and 12-month loan by paying off the loan early, but you won't be able save too much since the fees are front-loaded. On the 18-month loan, you'll pay the same fee each month and won't be able to earn any prepayment savings. The fee and principal repayments will be automatically debited each month from your business bank account.
Kabbage Funding Application Process
The Kabbage Funding application process is very quick and user-friendly, similar to Fundbox. There's no paperwork that you'll have to provide. You'll simply connect your business bank account and other business accounts to your Kabbage Funding application. For example, if you're an Amazon seller, you can connect your Amazon seller account to demonstrate your sales history.
Here are a few examples of accounts that Kabbage Funding may consider to underwrite your business:
A business checking account
eBay account
Paypal account
Amazon lender account
Etsy account
Yahoo account
Square account
Authorize.net account
Sage account
Stripe account
QuickBooks account
Xero account
Because you'll be asked to connect at least one of your business's financial accounts to the Kabbage system (you'll have better odds if you connect more, though), they will review your financial history carefully before making a decision. This offers Kabbage Funding a more holistic view of the internal workings of your business.
Kabbage Funding will analyze your business's performance and give you an approval decision within minutes.  For credit lines over $200,000, approval can take up to five business days. Before they send the funds to your account, Kabbage Funding will authorize one hard credit inquiry, which can lower your credit score by a few points.
Kabbage Funding Is Best for: Businesses That Want Larger Credit Lines Quickly
As a lender, Kabbage is known for two things: speed and flexibility. This lender prides itself on making their application and underwriting process as quick, simple, and automated as possible. The application process typically takes one to five days—and once your application has been reviewed and an offer made, you can have cash in your business bank account within minutes.
Along with the ability to obtain approval and funding quickly, Kabbage Funding is also a useful choice for borrowers with poor personal credit. Although Kabbage Funding does check your personal credit score, this factor isn't weighed as heavily as the rest of your business information. Instead, Kabbage Funding will request to connect electronically with one or more of your online banking, accounting, or merchant services accounts in order to evaluate your business's recent financial history.
Since Kabbage Funding offers up to $250,000 in funding, they are a good option for businesses with larger capital needs. In addition, you can have up to 18 months to pay back a Kabbage Funding line of credit, and you'll pay in monthly installments. A longer repayment term means lower monthly payments and a smaller burden on your business's cash flow.
When Kabbage Isn't a Good Fit
Kabbage Funding has some flexible line of credit solutions, but it's not a good option for all businesses. Kabbage Funding won't be a good fit for your business if you:
Can pay back your loan within 24 weeks (you'll probably save more by using Fundbox in this case)
Have strong credit (you can probably qualify for a less expensive product than Kabbage Funding in this case)
Want to offer net terms to buyers
Fundbox vs. Kabbage Funding: Making Your Choice
Both Fundbox and Kabbage Funding work with less established businesses as well as borrowers with less-than-stellar credit scores. However, their products are structured differently. If you're struggling to choose between Fundbox vs. Kabbage Funding for your own financing needs, here are some quick and easy questions to ask yourself:
Have a B2B business model?
Fundbox
Do you have outstanding customer invoices?
Fundbox
Do you want to offer net terms to your buyers?
Fundbox
Can you repay your financing within 12 weeks?
Fundbox
Do you need a longer repayment term, up to 18 months?
Kabbage Funding
Do you need more than $100,000 in funding?
Kabbage Funding
Do you prefer monthly payments, as opposed to weekly payments?
Kabbage Funding
Most businesses will find themselves in need of financing at some point—and it can be difficult to decide where to turn for that funding. Fortunately, both Fundbox and Kabbage Funding can be great options for business owners. And now that you understand what Fundbox vs. Kabbage Funding can offer for small business owners and how they differ from each other, you should be able to determine which will be the best fit for your business.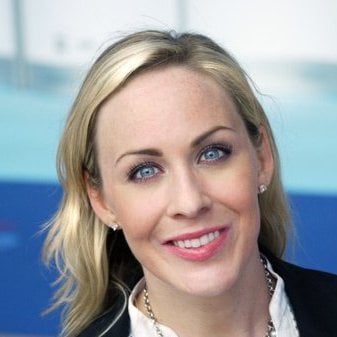 Meredith Wood is the founding editor of the Fundera Ledger and a vice president at Fundera. 
Meredith launched the Fundera Ledger in 2014. She has specialized in financial advice for small business owners for almost a decade. Meredith is frequently sought out for her expertise in small business lending and financial management.
Read Full Author Bio